Blog
Roadmap: Sana Commerce for SAP
Use or sell Sana Commerce for SAP? Arno Ham, our Chief Product Officer, outlines our product roadmap for the next few years as it currently stands.
First things first: Sana Commerce for SAP S/4HANA
A lot is going on with SAP ECC, but the biggest news is the S/4HANA release. With this release, SAP is essentially introducing two different products, namely an on-premises version and a cloud version. As these are two different products, the product teams here at Sana also have two different plans.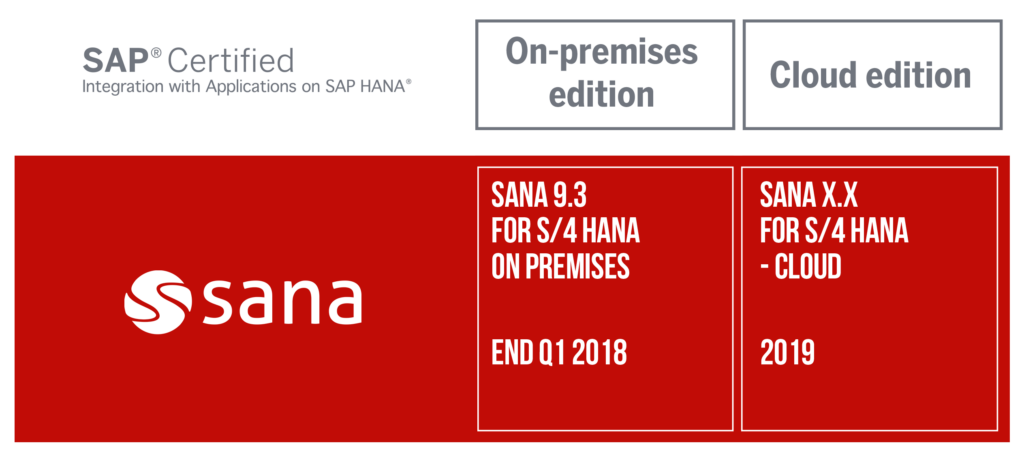 Sana Commerce for SAP S/4HANA On Premises
Sana Commerce for the on-premises version of SAP S/4HANA will be available at the end of Q1 of 2018. You can expect to hear more about this release over the coming months – keep an eye on our channels.
Sana Commerce for SAP S/4HANA Cloud
Based on current market demand, Sana Commerce for SAP S/4 HANA Cloud will be available in 2019. As we mentioned before, the cloud and on-premises versions are very different, hence the release dates being so far apart. We will provide updates as soon as we have a more specific deadline for this release!
The bigger picture: Sana Commerce for SAP ECC roadmap
We're working hard to support these new versions of SAP ECC, but that doesn't mean we've been sitting still when it comes to our existing version. Here's what the Sana Commerce SAP ECC connector roadmap currently looks like: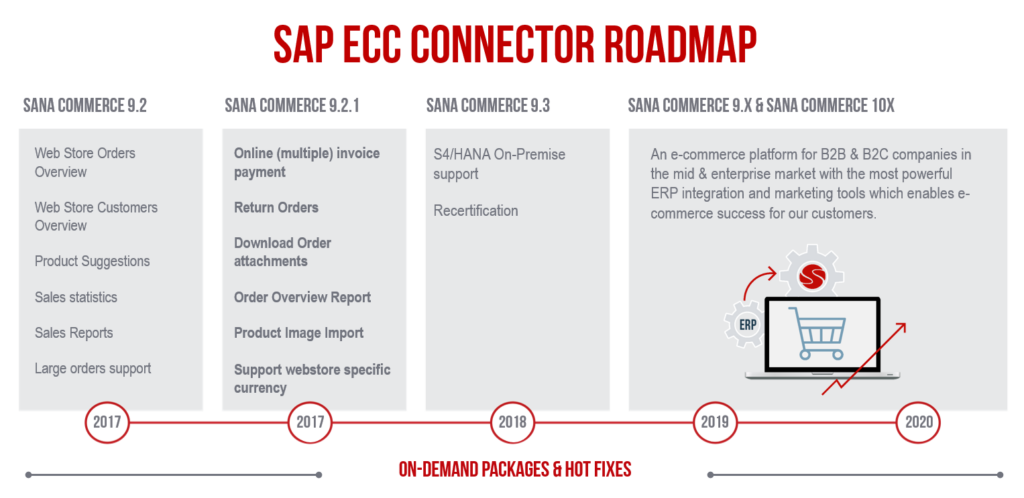 As you can see, last year we released two versions for SAP ECC: Sana Commerce 9.2 in April 2017, and Sana Commerce 9.2.1 in December 2017. Some 9.2 features were missing from the SAP ECC release, but this was remedied with Sana Commerce 9.2.1. As of December, Sana Commerce for SAP ECC is on par with all other Sana Commerce versions.
Once we introduce support for SAP S/4HANA, we will also get our product recertified. But the real news is Sana Commerce 9.3, which we will be releasing later this year. More information about what you can expect from our new release will find its way to you soon.
And in the meantime, we will of course be releasing updates, design packs, add-ons and hotfixes, as you're used to.
You might think that this is a little light on features — and you're right! We will soon be adding detailed Sana Commerce roadmaps to the Sana Community for clients and partners who want to dive into the details of what we have in store.
Learn more about Sana Commerce 9.3 for SAP
Big things are ahead for Sana Commerce — but our last release also has plenty of features to help you realize your full potential. See for yourself in the What's New in Sana Commerce 9.3 factsheet.
Explore Sana Commerce 9.2
Download our factsheet