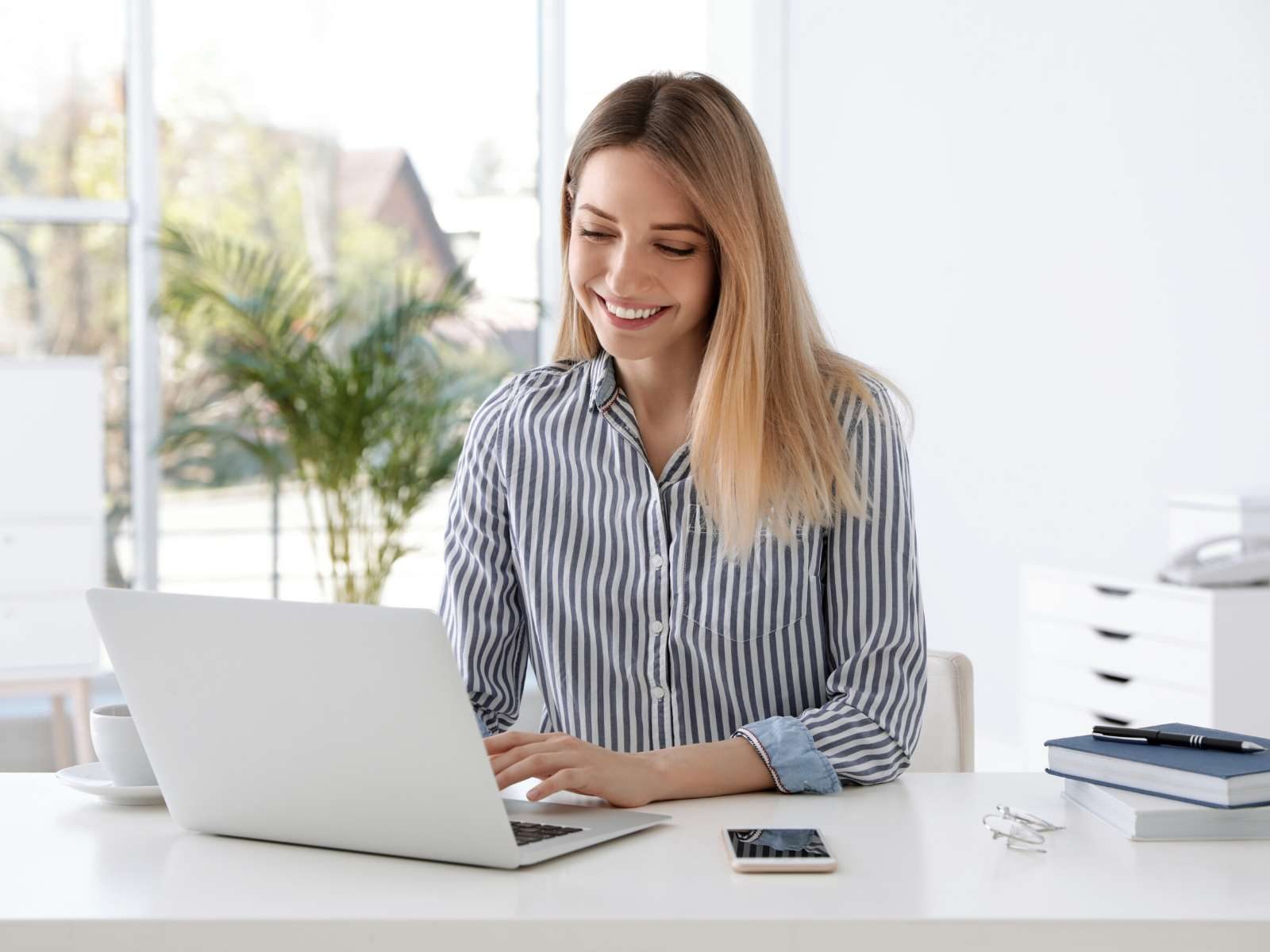 Like many other businesses around the world, COVID-19 continues to impact how we work at Sana Commerce. One big change is that the global organization now has to work remotely. To overcome some of the challenges of the lockdown, and keep our teams motivated while they work from home, we've put in place several initiatives.
In this article, we share some specific examples of what we're doing at Sana Commerce to make working from home more efficient and fun, that you can replicate in your own company.

Working from home during COVID-19: Tips and real-life examples
1. Help your employees work from home
At Sana Commerce, we're putting in place different initiatives to help our teams work more efficiently from home while the office remains closed due to COVID-19. Here are our tips for how you too can support your teams during the lockdown.
First, supply them with the equipment they need to create an ideal work environment. For example, we sent our employees their external monitors, mouse, keyboard, office chairs, and other items they needed to make their "work from home space" more effective.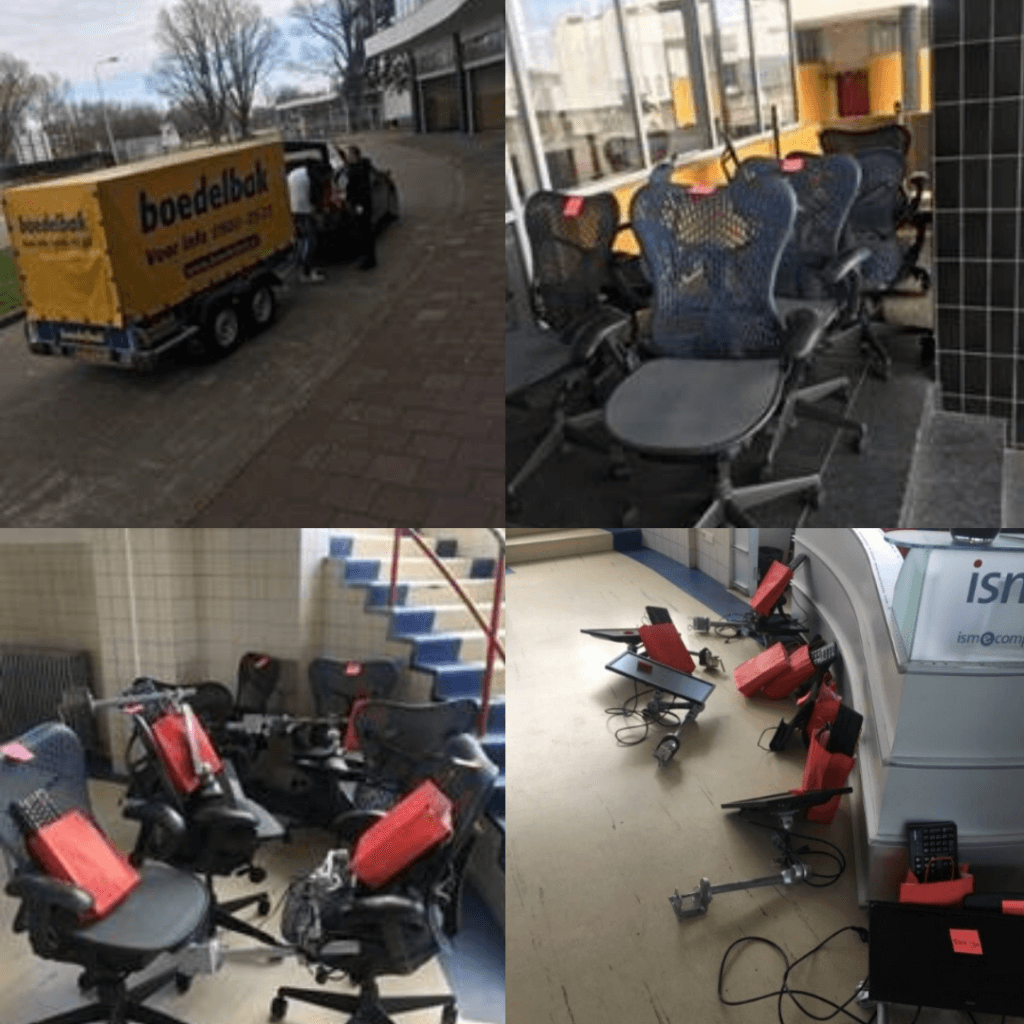 Here's how our team is making their home office personal, but also effective, with the equipment that we sent over to them.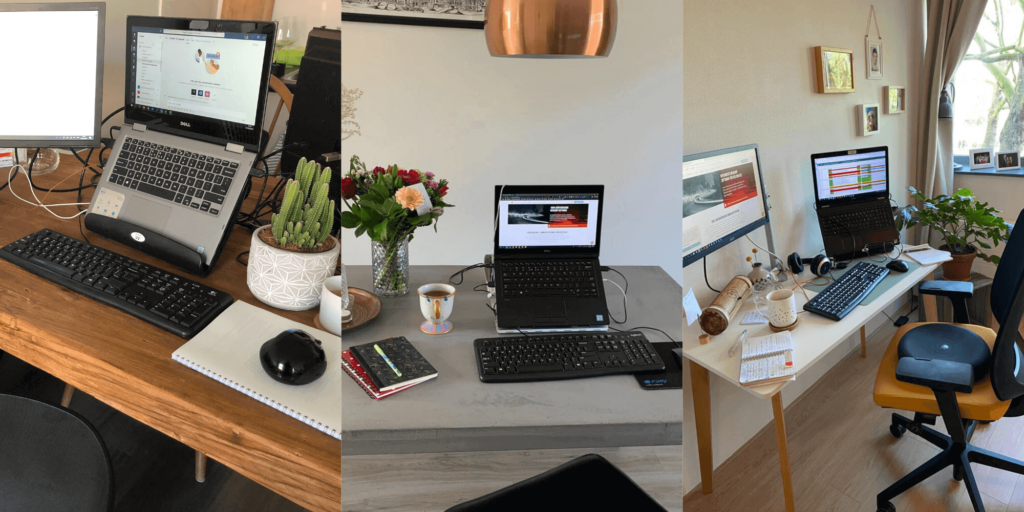 You can also share tips on how to be efficient at home. For example, our HR team sends weekly newsletters with tips such as:
Scheduling breaks: We're even encouraging our teams to participate in a fun break challenge. We want to make sure our teams make the best out of the situation and have fun together. Here's one example of the funny team pictures that came out of the "fun break challenge":
Creating a daily routine: Encourage your team to walk to their "office" in the morning. Going outside and walking around the block helps recreate your teams' commute to work. Of course, everyone's daily routine will be different, but it's important to show your employees that you care, and share tips on how they can create their own routine.
Blocking out at least 30 minutes for a lunch break: At Sana Commerce, we're encouraging our team to block out time to prepare a nice lunch for themselves, their partners or children. Some colleagues have shown off their cooking skills by making elaborate breakfasts and lunches. Make sure to tell your team the importance of enjoying their lunch break, so they can continue to have a productive day.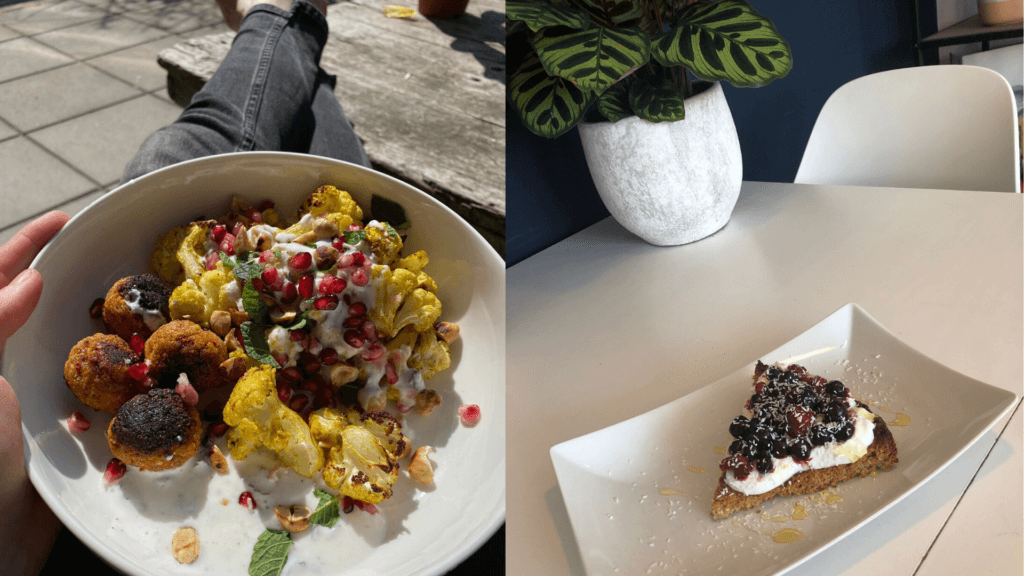 2. Communicate, communicate, communicate
How do you continue to communicate with your team while working remotely? Here's how we've been communicating during the COVID-19 lockdown:
Switch on webcams: When we have online meetings or calls, we encourage our teams to have their webcams switched on.
Schedule catch-ups: We encourage our teams to schedule additional "catch-up" meetings to stay connected with colleagues. For some teams, it's also been beneficial to schedule an extra daily call at the end of the day to discuss "What went well today? What can I do better tomorrow?"
Overcommunicate: We're encouraging our team to over-communicate their schedule to colleagues, partners and customers. When you finish an important project or task, let your colleagues know.
Set a meeting rhythm: At Sana Commerce, we have a meeting rhythm in place, which involves daily team meetings, weekly priority meetings, and monthly meetings. For more information on how our meeting rhythm works, read our CEO Michiel Schipperus' blog about overcoming silo-thinking. We have also used Microsoft Teams to conduct our quarterly management meeting. For more tips on how to successfully conduct a quarterly management meeting online, check out Maarten's 5 tips.
Use communication tools: We mostly use Microsoft Teams. With Teams, we can have all our meetings and have quick chats with colleagues. You can also use other tools like for example Zoom.
3. Redeploy your resources
At Sana Commerce, we're currently moving colleagues between teams. Why? Well, due to the repercussions of COVID-19, some colleagues have less work than others. So, we're moving them between departments to help others whose work has increased and can use some extra help.
You can try this too: encourage your team members to speak up if they have additional time. Have them help colleagues who might have an overflowing number of new tasks.
4. Don't forget about typical social activities
Since we're all home and missing out on our social activities at the office, it's good to continue having that contact virtually. That's why we've maintained our company Friday afternoon drinks. As a bonus, now all our offices can join the drinks virtually!
We've also seen many colleagues organizing virtual catch-up lunches, playing games like music pub quizzes and 30 seconds, and sending Kudoboards for colleagues to celebrate birthdays and congratulate them on milestones.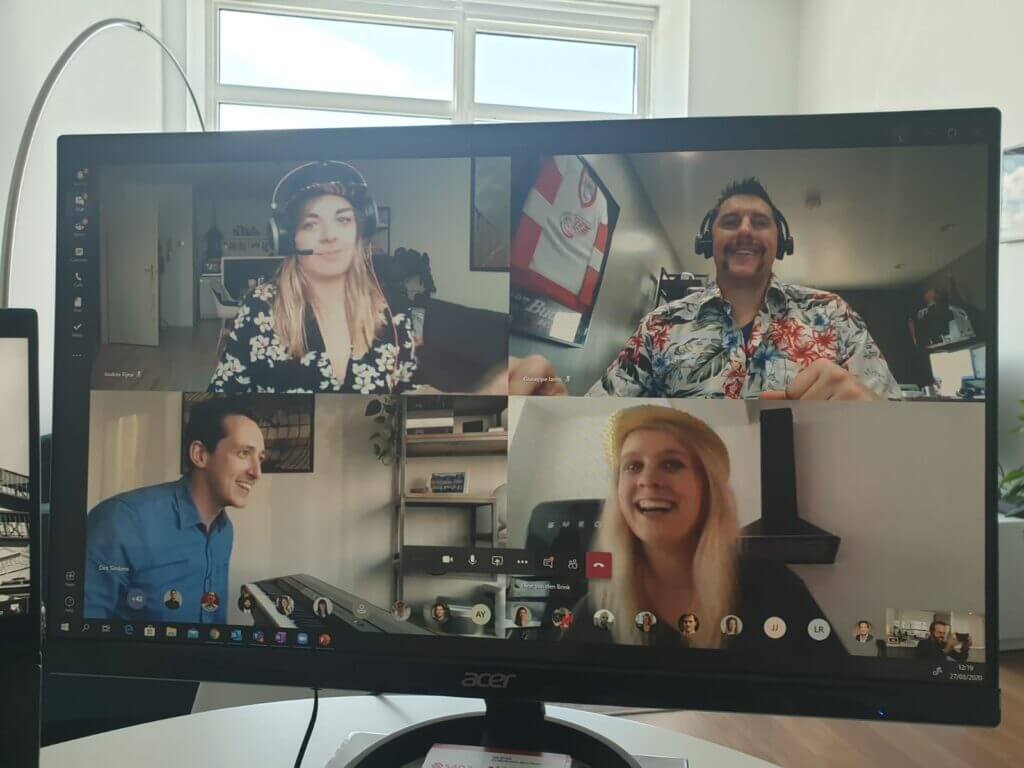 5. Help your team stay fit
Does your company, like us at Sana Commerce, usually offers weekly bootcamps at work? Or do you have fitness fans in your team?
If you've answered yes to these questions, then you could consider offering online bootcamps and fitness sessions. At Sana Commerce, we're offering our colleagues online bootcamps and stretching sessions taught by our qualified sport colleagues. This might also be something that you as a business might want to offer your employees.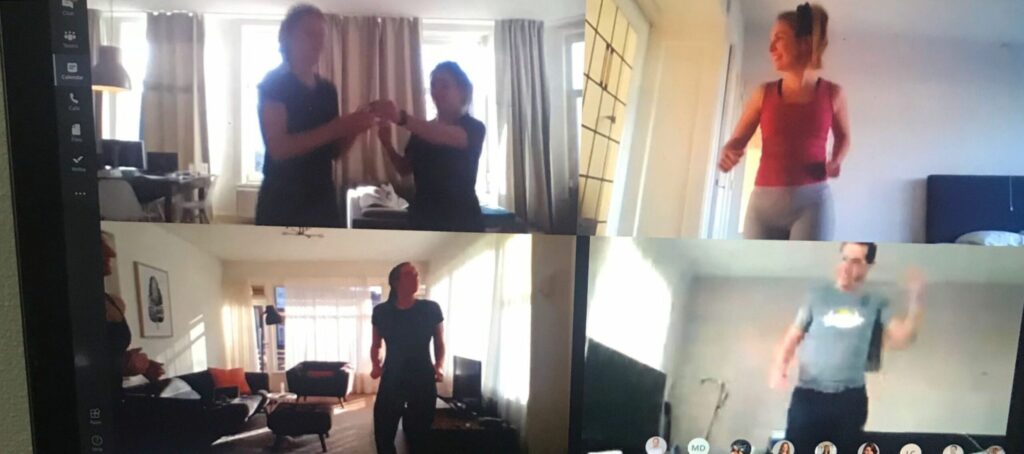 If you decide not to host bootcamps, then there also many gyms teaching online classes during the quarantine. You could still host a 10-minute stretching session, to help your team feel energized after sitting all day. If you need inspiration, here is a 10-min stretch that you can share with your team.
6. Show your employees support
Last, but certainly not least, show your employees that you're all in this together. At Sana Commerce, we sent our employees flowers and a small care package with a bar of chocolate and a card. We included a stamp with the card, so they can send it out to a colleague to show their support.
Team spirit is what will help you make it through one of the most challenging times your company is going through.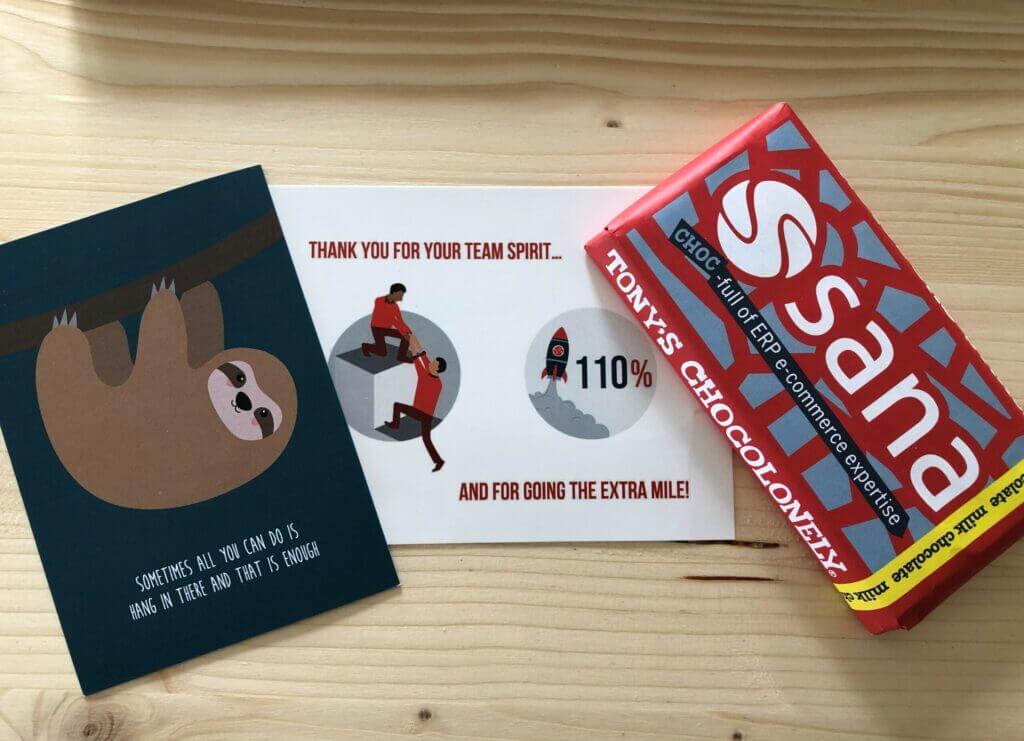 Looking for more tips to get your business through COVID-19? Then read through our B2B
E-Commerce and COVID-19: The Challenges, Solutions and Opportunities [+ Examples] blog or watch our on-demand webinar Your COVID-19 Guide for B2B Businesses.
Your COVID-19 guide for B2B businesses
Learn to tackle your challenges