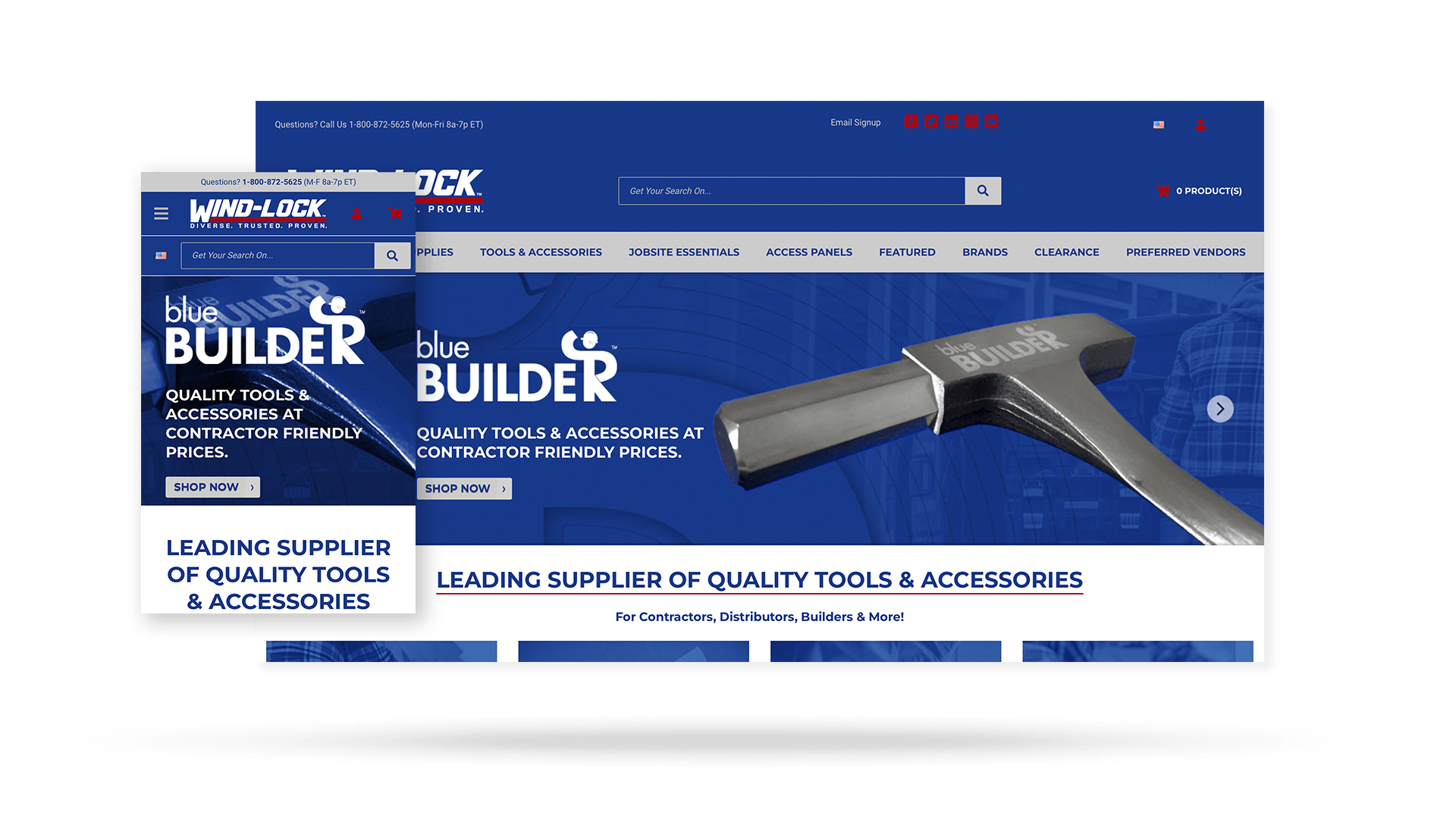 Wind-lock
Wind-lock is a building materials and tool accessories wholesaler and direct-to-consumer (D2C) retailer. Its close relationships with dealers have driven its success for the past few decades. Now, it's looking forward to becoming a major e-commerce player in the industry.
US-based building material tool & accessory wholesaler and e-tailer
Diverse product line
Over 30 years in business
65-70%
increase in sales on web store

$43
increase in average order value


34%
increase in traffic to web store
The challenge
Creating a dent in the D2C market
Wind-lock is a leading supplier of building materials and tool accessories across North America. For 30 years, it has grown its business, largely through its B2B dealer networks, earning a reputation as a trusted partner and supplier of building materials.
Wind-lock continues to grow its wholesale business. But the industry has shifted, and it has set its sights on growing the D2C side of its business. To grow into the D2C space, the Wind-lock team knew they needed to develop their e-commerce capabilities. They had two primary challenges.
The first was a legacy e-commerce platform that had severe limitations. The system held information for more than 3,000 products. They needed to be able to migrate that information over to a new platform that had better functionality. They also needed a system that could integrate with their existing Microsoft Dynamics NAV ERP system.
The second challenge was providing a satisfying experience for both primary customer segments: dealers and individual consumers. They needed a platform that could accommodate those segments and present different product information depending on which customer was using the store.
The process
Building a functional e-commerce web store with a small team
Wind-lock has a small marketing team with limited technical resources. They knew they needed a solution that they could manage themselves without being a burden. As soon as the team got access to a demo environment of Sana Commerce Cloud, they were sold. They saw how easy it was to make the look-and-feel of the web store consistent with their brand—SCC's drag-and-drop feature was a huge plus for them. They also saw that they could use the online portal with few customizations, reducing the need for outside technical assistance.
The second hurdle to get SCC up and running was the migration of their 3,200 products. Their legacy e-store had several customizations built-in, and it wasn't clear what might break as they migrated. But they found the migration easy. Together with support from the Sana Commerce team, Wind-lock's small team got their entire web store migrated faster than they expected.
SCC: Sana Commerce Cloud
Sana Commerce Cloud is an e-commerce platform that integrates with Microsoft Dynamics and SAP. It's designed to accommodate both B2B commerce as well as sales directly to consumers.
SCC is the only ERP-integrated e-commerce solution that integrates natively with your ERP. That means you only need to maintain a single database—the web store updates in real-time.
Sana is built on a React framework, with flexible headless commerce options. It provides blisteringly fast performance that delights customers. The drag-and-drop visual designer makes it easy to design your web store and create content that converts.
SCC allows you to grow your business while delivering an exceptional experience and fostering lasting customer relationships.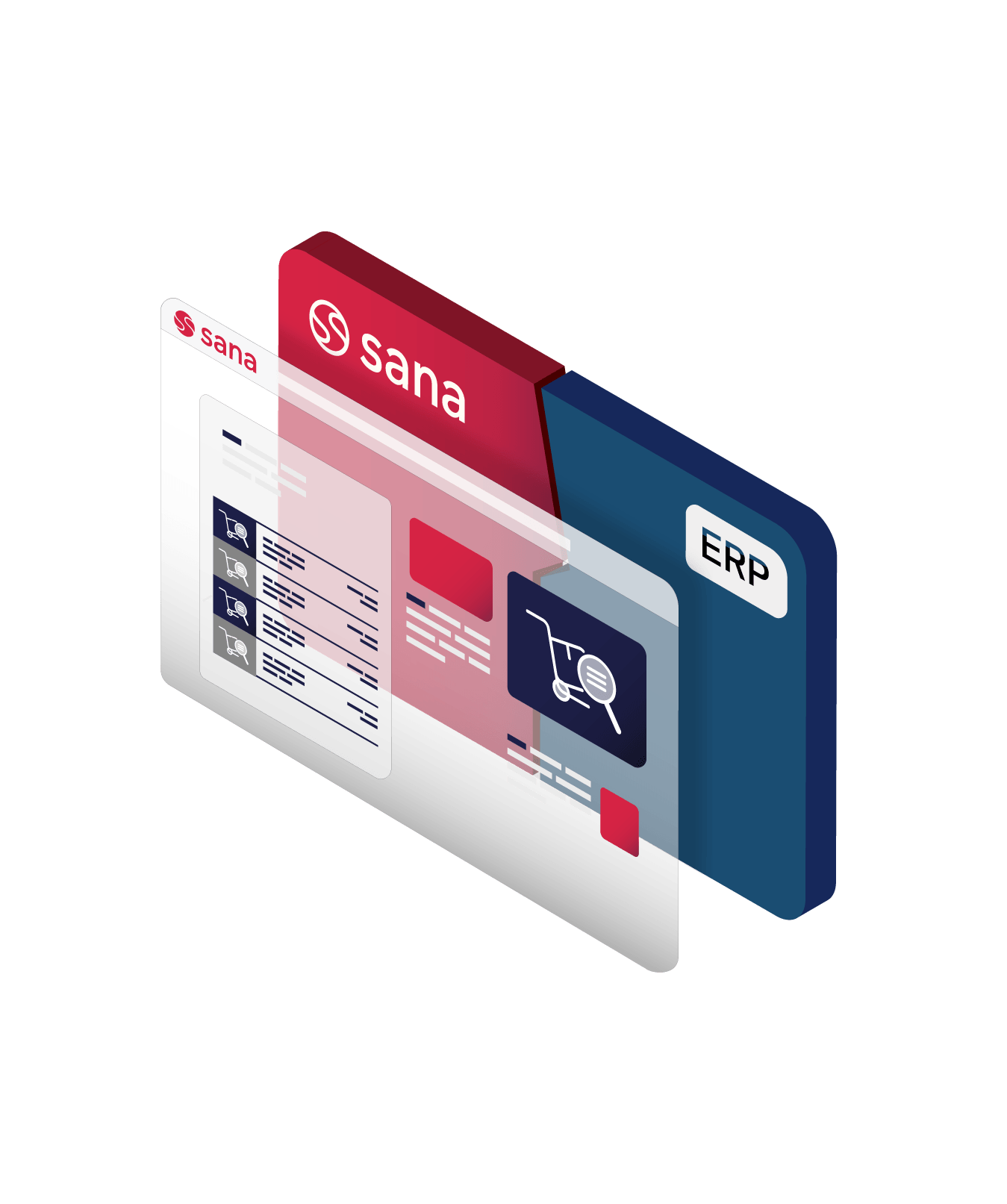 The results
Sales and web traffic elevated to the next level
Wind-lock expected their new e-commerce infrastructure to help improve their performance. But they didn't expect it to help so much, so quickly. The results have been truly impressive.
Wind-lock has seen a 65-70% increase in sales, year-over-year, in just the first few months.
The average order value has increased by $43, which is significant in the industry.
The team has also seen a 34% increase in web traffic since transitioning to their new platform.
The qualitative results have been remarkable, too. Wind-lock's customers have reported much better experiences using the store. It's easier to find products, the page loading speed is much faster, and they enjoy better communication about their orders. Because B2B customers find it easier to order online, Wind-lock's sales reps spend less time actually taking orders and have more time to develop new business.
Perhaps most importantly, the new e-commerce infrastructure enables Wind-lock to market its products more effectively. With the legacy system, the team was unable to do dynamic marketing. Now, the SCC platform helps segment customers so that email and other marketing efforts can be more targeted and effective. The team can now collect consumer behavior data and use it to inform their marketing strategy.
SCC didn't just help Wind-lock boost sales and improve customer experience. It also gave them the foundation they need to take their marketing to the next level.
"When we made the decision to upgrade and migrate our webstore, our goal was to make a splash and solidify ourselves as a legitimate online retailer within our industry. We wanted to strip our site down to the studs and completely rebuild the key elements that provide the best UserX possible. Sana's platform gave us flexibility to create a site that felt custom from an aesthetics standpoint yet updates and functions incredibly well without the pitfalls of customizations. Ultimately, Sana Commerce Cloud with SaaS gave us the best opportunity to complete the project in a timely manner while maximizing our return on investment. So far those returns are paying off, big time!"

Steve Guthrie | Director of Marketing & Communications, Wind-lock
Project Heroes
Steve Guthrie - Dir. Marketing & Communications, Wind-lock
Steve was responsible for executing every aspect of Wind-lock's marketing. He knows that in order to grow their B2B business and expand effectively into the D2C space, they needed a powerful and customer-friendly web store.
Michael Looy – Lead Digital Designer, Wind-lock
Michael was instrumental in migrating Wind-lock's web store to Sana Commerce Cloud and creating a beautiful web store that delights customers.
Trey Benjamin – Jr. Marketing Assistant, Wind-lock
Trey was an instrumental part of the Item Attribute and Product Image population projects and the site migration project.
Do you want to increase traffic and boost sales?