Effortless content management
Experience limitless design capabilities and build personalized content that converts with our state-of-the-art, drag-and-drop Visual Designer.
Support omnichannel purchasing
It is essential that your web store performs well, regardless of whether your customers purchase via phone, desktop or tablet, so that they can easily browse and find information. Sana Commerce Cloud is designed to be fully responsive, ensuring that your pages expand and compress beautifully, to fit both your device and use case.
Customers can quickly browse your catalog and make purchases with ease — anytime and anywhere. Having a responsive web store not only improves customer experience, but it can also improve conversion rates and lead to higher sales, keeping customers coming back to you for all their B2B supplier needs.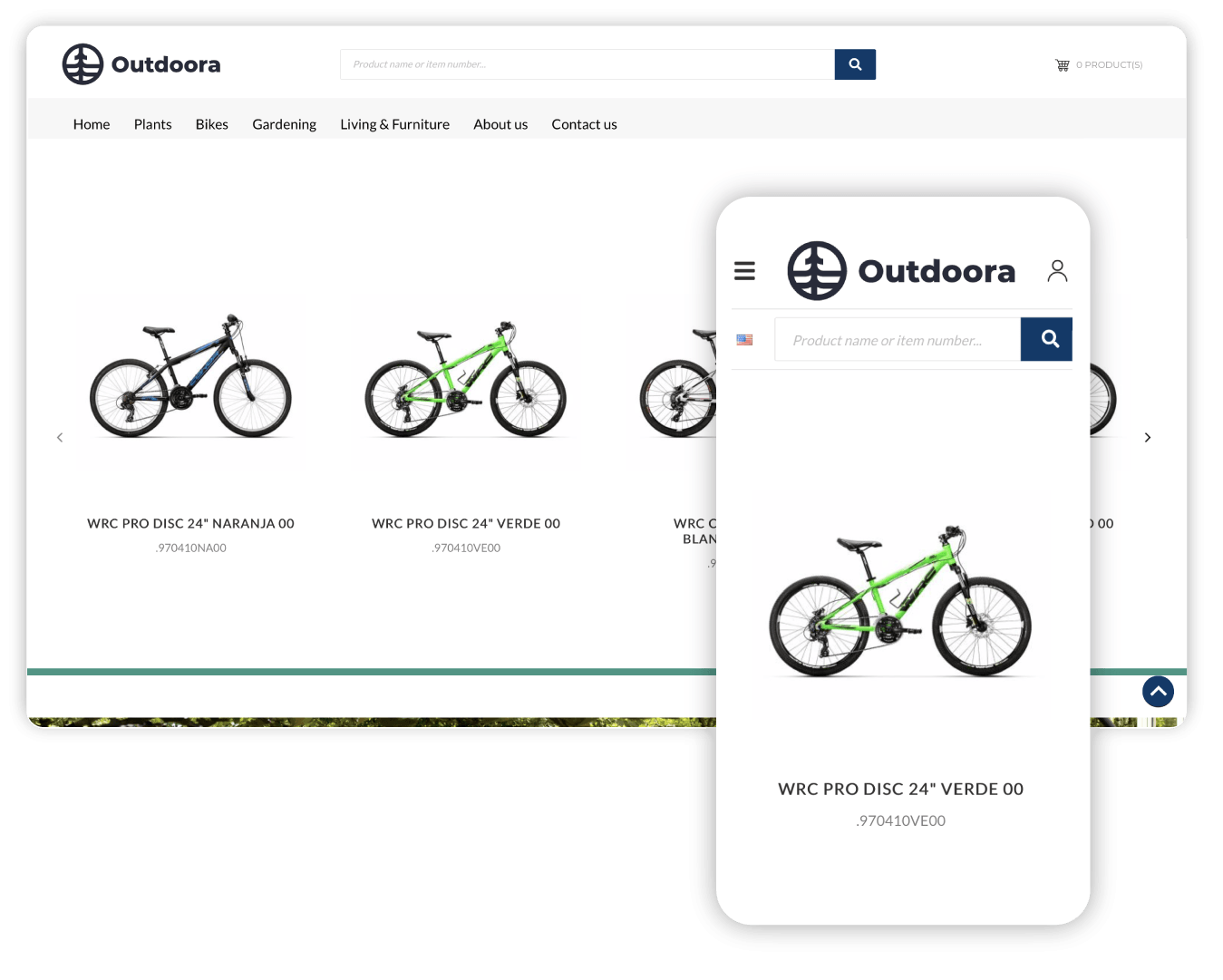 Show the parts that matter
Display multiple products to your customers within a single product image or lookbook. With our lookbook content element, you can add an image that contains multiple products and create clickable points on the image. This feature is invaluable to B2B sellers who sell spare parts. Instead of customers having to look up individual products based on SKU number, they can access all the parts they need from the same page and purchase them in just one click.
From a single product image, customers can:
Choose their needed products or product parts
See important product information
Add the selected product to their shopping cart
We now have orders from customers we previously had no contact with.
No more manual order intake and processing. Stock availability, customer-specific pricing, volume discounts, etc. are all administered in NAV and work great in the web store.
Sana Commerce really boosts your online sales.
The pricing for the performance is excellent. Of all the e-commerce solutions we looked at, Sana Commerce was the best in pricing, performance and connection to our ERP.
High level of integration with our ERP.
I like the ability to implement on MS Dynamics Ax, you don't need to customize a lot in the ERP because Sana includes a high level of integration with MS Dynamics AX. And it is to easy to include the discount policies of each customer and other information from the ERP.
We now have a webshop implemented in a very short amount of time.
The webshop works and we don't need a whole team in Austria to keep it alive. It just works and we can focus on development and new things. Pros: Standard integration Dynamics AX and Perfion. Fits in our IT Strategy. Very professional people on the Sana team. Fast implementation, no surprises.
Best e-commerce I found that integrates with SAP.
It connects perfectly with our ERP and makes our internal processes so easy. We don't have to worry about updating the inventory info or stuff like that. The integration is smooth and it also notifies admins when you have an issue with a customer or internal Sana task.
The in site editor is great! Overall we've been very happy with Sana.
The platform's ease of use, integration with our NAV ERP, and the consistency\uptime. We rarely have issues and if we do we get immediate notifications that are generally telling us something's wrong on our end with our ERP or connectivity.
We can now offer solid e-commerce capabilities to our B2B customers.
It allows a flawless flow of information between the front-end and the ERP. It removes the most significant pain of any e-commerce platform; truth of data. Customer comments have been terrific so far.
We were able to set up and run a large store in a short time.
The CMS is easy enough for beginners but is also open enough for advanced users to program. The attention to detail when it comes to SEO and minimal setup is a big plus.
Integrates well with our ERP and PIM software.
We have accurate ERP and PIM data across our pan-European platform. Our assortment is refreshed on a daily basis and existing products can be revised by new multilingual product-content.
Easy integration and great solution.
Sana Commerce gave our contractors the ability to order items outside of standard business hours. It's an excellent knowledge base that allows you to easily find information and make improvements to your site.
A platform that enables growth.
Sana Commerce enabled us to quickly connect to our ERP and empowered our customers to place their own orders. This saved our limited sales team time and resources.
Simple to set up and use!
I'm not an IT Manager, but the ease of configuration and use allowed me to create our shop independently. This is a complete and professional tool for businesses with a high level of ERP integration.
Experience
Sana Commerce Cloud
See our product in action with a personalized demo tailored to your business and e-commerce needs.