Müheloses Content Management
Erleben Sie grenzenlose Designmöglichkeiten und erstellen Sie personalisierte Inhalte, die mit unserem hochmodernen visuellen Designer per Drag-and-Drop angeordnet werden.
Responsive Design für einen überzeugenden ersten Eindruck
Sana Commerce Cloud ist vollständig responsive und stellt sicher, dass sich Ihre Seiten flexibel erweitern und komprimieren lassen, um sich an das Endgerät und den Anwendungsfall anzupassen.
Ein responsiver Webshop verbessert nicht nur die Kauferfahrung, sondern kann auch die Conversion Rate verbessern und zu höheren Umsätzen führen.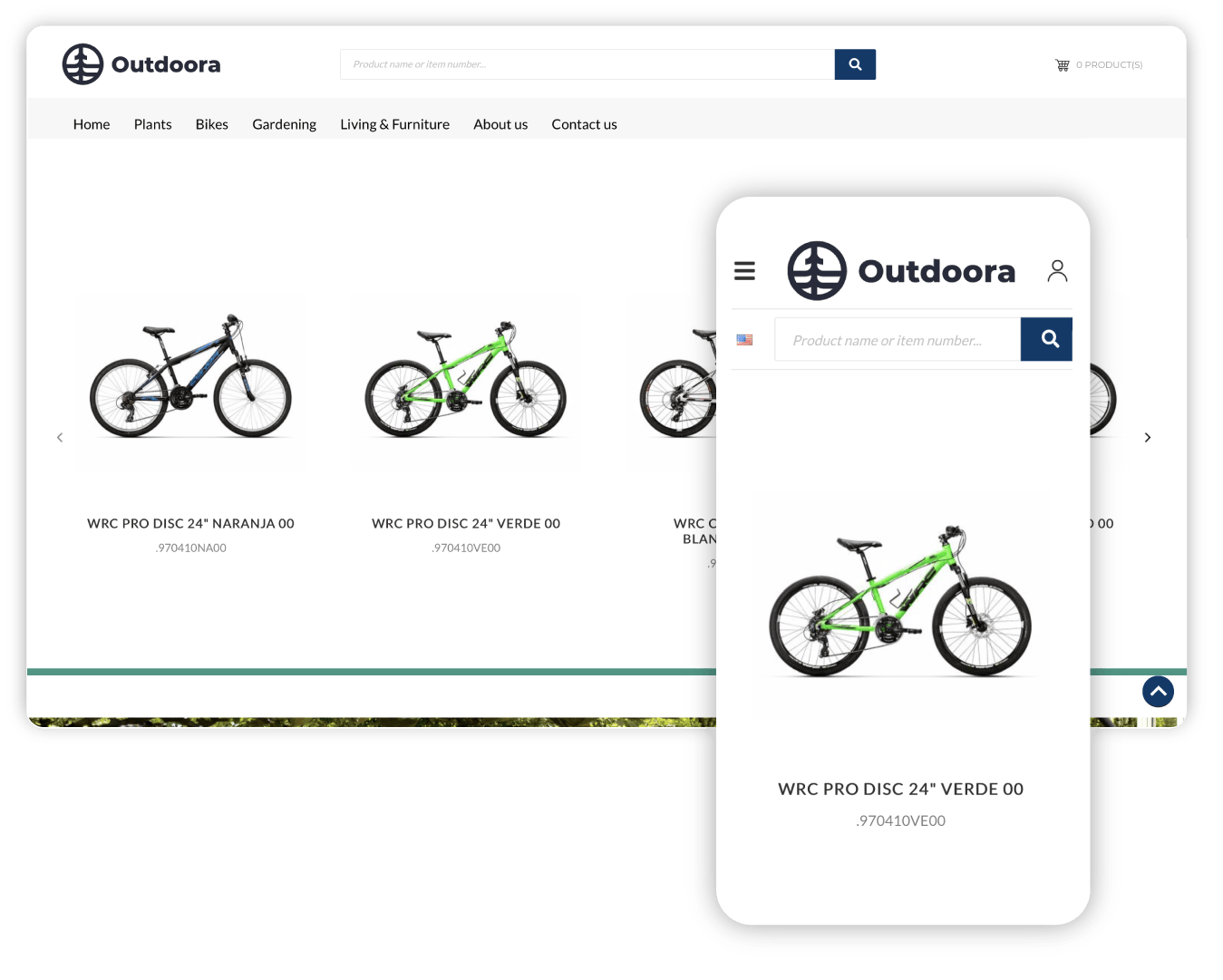 Das passende Ersatzteil mit nur einem Klick
Zeigen Sie Ihren Kunden mehrere Produktteile in einem einzigen Produktbild oder Lookbook an. Mit unserem Inhaltselement Lookbook können Sie ein Bild hinzufügen, das mehrere Produkte enthält, und anklickbare Punkte auf dem Bild erstellen. Diese Funktion ist von unschätzbarem Wert für B2B-Verkäufer, die Ersatzteile verkaufen. Ihre Kunden können so alle benötigten Teile von derselben Seite aus aufrufen und mit nur einem Klick in den Warenkorb legen.
Mit einem einzigen Produktbild können Ihre Kunden:
die benötigten Produkte oder Produktteile auswählen
wichtige Produktinformationen einsehen
das Produkt zum Warenkorb hinzufügen
We were able to set up and run a large store in a short time.
The CMS is easy enough for beginners but is also open enough for advanced users to program. The attention to detail when it comes to SEO and minimal setup is a big plus.
Best e-commerce I found that integrates with SAP.
It connects perfectly with our ERP and makes our internal processes so easy. We don't have to worry about updating inventory.
We now have orders from customers we previously had no contact with.
No more manual order intake and processing. Stock availability, customer-specific pricing, volume discounts, etc. are all administered in NAV and work great in the web store.
Integrates well with our ERP and PIM software.
We have accurate ERP and PIM data across our pan-European platform. Our assortment is refreshed on a daily basis and existing products can be revised by new multilingual product-content.
Easy integration and great solution.
Sana Commerce gave our contractors the ability to order items outside of standard business hours. It's an excellent knowledge base that allows you to easily find information and make improvements to your site.
A platform that enables growth.
Sana Commerce enabled us to quickly connect to our ERP and empowered our customers to place their own orders. This saved our limited sales team time and resources.
Simple to set up and use!
I'm not an IT Manager, but the ease of configuration and use allowed me to create our shop independently. This is a complete and professional tool for businesses with a high level of ERP integration.
Sana Commerce really boosts your online sales.
The pricing for the performance is excellent. Of all the e-commerce solutions we looked at, Sana Commerce was the best in pricing, performance and connection to our ERP.
Packed with many features and expandability.
Sana Commerce enables us to offer an exclusive service to many existing customers, giving them the chance to check order status in real-time, see custom prices and availability, and create orders from quotations.
Best e-commerce solution for Dynamics AX.
We appreciate the flexibility to decide which products (and product categories) are visible in the web store.
Erleben Sie
Sana Commerce Cloud
Erleben Sie unser Produkt in einer persönlichen Demo, die auf Ihr Unternehmen und Ihre E-Commerce-Anforderungen zugeschnitten ist.