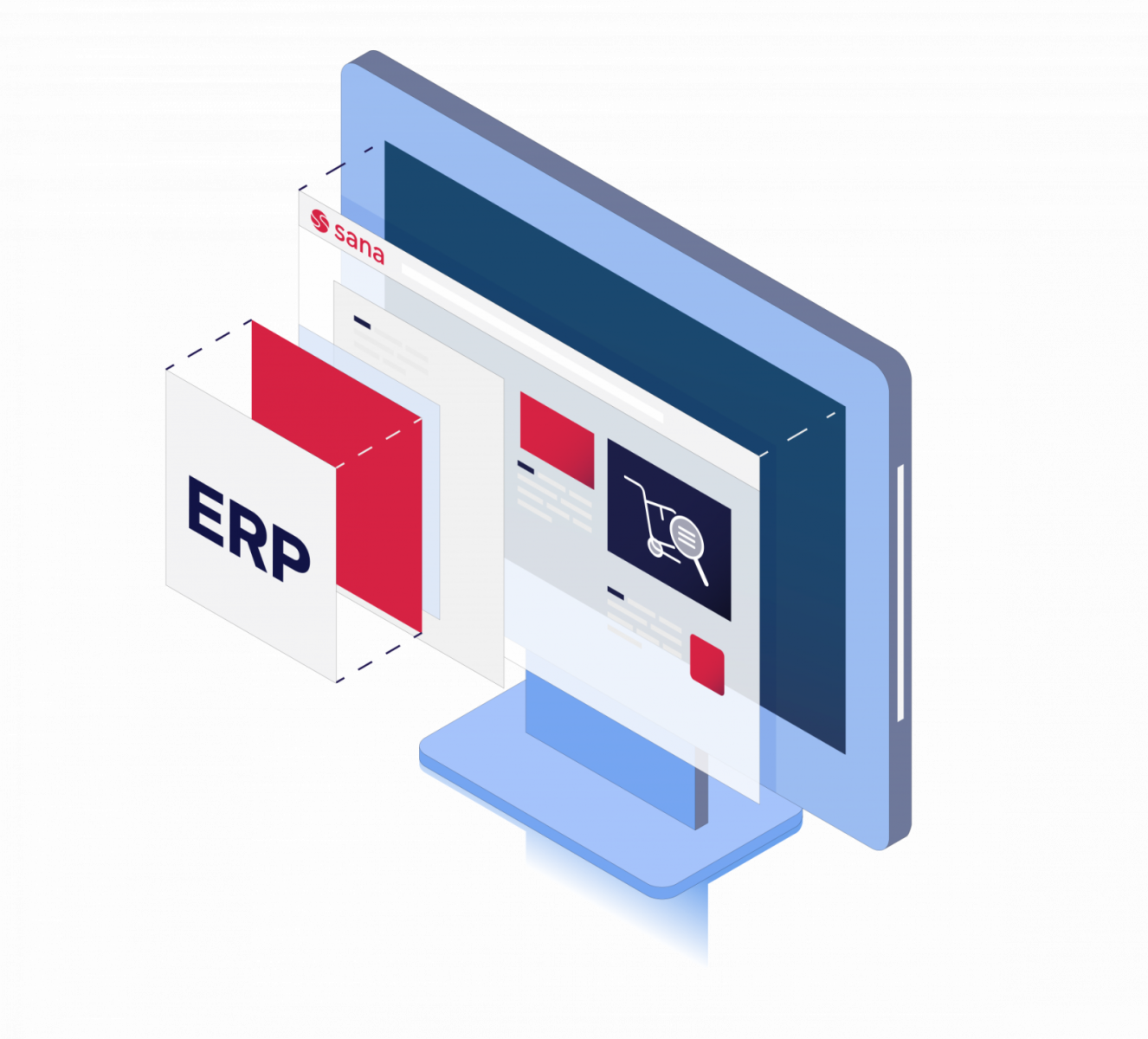 Beginning the digital transformation for your business is a daunting task for even the most successful B2B sellers worldwide. There are many considerations that decision-makers must take into account when deciding how to move forward with bringing their business online.
Particularly in light of a year marked by disruption and advancement, there are groups of sellers who are looking for the best way to invest in digital strategies that allow them to get up to speed quickly and efficiently.
However, when it comes to meeting those benchmarks, not all B2B e-commerce solutions are created equal. Sana Commerce's unique approach involves an integrated e-commerce solution that makes your e-commerce and your Microsoft Dynamics or SAP ERP system work as one.
What sets integrated e-commerce apart?
Lots of mainstream e-commerce software solutions use the term "integrated" to describe what they offer, but this is a misnomer. Integration means combining the power of the e-commerce solution and ERP into one centralized system. Most other solutions require interfacing, meaning that they build "middle-man" programs that communicate between the solution and the ERP. Communication and integration are not interchangeable terms.
Solutions like Intershop market themselves as a monolith, all-encompassing product, which may seem to indicate that they use an integrated approach as well. But this is not true. Intershop still exists outside of the ERP, meaning ERP logic needs to be rebuilt and later maintained separately from the e-commerce solution and data must be synchronized regularly. This means that Intershop can't offer real-time updates to ERP data libraries.
Truly integrated e-commerce, like what's possible with Sana Commerce's platform, doesn't just leverage your ERP data. It turns your ERP system into the foundation of your e-commerce experience, and strategically leverages the complex logic and data in your ERP system, without requiring replication.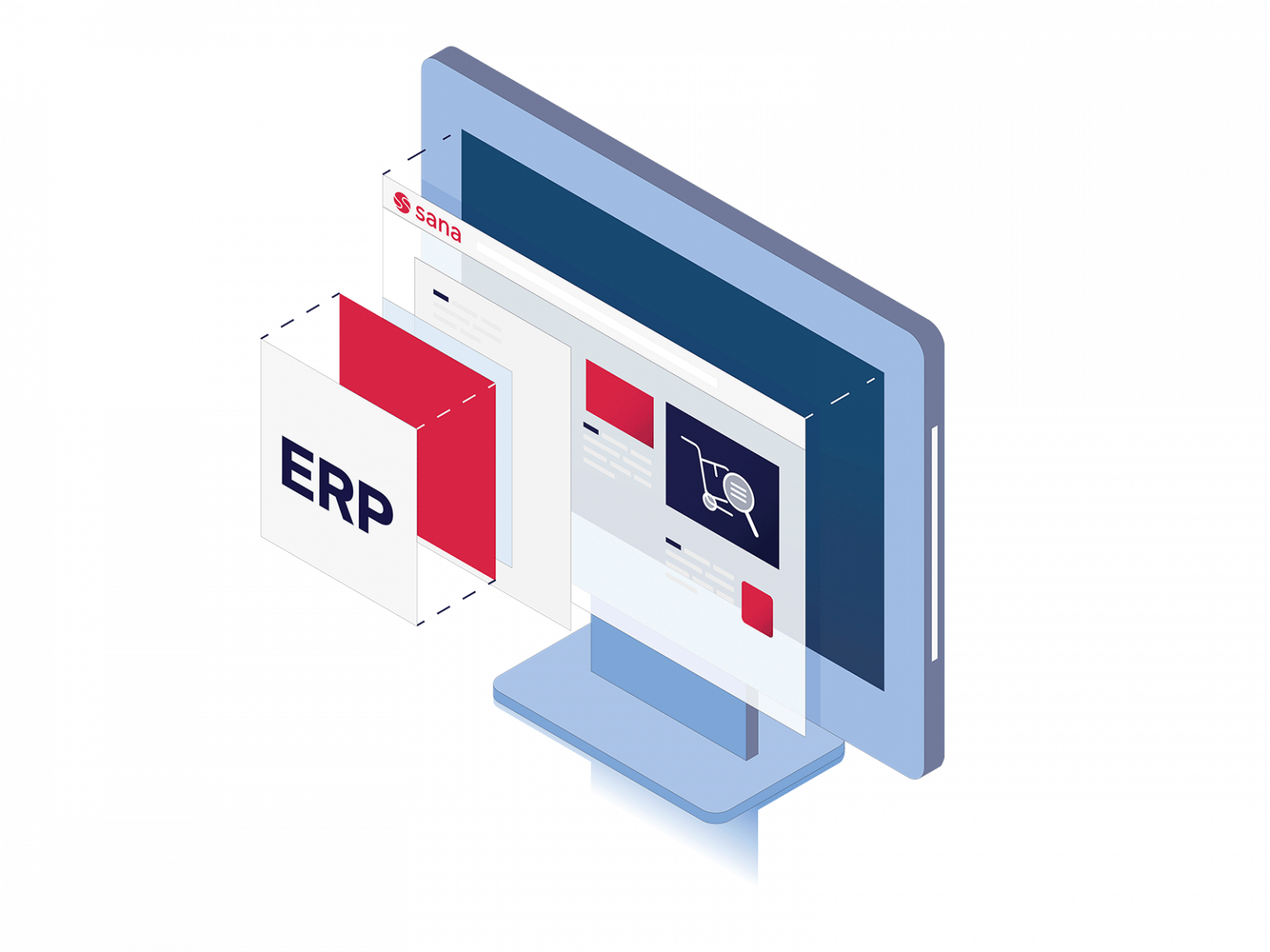 If you are looking to get started, or are looking to switch, you'll need all the relevant info you can get on how these two e-commerce platforms compare. In this blog, we will help you understand the key differences. If you're about to begin, or are in the middle of, your e-commerce platform comparison, the remainder of this blog will help you understand the key considerations to keep in mind across solutions, so you can make the strongest choice for your business:
1. Leverage the full power of your ERP
Sana Commerce utilizes the full power of the ERP system that you use. This includes Microsoft Dynamics 365 Business Central, Dynamics AX, Dynamics NAV and Dynamics GP. Intershop only offers integration with Microsoft Dynamics 365 for Finance and Operations. The very first step to complete integration and making your ERP and e-commerce work as one is to find an e-commerce solution that works with the ERP your business is using. Intershop's limited ERP connection options hinder its ability to work for all business cases.
But that's just the tip of the iceberg. Even if you use an ERP that works with Intershop, the degree of that connection is also limited. True ERP-integrated e-commerce software is partially installed inside your ERP, which avoids the kinds of complex connections that other solutions claiming to be integrated require.
At Sana Commerce, we understand both e-commerce and Microsoft Dynamics and SAP ERP systems inside and out. Because we work within the ERP system and because our solution allows us to directly modify elements in customers' ERP systems to install Sana Commerce, we come equipped with deep ERP expertise on our own. Paired with our expansive network of ERP partners, you'd be challenged to find another provider with B2B capabilities as strong that also has ERP knowledge as extensive.
2. Quicker implementation leads to higher ROI
Any gap time your business has while incorporating a new software solution into your tech stack costs you valuable time and resources. These business processes are often complex, but that doesn't necessarily mean they need to be overly lengthy due to experimentation and bug fixes.
Intershop's monolithic solution means that any system that connects with Intershop will have to be completely overhauled to interface with the Intershop program. Instead of targeting specific business needs with ready-made options, Intershop offers a blanket approach that requires many months to implement, experiment, and launch due to its complexity. For each round of experimentation and adjustment, there are more running costs, which can affect your return on investment.
Sana Commerce is structured differently. Our out-of-the-box solution includes numerous features that are built to address your business' specific pain points. This allows for quick and easy integration with your ERP, so you can get back to what you do best as fast as possible. Sana Commerce is committed to getting it right the first time and keeping your costs down. The integrated architecture means you only have to maintain one system, which results in lower running costs overall. All those extra resources that you would need to spend on tweaking a monolithic solution like Intershop are now added to your bottom line.
Which e-commerce solution is right for you?
Compare 3 top-ranking e-commerce providers in this latest report from the global leader in software review platforms, G2 Crowd.
3. Constant evolution with real-time updates
Most mainstream e-commerce solutions have a short shelf-life before changing customer expectations and advancements in technology slowly make them obsolete. Disruption is the new norm, but many e-commerce solutions are so complex and full-suite that they lack the ability to be agile and pivot quickly to the changing needs of the market.
This is the case with Intershop, whose migration to a cloud-based service is slow — and made slower by the goliath-sized tech complexity that they have to translate to a software-as-a-service (SaaS) model.
Just like the businesses we cater to, Sana Commerce does things a little differently. We understand the value of agility in a rapidly changing business landscape. Our SaaS product, Sana Commerce Cloud, embodies that value by being the only ERP-integrated e-commerce platform built to foster lasting customer relationships by offering unmatched convenience, reliability, and flexibility to evolve.
Sana Commerce Cloud is built on a React.js framework to enable a headless commerce experience, allowing for quick real-time upgrades to your e-commerce platform with no downtime. It is the first cloud-based solution to leverage single-page applications (SPAs) for a B2B use case. This improves the buying experience and boosts performance, which helps you build stronger relationships with your customers. SCC offers analytics, CMS, and marketing capabilities (including a new drag-and-drop in-page content editor) all within an out-of-the-box SaaS solution that never cuts corners on functionality.
Choose the e-commerce solution that brings the most to the table
It can be difficult to navigate the different technical differences between e-commerce solutions, but your guiding principle should be what your use case and business needs happen to be. You want to create as little friction as possible during your adoption of an e-commerce solution so that it will be more of a help and less of a hindrance to your company.
Sana Commerce has a great independent reputation among popular review sites such as G2 and Capterra, where we maintain high (4+ Stars) ratings among real users. For a more authoritative review of Sana Commerce, look no further than Forrester who ranked Sana Commerce one of the best B2B e-commerce platforms for mid-market companies in 2020.
You can read the full Forrester report here and see how Sana Commerce stacks up against mainstream commerce solutions.
Sana Commerce named a High Performer by G2 Crowd
Get the full comparison report from the leading business software review platform to see how 3 top e-commerce platforms stack up.