Gestión de contenido sin esfuerzo
Disfruta de capacidades de diseño ilimitadas y crea contenidos personalizados con nuestro moderno Diseñador Visual de arrastrar y soltar.
Compra omnicanal
Es esencial que tu tienda online tenga un buen rendimiento, independientemente de que tus clientes compren a través del teléfono, del PC o de la tableta, deben navegar y encontrar lo que buscan fácilmente. Sana Commerce Cloud está diseñado para ser totalmente responsive, asegurando que sus páginas se escalan y comprimen para adaptarse a cualquier dispositivo.
Los clientes pueden navegar rápidamente por tu catálogo y realizar compras con facilidad, en cualquier momento y lugar. Tener una tienda online responsive no sólo mejora la experiencia del cliente, sino que también puede mejorar las tasas de conversión y llevar a mayores ventas.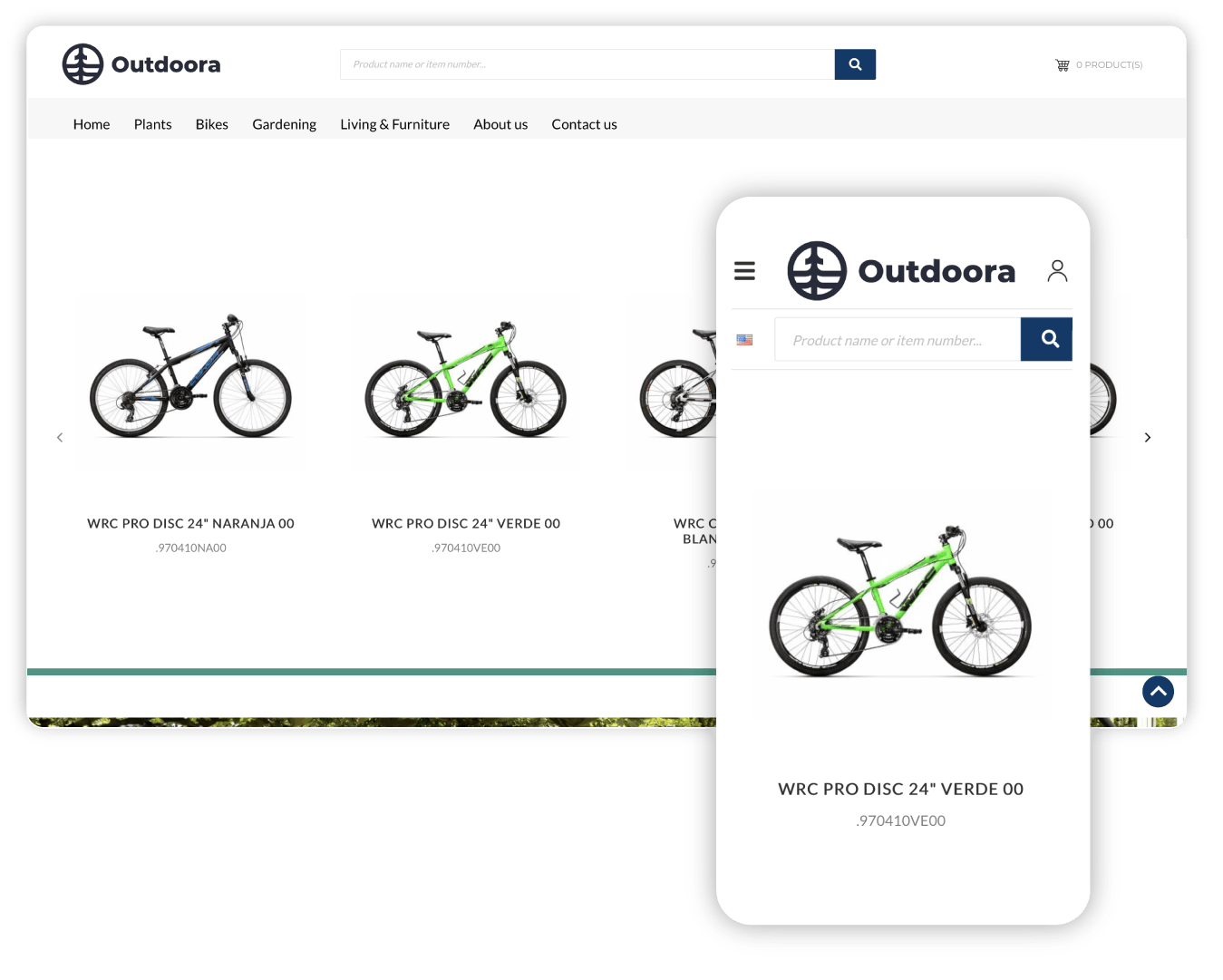 Muestra las partes que importan
Muestra múltiples productos a tus clientes dentro de una sola imagen de producto o lookbook. Con nuestro elemento de contenido lookbook, puedes añadir una imagen que contenga múltiples productos y crear puntos clicables en la imagen. Esta característica es muy valiosa para los vendedores B2B que venden piezas de repuesto. En lugar de que los clientes tengan que buscar productos individuales basados en el número SKU, pueden acceder a todas las piezas que necesitan desde la misma página y comprarlas con un solo clic.
Desde una sola imagen de producto, los clientes pueden:
Elegir sus productos o partes de productos que necesitan
Ver información importante del producto
Añadir el producto seleccionado al carrito de compra
Escuche a nuestros clientes
We were able to set up and run a large store in a short time.
The CMS is easy enough for beginners but is also open enough for advanced users to program. The attention to detail when it comes to SEO and minimal setup is a big plus.
Best e-commerce I found that integrates with SAP.
It connects perfectly with our ERP and makes our internal processes so easy. We don't have to worry about updating inventory.
We now have orders from customers we previously had no contact with.
No more manual order intake and processing. Stock availability, customer-specific pricing, volume discounts, etc. are all administered in NAV and work great in the web store.
Integrates well with our ERP and PIM software.
We have accurate ERP and PIM data across our pan-European platform. Our assortment is refreshed on a daily basis and existing products can be revised by new multilingual product-content.
Easy integration and great solution.
Sana Commerce gave our contractors the ability to order items outside of standard business hours. It's an excellent knowledge base that allows you to easily find information and make improvements to your site.
A platform that enables growth.
Sana Commerce enabled us to quickly connect to our ERP and empowered our customers to place their own orders. This saved our limited sales team time and resources.
Simple to set up and use!
I'm not an IT Manager, but the ease of configuration and use allowed me to create our shop independently. This is a complete and professional tool for businesses with a high level of ERP integration.
Sana Commerce really boosts your online sales.
The pricing for the performance is excellent. Of all the e-commerce solutions we looked at, Sana Commerce was the best in pricing, performance and connection to our ERP.
Packed with many features and expandability.
Sana Commerce enables us to offer an exclusive service to many existing customers, giving them the chance to check order status in real-time, see custom prices and availability, and create orders from quotations.
Best e-commerce solution for Dynamics AX.
We appreciate the flexibility to decide which products (and product categories) are visible in the web store.
Conoce
Sana Commerce Cloud
Prueba nuestro producto con una demostración adaptada a tu negocio y a tus necesidades de comercio electrónico.