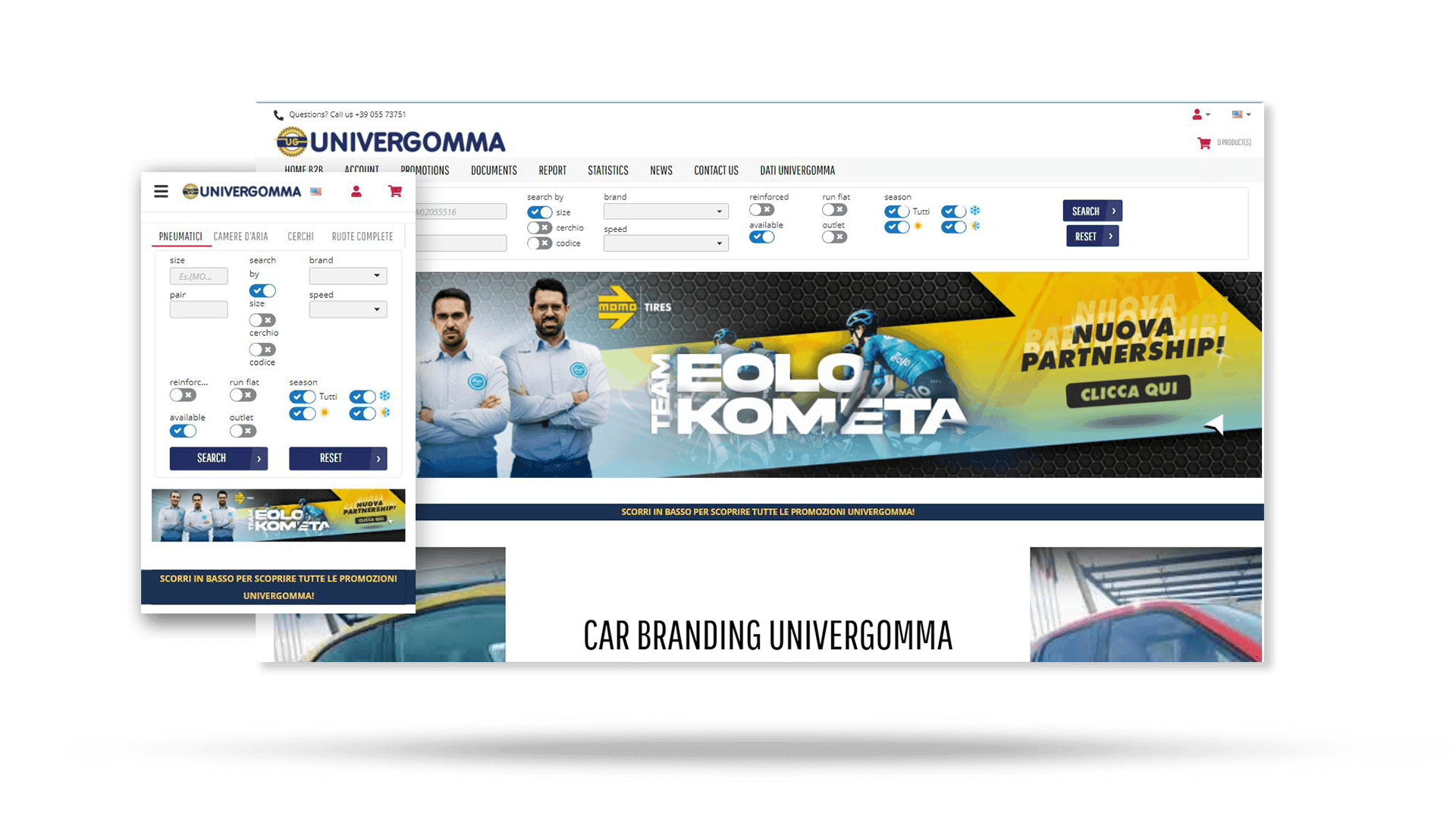 Univergomma SpA
Univergomma SpA's new web store has helped increase online sales, build stronger customer relationships, safeguard sensitive information against competitors and elevate their market presence. 
Leading

B2B distributor

of

premium and exclusive tire brands within

Italy

with a global reseller network 

 

Focused on quality service and maintaining s

t

rong customer relationships

th

r

ough

flexible and efficient offerings

within

a complex

market

 

Over

50

years in business

 

Improved relationships
optimized web store performance
Over 90%
of product orders take place online

5,000 orders
and 80,000 product searches daily
The challenge
A more reliable and user-friendly experience, with complex B2B functionality
With accelerated digital transformation trends across industries, most customer relationships and business interactions are now occurring digitally. Committed to providing their customers with high quality service, Univergomma SpA needed a high performing web store that offered buyers a convenient, reliable and user-friendly experience.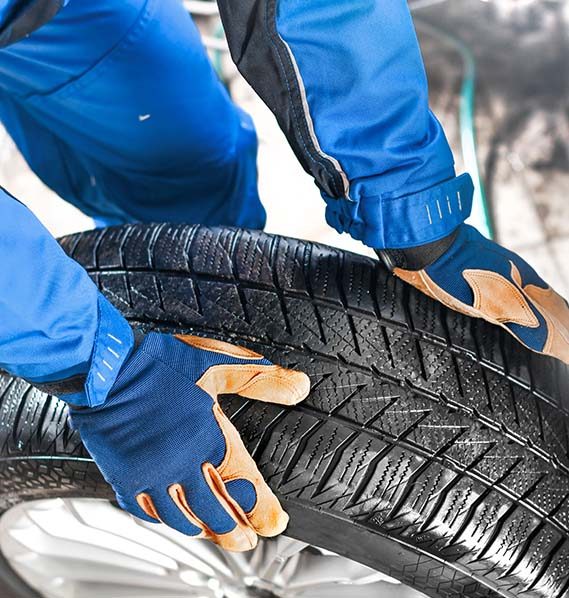 Prior to working with Sana Commerce, they were operating on Microsoft Dynamics 365 Business Central with an e-commerce solution developed in-house. But given the rapidly changing digital environment, it was no longer able to evolve with digital trends, operate efficiently and keep up with customer demands. Univergomma SpA needed to launch a new online platform that could address the following challenges:
Support highly complex business and sales processes. Univergomma SpA operates in a very complex B2B market, which demands very explicit product and customer-specific requirements. They needed a B2B e-commerce solution that could host an extensive catalogue of products and create an easy user experience for both back-end and front-end users.
Simplified and easier to use interface. Customer satisfaction when using the store was a priority for Univergomma SpA. With over 20,000 B2B customers already using their existing e-commerce store, having a user-friendly interface that will enable a quick adoption process and be easy for their customers to use from the get-go was essential.
Providing a more accurate and real-time information to customers. To deliver on exceptional customer experience, the platform needed to provide users with personalized, real-time, and accurate information on prices, products and services.
The solution
A simpler, more secure and feature-rich ERP integrated web store
Univergomma successfully launched a Dynamics 365 Business Central-integrated B2B e-commerce store with Sana Commerce's SaaS e-commerce solution, Sana Commerce Cloud (SCC).
Project requirements included:
Microsoft Dynamics 365 Business Central ERP integration
Real-time web store data, particularly inventory, logistics and sales statistics
Support for complex and customer-specific pricing
Enhanced security around competitively sensitive information
Extensive out-of-the-box functionality and ease to customize as needed
An easy to navigate web store, with extensive search functionality to allow customers to quickly find, and order tires, parts and logistics services
Personalized customer marketing and communications
A bi-lingual store in English and Italian
Sana Commerce was able to deliver an ERP-integrated web store whilst providing a flexible solution to enable increased security, and custom search features.
Extensive search functionality and accurate, real-time pricing
With customer satisfaction being a top priority customers needed to be able to quickly and easily find products within their extensive product catalogue and service offerings.
In our previous e-commerce store, we had difficulties in displaying accurate price breakdown. This information is key to our customers. Univergomma and Sana Commerce were able to develop a solution that can provide our customers with accurate final pricing while considering the complex and multiple factors that are taken into account in order to determine the final price.

Tiziano Nieri | Web Marketer at Univergomma SpA
Sana Commerce and Univergomma SpA worked together to develop a customized search feature that empowers true customer self-service and ease of use. The end-result is a tool that enables advanced product and service searches, including real-time information on pricing and availability. Additionally, the search tool also calculates and displays the accurate net price of products in the search filters, including pricing factors such as shipping costs, applicable taxes, customer discounts, per warehouse inventory information and current sales promotions. This enabled a quick and seamless customer buying experience by making information easily accessible, accurate and relevant to each unique customer.
Controlled user authentication and access management
Operating in a highly competitive B2B market, maintaining a competitive advantage is key. Competitors are always looking for a way to stay one step ahead, and using whatever ever information they can, to adjust and elevate their own competitive advantage within the market.
Knowing this, Univergomma SpA wanted to limit unauthorized access to competitively sensitive information such as product pricing, service availability and inventory levels. The solution was to install a double authentication process, to manage users' account access and avoid unauthorized users and devices. Additional insights on user web store behaviour also enable them to monitor suspicious account activity and keep potentially sensitive information secure from competitors.
The results
Enhanced web store performance, simplified internal processes and happier customers
With their Sana Commerce web store, Univergomma SpA, was able to deliver a customer-centric web store, that strengthened their relationship with customers and streamlined their internal processes.
A modern and feature-rich storefront, in addition to quick and easy product search and reliable order entry has improved the company's image in the market.

Marco Morreale | E-commerce Project Manager at Univergomma SpA
Key benefits include:
Increase in online orders. The new web store played a relevant role, in increasing online sales by 11%.
Enhanced customer relationships. Customer convenience was the main motivator behind the project. Through a web store that was easier to use, faster to order with, and more reliable, Univergomma SpA was able to strengthen its relationships with customers nationwide.
A faster, more powerful web store. The new web store delivered improved front-end experiences with faster page loading times and performance. Daily the store supports over 80,000 product searches and helps fulfil more than 5,000 orders.
Increased operational efficiency. Having a web store integrated with the ERP has resulted in major time savings internally (16 -20 hours a month), especially across shop account management. The web store gets all its information directly from the ERP, ensuring that all information is up to date and accurate on the front-end, without the need to manually update information across both systems, meaning less work for internal teams.
Reduction in orders errors. By being integrated with their ERP, the store has not only helped them save on time, but also reduced the number of online order errors (one of the biggest challenges B2B web stores face that impact their relationships with customers).
Our internal IT teams have enjoyed the usability of the back-end, especially the content management system, shop account and device management control. Sana Commerce Cloud made the whole system architecture simpler and more maintainable.

Marco Morreale | E-commerce Project Manager at Univergomma SpA
Withstand disruption with ERP e-commerce.