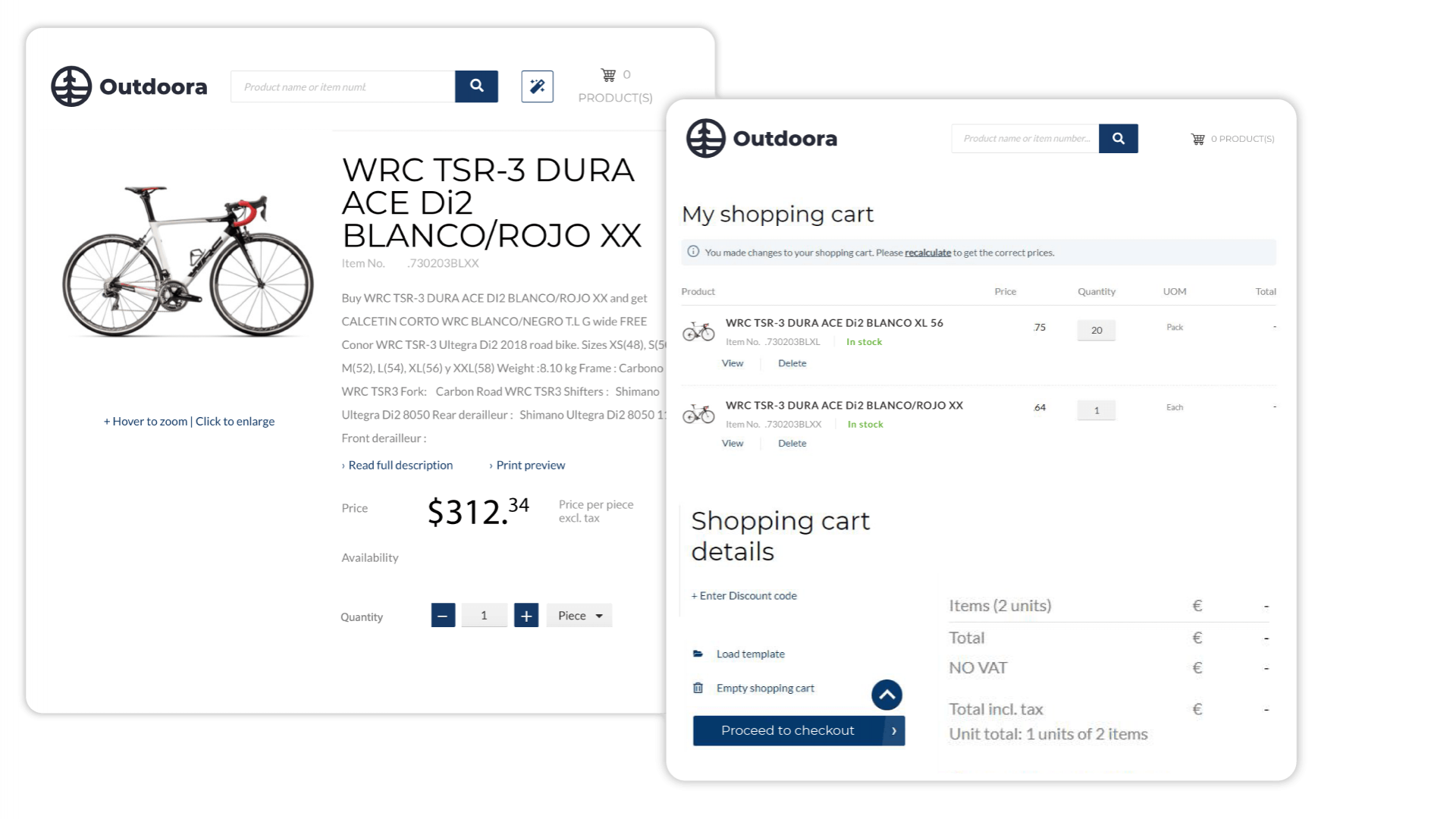 Streamline your online order processes
A well-designed web store isn't enough for a great online shopping experience: you also need efficient and streamlined order processes. Our out-of-the-box order management features ensure you please your clients, every time.
Request a demo
Discover Sana Commerce Cloud
Learn how our ERP-integrated solution centralizes your data so you can focus on the future.
Simplify orders and returns (RMA) for all
With Sana Commerce Cloud, we've mastered the art of B2B and B2C order and return processes (so you don't have to).
Display real-time shopping cart calculations
Use your ERP's standard quote request (RFQ) process
Orders can be edited even after they're placed
Keep clients informed with order tracking
Allow clients to reorder from past orders with one click
Facilitate streamlined product returns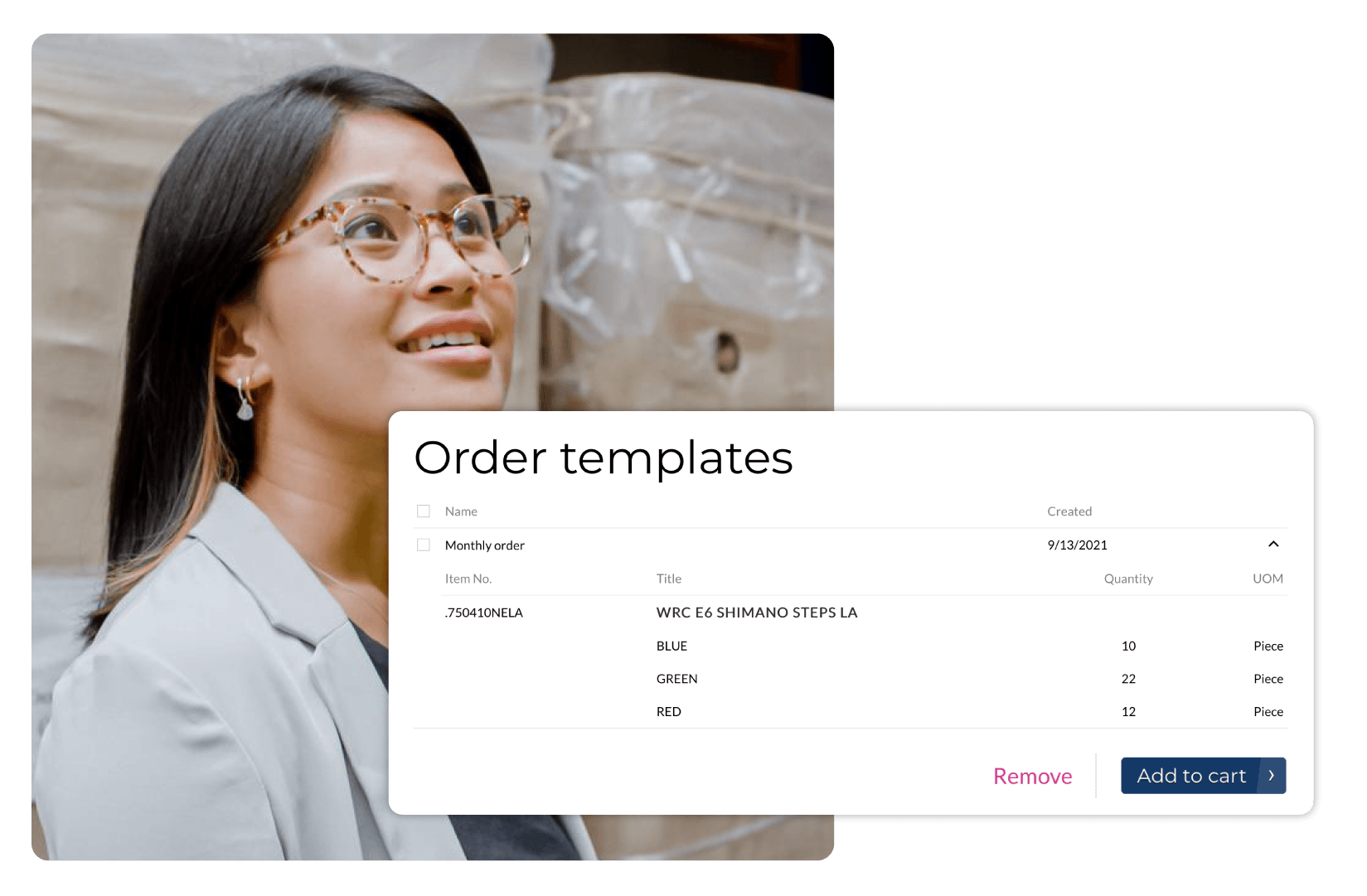 Effectively organize and display your products
Efficient product management is a must for any business that wants to streamline its sales and order processes. Sana Commerce Cloud makes this as simple as possible by automatically creating product pages for you in your web store based on all the products housed in your ERP, and even your PIM, system.
Any changes or additions made to products in your ERP will also be reflected in your web store in real-time due to our native ERP integration. Product pages showcase the product and any available variants, images, price, stock availability, ratings and reviews, product descriptions, and more.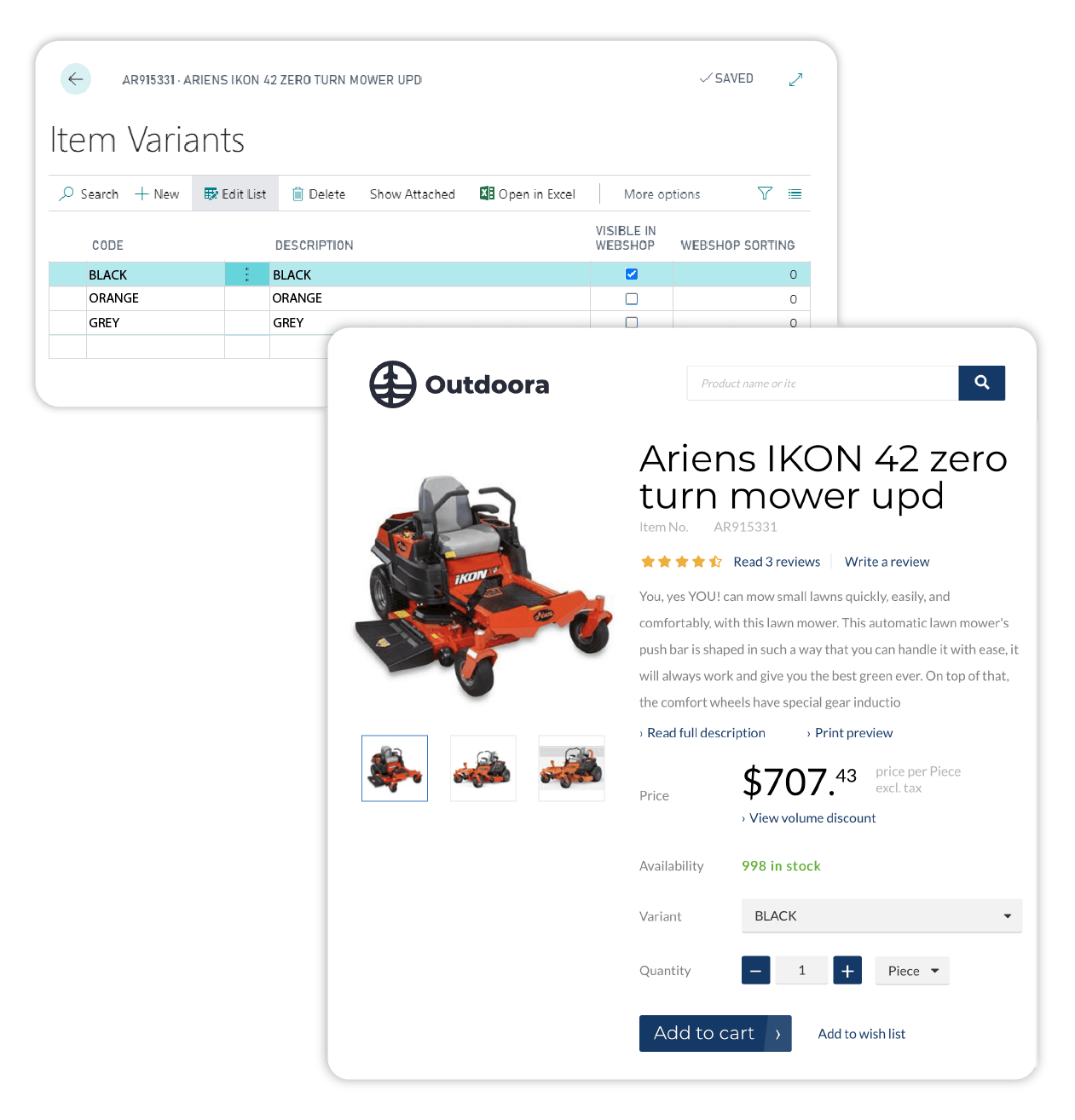 Provide a localized experience
Personalization in online sales has become more prominent over the years and is key to ensuring an optimal customer experience. No matter where your customers are, you should be able to provide them with a localized experience.
Translate your store into multiple languages with our out-of-the-box language packs. You can also select specific pages to translate based on product availability in certain countries or regions.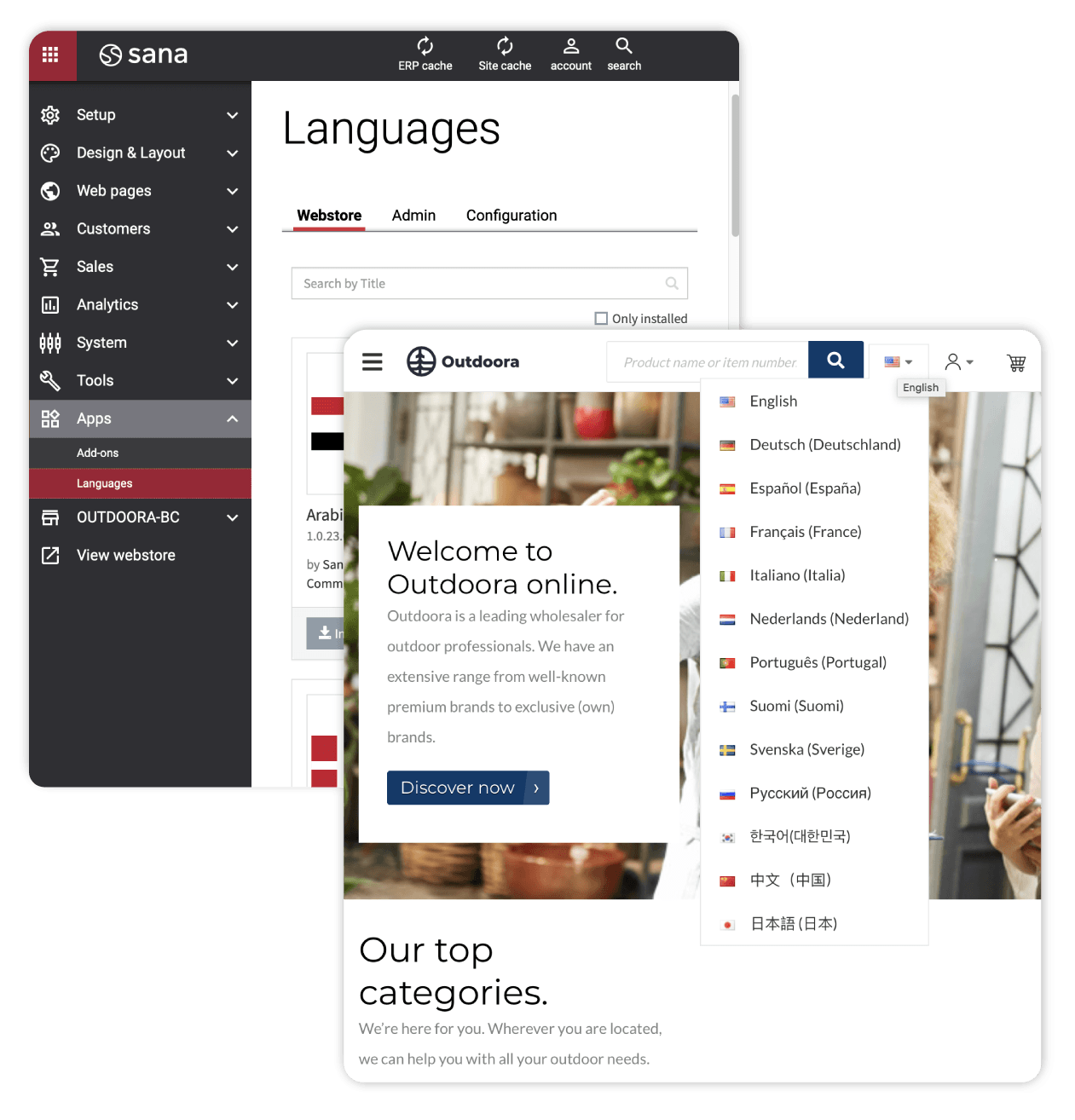 Manage online and offline order history
Centralize all your order data in one place — whether it's online or offline. With Sana Commerce Cloud your web store is integrated fully with your ERP system, meaning customers can also view orders they may have placed previously with you via phone, email or even fax.
This functionality allows you to meet customer expectations without sacrificing data they depend on.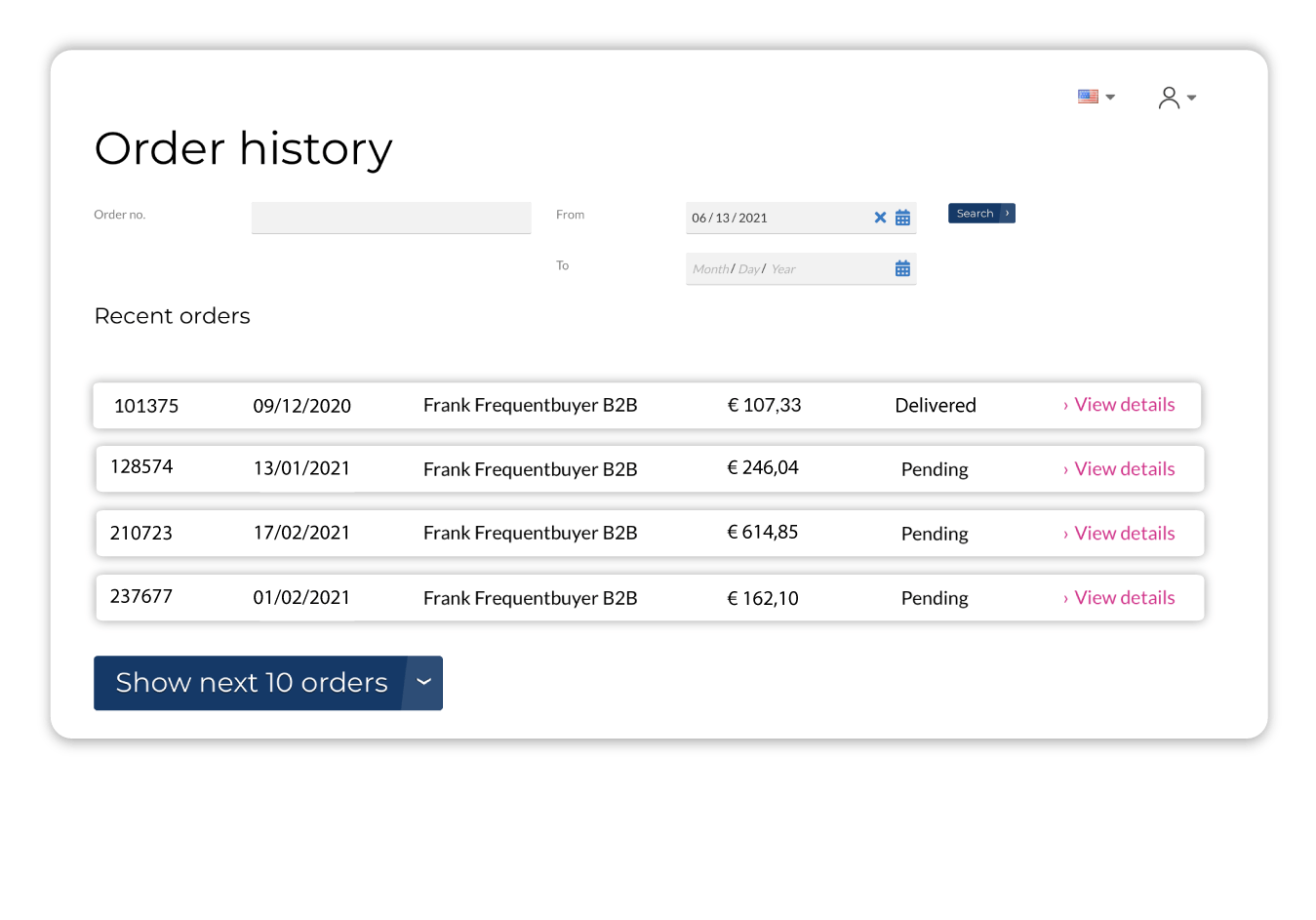 We can now offer solid e-commerce capabilities to our B2B customers
It allows a flawless flow of information between the front-end and the ERP. It removes the most significant pain of any e–commerce platform; truth of data. Customer comments have been terrific so far. 
We were able to set up and run a large store in a short time.
The CMS is easy enough for beginners but is also open enough for advanced users to program. The attention to detail when it comes to SEO and minimal setup is a big plus.
We now have orders from customers we previously had no contact with.
No more manual order intake and processing. Stock availability, customer-specific pricing, volume discounts, etc. are all administered in NAV and work great in the web store.
Integrates well with our ERP and PIM software.
We have accurate ERP and PIM data across our pan-European platform. Our assortment is refreshed on a daily basis and existing products can be revised by new multilingual product-content.
Easy integration and great solution.
Sana Commerce gave our contractors the ability to order items outside of standard business hours. It's an excellent knowledge base that allows you to easily find information and make improvements to your site.
A platform that enables growth.
Sana Commerce enabled us to quickly connect to our ERP and empowered our customers to place their own orders. This saved our limited sales team time and resources.
Simple to set up and use!
I'm not an IT Manager, but the ease of configuration and use allowed me to create our shop independently. This is a complete and professional tool for businesses with a high level of ERP integration.
Sana Commerce really boosts your online sales.
The pricing for the performance is excellent. Of all the e-commerce solutions we looked at, Sana Commerce was the best in pricing, performance and connection to our ERP.
Packed with many features and expandability.
Sana Commerce enables us to offer an exclusive service to many existing customers, giving them the chance to check order status in real-time, see custom prices and availability, and create orders from quotations.
Best e-commerce solution for Dynamics AX.
We appreciate the flexibility to decide which products (and product categories) are visible in the web store.
Experience
Sana Commerce Cloud
See our product in action with a personalized demo tailored to your business and e-commerce needs.