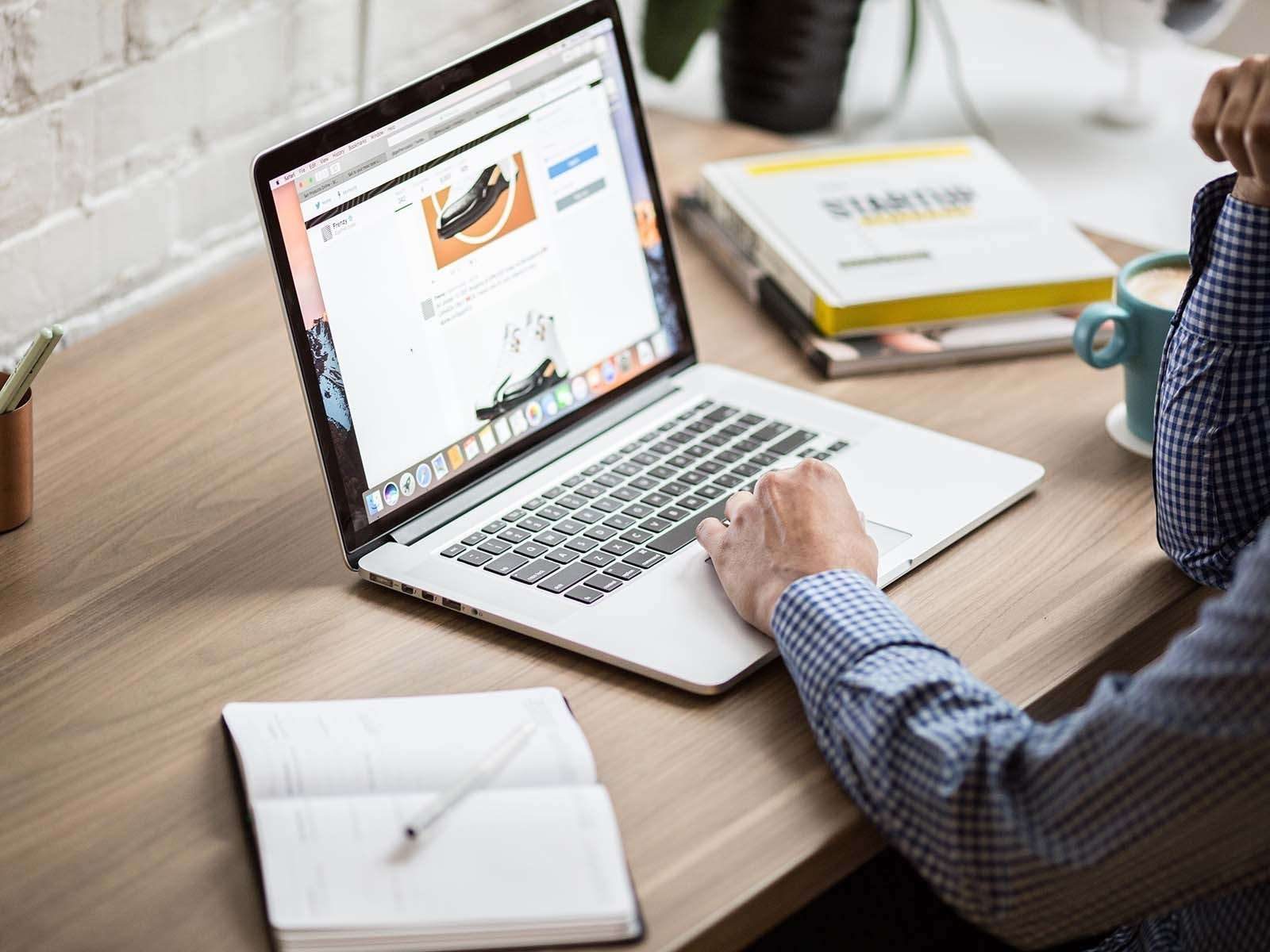 Getting visitors to your web store is only half the battle. Here are 6 ways Sana Commerce 9.3 helps you improve your e-commerce conversion rate and turn browsers into buyers.

What is a conversion rate, and why should you care?
In a nutshell, the conversion rate is the percentage of visitors who achieve a predetermined goal on a page. That could be downloading a whitepaper, signing up for a newsletter, or completing a purchase.
Now, if your e-commerce endeavor is a relatively new addition to your collection of channels, or if your main reason for launching your web store was to provide an online product catalog for your buyers to browse, then you might not be too bothered about shopping cart abandonment rates.
But with the average shopping cart abandonment rate hovering at an incredible 78.65%, that's a lot of money you're leaving on the table. And with Sana Commerce 9.3, it's easier than ever to conquer cart abandonment and drastically improve your e-commerce conversion rate thanks to these 6 new features.
1. One-step checkout
The new e-commerce conversion rate feature we're most excited about is the one-step checkout.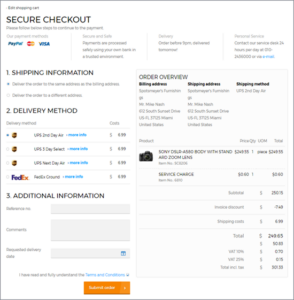 As you can see, the new one-step checkout shows your online shoppers everything they need to check and complete their order on a single page — regardless of whether they're a guest or a registered user.
Instead of having to click through several steps to check all their details, shoppers can see everything at a glance:
Billing and shipping information
Delivery method
Payment method
Order overview
Additional data
Not only does this mean that your customers are required to perform fewer actions to finalize their order, it also removes one of the biggest conversion rate killers: surprise fees. As Peep Laja of ConversionXL says:
"Nothing kills conversions like a surprise shipping fee revealed at the very end."
Thanks to the seamless ERP integration, your Sana web store can display completely accurate prices including shipping fees, payment fees, and even sales tax — all as calculated by your Microsoft Dynamics or SAP ERP solution. That means no unexpected fees popping up right at the last second to sabotage your online sales.
If your customer decides to switch shipping or payment options based on the fees, their new order total is immediately recalculated, so they can always see the actual price on the checkout page.
Oh, and before we forget: We used feedback from our customers to optimize the checkout both for B2B and B2C. So it doesn't matter whether consumers or business buyers are your main demographic: using our new one-step checkout will boost your conversion rates.
(Prefer traditional, multi-step checkouts? Not a problem: Sana Commerce 9.3 lets you choose between the two!)
2. Put the focus on free
Previous versions of Sana Commerce indicated that there were no costs for shipping by listing the fee as '0' — which, of course, is correct. But as of Sana 9.3, this is now displayed as Free, in a nice, eye-catching green.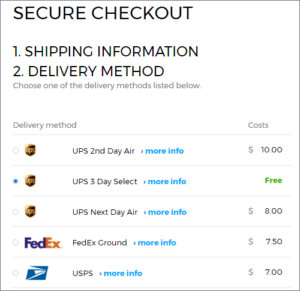 Sure, Free and 0 boil down to the same thing. But research by a renowned marketing agency indicates that using the word rather than the number has a positive effect on conversion rates, which is why we've now added this option to Sana Commerce.
3. Show or hide product images
Finally, you can now choose whether or not to display product thumbnails as part of the order overview at checkout.
Want a more minimalist look and feel for your checkout page? Or do you want to provide a clear, visual overview of everything in your customer's shopping cart? It's now fully configurable in your Sana web store.
4. More options for the terms and conditions checkbox
Address simplification isn't the only way Sana Commerce 9.3 is cutting down on actions at checkout to improve e-commerce conversion rates. You can now enable or disable the Terms and Conditions checkbox.
You can now choose between having customers click the checkbox to indicate that they agree to your terms and conditions, and displaying text that says that they agree to your T&C by clicking Pay. That's another click saved on your shopper's path to purchase.
5. Guest checkout improvement: Address simplification
Make things easier for all your shoppers, both loyal customers, and one-off guests. In Sana 9.3, you can now merge shipping and billing addresses at checkout.
This might seem like a small change, but it can make a big difference. In the vast majority of cases, these addresses are the same. By merging the two, you're letting guest shoppers finalize their order with fewer actions — or rather, with fewer hurdles between them and their purchase. Even more fuel for your skyrocketing e-commerce conversion rates.
6. Easier shipping address selection
Finally, we've introduced a design improvement that will make life easier for business buyers in particular.
The checkout page now offers an improved overview of shipping addresses: your B2B customers can see all their shipping addresses at a glance and easily select the right one for this particular order. This saves time and hassle for clients with multiple offices or locations, and helps them ensure that their order ends up exactly where it needs to be — without having to call or email you to quickly fix shipping address errors.
What else is in Sana Commerce 9.3?
Conversion rates aren't the only thing we're improving in Sana Commerce 9.3.
For a concise overview of everything, our latest release has to offer, download your copy of our Sana Commerce 9.3 solution highlights.
For a deep-dive into Sana 9.3's marketing capabilities instead, and insight into how online marketing can contribute to a better e-commerce conversion rate, check out our Solution Highlights: Online Marketing Edition.
How to meet buyers' demand for (better) B2B e-commerce
We have tips for you.