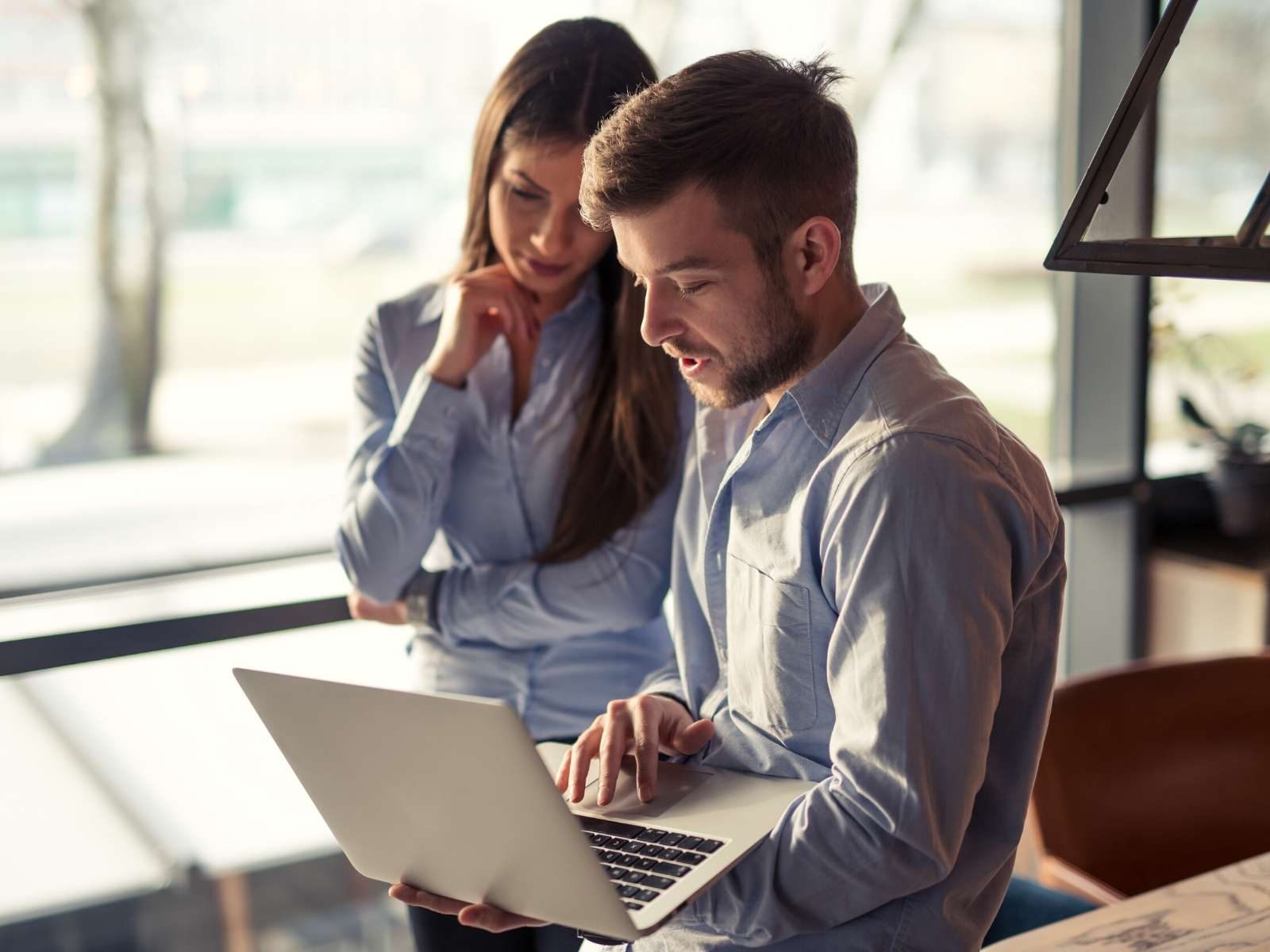 Is your B2B e-commerce solution not meeting your business goals? When should you replatform your e-commerce solution? What are the main reasons to replatform? From time-consuming maintenance to poor customer experience: Discover the 4 key indicators your B2B business is ready to switch e-commerce solution providers and take on an e-commerce replatforming project. See how your current e-commerce platform measures up!
Do you identify with one or more of these top reasons why B2B businesses replatform? Then, download our e-commerce replatforming checklist, e-commerce TCO calculator and B2B RFP template to start your e-commerce replatforming project.
1. Maintenance costs and operational efficiency: Are you spending too much time, money and effort on your current platform?
As you know, the cost of an e-commerce platform does not stop at the initial implementation. You also need to factor in maintenance. Together, these add up to your e-commerce TCO (total cost of ownership). If you need to invest a significant and unexpected amount of money and resources to maintain and run your web store, then you should consider migrating to a new e-commerce platform.
Where might you experience high and unpredictable e-commerce costs and operational inefficiencies?
Maintenance of databases: Do you spend hours on repetitive manual data entry and importing orders due to a lack of automation?
IT management: Are you spending too much time maintaining multiple systems — such as both an ERP and e-commerce platform — and replicating data and logic across both systems?
Development: Does your e-commerce platform require continuous and costly development?
Order errors and return management: Are you experiencing too many order errors? Are the costs of return management impacting your bottom line?
Content and other front-end management: Is it time-consuming to change something on the front end of your web store? Does every single change you want to make need to go via a web agency?
Licenses and hosting: Are you experiencing high and/or rising licensing and hosting costs?
One way to reduce your e-commerce TCO and save valuable time is to invest in a solution that automates the entire ordering process, based on one leading database (such as your ERP). Such automation will cut back on hours of data entry, manual importing and syncing of systems, as well as reducing costs related to human errors. Your team will then be free to focus on driving revenue through service and sales, instead of repetitive administrative tasks.
2. Scalability: Is your e-commerce platform struggling to scale with your business?
As your business grows and your strategy evolves, you need an e-commerce platform that can keep up with your increasingly complex business needs.
Whether you're looking at:
International expansion and the need to support multiple currencies, languages, business divisions, tax rules, shipping options and more via your web store
Changing business models, such as D2C, which involves more channels and different target audiences with varying needs
Acquisitions
Growing product portfolios
Changing customer needs etc.
A lot of complexities come with the growth of a business. So, you need to determine whether your current IT environment fits in with your strategic roadmap. If your e-commerce platform is too rigid to scale with your business or leads to too many errors due to the complex nature of your growing business, it's time to consider changing your e-commerce platform.
3. Customer experience: Is your online customer experience falling short?
As we saw in our Digital Transformation Report 2018-19, more and more B2B companies are waking up to the fact that it is no longer enough to just offer a web store. The focus is now also on providing a good or even great online customer experience. After all, B2B customers are also consumers accustomed to sleek B2C buying experiences. Therefore, optimized customer experience is essential to B2B online buying, and, nowadays, it is often a key reason why companies choose to change their e-commerce platform.
But what exactly do your B2B customers want? What kind of customer experience are they looking for? In 2019, we commissioned Sapio Research to survey 560 professional, B2B buyers. The research investigated these customers' behaviors, needs, and expectations: from how they want to access information and shop online, to their current KPIs and future priorities.
Based on this research, we concluded that e-commerce platforms must meet the following criteria in order to fulfill B2B customers' needs:
Display real-time information 24/7, such as pricing, product information, and inventory levels, but also customer-specific payment terms.
Offer advanced e-commerce functionalities, including the ability to quickly and easily place, track and return orders.
Handle the complexities of B2B orders, including those based on complex pricing and discount structures.
Prevent order errors, by displaying accurate product and inventory information, as well as customer-specific order history and account data.
For all the stats and takeaways, download the full B2B Buying Process 2019 Report: How to Meet B2B Buyers' Demand for (Better) E-Commerce.
Evaluate your platform
You can also do your own tests. Use the below indicators to evaluate whether your e-commerce platform still provides a good customer experience, or whether it's time to consider replatforming:
Customer feedback: An obvious place to start is to ask your customers directly. Are they happy with your web store? Or do you keep hearing the same complaints? Discover the different ways you can capture B2B customer feedback about your web store.
Repeat orders and customer lifetime value: Are your customers willing to place orders online? If your customers are satisfied, you'll naturally see an increase in online sales, repeat orders and returning customers.
Order errors: How often do you — and therefore your customers too — have to deal with order errors?
Customer self-service: Are your customers able to find what they need in the web store, or do they need to contact your support teams for help? How often do customers reach out to you via phone or email with standard questions?
Use the B2B e-commerce replatforming checklist to fully evaluate your e-commerce.
4. B2B specialism: Are you missing key B2B e-commerce features and functionalities?
As touched on above, having the right B2B e-commerce functionalities is key to offering your customers a better online buying experience. But it also helps you process orders faster, with more accuracy and with less reliance on offline customer support teams.
Key B2B features and functionalities include:
Comprehensive search feature
Ability to display tailored customer content, including personalized pricing, product assortments, credit limit and order history in the web store
Relevant payment options for your market and customers
Order tracking functionality
Are you missing any of these or other key features for your business and customers? Is your e-commerce solution unable to accurately present your B2B business rules in your sales portal? Or is the information displayed in your web store not always accurate? Then replatforming might be a good choice for you.
What if you could benefit from…?
Low e-commerce TCO and maintenance
A scalable platform
Quick implementation
How? With ERP-integrated e-commerce. Built inside your SAP or Microsoft Dynamics ERP, integrated e-commerce uses the existing business logic and data stored in your ERP to power your web store.
Discover all 46+ benefits of ERP integration.
Should you replatform or simply upgrade?
Perhaps your current e-commerce provider can already meet all your needs with a platform upgrade or through customizations? In this case, you need to consider how complex and costly such a project will be. It may end up being cheaper and easier for you to find an e-commerce solution provider who can meet most, if not all, your needs as part of their standard, out-of-the-box solution.
Discover how Moto Direct slashed its e-commerce costs and time frame by switching platforms.
Selecting the right provider to migrate your e-commerce platform
Now that you've identified where your current e-commerce platform is falling short, it's time to consider where you want to go next. To ensure you select the right software vendor, there are 7 factors you should take into consideration:
Out-of-the-box e-commerce software: Which provider's standard solution best meets your requirements?
Integration of systems: Will the e-commerce solutions fit into your current tech stack?
E-commerce costs: How do the solution providers compare financially?
Time to market: How quickly can the vendors get your new web store live?
Relevant experience and track record: Do the e-commerce providers have the expertise you need?
Culture fit: Which e-commerce solution provider would make the best partner?
Support capabilities: How will the vendors help and educate you?
Dive deeper into these 7 factors: read the full blog post on how to select the best e-commerce solution provider.
Ready to change your e-commerce platform?
Here are some additional resources to help you carry out a successful e-commerce replatforming project:
Want to find out more about Sana Commerce and ERP-integrated e-commerce? See how we compare to other e-commerce providers and the impact our solution has had on our customers, from conversions and revenue, to order error rates.
B2B e-commerce replatforming checklist:
A step-by-step guide to changing your e-commerce platform.