Blog
5 minutes
5 ways to prepare for e-commerce success on Black Friday and Cyber Monday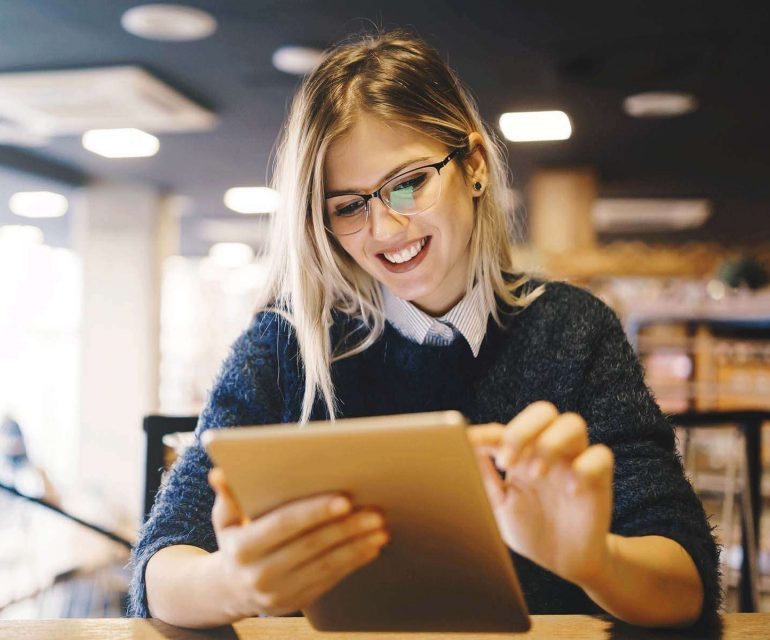 Is your e-commerce business ready for Black Friday and Cyber Monday? Here are five things you can do to make sure you don't miss out on your slice of this year's holiday season spending.
Black Friday and Cyber Monday 2019 forecast
The holiday season is always a great (if busy) time for retailers, but 2019's Cyber Monday and Black Friday are looking particularly promising!
Why are they so optimistic?
In 2018 Black Friday broke the sales record, bringing in a total of $6.2 billion in U.S. online sales. That was an astonishing 23.6% growth compared to U.S. online sales in 2017.
Looking back on U.S. Black Friday online sales since 2013, every year there has been a significant growth in online sales. Adobe forecasts that U.S. online sales this holiday season (from November 1 to December 31) will amount to $140 billion.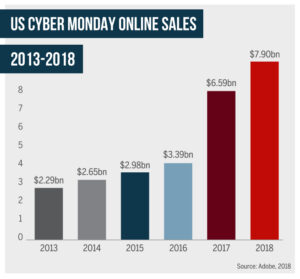 Around the world, the online sales in the holiday season is expected to grow 15% and the total sales is forecasted to amount to $768 billion.
With such a potentially profitable period on the horizon, you want to make sure that nothing stands in the way of your retail business growing sales this holiday season — especially not an underperforming web store.
That's why we've compiled a list of things you can do to make sure that your business is ready to benefit from this year's booming Cyber Monday and Black Friday online sales.
1: Make sure your web store is optimized for mobile
A web store that works perfectly on mobile devices will benefit your business the whole year round. But it's particularly pertinent for the holiday season.
According to Salesforce, mobile has officially surpassed desktop usage. The forecast is that mobile will account for 52% of online sales this holiday season. 70% of website visits will come from mobile.
So, if your website isn't optimized for mobile your business won't be able to fully profit from this holiday season.
How can you make sure that your web store is a mobile asset instead of an obstacle?
Make sure that your web store is responsive (in other words, that it displays properly on screens of all sizes).
Avoid pop-ups. They're harder to get rid of on smaller screens. The last thing you want is visitors clicking away your web store in frustration and going to a competitor.
Prioritize speedy loading! As Neil Patel explains, mobile internet connections tend to be slower and user patience is an increasingly scarce commodity.

2: Increase your web store speed and stability across the board
Patience might be a virtue, but it's not one many online shoppers possess according to Neil Patel:
47% of consumers expect a web page to load in under 2 seconds
If loading takes more than 3 seconds, 40% abandon the website
A 1 second delay can result in 7% fewer conversions
For online sales success, speed is of the essence. However, it's not the only technical factor that can make or break your online holiday season sales.
Web store stability is even more important. A sluggish web store might make you lose 40% of your visitors, but an overloaded web store will lose all of them.
A web store that cracks under the pressure of traffic peaks isn't just a risk for smaller companies, or companies just getting started with e-commerce. A few years ago, a number of major retailer sites experienced outages during the "Turkey Five," the five days following Thanksgiving — prime holiday season selling time. According to Forbes, these technical issues likely cost retailers billions in lost revenue.
If it could happen to Macy's, it could happen to you.
Ways to improve the stability of your web store include investing in a more powerful single machine that offers more disk space, memory and redundancy. If you don't want to put all your eggs in one basket, you could also consider load balancing using multiple machines — or a combination of the two methods.
3: Consider online marketplaces
A completely different approach is investing not only in your own site, but in a presence on other online marketplaces.
Why should you bother if you already have a web store of your own? It all comes down to sheer traffic volume. In 2018, Amazon accounted for 48% of U.S. e-commerce sales during November and December. eBay came in second, following at a distant 7.2% and Walmart came in third with 4%.
If you can't beat them (and, let's be honest, even Walmart can't beat them), why not join them?
There are plenty of reasons to branch out to online marketplaces like Amazon and Alibaba, but there are also downsides to this strategy. Learn more about the pros and cons of selling through online marketplaces on our blog.
4: Provide competitive fulfillment options
You've got the visitors on your site instead of one of the big-name retailers' sites. They're happily clicking through your fully functional, super speedy web store. They select their items, proceed to checkout, and…
They abandon their cart because of unexpected shipping costs.
Sound farfetched? Then you're in for a nasty surprise: 28% of respondents in a Visual Web Optimizer survey gave that as their reason for not proceeding to checkout.
It's essential that you communicate clearly about your shipping costs to prevent shoppers from getting cold feet. Or, if you want to be truly competitive, you could consider offering free shipping during the holiday season.
Research indicates that 9 out of 10 shoppers list free shipping as the biggest incentive to shop online more often. The same survey saw 69% of consumers listing one-day delivery as an incentive, and 68% listing free returns and exchanges.
Which brings us nicely to our fifth and final Black Friday and Cyber Monday tip.
5: Make your returns process foolproof
A paid invoice and a successfully delivered package aren't always the end of your buyer's journey, sadly. In the unfortunate event that their purchase isn't what they (or their loved one) were hoping for, they want to be able to return the item with a minimum of fuss.
One way you could make the returns process as straightforward as possible is by letting customers authorize returns the same place where they placed the order in the first place: your web store. By keeping all your services in one place, it's always clear for customers what they need to do in order to return their orders — without having to get hold of one of your customer service reps first.
So you'll be helping give your staff a bit of a rest during the upcoming retail rush season, too.
Is your web store ready for the holiday season?
The holidays can be stressful all around — even for web stores. What are the main e-commerce scalability obstacles businesses like yours face, and how can you overcome them? Find out in our new factsheet!
Is your web store ready for the future?