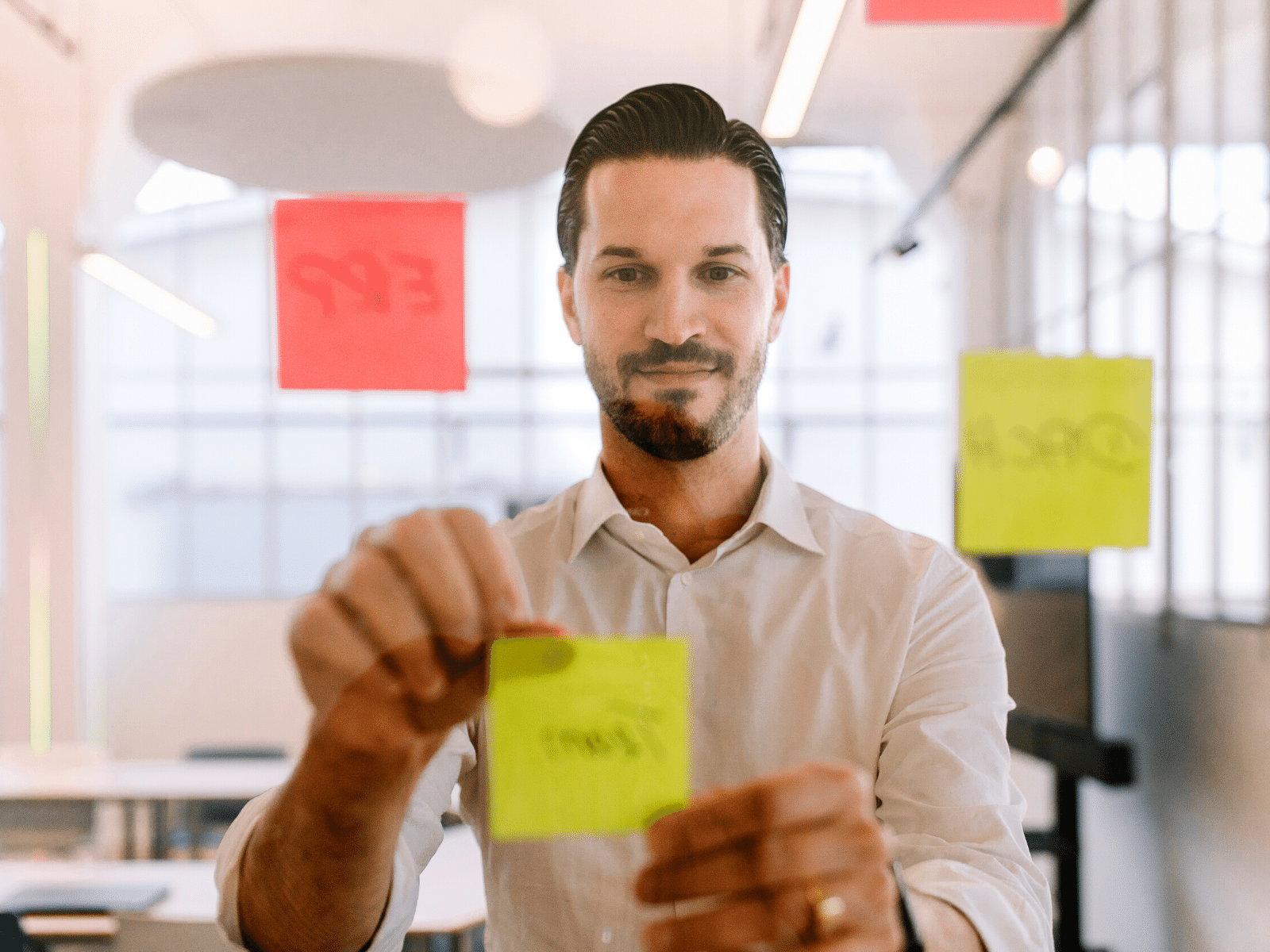 As a business owner, a top priority should be creating a marketing strategy that helps you to outpace the other e-commerce businesses in your industry. Review these 10 effective marketing strategies for e-commerce businesses and find out how implementing these processes can help you increase site traffic and skyrocket product sales.
1. Start an affiliate marketing strategy
Through an affiliate marketing program, an e-commerce business partners with an affiliate, usually a sales representative, social media influencer, or trusted expert. The affiliate markets the product and if they make a sale or refer a qualified lead, the business owner pays them a commission.
Affiliate programs can be beneficial to business owners because they don't need to pay their affiliates until they produce results, based on the terms of the relationship. Affiliates market products and brands to their respective audiences for free through social media and other online platforms.
To implement an effective affiliate marketing program, identify individuals who are well connected in your industry. When creating an affiliate contract, ensure you both agree on the terms, including how the affiliate will market your product and what will qualify as a referral or impression.
2. Create an SEO strategy
As an e-commerce business owner, one of your biggest marketing challenges is for your product to be found easily online. An effective search engine optimization (SEO) strategy helps your brand become a top result when online shoppers search for certain keywords.
Depending on what words or terms best describe your business or solutions, you'll likely need to create content that uses these common keywords, answers related questions, and ultimately represents your site as a relevant result for online searchers.
Increase the effectiveness of your SEO strategy by adding informative content to your website and social media pages. Consider including long-form content, product descriptions, and blog entries.
3. Optimize for mobile
At the close of 2020, it's estimated that consumers will spend $2.91 trillion purchasing products from their mobile phones. Mobile commerce sales are expected to increase to $3.56 trillion by the end of 2021. To have an effective e-commerce marketing strategy, it's crucial to tap into the mobile shopping market.
One of the best ways to impress mobile customers with your brand is by optimizing your online shopping experience for mobile phones. Your website should have two different displays: one for computer screens and one for mobile displays.
A mobile-optimized site offers simple site navigation, making it easier for customers to browse products, get information, and make purchases. If you already have robust e-commerce software, you may have the option to optimize your website for mobile browsing with little augmentation. Test your mobile site often to ensure it provides a simple and attractive shopping experience.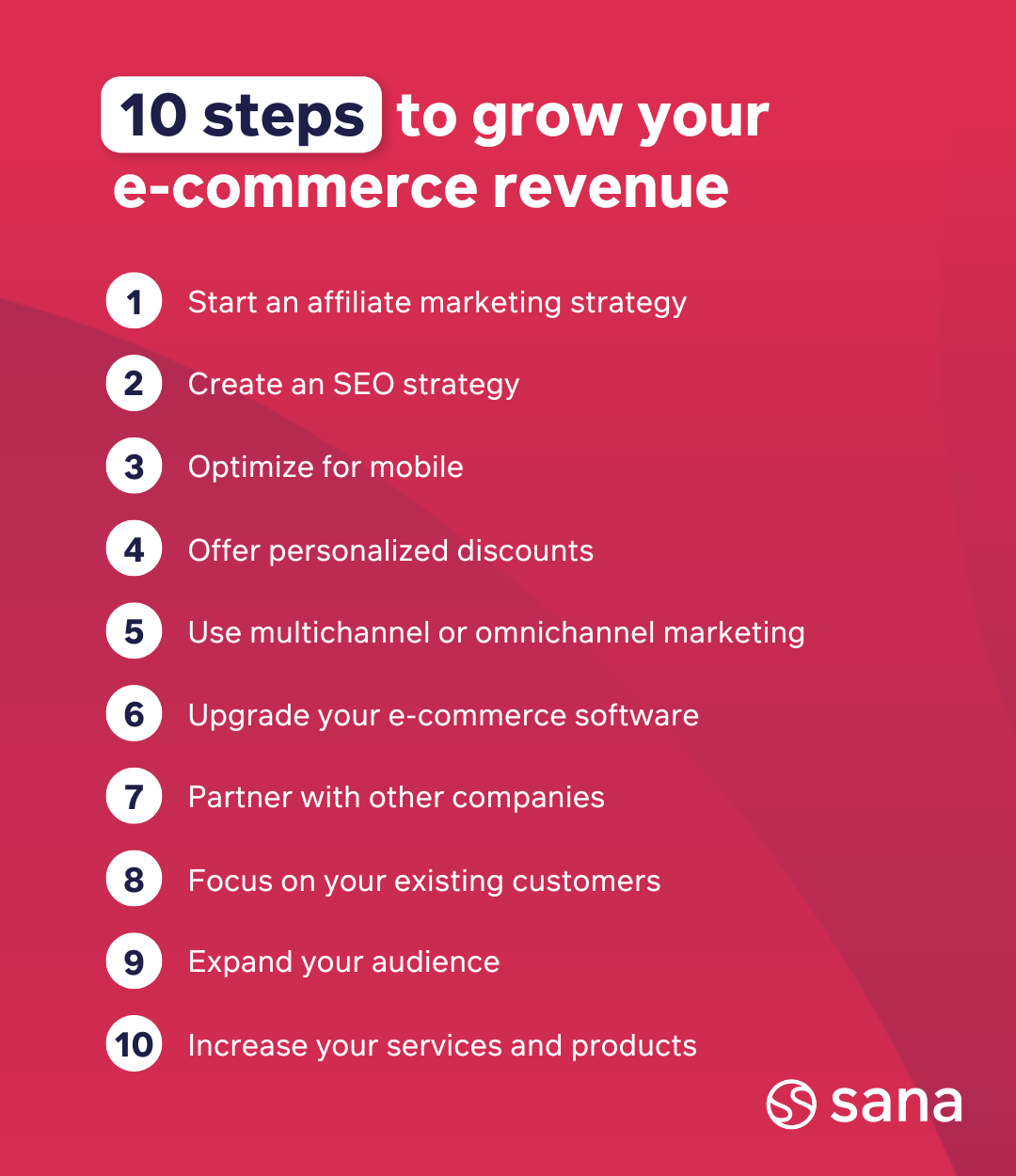 4. Offer discounts for customers
A small discount on your product may be what turns a semi-interested lurker into a new customer. Online shoppers love to take advantage of sales and discounts, so offering 10% off or free shipping may be all you need to increase sales.
Before advertising a promotion, create strict parameters for the sale, including which shoppers and products qualify and the end date. Ensure you'll still make a profit while running the promotion and advertise your discount to draw in new customers.
5. Use multichannel or omnichannel marketing
Consumers shop online at home, at work, and on the go. That means they may browse your site from their phone, on a desktop computer, or on a tablet. Creating an omnichannel marketing approach to sales means that your e-commerce business offers a seamless experience, no matter how a consumer shops.
When your customer can look at a product on their phone, then hop over to their laptop without skipping a beat, they're more likely to find the product information they need and buy from your brand. Using integrated e-commerce software can blend your retail storefront with your marketing initiatives and content on these different channels. Additionally, allowing customers to create accounts on your website helps facilitate an attractive shopping experience.
6. Upgrade your e-commerce software
Your e-commerce software is responsible for creating a simple shopping experience for the customer. It also helps you keep track of inventory and allows you to fulfill orders quickly. Outdated software may not provide all the services you and your customer need for a seamless and personalized experience.
Older software without proper functionality may cause your site to appear complicated or to perform slowly, which is a turnoff for most consumers. Upgraded e-commerce software means you can keep your customers satisfied with efficient order processing and a site that's easy to navigate.
7. Partner with other companies
To increase brand exposure and get the attention of your target customer, consider partnering with other companies. To implement this strategy, identify businesses in the same industry as your company that offer different products.
Create an agreement that the company will promote your products on its site if you do the same. To incentivize customers to purchase your products from the other company's site, offer an exclusive discount code. Both you and the partner company bring value to your customers by providing information on all products in one place and offering a discount.
8. Improve sales with current customers
One of your business's greatest assets is its current customers. These consumers already know the quality of your product and may simply need to see your brand name again to remember they want to make another purchase.
Keeping in touch with current customers improves your repeat sales through brand recognition. Send out an email campaign to current customers to show off new products or offer an exclusive discount code on their next purchase.
9. Expand your audience
The more exposure your brand and products gain online, the more sales you're likely to make. You may have already identified your target customer and implemented an aggressive marketing campaign for this specific consumer.
While this is an effective marketing strategy, it's also important to expand your audience to include another group of similar consumers. By increasing your exposure, you'll drive website traffic and boost your sales and referrals.
10. Increase your services and products
Whether you're engaged in wholesale e-commerce or selling direct to consumers, your business can't be everything to everyone. However, expanding your product line is bound to increase your sales, as long as it makes sense for your bottom line. If you simply can't offer different products, consider adding to your services.
Depending on your business, you may be able to offer personalization, subscription, maintenance, or installation services. These add-ons increase revenue and show how robust your services and products are for customers.
If you want to grow your business and e-commerce revenue, an effective marketing plan and seamless customer experience are key. Comprehensive customer service portal software, mobile optimization, and discount codes are just some of the marketing strategies you should consider implementing to increase sales and brand exposure.
Discover additional resources for B2B e-commerce marketing strategies and trends
Take a look at our guides, blogs, and webinars for more B2B e-commerce marketing strategies:
The ultimate guide for e-commerce