B2B e-commerce your tech stack's been waiting for…
Sana Commerce Cloud is a B2B e-commerce solution that makes life easier on IT professionals through the power of complete native ERP integration and a thorough suite of out-of-the-box features.
See how SCC drives IT forward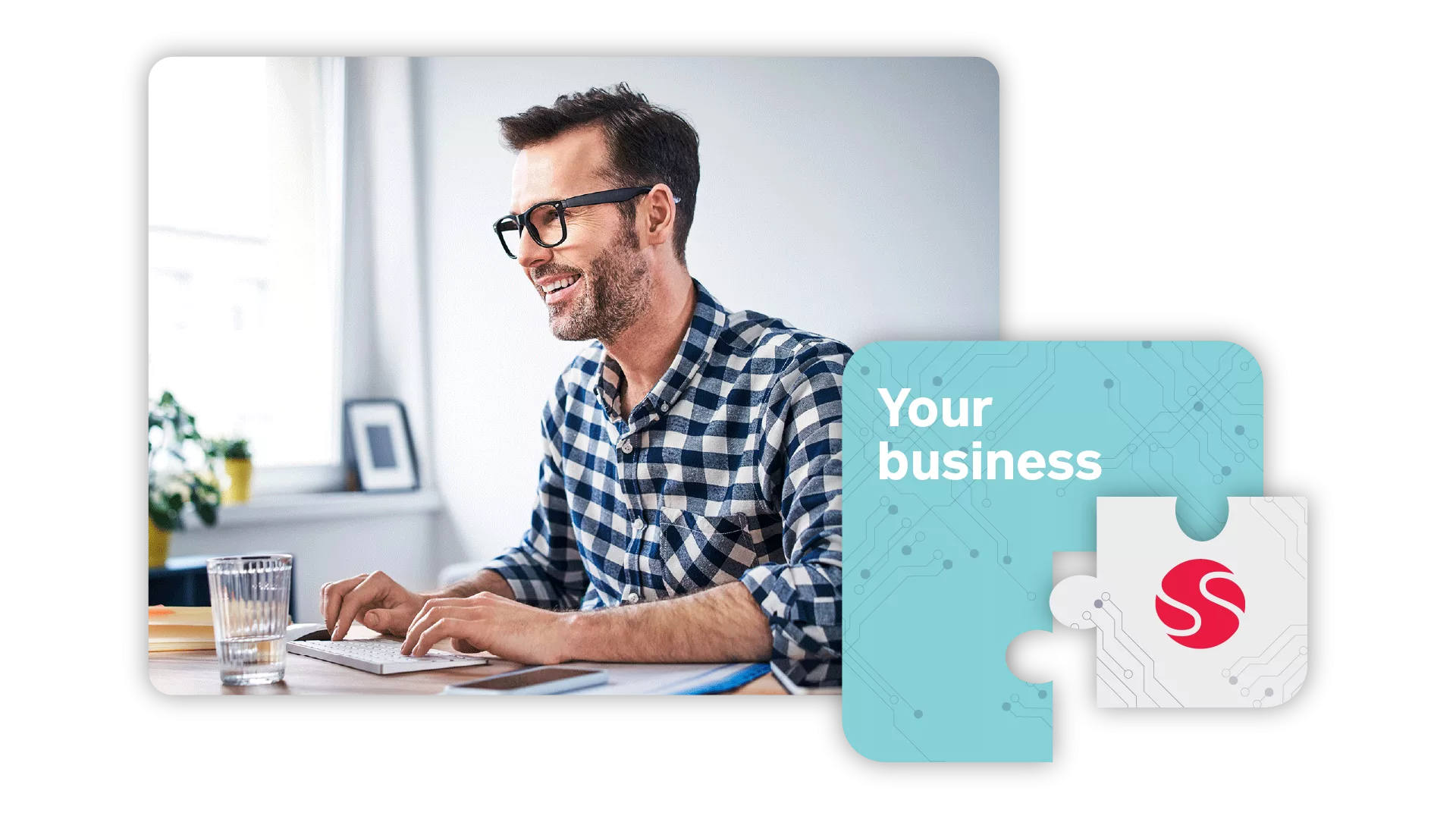 The B2B Portal that connects your business worlds
Sana Commerce Cloud (SCC) fits seamlessly into your tech stack and easily builds a web store using the data and functionality you already have at hand. You never have duplicate data or incorrect inventory because SCC integrates completely into your ERP and leverages that power to deliver accuracy throughout the buying process.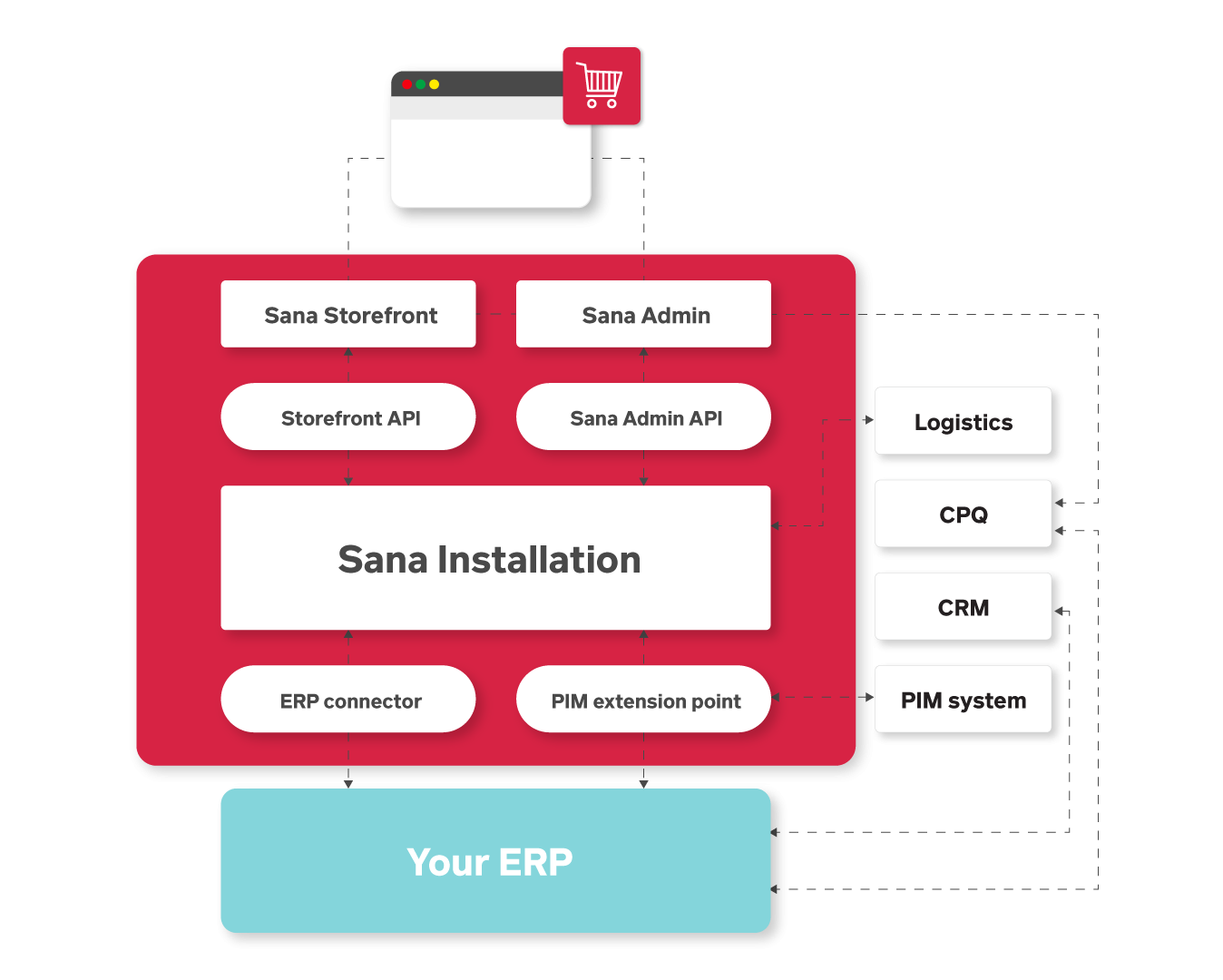 SCC has your ERP's blueprint
Unlike most mainstream e-commerce solutions, Sana Commerce Cloud doesn't just latch onto your tech stack using an interface. SCC is a developed add-on for your ERP and there is no development required from your side. It brings the added value of an easy-to-launch web store using the data and functionality of your ERP. By working smarter, it helps you automate tedious IT processes and provides B2B e-commerce that makes your life easier.
You own your ERP data; we keep it safe
Sana Commerce Cloud meets and exceeds the highest security standards, as defined by OWASP, in the industry through use of single-tenant hosting via Microsoft Azure. Our strong relationships as Microsoft Gold Partners and SAP Partners of the Year means SCC is regularly and rigorously tested for security risks and passes with flying colors.
Out-of-the-box helps you get it right the first time
Sana Commerce Cloud is a B2B-first solution which means it has every feature you need for online B2B sales out-of-the-box. You get the essential tools the first time, so you are immediately able to make a digital impact. We provide access to Sana Apps that allow you the flexibility to enrich your web store. But, as always, the standard product is guaranteed to come with essential B2B e-commerce features.
Get a glimpse of the
B2B e-commerce future
Hear from our customers
We now have a webshop implemented in a very short amount of time.
The webshop works and we don't need a whole team in Austria to keep it alive. It just works and we can focus on development and new things. Pros: Standard integration Dynamics AX and Perfion. Fits in our IT Strategy. Very professional people on the Sana team. Fast implementation, no surprises.
High level of integration with our ERP.
I like the ability to implement on MS Dynamics Ax, you don't need to customize a lot in the ERP because Sana includes a high level of integration with MS Dynamics AX. And it is to easy to include the discount policies of each customer and other information from the ERP.
Best e-commerce I found that integrates with SAP.
It connects perfectly with our ERP and makes our internal processes so easy. We don't have to worry about updating the inventory info or stuff like that. The integration is smooth and it also notifies admins when you have an issue with a customer or internal Sana task.
The in site editor is great! Overall we've been very happy with Sana.
The platform's ease of use, integration with our NAV ERP, and the consistency\uptime. We rarely have issues and if we do we get immediate notifications that are generally telling us something's wrong on our end with our ERP or connectivity.
Integrates well with our ERP and PIM software.
We have accurate ERP and PIM data across our pan-European platform. Our assortment is refreshed on a daily basis and existing products can be revised by new multilingual product-content.
Best e-commerce solution for Dynamics AX.
Sana's solution provides a beautiful and seamless integration into MS Dynamics AX. We are on AX 2012 R3 CU13. Some things we appreciate about the product: The flexibility to decide which products and categories are visible in the web store, the ability to show stock levels or not, and the real-time interaction with AX.
Packed with many features and expandability.
Sana Commerce enables us to offer an exclusive service to many existing customers, giving them the chance to check order status in real-time, see custom prices and availability, and create orders from quotations.
Find out if SCC is right for you