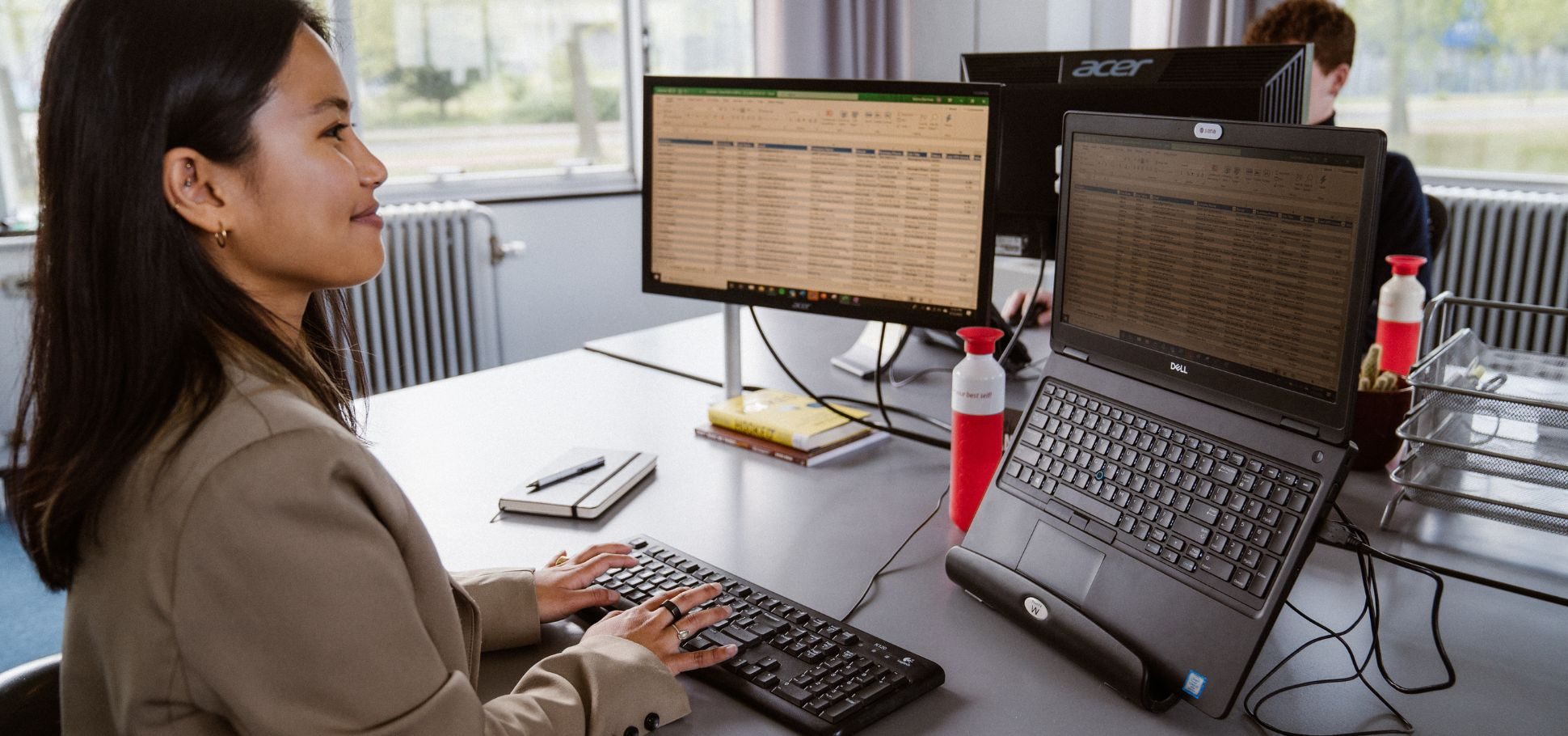 In today's highly competitive digital landscape, B2B e-commerce SEO can be a key differentiator in an organization's success.
For the average business to business (B2B) organization, a significant portion of marketing spend goes towards paid advertising. In fact, in 2022, the global estimated spend on paid advertising hit $441 billion dollars.
However, in a world now marked by economic uncertainty, B2B organizations have increasingly looked to become more conscientious with budget allocation. This is where a virtually "free" marketing tactic like SEO can prove cost effective and deliver high-quality results in the long run.
What is SEO and what does it mean for companies selling B2B?
Search engine optimization (or SEO) is the practice of optimizing your website for search engines like Google, Bing, Duck Duck Go, and more.
SEO produces organic traffic at little to no cost — it only requires time, consistency, and a little patience to pay big dividends.
Here's everything you need to know about B2B e-commerce SEO, from why it's so important, to how you can make it work for your organization.
Why is SEO important in B2B e-commerce?
Many B2B companies believe that SEO isn't relevant to them because most of their business is conducted "offline" or via phone or email. Or because you can't "target" buyers in B2B the same way you can consumers (B2C). This is simply not true anymore, and it won't be true in the years to come.
It doesn't matter if your website or web store is B2B, B2C, D2C, B2X — your users and/or buyers are searching for information on your business and products.
We conducted research on B2B buyers and found that e-commerce is now the number one channel professional buyers use to place orders for their business.
And your buyers use your site for more than just purchasing — they use it throughout every stage of the buying process:
87% of buyers turn to online channels (i.e. Google) as their primary method of identifying new suppliers.
74% of professional buyers use online channels to evaluate and decide on a new supplier.
We also know that a site visit is usually the first touchpoint for many B2B buyers, with 9 out of 10 buyers reporting that online content has a major impact on their purchasing decisions.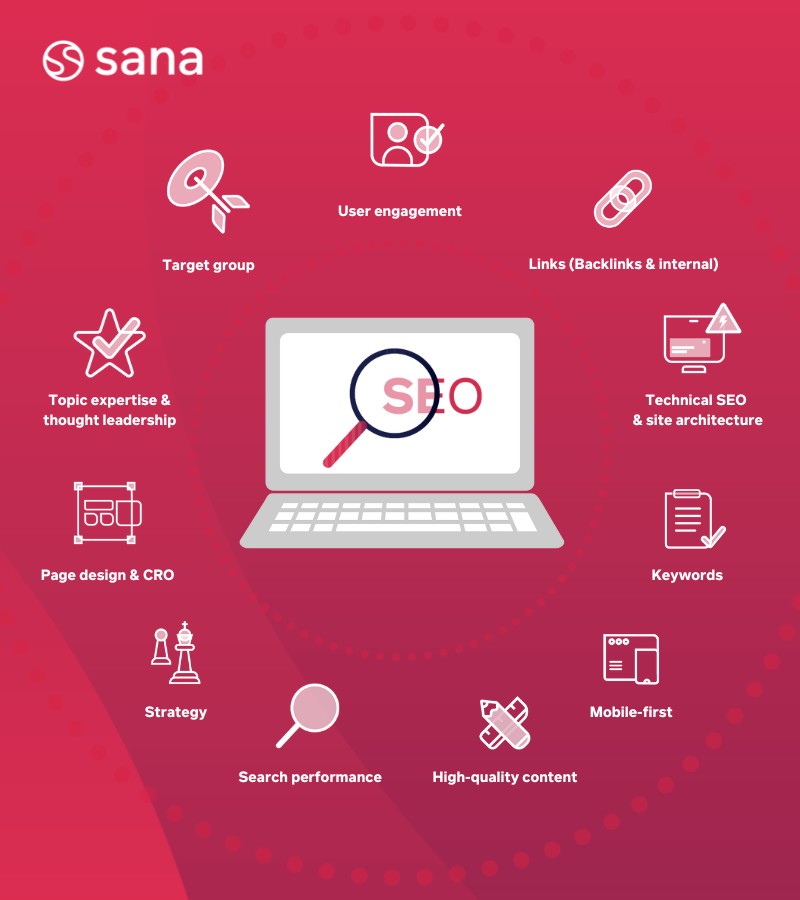 What are the benefits of SEO in B2B e-commerce?
Strengthens your brand: Appearing in the first spots of search engine results pages (SERPs) means the content you provide is considered trustworthy and high-quality by search engines.
Places you ahead of the competition: B2B buyers today are constantly evaluating their supplier needs and researching potential suppliers online – being visible and top of mind (literally) pays off.
Improves customer experience: B2B e-commerce sites that have been optimized for SEO tend to have better content, a more robust structure, and are generally easier to use.
Cost-effective lead generation: Unlike paid ads, which leave you having to spread out your budget per click or conversion, well-planned SEO can bring in highly relevant traffic for virtually no cost.
A measurable marketing channel: SEO is a measurable marketing channel, which means you continue to work and see the results of your efforts using the right metrics.
Cross-functional relevance: Sales, Marketing, PR and IT teams can all benefit from your SEO strategy.
Get buyers to your site using search.
Watch our 45-min webinar for all you need to know.
The five-step plan for successful B2B e-commerce SEO
With the right SEO strategy, you can increase brand visibility, generate more leads, and ultimately, grow your business. Achieving B2B e-commerce SEO success does require a strategic approach, which is why it's important to go in with a plan.
Here are five steps that will help you optimize your website and content for search engines, so you can achieve higher rankings and drive more targeted traffic to your website and product pages.
Whether you're totally new to SEO, or simply looking to take your efforts to the next level, these steps will provide you with a roadmap to success.
#1: Technical SEO & structured architecture
Well-functioning B2B e-commerce SEO begins with a strong site architecture. The first step of your plan should address all technical elements of your website, since these affect the way search engines crawl and index your content.
Here's how to check on and monitor your technical SEO:
Run a Core Web Vitals report
A Core Web Vitals report measures and tracks search signals that you can use as a basis to begin your technical SEO optimization. The types of metrics that this report will highlight include:
Perceived load speed
Load responsiveness
Runtime responsiveness
Visual stability, and
Smoothness
These metrics can help quantify a web store's perceived performance and are based on what Google identifies as quality signals or metrics.
A 404 error occurs when a user tries to access a page on your website that doesn't exist. These errors can harm your website's search engine rankings, as they're indicative of a poor user experience.
Your sitemap is a file that lists all of the pages on your website and helps search engines understand its structure. Performing a sitemap audit can go a long way towards improving your SEO.
#2: Research and analyze your audience and competitors
Once your technical checklist is clear, you can move on to phase two: research and analysis. This involves understanding who you're targeting, identifying the keywords that will lead them to your website, and looking closely at what your competitors are doing.
Understanding your target audience
To flesh out your target audience, it helps to build "buyer personas". These are the critical characteristics of your target buyers. Questions you can here include:
What are their age ranges, how do they identify?
What industry do they work in?
How big is their department? Their company?
What is their job title or company role?
How many decision makers are there? Are they the sole purchaser for their company?
Once you've established demographics, you can move into motivation and behavior. Some questions you can ask here include:
Why is your target audience searching for your solution?
Do they have any pain points that your products or the way you sell them can solve?
How do they interact with your brand once they have discovered it?
How much information do they need before they make the decision to purchase?
These personas will give you a good starting point for keyword research.
Identifying relevant keywords and phrases
Now that you know your audience, what they're searching for, and how they talk about your products or services, you can develop keywords.
Your keyword research doesn't have to be limited to search engines. For a better understanding of what your prospects are looking for, have conversations with your customer-facing teams, like sales, look through social channels, or read product reviews.
Expand your list of queries
Once you've got a basic list of keywords, or seed list, build your list out in as many directions as possible.
We recommend using a keyword tool to begin your keyword strategy. Here are some highly recommended keyword planning and SEO tools:
Conduct competitor analysis
Once you've built the foundation of your keyword research, it's a good idea to look at what your competitors are ranking for to add to it.
Outranking your competitors on target keywords increases brand visibility. In order to see what competitors are ranking for, you can do a basic search on your target keyword (in incognito mode). For more accurate (and efficient) results, we recommend using an SEO tool like SEMRush or Ahrefs.
Analyze what competitors are ranking for and see where your keyword gaps are. Then identify opportunities that you might be able to leverage with your content.
It's also a good idea to keep an eye on the content your competitors are publishing. To do so, you can set up Google Alerts to notify you when a competitor has published something new. Some SEO tools also offer features where you can track competitor content, as well.
Finally, after all your research, compile all your keywords together. You can now begin planning interesting content to write about and rank for.
#3: Content strategy and on-page SEO
New content and content strategy in B2B e-commerce
Now that you have a good list of keywords to start with, it's time to focus on your site content.
Site content and content marketing in general is something that is often overlooked in B2B e-commerce. However, online content is one of the most important ranking factors, according to Google.
In order to lay a strong SEO foundation, you need good site content. One of the most successful ways to create content for SEO is through blog posts.
Start by choosing keywords that you aren't ranking on yet and write new, high-quality content.
Publish regularly: A frequently updated site encourages people to return – as long as your B2B content remains relevant and engaging.
Keep in mind that it can take up to 3 months before your blog starts creating "SEO juice" and ranking. Don't expect to see results right away!
Set a reminder for yourself to go back in 3 months' time to check on your blog post's performance.
Optimize existing content
On-page optimization is exactly what it sounds like: optimizing the elements of your website that are visible to search engines, including your content, title tags, meta descriptions, and URLs.
For B2B e-commerce SEO efforts, it helps to look closely at the layout and information available on your actual product pages.
To optimize your product pages to rank better:
Use multiple high quality images to illustrate a product
Include highly relevant search terms and add them to the page's title tags and product descriptions
Add a FAQ section that has clear, succinct information
Leverage real customer testimonials and reviews
Minimize page load times
Great content doesn't end when you hit publish. Conduct periodic audits and ensure page information is as up-to-date as possible. This will help you keep keyword rankings long after you're done writing.
URL structure
URLs are a key element of on-page optimization and can be deceptively simple. Always aim for clear, concise URLs that incorporate your main keyword when possible. Avoid numbers or special characters. Instead, using descriptive URLs that demonstrate page content, making it easier for search engines to crawl and index.
Meta tags optimization
Meta tags consist of title tags and meta descriptions, which are the snippets of text that appear when a user is searching for your content. These work to provide an overview of the content on your page, and can make a significant difference of the click-through-rate to your site.
Always ensure to incorporate your target keywords, and try to keep the content compelling enough to draw users in, while staying relevant (otherwise, you risk a high bounce rate).
Struggling to keep your customers on your web store?
Read our guide to customer adoption.
#4: Off-page SEO and optimizations
Off-page SEO is all about relevance and building authority. When you indicate relevance for what you're all about and when you get confidence, and votes, eventually authority is passed to you from other websites through links.
There are two main strategies you can use to ensure you're doing the best you can with off-page optimization:
Link building strategies
Social media
Link building strategies
Backlinking is a crucial component of SEO success, and refer to the process of acquiring links from other websites to your own. Search engines view these links as a vote of confidence of your website, and in much the same word of mouth can bring referrals to your business, relevant links can help bring additional relevant traffic to your B2B website.
Focus on high-quality, relevant websites in your industry when working on your link building strategy. Quality, not quantity, is what is important here. There are a couple of ways you can build links to your website, including blogs that will evaluate your product (positively, of course!), guest posting on industry publications, and getting listed on 'where to buy' pages, or other online stock lists.
Social media
Social media might not be the first thing that comes to mind when it comes to B2B e-commerce SEO and might not be relevant if you're not publishing content on a blog that can be shared.
If your web store does include a blog, however, social channels are a powerful tool to help increase visibility and reach a wider audience. Sharing your content on social media and encouraging engagement from your followers can help drive traffic to your website and strengthen your SEO.
#5: Track your progress
One of the most rewarding aspects of B2B e-commerce SEO is it is truly measurable. Scheduling quarterly or monthly audits can help you track your progress and ensure you're on the right track. Here are a couple of metrics that are worth keeping top of mind as you do this:
Organic Search Traffic: This measures the number of visitors that come to your website via search engine result pages (SERPs).
Keyword Rankings: This will help you determine how your content is performing against the keywords you're targeting for the page and can also reveal opportunities in the form of alternate keywords you might be able to rank for.
Bounce Rate: Your bounce rate can be a good indicator of content quality- the longer a visitor stays on your website, the more relevant your content may be for them.
Conversion Rate: The conversion rate measures the percentage of visitors who takes a desired action on your site, and can help you measure how well your SEO converts visitors.
You can track your B2B e-commerce KPIs using tools such as Google Analytics, SEMRush, or Ahrefs. With regular study, you can ensure your B2B SEO efforts lead to long-term, healthy gains in traffic and leads for your business.
Common B2B e-commerce SEO pitfalls to look out for
B2B e-commerce SEO is complex, and even if you follow the five-step plan, there are a couple of common mistakes organizations can make when attempting to carry out strategy. These include:
Neglecting local SEO: If your business operates in a specific location, forgetting localized keywords can result in missed opportunities when it comes to reaching your target audience.
Using poor SEO practices: SEO requires patience, and all too often, organizations try to accelerate results that lead to their site being penalized. Keyword stuffing, hidden text, and link schemes can all negatively impact the health of your SEO strategy.
Weak product pages: If your product pages lack detailed descriptions, specifications, or images, search engines can have a hard time understanding how your product should be categorized. This can ultimately harm your SEO goals, so it's important to be careful here.
Neglecting mobile: Checking the ease of use and overall quality of experience of your web store on a mobile device is important. In 2016, Google announced mobile-first indexing, which makes how your web store performs on this channel important.
Forgetting to audit indexed content: If you choose to hide a part of your catalog from your web store, and the links are already indexed to Google, your SEO is at risk of being negatively impacted. By auditing your content you can let Google know which pages it needs to stop indexing.
Conclusion
B2B e-commerce SEO can be a rewarding channel to put effort into. Having healthy organic visibility ensures brand authority and brings relevant traffic to your website. With low-cost involved, it's an impactful way to ensure you're reaching a relevant audience and building brand authority over time.
By researching your audience, targeting the right keywords, and optimizing on-page, off-page, and technical SEO, your B2B website should build a healthy domain authority and draw traffic that keeps you on top of the competition and keeping your pipeline active.
Frequently Asked Questions
Why is SEO necessary for B2B organizations?
Many B2B organizations mistakenly assume that SEO strategy is not relevant for their industry. This is far from the case: B2B organizations can help improve visibility, bolster lead generation efforts, be a cost-effective traffic generating channel, and provide you with a competitive advantage when it comes to visibility.
How does B2C SEO differ from B2B e-commerce SEO?
Many B2C SEO campaigns will focus on getting visitors to convert as quickly as possible. This strategy (understandably) doesn't work for B2B, where customers typically need a lot more information and approvals before making a purchase. B2B e-commerce SEO campaigns are better for building a relevant, engaged top-of-funnel audience who can be converted to leads and then customers over time.
When choosing SEO vs PPC, what should I know?
PPC is a paid channel, which means you have to be prepared to invest a portion of your marketing budget to have an effective PPC channel. Since you 'pay per click', you're essentially paying for the traffic you earn with PPC – and the results are often immediate and visible. SEO can take more time to see results from but provides you with highly relevant traffic at virtually no cost.
Struggling to keep your customers on your web store?
Read our guide to customer adoption.