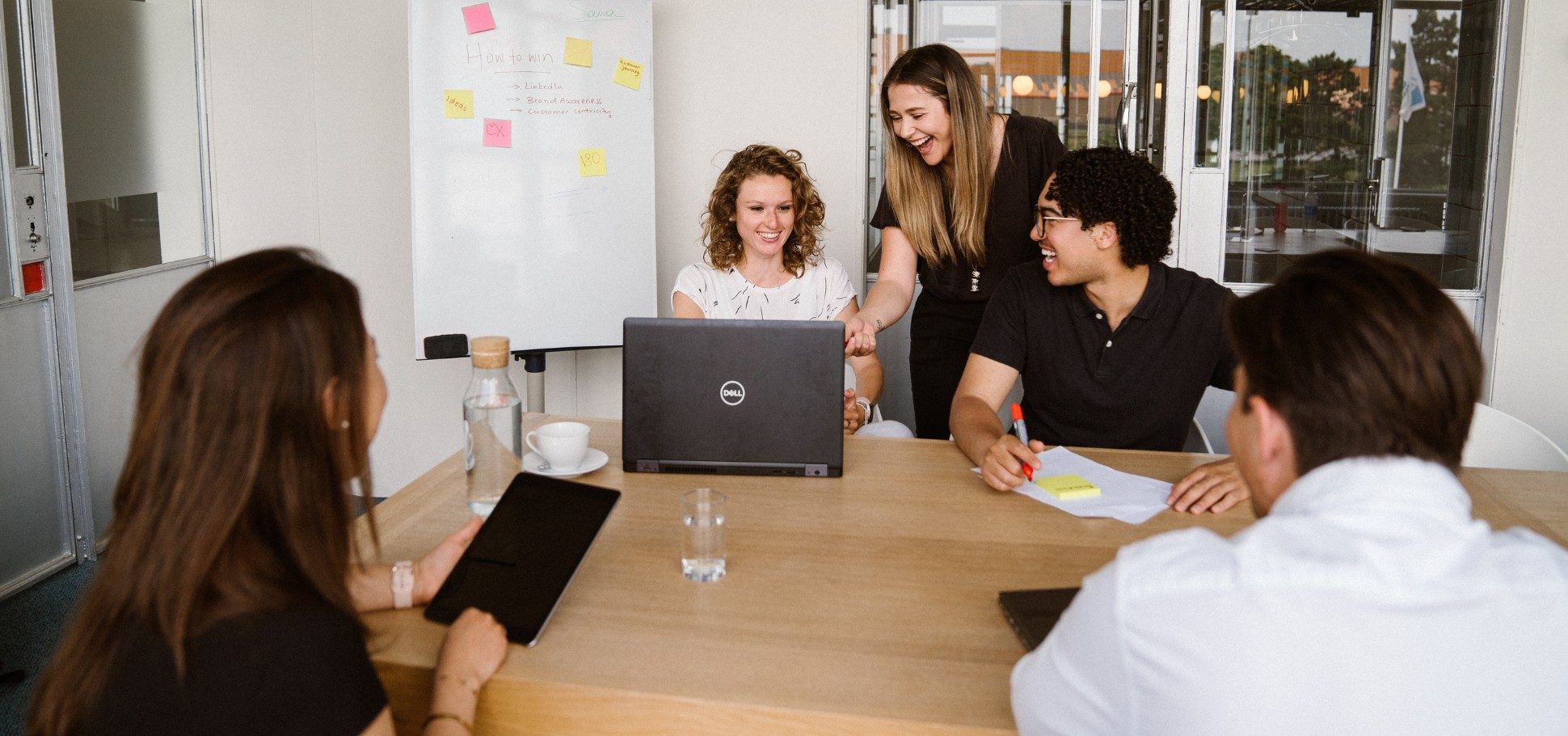 What is a product description?
Before we get to writing product descriptions, we ought to know what we're even talking about.
It's simple, product descriptions are a piece of marketing copy that: describes an item, explains its value and shows what problems it solves. Your product description and your product image are the first introduction to your customer. You make a good first impression by enticing a buyer, and making them think, "this is the product I've been searching for!"
Why are product descriptions important?
Product descriptions give your customer the critical info they need for your product — and it's often the last piece of copy a customer will read before they "add to cart" or "exit tab."Product descriptions, therefore, need to be more than informative, they need to be persuasive. They have to help you close the deal.
But that's just one dimension. Writing product descriptions benefits your site in many more ways.
What are the benefits of good product descriptions?
Good product descriptions can:
Boost your SEO score by targeting keywords
Enhance the look of your web store
Show how your product solves a customer's problem
Explain the details of your product
Highlight how your product is different than competitors' offerings
While product descriptions are persuasive, they are also informative. They need to explain the product features and technical elements of your product. If you're selling linens, this is where you'll put your fabric and thread count. Conversely, if you're selling a hard drive, you'd want to include critical information such as capacity.
Balancing between persuasive and informative is an art, not a science. Depending upon your brand and style, you may choose to favor a more casual or more formal tone in your product descriptions. What matters is that you stay true to your brand and that you provide the information your customers need.
12 tips for writing a product description
Evoking emotions in your customers when writing is crucial. The reader must be able to identify the purpose of your product quickly. Here are some things to keep in mind when writing your own descriptions.
1. Keep it simple
Ensuring your product description is sweet, yet to-the-point will help customers understand what they are buying. Adding in too much information may be too confusing for customers and may drive them away.
2. Use eye-catching words
Using bullet points with descriptive words is one way to catch a reader's attention. Words like "guarantee", "best", "easy", and "proven" generally catch the eye. If your words hold a promise that your customers are making the right decision, you'll stand out above the competition.
3. Use AI tools
AI can be a guide to writing well-structured and comprehensive product descriptions. You can prompt ChatGPT or use OpenAI to create product descriptions or create templates that you can follow. Alternatively, if AI generates the entire description for you, it is good to double check the tone of voice and to make sure all information is correct. Take Sana Commerce Cloud for example, you can generate product descriptions using the OpenAI Product Description add-on. By doing this, you create informative and engaging product descriptions quickly and easily with just a few clicks.
4. Understand your audience
Writing product descriptions meant for everyone will harm your products' selling points rather than enhance them; instead tailor your copy towards your target audience. A nine-month-old baby will not use the same products as a 45-year-old man. Narrow down your target audience and understand what they need.
5. Address pain points
This is when description focuses on the problems your product solves. This is probably the best way to relate to your audience and show them that you understand their frustrations. By addressing specific questions your customers have, you also drive traffic to a company website when a potential customer types questions into google.
6. Don't be vague
The product description should be as precise as possible. Descriptive and specific examples allow someone to understand the product. Anything too vague may make a description sound wishy-washy and push customers away. Avoid words like "actually," "literally," "honestly," and gap fillers.
7. Avoid clichés
Overused words or phrases tend to drive customers away. They think they have seen it all before and the product being sold is the same as all the others. The point of a product description is to make your product stand out, and clichés do not make a product sound unique. Using words like "beautiful," "elegant," and "excellent" is an often-overused practice.
8. Showcase the benefits
Do not focus on the company; focus on the benefits for the buyer. Every customer wants to know how the product will enhance their lives, not why the company loves the product. Highlight all the benefits and features that can solve the problems your target audience is likely having. Showing the benefits rather than features entices the customers into purchasing the product.
9. Use sensory words
Adjectives often don't do a product description justice. However, adding words that evoke a feeling or a sense adds to the experience of shopping on a website. Use words like "smooth," "soft," "crunchy," "velvety," "powdery," "bright," and "dazzling" when applicable.
10. Offer evidence
Many customers will look through reviews before finalizing the purchase. A product review has the potential to make or break the entire purchase. The more positive product reviews a company has, the more likely someone will purchase the product. You can be creative by adding testimonials into your product description. By providing use cases, your customers can imagine themselves in the shoes of existing product users.
11. Edit carefully
Not only should the company be sure of what is being published on their website, but they also need to make sure it's accurate and remains that way. Edit for any errors and any writing mistakes. This will help the product description look professional.
12. Review effective examples
Writing product descriptions can be a daunting task. It's okay to look through previous examples from an existing company or use competitor products to get inspired. Borrowing from examples is never a bad way to start writing your own.
What not to do when writing a product description
When it comes to writing product descriptions, there are some serious pitfalls you need to look out for.
Using inaccurate or lazy words like "ground-breaking" or "revolutionary," is going to put off your reader. They're either going to completely skip over the words, or they'll roll their eyes at your copy. I mean, seriously, how ground-breaking can a sweater be? 
Sure, you should put your best foot forward when selling your product, but you shouldn't lie. If your product description is overselling your product to the extent that it's not true anymore, you may be at risk of losing the trust of your customers and damaging your brand.
Not proofreading your copy
We know that typos make you look unprofessional. Never hesitate to get a second, third or even tenth set of eyes on your descriptions. It always helps to ask your fellow colleagues to read the product description to see if you are conveying the desired message. Tools like Grammarly can help your to check your grammar and sentence structure.
SEO is a tough nut to crack, but you can boost this by focusing on relevant keywords — even in your product descriptions. If you're selling "pressure treated pine wood," you better make sure that "pressure treated pine wood" appears in your product descriptions.
Want to learn more? Check out blog about how to optimize your B2B e-commerce SEO strategy.
Examples of effective product descriptions
Here are some of the best product descriptions we've seen on online shops that evoke imagery and enable customers to see themselves using a product. Each has a different way of using sensory words and showing off the benefits of products.
From the start, this product description elicits a sense of action in the reader by starting in the active voice. The content submerges the reader into a visual, sensory perception of the product with phrasing like, "So whether it's a busy Monday or a relaxed Sunday – invite a couple of friends over, push the ignition and enjoy the special atmosphere that surrounds the grill."
It also expounds on the features of the product by using its benefits to illustrate usefulness to its target audience: "The compact open-cart design and the practical folding side table makes it fit even on small spaces, and you have all the basics you need to get familiar with gas grilling."
This product description gets specific where it counts, helping to answer as many potential customer questions as possible: "Designed to meet the needs of a puppy's 28-baby teeth, it helps teach appropriate chewing behavior while offering enrichment and satisfying a younger pup's instinctual needs."
Its verb usage and consciousness of the active voice elicit a sense of action in the reader: "Want to make crate training easier or extend play time? Be sure to stuff with puppy kibble and a dash of peanut butter. Add to the fun by including KONG Puppy Snacks and top with KONG Puppy Easy Treat."
It wraps up its visuals by conveniently listing a few highlighted features at the end, adding brevity and making it easier for readers to skim for specific content.
Example 3: ThinkGeek Mini PC
This product description utilizes industry-specific terminology and product labels to capture better the wandering eyes of the well-versed reader who perhaps knows a thing or two about computers and may know more specifically what they're looking for: "Featuring the new 11th Gen Intel® Core™ i7-1165G7 processor making it perfect for video editing, video rendering, graphics editing, and serious high-end business applications, while running multiple applications at the same time."
It not only highlights its processor speed as a practical function for work usage, but as an enjoyable advantage for PC gaming, speaking to both sides of the same coin: "When the work is done and it's time to play, the Phantom can play the latest and hottest games utilizing its NVIDIA® discrete graphics card. Its small size means you can take it with you for gaming or video editing on the go."
Each example above shows what benefits the customer would receive while playing with descriptive words that promote sales. Each is a short and precise paragraph that is direct and to the point.
Consider using the examples above to get started with writing. Compare your own products to those of the competition and find keywords that make each description unique.
What is the best template for writing product descriptions?
When I first started writing product descriptions, I felt overwhelmed. I immediately searched for a standard, easy-to-customize template for product descriptions that I could use to craft sensible and persuasive copy.
To help you get started, I want to give you this template. Feel free to customize it to fit your organization's needs.
Exciting headline
Paragraph that introduces your product and its benefits
List of the product's features
Technical specs
Call to action
That's the gist of it.
However, you need to customize this product description around two things:
Your audience
Your brand
Discovering your target audience is critical. Ask yourself "which buyer personas are we targeting with this product description?"
Who is it you want to buy your products?

Product descriptions that sell will identify the target audience and cater to them, find the problem the product solves, and showcase why your product solves that problem the most effectively.
Conclusion
Writing compelling product descriptions can make or break your conversions for your online store. With a persuasive, yet informative product description, you provide a lasting impression on your prospect. Remember, you want to showcase your product's benefits and solutions. Highlight why your product is superior to those of your competitors.  Customize your product description for your audience and your brand.  Find the problem that your product solves, and show why your product solves it the most effectively.
Discover the key to a user friendly e-commerce experience
Check out our free guide on how to personalize your B2B webstore for your customers (no download needed).