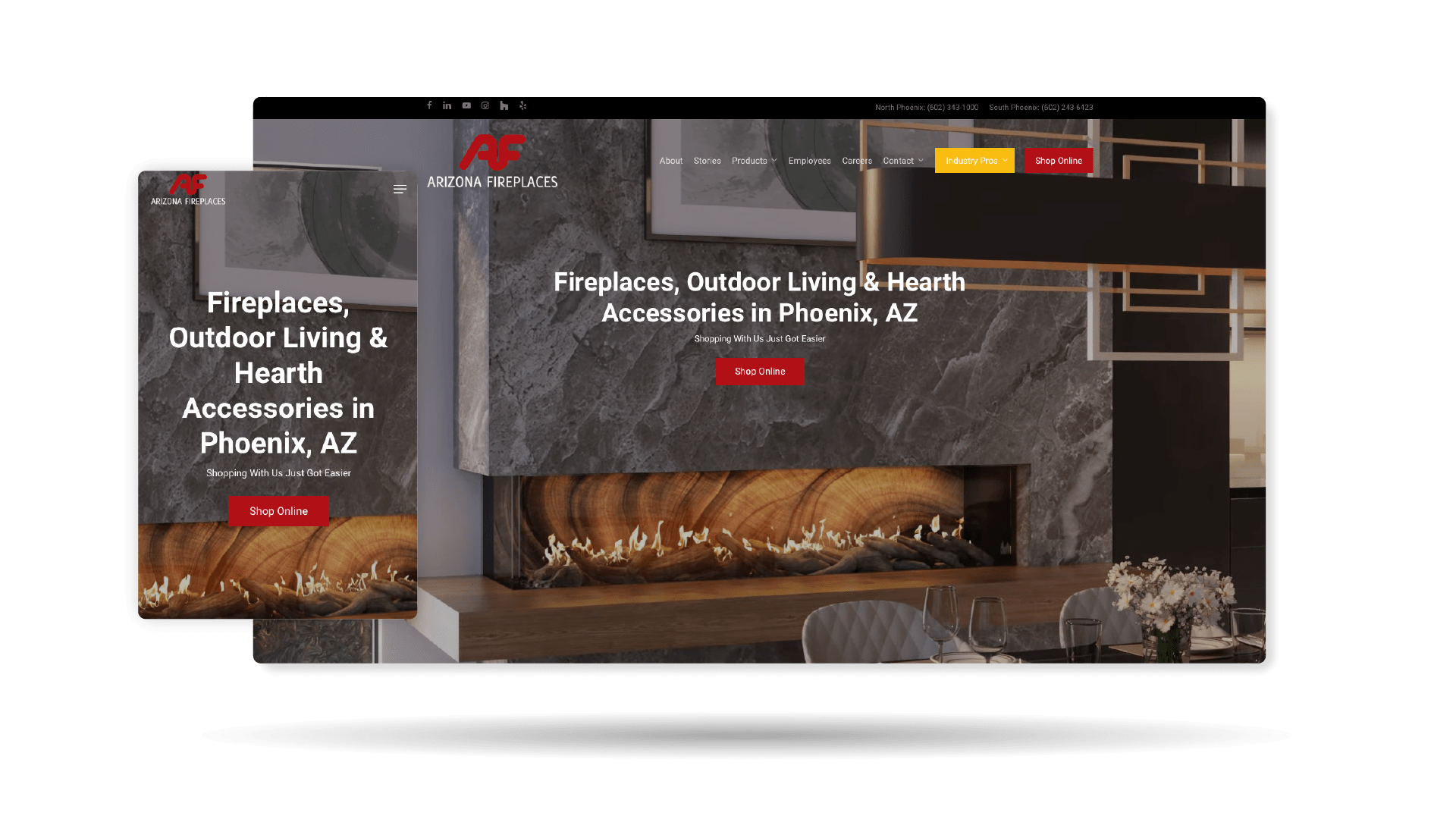 Setting the E-commerce Landscape Ablaze
Arizona Fireplaces' Success Story with Sana Commerce
Arizona Fireplaces is a leading provider of innovative fireplace solutions, transforming home comfort for countless individuals and families.
Two physical showrooms
150 employees
Worldwide sales
Enhanced
efficiency

Improved
customer experience

Seamless
integration with ERP
The challenge
Overcoming e-commerce integration and support limitations
Arizona Fireplaces encountered significant challenges in their pursuit of establishing a successful e-commerce platform. The need to reach customers who couldn't physically visit their showroom, along with limited space to showcase their extensive product catalogue, drove them to explore online solutions. Initially, they attempted to create an e-commerce solution using WordPress, but the venture proved to be a failure . This is because this third-party platform they relied on for showcasing their fireplaces resembled an eBay-like web store. Resulting in minimal customer responses and a confusing user experience.
The primary reason for their failure lay in the lack of integration and support from the WordPress platform itself. Employees struggled with inaccurate data and encountered issues from an accounting standpoint. Orders were placed, but there was no follow-up or proper communication with customers. These internal pain points further compounded the challenges, leaving the team overwhelmed and exhausted. The prospect of maintaining multiple platforms and constantly updating inventory proved to be an inefficient and time-consuming endeavor.
Arizona Fireplaces explored alternative options such as Shopify, Magento, and custom integrations into their existing systems. However, none of these solutions provided the tightly integrated infrastructure they needed. Crucially, they required a platform that seamlessly integrated with their ERP system, SAP Business One, to ensure accurate inventory management and streamline accounting processes. The quest for an e-commerce solution that could effectively support their unique inventory requirements and integrate with their existing systems seemed almost impossible.
The reason we failed was the lack of integration and support from the platform itself. It just created a tremendous nightmare for our employees.

Greg Lewis, Director of IT, Arizona Fireplaces
The solution
SCC: The spark that ignited e-commerce success
Faced with numerous challenges and limited options, Arizona Fireplaces was determined to find a comprehensive platform that would meet their growing needs. That's when they discovered Sana Commerce Cloud (SCC), a game-changing solution that "ticked all the boxes." With its seamless integration and real-time capabilities, SCC provided Arizona Fireplaces with the perfect foundation for building their online web store.
With SCC they found a solution that aligned perfectly with the vision they had set for their new e-commerce web store, which was:
Streamline Operations and Enhance Efficiency: Arizona Fireplaces sought to overcome the overwhelming and exhausting process of managing multiple platforms and updating inventory manually. They aimed to find a solution that would streamline operations, reduce time-consuming tasks, and improve overall efficiency for their employees.
Improve Customer Experience and Engagement: With their previous e-commerce attempts resulting in limited customer responses and inadequate follow-up, Arizona Fireplaces aimed to enhance the customer experience and engagement. They sought a solution that would provide a user-friendly interface, seamless ordering process, and effective communication channels to ensure customer satisfaction and build long-lasting relationships.
Achieve Seamless Integration with ERP System: The primary goal was to establish accurate inventory management, automate accounting processes, and ensure data consistency across systems. They sought a solution that would provide an infrastructure capable of supporting their unique inventory requirements and integrating smoothly with their existing systems.
The Results
Unlocking Operational Excellence and Customer Satisfaction
Unlike their previous experiences, Arizona Fireplaces found in Sana Commerce a platform that offered a holistic approach. The native integration with their ERP system ensured real-time data synchronization and enabled them to leverage complex information. This integration, combined with an array of valuable features, allowed Arizona Fireplaces to streamline their operations, enhance customer experience, and drive business growth.
By choosing Sana Commerce Cloud, Arizona Fireplaces not only gained a powerful e-commerce solution but also a supportive and collaborative team. Working together with the Sana Commerce Cloud experts, Arizona Fireplaces discovered a partnership that was focused on understanding their unique challenges and delivering a tailored solution to meet their specific requirements.
I thought the product was good, but then I got to work with the team and that was even better. They are always a step ahead, incredibly consultative, organized and understand what the requirements are upfront.

Greg Lewis, Director of IT, Arizona Fireplaces
Looking ahead, Arizona Fireplaces is poised for continued success fueled by Sana Commerce Cloud. With streamlined operations, satisfied customers, and seamless integration, they are primed to expand their product offerings, tap into new markets, and forge lasting customer relationships.
Together, they anticipate ongoing support, innovation, and growth as they navigate the dynamic e-commerce landscape. Excited about the future, Arizona Fireplaces is confident in their ability to capitalize on emerging opportunities and shape their industry's trajectory.
Learn how ERP integrated e-commerce can transform your results.