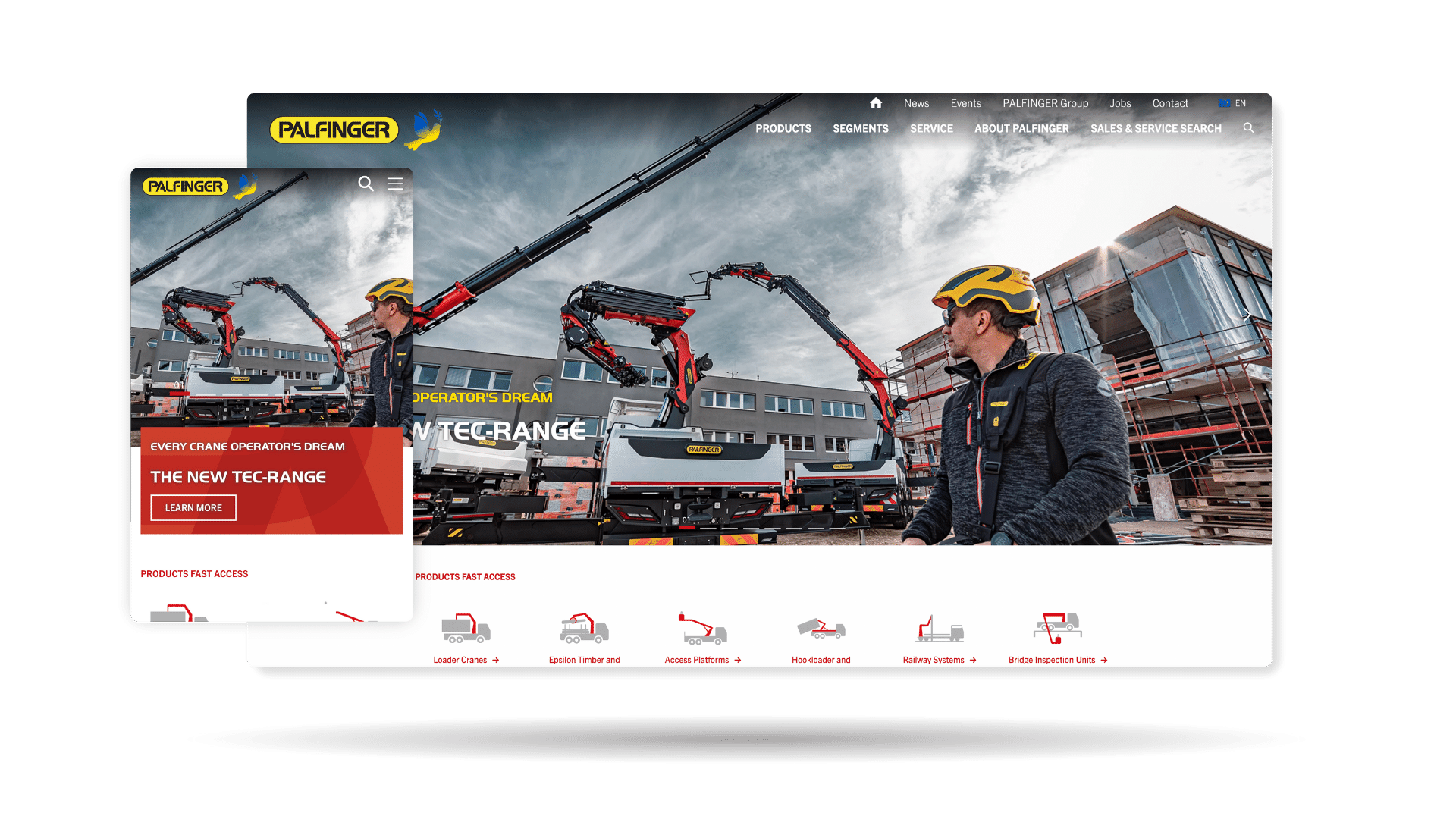 PALFINGER
PALFINGER is the world's leading producer and provider of innovative crane and lifting solutions for various industries such as construction, logistics and transportation.
Over 12,200 employees
More than 30 production sites
Worldwide sales
Service network of around 5,000 service points
200%
Increase in user accounts

80%
Adoption rate

85%
Customer satisfaction
The challenge
Overcoming an outdated ordering system with limited data
PALFINGER is consistently continuing its course as a producer and provider of innovative, smart complete solutions that deliver increased efficiency and the highest operability, while leveraging the potential of digitalization along the entire production and value chain. The company's commitment to innovation and quality has made it a trusted partner for businesses across the globe. However, PALFINGER was facing significant challenges with their outdated ordering tool. It lacked real-time data and only offered a very limited amount of product information to the customer.
Due to the effort required for regular updates and ongoing maintenance, PALFINGER decided to rely on an external software solution. However, integrating a new software solution with their existing systems and processes would not be a simple task. But, in order to enhance the customer experience, the company decided to install a state-of-the-art e-commerce solution.
A state-of-the-art customer experience is a key goal for PALFINGER. In order to consistently live up to our high standards, we decided to improve this experience significantly.

Ramböck Florentine, E-Commerce Manager, PALFINGER
The solution
A state-of-the-art e-commerce solution that empowers growth
After carefully considering several vendors, PALFINGER ultimately chose Sana Commerce Cloud due to its comprehensive coverage of all their use cases and an excellent ratio between performance and expense. Sana Commerce Cloud's native ERP integration offered everything PALFINGER needed to streamline their products and spare parts ordering process and improve their customer experience, all while remaining cost-effective.
Primary goals for PALFINGER's new e-commerce site:
Flexibility: Ensure that the e-commerce solution can be adapted to cater to both B2B and B2C.
Real-time data: Enable customers to order spare parts with ease, obtaining all necessary information in real time, and view their order history in realtime.
Automation: Implement an automated solution for the webstore to manage the overwhelming volume of 100,000 spare parts PALFINGER offers.
As a result, PALFINGER further actively addresses the megatrend of digitalization to proactively shape change and create added value for its partners and customers. Under the tagline "Lifting Value – Creating Momentum", the technology company creates added value out of customers' challenges. PALFINGER's Vision & Strategy 2030 is based on two strategic pillars, "Go for Solutions" and "Go Digital." The former aims at PALFINGER offering integrated complete solutions, while the latter focuses on practically leveraging the potential of digitalization, e.g. the development of digital business models.
In this regard, by 2030, PALFINGER aims to offer smart, networked, environmentally friendly, and even more powerful solutions that combine the latest hardware with the most advanced software from a single source.
Sana Commerce fits perfectly into PALFINGER's overall digital strategy, as it provides a comprehensive digital e-commerce platform that fits into PALFINGERs Vision & Strategy 2030 and capitalize on the opportunities presented by digital business models.
In the past, we offered a spare part ordering tool based on material numbers. Now, with Sana, we offer more information; images, a navigation system, and the full order history.

Ramböck Florentine, E-Commerce Manager, PALFINGER
The results
A B2B web store that empowers internal teams and customers alike
With web store that integrated seamlessly with the SAP S/4 HANA ERP, PALFINGER was able to streamline its entire process. The real-time updates across databases have helped PALFINGER to reduce manual effort, minimize errors, and speed up processes when making changes to prices, discounts, and allowed customers access to more information such as order history.
Since going live in June 2022 PALFINGER has seen impressive results:
Improved customer experience: PALFINGER conducted an internal survey almost straight after implementation, which showed an adoption rate of 80% and a massive 85% of customers saying that it had an additional advantage for them. This was further apparent in the number of emails customer service was receiving as they saw a huge decline. Information was already there in the web store eliminating the need for customers to ask for details, such as shipment information. With over 100k products this has made the process much smoother, saved a lot of time and overall given PALFINGER the opportunity to be more transparent.
Streamlined work processes: Real-time pricing and discounts were updated automatically, enabling PALFINGER to speed up their spare parts ordering process and significantly reduce manual effort.
Increasing demand: Since the launch of the webstore, the number of user accounts has almost tripled.
With Sana Commerce, PALFINGER has been able to improve their overall efficiency, customer experience and customer satisfaction. The new platform fits perfectly into the company's strategy to maintain a strong footing in the market and offers a competitive advantage.
PALFINGER is now even better positioned for continued growth and success as they are already getting set to launch two new web stores. Additionally, with the right solution in place PALFINGER can look even further to the future as they set their sights on improving their B2C game with a searchable webstore open to the public.
The support and understanding the Sana Team provides in helping us find the right solution is not something every company can offer. Sometimes you can feel like you are just a ticket. With Sana you feel like you're in a business partnership.

Ramböck Florentine, E-Commerce Manager, PALFINGER
Learn how ERP integrated e-commerce can transform your results.