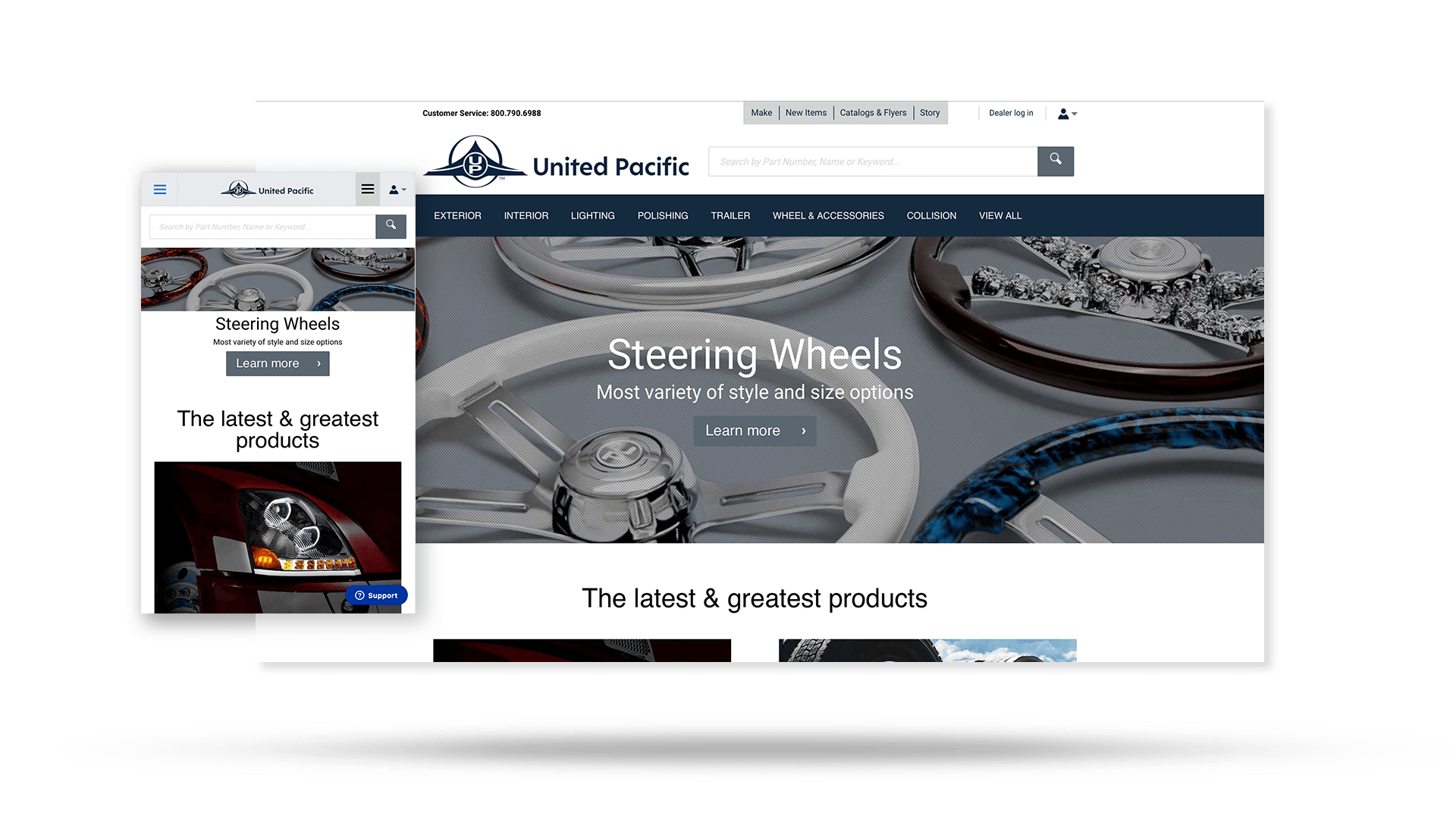 United Pacific Industries
A leading manufacturer of replacement parts and accessories for commercial big rigs and classic cars invested in a Sana Commerce solution following three failed Magento implementations.
A California-based business founded in 1994, now selling globally
Dedicated to the design, manufacturing and supply of automotive products
Carries over 20,000 innovative products
Prioritizes high-quality customer service and products worldwide

Replaced 3 Magento solutions
before finding the right fit

Underwent 7-8 years
of online B2B portal improvements


3 key requirements:
integration, scalability, B2B functionality
The challenge
Replacing three failed implementations
Like for many manufacturers, traditional sales channels reigned supreme with United Pacific Industries for decades. But, in 2014, the rise of digitization in B2B became a catalyst for United Pacific's own digital transformation.
Back then, United Pacific's goal was to launch an online catalog that would supplement its offline business. The organization invested in a handful of e-commerce platforms in the years that followed, but each one fell short of United Pacific's expectations.
These challenges allowed the United Pacific team to recognize that just having a catalog available online wasn't enough. After three failed Magento implementations, they sought out a solution that would also:
Serve as a dealer portal for their B2B buyers,
Integrate with their Dynamics NAV ERP system,
Provide long-term scalability,
And include key functionality for a B2B use case.
In 2019, United Pacific Industries turned to Sana Commerce to provide the platform their business (and their customers) needed.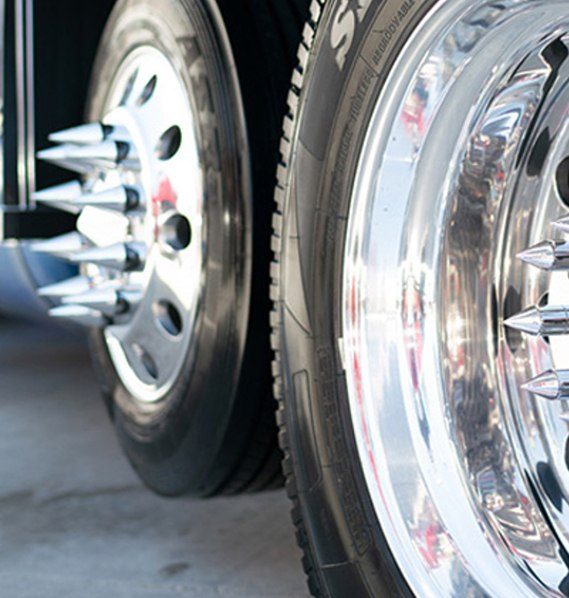 "In the past, we implemented a few solutions that enabled us to provide our customers with an online catalog, but we often learned that the ERP integration we were promised was not possible or would require lots of customization and /or middleware to accomplish. These kinds of hiccups would ruin the relationship with that solution partner: forcing us to jump ship and start again."

Chris Bischoff | President of Global Sales at United Pacific Industries
The solution
One online portal to meet Sales, Marketing and IT department requirements
United Pacific launched a Dynamics NAV-integrated B2B web store, or dealer portal, with Sana Commerce in early 2020.
The new portal successfully meets all of United Pacific's requirements — both technical and as requested by the UPI marketing and sales teams, including:
An engaging, modern look and feel
An easy-to-navigate site with extensive search functionality to allow dealers to quickly find and purchase parts
Support for dynamic pricing
Dynamics NAV ERP integration that can support a complex database
Ease of implementation
User-friendly solution that's simple for the business to update/maintain
Extensive OOTB functionality and simplicity to customize as needed
Jai Baek, Marketing & Creative Director at United Pacific, details why a Sana Commerce solution was the right fit, from a marketing perspective:
"As a marketer, I need a solution that works and something that's simple for me to use, so that I don't have to worry. Then, I can focus on content development and the priorities that matter for my department. Sana Commerce was the solution that fit my requirements, and also met all our technical requirements: a combination that's hard to find."
Since the launch of their Sana Commerce web store, United Pacific Industries has already gotten positive internal feedback across departments, and B2B customers now have the online experience they've been wanting.
Now, one year after United Pacific's web store launch, successes continue to come to fruition.
"We found a solution that met our organization's needs across departments and met our customers' needs, so we avoided any resistance — internal or external. Our sales team wanted to leverage Sana Commerce, as did our marketing team and our leadership team. Plus, our own dealers were asking us for this kind of online experience."

Chris Bischoff | President of Global Sales at United Pacific Industries
The results
Stronger client relationships, business evolution — and new SEO opportunities
Since the launch of their Sana Commerce web store, United Pacific has realized even more advantages than they thought possible when investing in the solution.
For example, despite understanding the usability benefits of the Sana Commerce platform, the United Pacific marketing team was still surprised when experiencing the simplicity in practice:
"Once we started creating and building the content for our online portal, we were pleasantly surprised with just how easy to use it actually was — even for a marketing department without much technical expertise. It gave us confidence in Sana Commerce and in its solution, because it allowed us to get the right messaging to our customers faster and provided a long list of SEO benefits as well," says Baek.
The Sana Commerce solution, however, is not just an effective online revenue channel for United Pacific. It's also, as Bischoff shared, "a way to add value and develop the relationship with your clients… and to take our business to the next level." To continue adding value in this way to its customers, United Pacific is looking to implement a second web store for its classic car business division, which will run on Sana Commerce Cloud.
"We've had many different web platforms, but for a while, couldn't land on one that could check all of our boxes. The Sana platform took us farther and brought us more success in a year than the other solutions we invested in did over the 7-8 years we ran them."

Chris Bischoff | President of Global Sales at United Pacific Industries
Looking for stronger client relationships, business evolution and new SEO opportunities?