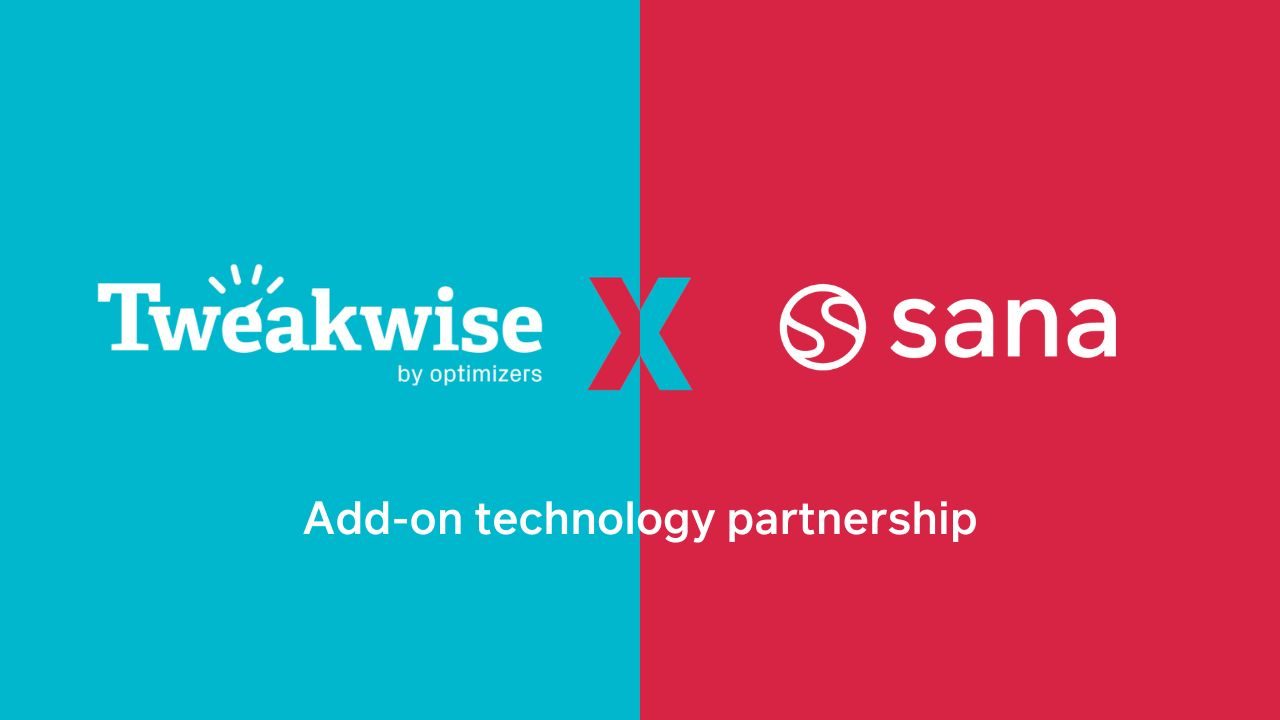 [Rotterdam, The Netherlands, June 2023] – Sana Commerce, the industry-leading provider of e-commerce solutions for B2B companies, is thrilled to announce a strategic partnership with Tweakwise, a trailblazer in search and merchandising solutions. This collaboration signifies a major milestone in Sana Commerce's commitment to delivering innovative capabilities to its valued customers.
Revolutionizing B2B e-commerce alongside Tweakwise
Sana Commerce is excited to join forces with Tweakwise, an industry expert renowned for its pioneering search and merchandising solutions. Tweakwise's advanced platform offers a comprehensive range of functionalities, including personalized search, intelligent recommendations, and seamless merchandising. This partnership enables Sana Commerce to drive the evolution of B2B e-commerce.
Elevating the B2B e-commerce experience: Unleashing powerful functionalities
By seamlessly integrating Tweakwise's cutting-edge functionalities within the Sana Commerce Cloud solution, B2B companies can elevate their online shopping experience to unprecedented heights. Tweakwise's advanced search and merchandising capabilities empower visitors to effortlessly find their desired products and discover other appealing product offerings organically. Through intelligent algorithms and personalized features, Sana users can present their customers with relevant recommendations and tailored search results.
Arno Ham, CTO of Sana Commerce, commented on the partnership, stating:
"Our collaboration with Tweakwise exemplifies our commitment to providing our customers with a powerful e-commerce solution. By incorporating Tweakwise's specialized functionalities, we are taking our platform to the next level. Companies can easily switch functionalities, such as search, to meet their specific needs."
Unlocking enhanced benefits: Transforming the B2B e-commerce landscape
This strategic partnership brings an array of benefits to Sana Commerce Cloud customers. With an integrated and user-friendly search and merchandising solution, businesses can increase conversions, boost customer satisfaction, and optimize e-commerce experiences. Furthermore, the partnership offers Sana customers the opportunity to personalize their online stores, showcase relevant offers, and cultivate long-term customer loyalty.
Stefan van Opstal, founder of Tweakwise, expressed his enthusiasm about the partnership, stating:
"We are delighted to partner with Sana Commerce and provide their customers with our advanced search and merchandising solutions. Together, we are revolutionizing the B2B e-commerce experience and helping businesses achieve their online growth ambitions. Our cultural alignment is a key aspect of this partnership."
Paving the way for success in the dynamic digital marketplace
The partnership between Sana Commerce and Tweakwise represents a formidable combination of e-commerce expertise and groundbreaking technologies. With a shared vision, both companies are committed to working closely together to enhance B2B e-commerce capabilities and support Sana Commerce's customers in achieving unparalleled success in the ever-evolving digital marketplace.
About Sana Commerce
Sana Commerce is an e-commerce platform designed to help manufacturers, distributors and wholesalers succeed by fostering lasting relationships with customers who depend on them.
Sana achieves this by integrating SAP or Microsoft Dynamics ERP and e-commerce into one platform. This eliminates the system silos, unnecessary complexities and compromises caused by mainstream e-commerce solutions.
Sana Commerce is a certified SAP and Microsoft Gold partner, backed by a strong global partner network and recognized by leading industry experts.
About Tweakwise
Tweakwise is an industry leader in search and merchandising solutions for e-commerce. Their advanced platform offers businesses a wide range of functionalities, including personalized search, intelligent recommendations, and seamless merchandising. Tweakwise is dedicated to revolutionizing e-commerce opportunities and supporting businesses in achieving unprecedented success in the digital market.