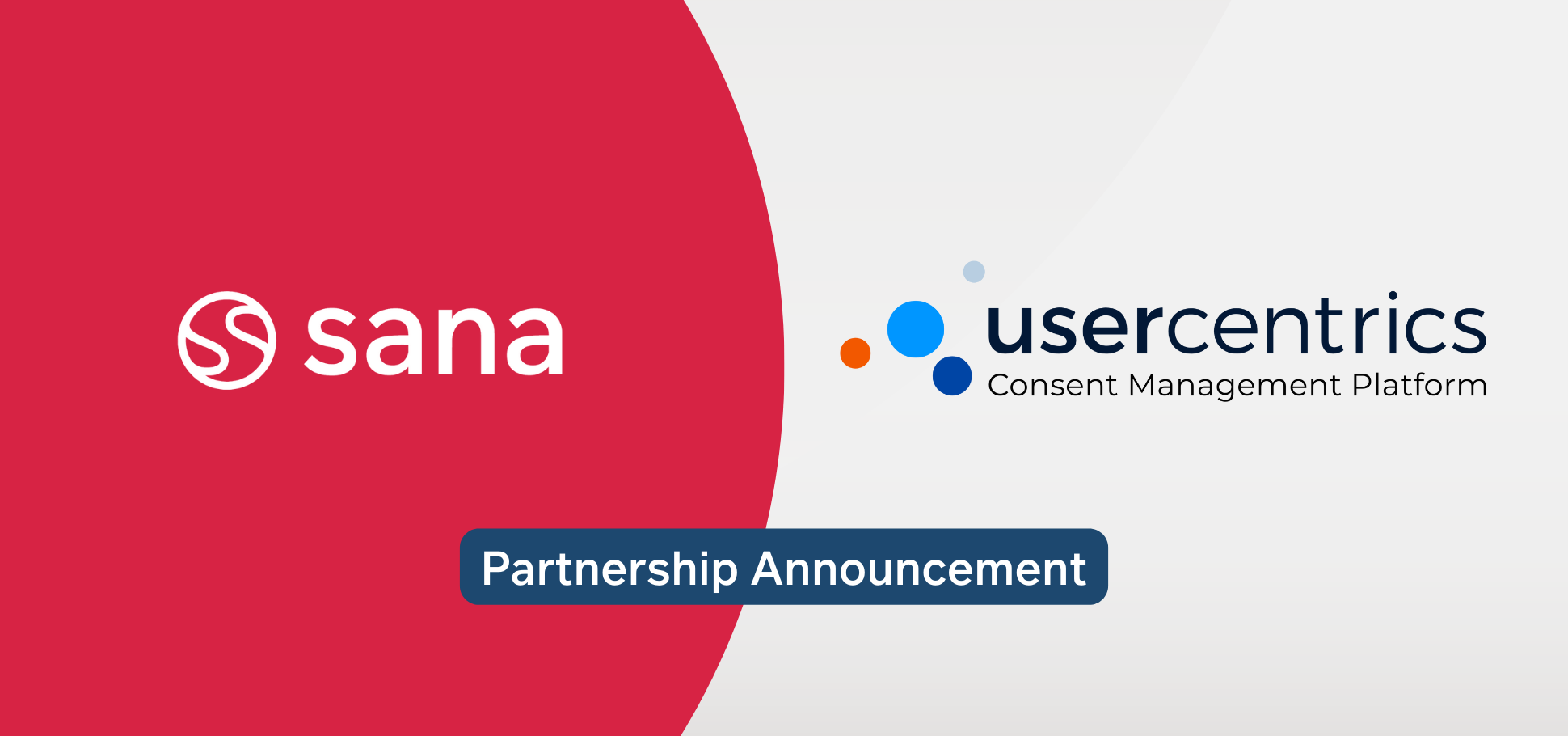 [Rotterdam, The Netherlands, August 2023] – Sana Commerce is happy to announce a strategic partnership with Usercentrics global market leader in the area of consent management platforms (CMP) for websites and apps. This collaboration signifies that Sana Commerce is dedicated to maintaining the end-user's consent and trust.
Streamlining permission management with Usercentrics
Usercentrics believes in creating a healthy balance between data privacy and data-driven business, by delivering solutions for every size enterprise. Through Usercentrics' platform integration, Sana Commerce provides a user-friendly solution for managing consent and permissions related to cookies. This eliminates compliance hassles and ensures effortless adherence to regulations.
Enhancing the B2B e-commerce experience: Promising customers' privacy
In a world where end users feel their data is vulnerable, Sana Commerce and Usercentrics provide the customer with peace of mind. To ease increasing privacy concerns, the customer is offered a seamless end-to-end e-commerce solution that prioritizes web store users' trust.
Using Usercentrics and Sana Commerce Cloud  helps to optimize the web store's ability to collect the correct and relevant data to make informed marketing decisions.
Usercentrics expressed their commitment to customer privacy protection, stating:
"We believe individuals have the right to privacy. And we believe that protecting individual's digital privacy is not a contradiction with enabling a thriving digital ecosystem. It is not one thing OR the other. It is one thing AND the other. Where some people see a simplistic and only binary solution, we see an important tension and meaningful opportunity that can be solved with technologies – some that might not even exist yet."
Discover the benefits: Unleashing a new level of trust
Since the requirements of privacy regulations are complex and ever-changing, Usercentrics provides a robust, long-term solution. This new collaboration has countless advantages including building user trust with increased transparency and providing comprehensive support for web store managers.
With Usercentrics, you can minimize legal risk and prevent user churn for the web store. With an extensive feature set, the web store also gains a competitive advantage over alternative solutions. Usercentrics' solution is easy to implement into your SCC web store and is fully customizable to meet your business' needs.
The advantage of Usercentrics over other solutions is that Sana Commerce guarantees that it will work with Sana Commerce Cloud technologies. As opposed to other platforms where Sana Commerce cannot guarantee that the solution fully functions and blocks all cookies or technology within Sana Commerce Cloud.
Meet the partners
Both companies are committed to protecting people's privacy choices which enable compliance with GDPR/CCPA/LGPD/POPIA/TCF 2.0. This means that Sana Commerce's customers achieve an enhanced brand image, better data, which, along with a focus on the end-user.
About Sana Commerce
Sana Commerce is an e-commerce platform designed to help manufacturers, distributors and wholesalers succeed by fostering lasting relationships with customers who depend on them.
Sana achieves this by integrating SAP or Microsoft Dynamics ERP and e-commerce into one platform. This eliminates the system silos, unnecessary complexities and compromises caused by mainstream e-commerce solutions.
Sana Commerce is a certified SAP and Microsoft Gold partner, backed by a strong global partner network and recognized by leading industry experts.
About Usercentrics
Usercentrics has grown from a start-up to a leading innovator of consent technology for the new internet economy focused on user choice. Based on unrivaled data privacy technology that has pioneered consent management platforms since 2012, Usercentrics works for a better internet for everyone.
Usercentrics is the #1 Consent Management Platform or GDPR, CCPA, LGPD and POPIA compliance for websites and apps. The Usercentrics Consent Management Platform (CMP) provides transparency for all cookie usage and tracking technologies on your website.
The Usercentrics Consent Management Platform (CMP) enables transparency for the use of cookies and other tracking technologies on websites and apps. Build user trust and your competitive advantage.