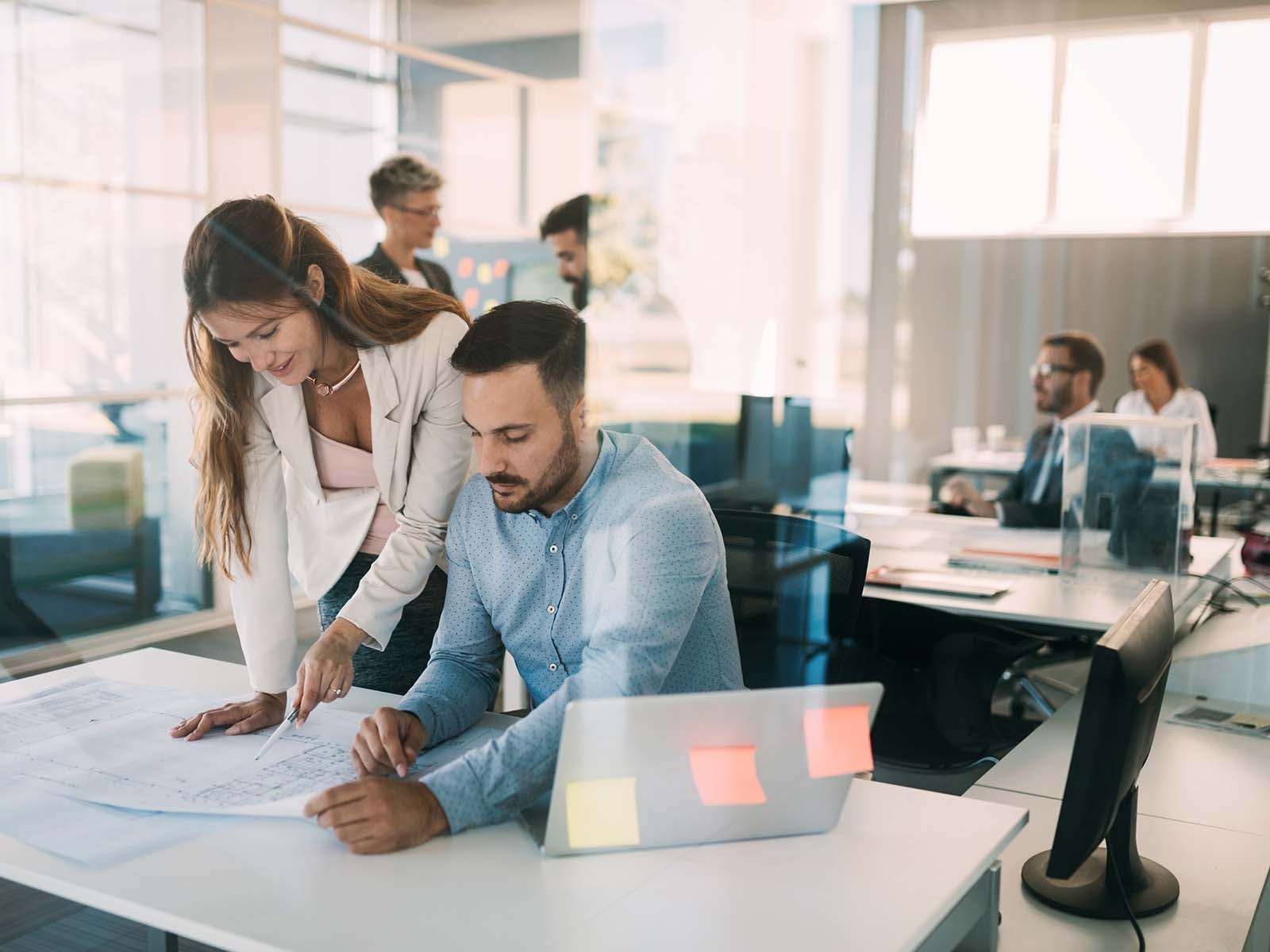 This post was last updated in July 2019.
It's no longer a question of whether businesses should add a web store to their offering, but how. The short answer is a solid e-commerce strategy.
In 2017, we commissioned Sapio Research to conduct a survey of over 300 businesses around the world to find out how they were approaching their digital transformation and e-commerce strategy. 52% of respondents said that their own web store is theirmost important channel. On average, those with web stores saw a 22% increase in revenue thanks to this sales channel alone.
This year, we found that B2B buyers in 2019 still prioritize and prefer online channels, but businesses' e-commerce strategies are not up to par with customers' expectations.
But how do you create a foolproof e-commerce strategy and get a successful web store up and running? How do you do it well, while spending minimal time, money and effort?
For us, it all comes down to 3 pillars of success.
E-commerce strategy pillar # 1: Get your ERP and content data in order
87% of businesses we surveyed believe that getting the right data in one system is one of the most serious challenges B2B businesses face in their digital transformation.
What does it mean to have correct data? First of all, you want to ensure that your ERP (backend) data is up to date. The most important categories to focus on are:
Prices
Discounts
Customers
Products
If you go for an integrated web store option, all of the information in your ERP will be used in your web store. That means it needs to be current and it needs to be complete — you don't want your clients to see outdated or incorrect data.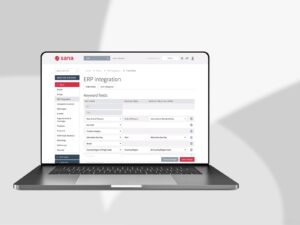 You also have your web content (front-end) to think about. This includes anything displayed in your web store, such as
Product images
Product descriptions
Banners
Background images
An ERP full of enriched product information and plenty of high-quality product images will result in a more complete web store and a faster launch later on down the road. According to our 2019 customer survey, an ERP-integrated e-commerce solution can have a huge impact on repeat business, revenue, process efficiency and more.
E-commerce strategy pillar # 2: Put the right person in charge
In 2017, Sapio Research asked respondents which challenges they thought businesses implementing a digital transformation project face.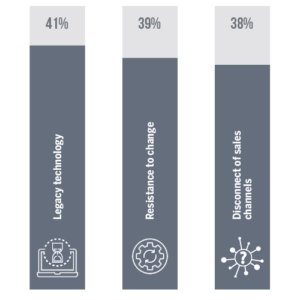 41% said legacy technology that prevents digitization
39% said organizational resistance to change was a major challenge
38% said that disconnected sales channels were an obstacle
These challenges are varied, and it's important that the key e-commerce owners in your organization have the knowledge, expertise, and people skills to tackle them head-on. Today, these challenges remain an obstacle, so it's important not to "set-it-and-forget-it" when it comes to implementing fixes.
Get your key players involved
E-commerce either already is or will become a major keystone in your organization. That's why it's absolutely vital that you choose the right person to be responsible for your e-commerce project.
Irwo de Lange, Business Development Manager at Edel Group, saw the difference it made to have key people involved with their e-commerce process:
Initially we invited one representative from each department. That allowed us to gather all of the most crucial information about our order process at one time. These meetings really confirmed how crucial the ERP was for processing our orders.
Appoint an e-commerce manager
You need someone with:
The communication skills to manage stakeholders and overcome any internal resistance to change.
The technical knowledge to ensure that your new solution will be feasible with your current (or future) systems.
In-depth knowledge of your sales and marketing channels so they can ensure that new technology will integrate with these channels.
Does this person even exist?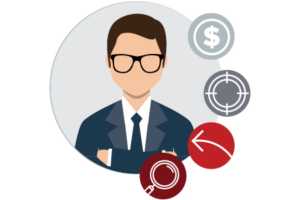 Absolutely, and it's quite likely that they're already in your organization. You're looking for an IT Manager with business prowess or a Marketing or Sales Manager with an affinity for IT.
Proceed with a word of caution in mind
Don't let organizational resistance keep you from getting started with e-commerce. As we mentioned above, 39% surveyed said that organizational resistance to change was a major challenge in their digital transformation.
Having a dedicated project owner will help you avoid this pitfall because it will put one person in charge of moving things along and convincing all stakeholders.
E-commerce strategy pillar # 3: Make a concrete business plan
There's an old Japanese saying that says vision without action is a daydream, and action without vision is a nightmare.
In other words, you need a concrete plan.
Saying that you simply need a concrete business plan may seem a little vague. That's why we've put together six steps to follow to ensure you have a good, solid business plan that will help set you up for online sales success.
Step 1: Set goals
What do you hope to accomplish by adding a web store to the mix?
Every business has different reasons for getting started with e-commerce. Most businesses adopt an e-commerce solution as a way to increase sales volumes and to offer a 24/7 self-service portal. It's vital that you get together the key players in your organization to document everyone's goals with your new venture. Don't make assumptions!
You'll also want to make sure that your goals align with your customers' needs and desires. Once you've considered all of the parties involved, make a list of your most important e-commerce goals. Then translate your main goal into a quantifiable number.
Quantifying your goals will help you track the success of your project and motivate you and your team to keep working until you reach your target.
Step 2: Determine your KPIs
Key Performance Indicators will help you keep your eye on the prize. We believe there are on six main B2B e-commerce KPIs for increased online revenue.
Online customer retention rate
Percentage of repeat customer visits
Customer satisfaction
Online order frequency
Average order value
Effect on offline sales
For more details about these indicators and how they can help your business, read our blog about B2B e-commerce KPIs.
Step 3: Define your target market and customers
Are you targeting cities, states, provinces, countries or regions? Are you selling B2B, B2C, D2C, or a combination? Are you targeting resellers or distributors? Get your ideal market down on paper so you can be sure your web store will have the functionality it needs to help you reach your target audience.
Your customers, of course, are important too. Have you defined your customer personas yet? If not, this would be a great time to do so. Knowing more about the specific people you want to bring to your web store will help you configure it accordingly. It will also help you choose content, design, and personalization features that will bring you the best results.
Step 4: Customer communication
A new web store means a new way to communicate with your customers! This is exciting and perhaps a little intimidating. How are you going to wield this new platform to your benefit?
You now have the perfect place to announce discounts, share discount codes, and offer invaluable resources. Get together with your marketing department (or a marketing expert if you don't have an in-house marketer yet) and document how you are going to take advantage of your new sales channel.
Step 5: Create a roadmap
Are you going for a big bang or a gradual introduction? There are many ways to launch a web store, and you need to decide which method will work best for your company and the resources you have at your disposal.
Once you know where you're going, the next step is mapping out your launch plan in phases. We advise consulting with your e-commerce provider to help you out with this!
Step 6: The more you know, the more you grow
Finally, you want to get your data in order.
Gather the information you already have about your order processes, customers, prospects, targets, and current success rates. Evaluate the information you have at your disposal, find the gaps, and look at how your online sales channel will help you fill those gaps.
One of the big advantages of launching an ERP-integrated web store is the in-depth customer data it puts at your fingertips. Make sure that you choose a solution that will give you access to the data you need to make your business grow and make your customers happy.
Your e-commerce strategy: Put it into practice
Launching or upgrading your web store is a big undertaking, and it's one that will also yield big results if you tackle it with the right plan. We're confident that these three pillars will give you a solid foundation for your journey to e-commerce success.
For more advice and practical checklists to steer you through your e-commerce project, download our Ultimate Guide to E-Commerce: From Planning to Going Live.
If you're just getting started with your plan, it can be really helpful to learn more about what other businesses are doing and what customers want from their online experience.
Learn how we can help you meet your customers' needs