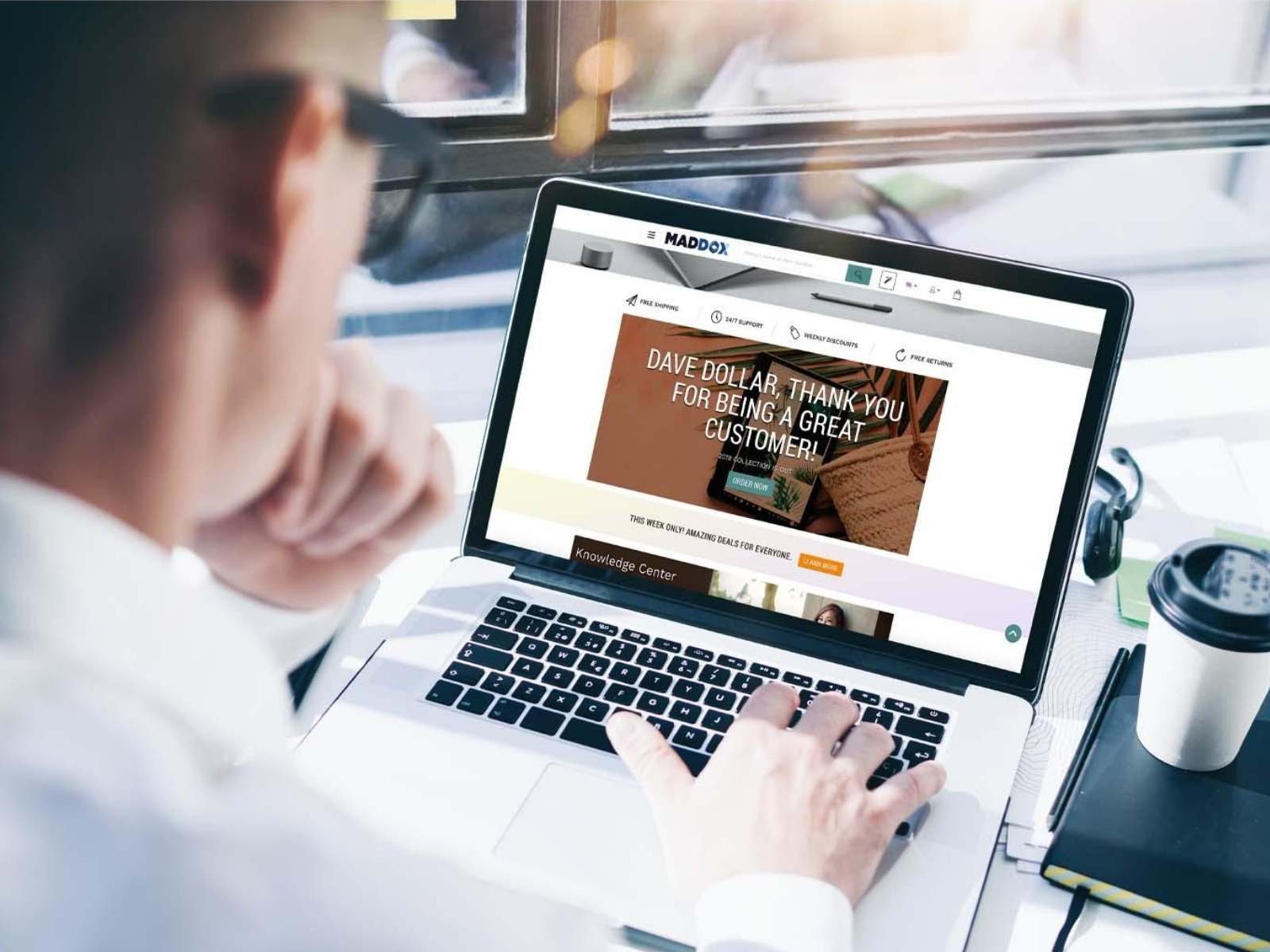 What does it take to have the best B2B web store in your industry? We're looking at four things that all of the top contenders have in common. What are they doing, how is it leading to greater e-commerce success, and how can you adapt it for your situation?
Want to jump ahead to the points that pique your interest most? Go for it! Just be sure not to miss the tips we offer at the end of each section.
1. Personalization
The personal touch goes a long way in B2B e-commerce. Not just in terms of making customers feel special, but also in terms of efficiency. A customized buying experience isn't just about quick welcome message and product suggestions — it's about effectively managing the dynamic relationships you have with your customers. Examples include fully personalized product catalogs, personalized pricing across your entire web store, and of course personalized emails.
Personalizing your online sales portal in this way will help your organization become more customer-centric. It doesn't stop at your web store, either. It's vital that your customer experience flows seamlessly across all of your channels. The best B2B web stores offer an excellent omnichannel experience to ensure their customers can find what they need and get the assistance they want no matter their device or the channel.
2 Tips for Personalizing Your B2B Web Store
Tip 1: Make it easy for customers to create an account so they can track order history, view payments, customize product views, and check product inventory, pricing and discounts.
Tip 2: Up your omnichannel game with an integrated system that keeps your customers in the know. Whether they ordered online, by phone or at a physical location, their purchasing documentation should always be available in your online portal.
2. Excellent content
Your clients are responsible for purchasing exactly the right products, and depending on your industry, that might get pretty complex. Business buyers need the right level of information and documentation to support every stage in the buying process.
B2B content solutions
Start by taking stock of content you're already offering your clients. Maybe you have adequate product specs, but the descriptions are lacking. Or perhaps you need to step up your game with improved product images. Create an overview of what you already have, look for the gaps, and create a plan of action.
It's important that your CMS is straightforward and intuitive for your product managers and marketers to work with. This ensures that web store management doesn't fall only on your tech specialist.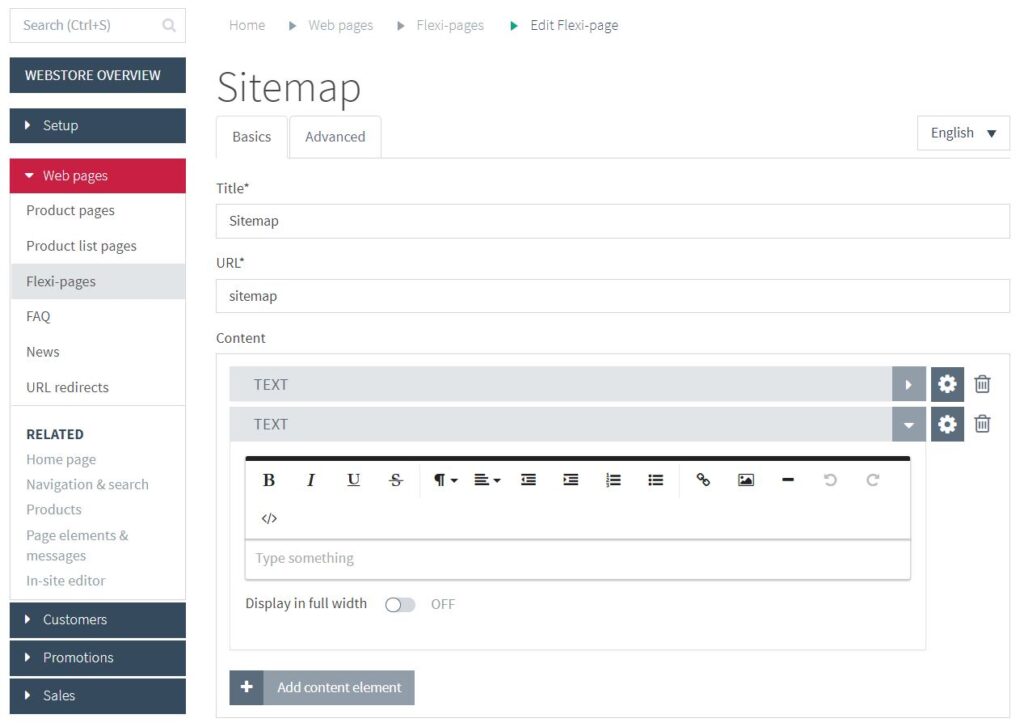 B2B content must-haves:
Technical information
Pricing information
Product specifications
Contact information
B2B content nice-to-haves (your most successful competitors probably have these)
Once you've got the content basics covered, think about expanding your offering to include nice-to-have documentation that, while not absolutely necessary, does make your customer's life easier.

Of course, it's also important to make sure that your Search Engine Optimization is up to snuff. If your web store is full of valuable information, you want to make sure it's easy to find online. Not sure where to get started with SEO? Your web store software should offer tooling or add-ons to help you measure and track this.
3. Ease of use in B2B web stores
Most website users aren't willing to stick around and figure out a complex navigational scheme. That means your buyers need to be able to find what they are looking for quickly and with minimum effort.
Menu bars are the main way people navigate through web stores, so yours needs to have a clear and logical structure. Since B2B product catalogs are often extensive and complex, good search functionality is also important. This will make it easier for your customers to look up products using granular sort and filter capability, faceted search, guided navigation, or quick search features.
Other essential B2B web store features for UX include:
Multi-add to cart (to make bulk purchasing fast and easy)
BOM/kitting functionality
Multiple currencies
Large product images (with zoom capability)
Product reviews
Order templates
4. User-friendly design for B2B customers
If you want to attract new buyers, looks count. Just like brick-and-mortar storefronts, your web store design will play a big role in attracting and retaining new customers.  The best B2B web stores keep their storefronts light, clean and simple as possible.
You'll also want to make sure your corporate identity is consistent across your entire site, and that your web store layout (tabs, buttons, images and menus) follows a logical structure.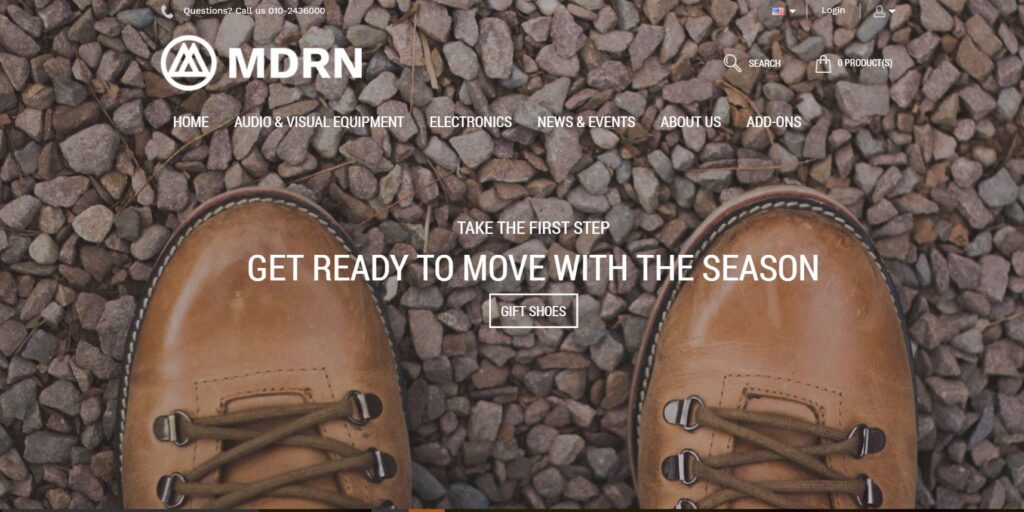 The most user-friendly web stores are also fast, so it's important to keep your load time within one or two seconds to avoid losing customers. In addition to quick load times, the best B2B web stores are also built to automatically adapt to the customer's mobile device. Forgetting about smartphones can lower your rankings in search engines.

Your Top Priorities and Next Steps
To quickly recap, the best B2B web stores:
Personalize the purchase experience.
Improve product information and content.
Optimize navigation.
Keep design and functionality light, clean and simple.
If you already have a business-to-business web store, your web store software provider should be able to help you. Get in touch with them and go through this list together. Ask them what your options are and how they can assist.
If you don't have a software provider yet, or if you're interested in learning what else is out there, you can also feel free to get in touch with one of our e-commerce experts for additional personalized advice!
Not keen to get on the phone right away? Then we'd suggest having a look at the resources provided in this blog. Take your time, start some conversations with colleagues, and create a plan of action.
Your B2B clients are ready for e-commerce