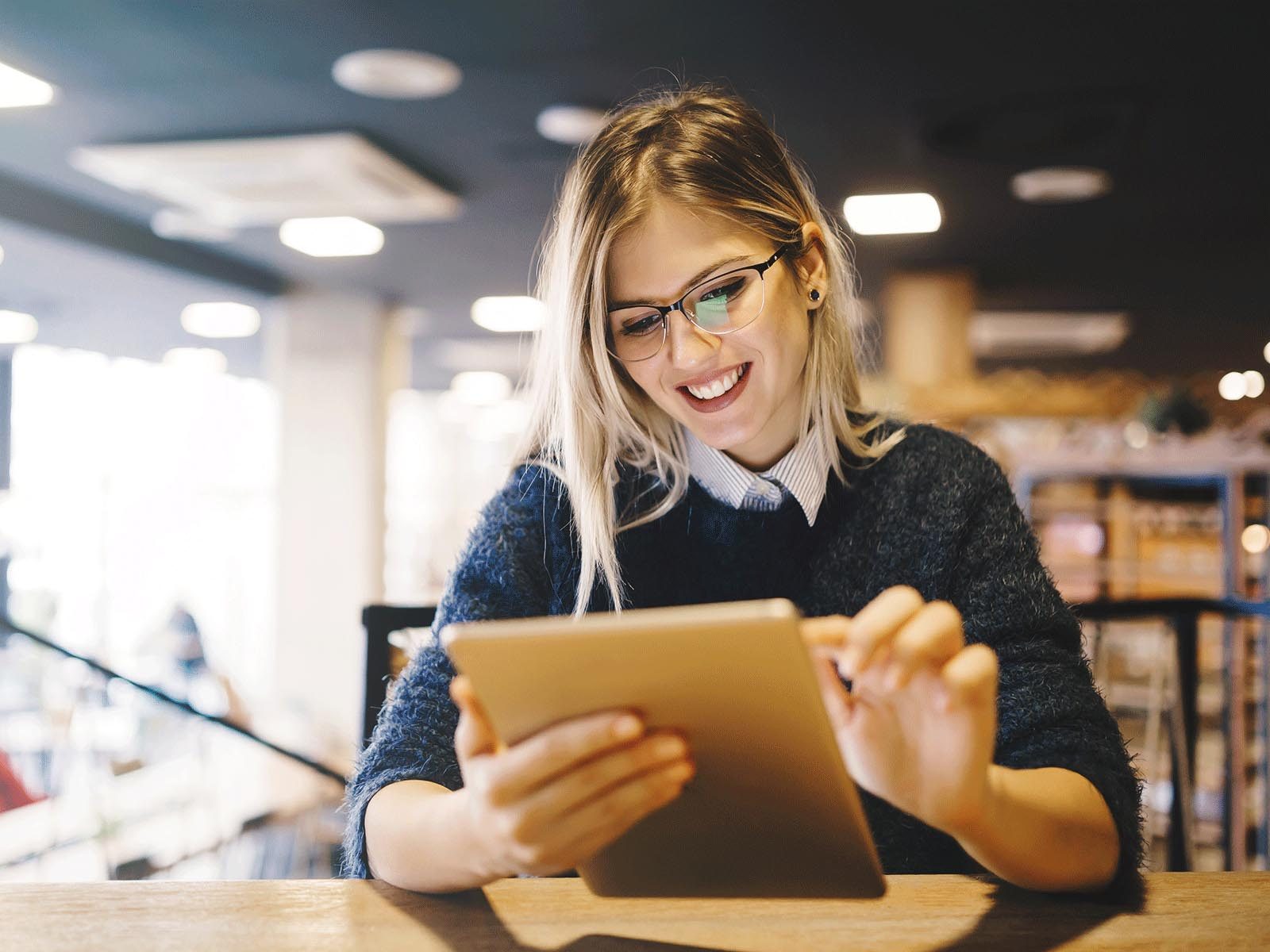 Whether you call it omnichannel, multichannel, or something else entirely, there's no escaping this concept in modern sales and marketing — even if you're B2B. How can you ensure your web store fits in your B2B omnichannel strategy?
Disruption: the new reality
Is any industry safe from disruption?
Take something as banal as a cab ride. It wasn't that long ago that if you needed a taxi, you called your preferred service — or one recommended by a friend if you're not on your home turf — and hoped that the operator's ETA was accurate.
It almost seems quaint, doesn't it?
Today, you call Uber. You simply open your app, request a ride, and see how long it will take for your driver to get there. It's no longer a case of waiting for a car with the right taxi firm emblazoned on the side; you know exactly which license plate to look out for, and you can even greet your driver by name.
The way we purchase has changed just as much, if not more. It's just that the change has been more gradual. Rather than one major disruptor (like Uber), there have been more incremental steps leading us to the new retail reality we live in now.

Buyers are changing
Or rather, buyer expectations are changing.
We're very consciously not differentiating between consumers and professional buyers here. Of course, there are differences, depending on your exact business and the size of your B2B clients. You might be dealing with a decision-making unit instead of an individual buyer, or complex pricing rules.
But we're talking about bigger themes. Before the rise of e-commerce, we accepted having to choose between a visit to brick-and-mortar stores and ordering through snail mail. Back before Amazon Prime launched in 2005, we didn't think twice about waiting for 5–6 business days for our online purchases. And before social media became ubiquitous, it never occurred to us to use anything other than email or telephone to get in touch with customer support.
It's been a slippery slope, and it's led us straight to where we are today: omnichannel.
Marketing and sales are changing too
Today, we don't think twice about shopping online. Paying on mobile devices is just as normal. And getting order updates via WhatsApp? It's not standard, but it's not exactly surprising, either.
If you've ordered online before, going through this process is the most normal thing in the world, yet every step requires you to switch channels. It's become part and parcel of every aspect of online communication — all online communication. Professional buyers are consumers off the clock, and what we take for granted as consumers, we also come to expect from B2B merchants.
Consumer web stores also continue to find new ways to reach, engage, and convert buyers. The result? Professional buyers' expectations are higher than ever — and so are the stakes when it comes to meeting those expectations.
According to the Customers 2020 Report, customer experience will have surpassed product and price as the key differentiator for brands in just three years' time.
In other words, providing a great customer experience isn't just a nice extra — it's imperative. And omnichannel is an essential part of that.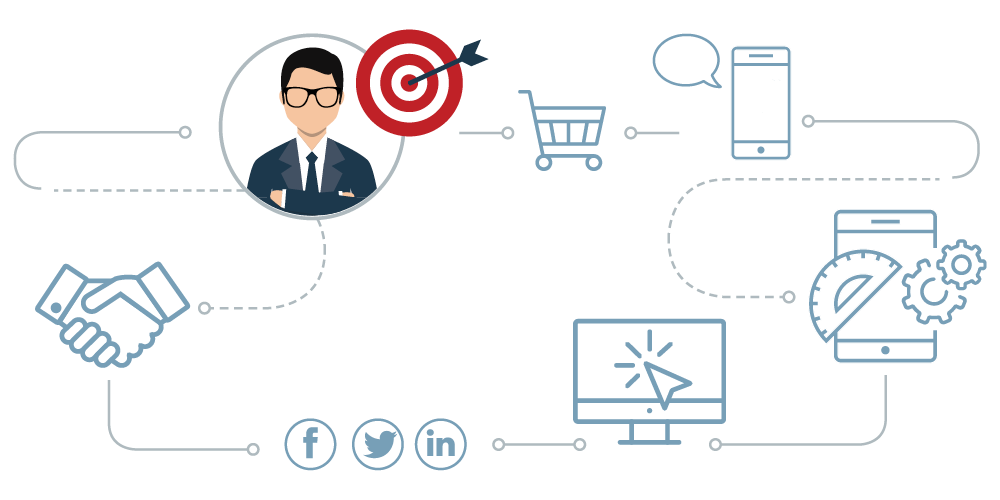 The biggest challenge of omnichannel for B2B
If you're a wholesaler, distributor, or manufacturer, it's likely that you already have a web store, or are considering launching one in the foreseeable future. This is great — as we mentioned before, having the option to buy online is has become the new normal. However, your web store simply being there isn't enough.
It needs to be equipped with the design, features, and data necessary to provide your clients with a pleasant buying experience. What this means exactly differs from buyer to buyer, with the exception of one immutable requirement:
Your web store has to let your clients do what they came for as quickly (and with as little friction) as possible.  
It's a web store, so your visitors are there to buy something or look up product information. If you make sure your e-commerce platform and server are reliable, surely the rest should take care of itself?
Not necessarily.
Case: Jane's Quest for Widgets
One of your sales colleagues has an appointment to visit Jane at her office. She's in need of 100 widgets but wants to know more about prices and availability before making a decision.
Jane likes what she hears: 500 widgets are in stock and the price is within her budget. After the sales meeting, she immediately calls your headquarters to place her order.
She is told the widgets are out of stock.
Jane, understandably, isn't happy. After all, just a few minutes before, she'd been told that five times her required amount was available. So now you're left with an unhappy customer, and Jane is left in a quandary.
What happened?
Simply put: Jane was making a decision based on outdated information.
After your sales rep checked the inventory, the following happened:
His colleague from another branch sold 200 widgets.
A fax order came in for 300 widgets.
Jane tried to place an order for 100 widgets — and was disappointed.
This is what happens when you have multiple sales channels that aren't properly attuned.
So if simply having the channels isn't enough, what is?

The pillars of omnichannel for B2B
You can't build a castle on quicksand. Here are the three pillars that form the foundation of a successful omnichannel strategy.
Avoiding the new digital divide
Adopting an omnichannel strategy is all about meeting client expectations. If your omnichannel offering falls short, a gap will develop between your client's online behavior and expectations, and your ability to deliver the desired experience.
This gap is the new digital divide.
The challenge you face is to minimize the divide between what clients expect from you as their omnichannel supplier, and the omnichannel capacity of modern retailers.
B2B companies are encouraged to implement an omnichannel strategy, but this is easier said than done. E-commerce's rapid rise and the dynamic nature of the sector result in a fundamentally different way of doing business for B2B firms. Distributors risk losing clients, or cash flow, or even the control over the most essential elements in their value chain.
In order to succeed, distributors have to shift their focus from costs to clients.
Embracing transparency
Omnichannel success requires transparency in your messaging. This can be daunting for B2B companies, as it's not par for the course.
A common assumption is that B2B companies are reluctant to use multiple channels because they don't want to run the risk of sharing conflicting information. The potential fallout of Sales not being able to deliver what Marketing or PR promised?
Clients — both current and potential — lose faith in you as a business partner.
That's why an effective omnichannel strategy calls for transparency, and therefore authenticity.
Striving for a superior customer experience
Serving the same information across channels is crucial. So is creating a consistent customer experience.
But what does that mean exactly?
In a nutshell: that your clients get not only the same information but the same brand.
Each of your channels should be part of a cohesive whole, ensuring that your clients' experience is always consistent, no matter how they interact with you.
If they know that they'll get a better price if they call a sales rep than when they order through your web store, why would they ever stop calling you? And if their account manager shares the wrong price when he visits their office, it'll be a challenge for him to win that trust back.
There you have it: the three essential elements you need to ensure your omnichannel strategy takes off.
Dodging the new digital divide
Embracing transparency
Delivering a delightful customer experience
Is an effective omnichannel strategy really worth the investment required to lay this foundation?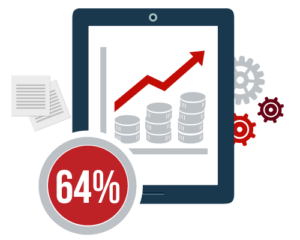 Yes. As you can read in our research into digital transformation and B2B e-commerce, 64% of respondents indicated that increased sales were the main impact of their omnichannel strategy. And this is just scratching the surface of what omnichannel can do for B2B companies.
So why isn't omnichannel a given for B2B?
What's holding B2B companies back?
As we mentioned above, consistency and transparency are the keys to omnichannel. This is a particular challenge for B2B. After all, it's easier to accidentally distribute conflicting information if your organization is subject to silos.
The solution? A single source of truth. Something your organization probably already has: your ERP system. Yet, as with sales channels, simply having and ERP isn't enough to ensure your messaging is consistent — particularly when it comes to your B2B web store.
That's why a major challenge B2B companies face in their quest for omnichannel e-commerce excellence can be boiled down to one hurdle: the disconnect between their ERP and their web store.
This hurdle has one solution: single-stack e-commerce.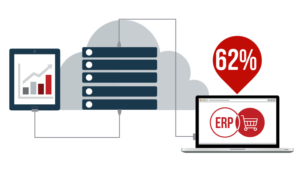 That's easy for us to say — we've developed a single-stack e-commerce solution, after all. But it's not just our opinion. A recent Forrester report indicates that 62% of all companies planning to upgrade or replace their e-commerce platform will choose a single-stack solution. According to Forrester Principal Analyst Andy Hoar:
"Mid-market companies don't want the hassle of trying to integrate a whole bunch of different systems. They want something that works as a whole and might even be willing to compromise on functionality if they can get all their systems in a more easily managed environment."
But there's another benefit to unifying systems in a single environment. This integrated approach to e-commerce makes it much easier to share data reliably and in real-time.
It's exactly what B2B needs to perfect its omnichannel e-commerce strategy.
Integrated e-commerce and omnichannel
Integrated or single-stack e-commerce software lets you make optimal use of the business logic and data stored in ERP systems like Microsoft Dynamics and SAP. Think of data like:
Product specifications
Inventory levels
Customer addresses
What makes this integrated approach to e-commerce so effective is that it also uses your ERP's business logic, including:
Customer-specific discounts
Additional fees
In practice, this means that when your clients visit your web store, they see the exact same information they would receive if they called your sales representative directly.
Unity across channels.Without having to obsessively maintain a second system.
Exactly what you need to deliver an exceptional omnichannel experience.
Learn to develop the best B2B omnichannel strategy for your market