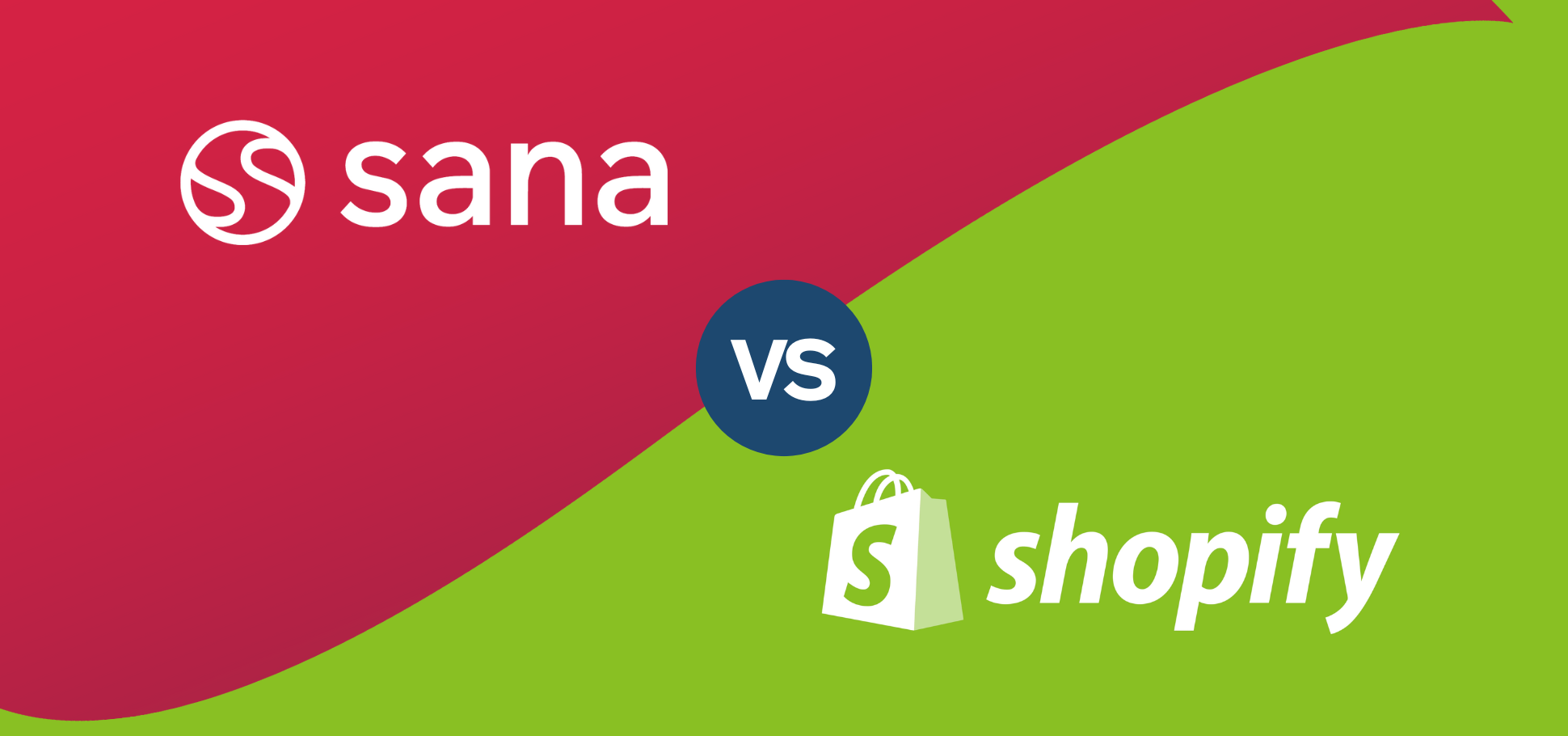 Hunting for the right software vendor for your new (or new-and-improved) web store can be a daunting task. With all the options in the marketplace, it may be challenging to even build a shortlist of potential e-commerce partners, let alone choose the right one for your business needs.
As an e-commerce software vendor, we understand just how saturated the market is. You've probably heard about the big e-commerce juggernauts, like Shopify or Magento — but bigger doesn't always mean better. To help with your B2B e-commerce platform comparison, we've put together an overview of the top three ways Sana Commerce competes with (and even outperforms) Shopify and Shopify Plus.

The top 3 considerations for your B2B e-commerce platform comparison
1. For your business: Data management
With Sana Commerce, your inventory and pricing data (along with the rest of your data and business logic) are calculated and managed in your Microsoft Dynamics or SAP ERP. This includes the physical quantity of your product inventory, as well as tax and fee calculations, and standard, customer-specific or bulk/volume pricing. (Showing this data in your B2B web store is simply a question of toggling between the "Visible/Invisible" options in the Sana admin back-end.)
When it comes to order processing, Sana Commerce customers can create orders and quotations (and convert quotations into sales orders) directly from a Sana web store. These orders will then instantly be available in your ERP for quick and easy processing. Your internal workload, ultimately, should be a major factor in your B2B e-commerce platform comparison — and this capability is a key benefit.
Shopify: Manual, (Replicated) data maintenance
When investing in Shopify, many businesses are looking for a reliable e-commerce solution to get the job (i.e. online sales) done. However, in retrofitting a new solution into your digital strategy (perhaps without thinking too much about how easily it integrates with your existing systems), you end up needing additional middleware just to connect your ERP system with Shopify B2B e-commerce.
Because it requires your business to update and manage your product, pricing, and inventory data in both Shopify admin and your ERP system, Shopify is not the ideal choice to offer support for complex and digital products. Sana Commerce is one such digital-first product that outstrips Shopify features.
The platform does not integrate with your ERP to pull existing data for complex products and pricing strategies, but rather forces businesses to manually create this data a second time in order to be able to show it in your B2B web store. Not only does this data need to be created in Shopify during implementation, but with any updates to other systems, like the ERP, updates would again need to be done in Shopify. This is also true for order management.
After a Shopify customer places an order online, the order is recorded in Shopify, but not integrated in real-time back into your ERP. Because Shopify only captures online orders, orders that come in from other channels need to be managed in other systems (unless otherwise connected through middleware). Web orders then need to be taken manually from Shopify and created as sales orders in the ERP, where the fulfillment process is completed. Ultimately, this lengthens the fulfillment cycle, adds unnecessary manual steps, and causes you to risk selling out-of-stock items without real-time inventory updates. Think about how much money this lost time would cost.
For invoice management, billing is managed in Shopify admin and can be paid via your preferred billing method (credit card or bank account). When looking at Shopify competitors, there are clear differences. With an integrated solution, for comparison, the ERP integration allows for a more efficient process because invoices stored in the ERP can be shown in and paid from the web store instantly).
Ask yourself: is doing double the work worth it? If the answer is no, perhaps it is time to consider alternatives to Shopify.
Compare solutions side-by-side
See how different e-commerce solutions stack up and decided which software works best for your business.
2. For your customers: Online self-service capabilities
Sana Commerce: Putting customer data at the center of self-service functionality Is self-service a priority in your B2B e-commerce platform comparison? Sana Commerce's integrated e-commerce approach allows you to store and show real-time customer data from your ERP (including information on customer type, and preferences and account details, like sales and delivery information). The benefit is that all account management can be handled from the web store by the client —and it updates automatically with the ERP. Alternatively, if the information is updated over the phone by an internal employee, for example, the customer can see their information updated online right away.
These account preferences —all displayed and available online based on ERP data— include preferred payment methods, credit limits (set by the business), tax and pricing agreements. As a web store client making online purchases, you can always count on having the right payment types, pricing and preferences set. In addition, the credit limits allow your customers to stay within budget and never have a larger outstanding balance than you are comfortable with.
You can customize your web store experience based on these details, offer customer-specific pricing, and allow customers to pay their open invoices directly from the web store. Additionally, your sales representatives can Represent a Customer (or view your web store and make purchases on a customers' behalf), which can save your customers a significant amount of time and ensure that they are comfortably within their credit limit as well. If your customers want to do that themselves, (for example, if they're looking to make a purchase but nearing their credit limit) they can pay invoices directly from the web store to restore their credit cushion.
Shopify: Little focus on web store self-service
When your business enables customer accounts in Shopify admin, Shopify stores password-protected customer information including customer details, order history, and order status in Shopify admin only (unless it's manually moved from the Shopify system to the ERP, or other systems a business might be using).
This means that if a customer updates their account details in the Shopify store (from their "My Account" page), that update only happens in Shopify. Likewise, if customer account data is updated in the ERP, it's not also updated in Shopify: adding an additional, manual step each time. Even within Shopify customer portal, the self-service functionality isn't comparable to competitors.
Your B2B e-commerce platform comparison should prioritize software that enables self-service. However, beyond offering web ordering and customer support, Shopify has little-to-no self-service capabilities. Even when it comes to processing and paying invoices, customers cannot do so directly in the web store. This happens external of the web store with Shopify and Shopify Plus.
3. For both: Payment processing
Sana Commerce: Global, secure payment processing
One of the major capabilities that makes Sana Commerce a strong Shopify alternative is payment processing. First, Sana Commerce works with many payment service providers (PSPs) via a cloud-based add-on that makes it easy to accept and manage online payments in your web store. Sana does so by connecting to different payment services and facilitating transaction processing —without storing any payment data and compromising your customers' data security.
Sana Commerce also supports on account payments (which means that as a business, you can make purchases on account without needing to make an immediate payment, and then be invoiced at a later time) and uses credit limits to keep clients amount outstanding within what is reasonable to the business owner.
Unlike Shopify, Sana Commerce is also equipped to support global sales (including localized languages, and multiple currencies and payment types): making it a front-runner in your B2B e-commerce platform comparison (if you're worried about scalability and globalization).
Shopify: Accelerated (But local) payment processing
Like Sana, Shopify offers the ability to pay via multiple payment methods, a third-party provider, or alternative methods like cryptocurrency. However, though they offer an accelerated checkout option, Shopify is not well equipped to support global sales and payment processing. Shopify's payment processing power is limited. This should be a key factor to consider in your B2B e-commerce platform comparison.
Take the first step
Dive into The Ultimate Guide to E-Commerce to learn what you've always wanted to know about a new online sales channel.
Making your B2B e-commerce vendor decision
Sana Commerce takes the complexity of online B2B purchases into account, delivering a product that minimizes your internal data maintenance workload. We put your Microsoft Dynamics or SAP at the center everything we do, making us a more efficient alternative to Shopify and Shopify Plus that also takes down data silos and offers visibility of the e-commerce operation across departments. Read: as long as you're maintaining and updating your ERP data, you can leverage it to streamline data and web store maintenance.
For a head-to-head B2B e-commerce platform comparison between Sana Commerce, Shopify, and others, read our E-Commerce Software Comparison.
E-commerce software comparison
Looking to compare and shortlist e-commerce software vendors? Use our comparison template to help you choose.