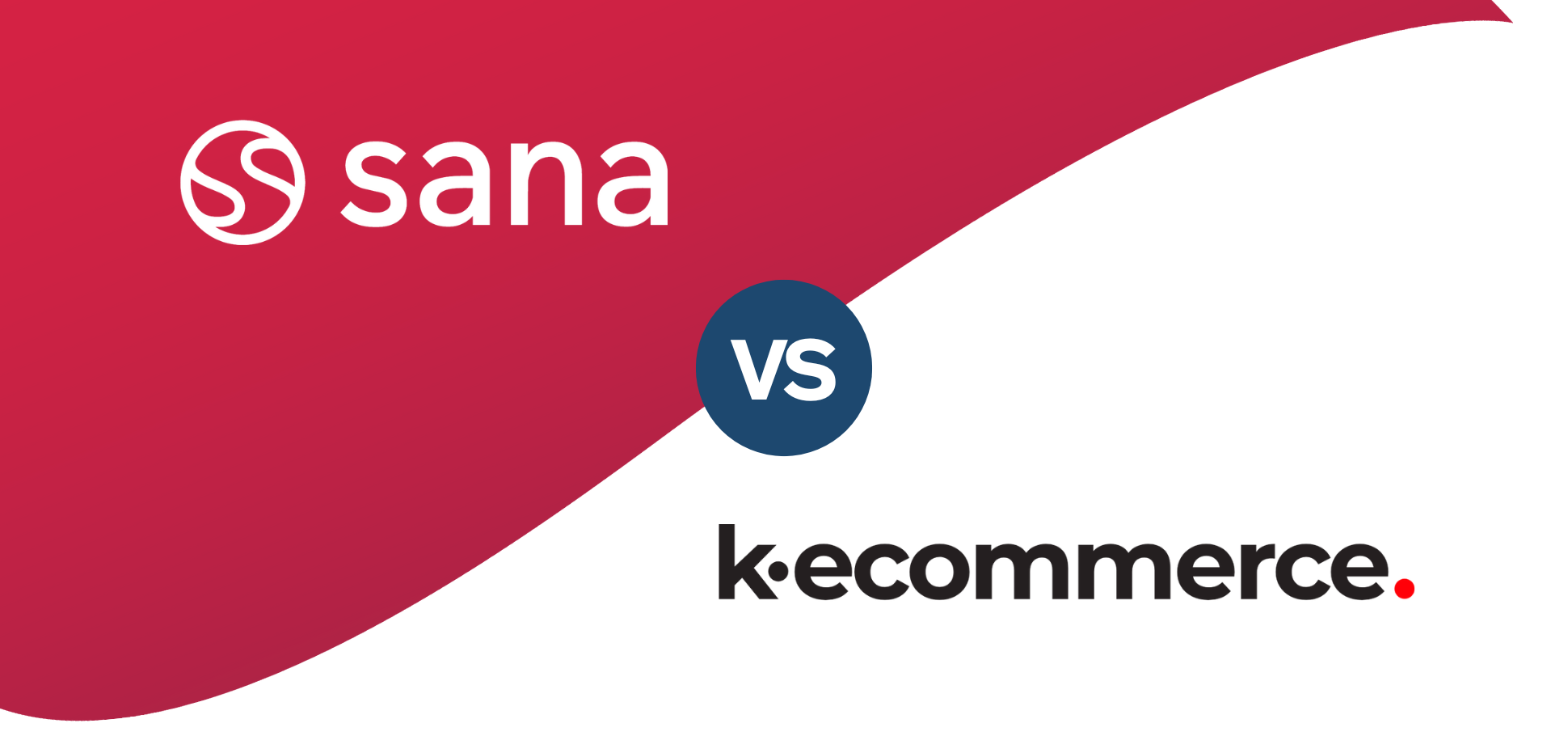 When choosing an e-commerce software vendor in today's market — even after an organization has decided on a shortlist— its internal teams must continue to sort through subtle nuances between the remaining solutions being considered. We find that this often leads to a misconception: that the final decision in your e-commerce software platform selection process is simply a matter of preference.
And while there will be moments where this may be the case, it's common that these seemingly trivial differences between solutions later become the key factors impacting the quality of:
Thanks to our fully ERP-integrated approach to e-commerce, Sana Commerce can be easily differentiated from shopping cart software vendors like Magento or Shopify (that use middleware to synchronize the ecosystem of technologies that power their solutions).
But with other e-commerce software platforms, like k-eCommerce, Sana Commerce's differentiators can become a lot less apparent. To help with your e-commerce software comparison, we'll walk you through the most important ones.
First things first: Sana Commerce today and tomorrow
One of the more notable aspects of Sana Commerce's approach to e-commerce is our investment in and commitment to value-based product research and development (R&D). We pride ourselves on staying ahead of demand by folding key customer feedback into our product roadmap and keeping an eye on the demands of the worldwide markets within which we operate. This means innovative, future-ready, and cutting-edge product updates driven by a team of 100+ dedicated product professionals.
This, of course, instills a degree of confidence in Sana Commerce with regard to where we are going and how our product will evolve both short-term and long term.
But how does what we offer today stack up against comparable competitors, like k-eCommerce? Read on to dive deeper.
Sana Commerce vs. k-eCommerce: What's the difference?
Sana Commerce is the driving force behind over 1,500 global web stores, handling a wide scope of projects across 9 Microsoft Dynamics and SAP ERP systems for enterprise clients and small to mid-sized businesses alike. This speaks to our flexibility and adaptability, but of course, it doesn't single-handedly make us the obvious choice between our platform and that of k-eCommerce.
The reality is that both Sana Commerce and k-eCommerce leverage the customer's ERP system to power their e-commerce experiences, eliminate siloed systems, minimize data maintenance, and are PCI-compliant, responsively designed e-commerce software platforms. If we are comparing these solutions on the basis of any of those individual factors, the choice between e-commerce vendors does come down to a matter of preference.
But, if you think bigger and more strategically, the differences become much more significant in the long run.
Here's how Sana Commerce competes:
1. Enabling better performance, security and scalability with Microsoft Azure
Unlike k-eCommerce, which hosts its solution in a single, private, enterprise-grade data center, Sana Commerce hosts with Microsoft Azure. There are currently 38+ Azure regions in the world, which means a plethora of data centers from which to host Sana Commerce web stores. This offers our customers the ability to ensure the best possible web store performance because they can choose to host in the nearest (and local) data center to their ERP system. Microsoft also ensures failover protection with Azure for any disaster recovery, which eliminates security risks, and together with Microsoft, Sana Commerce can offer a 99.9% uptime guarantee.
As your business grows, the ability to leverage the proximity of all these data centers will naturally become more impactful, and your growing customer base will benefit from always-on optimal web store performance.
2. Driving customer experience excellence with fully ERP-integrated e-commerce for Microsoft and SAP
Sana Commerce is certified for both Microsoft Dynamics and SAP ERP integration. This integration is direct, because our platform is built partially inside of our customers' ERP systems. Unlike with that of k-eCommerce, this means Sana's ERP integration is possible without the need for any connectors, middleware or sync technology.
The tangible impact of this difference is that our web store data is always accurate and always pulled from your ERP system in real-time. This approach can also enhance aspects and functionality in your web store, end-to-end, across the full buyer journey, including:
Web store setup and implementation
Customer-specific experiences
Browsing (with enriched product information) and navigation
Purchasing (including real-time order calculation, like shipping and sales tax)
Checkout
Customer self-service
For our clients, this results in the assurance that online order errors or incorrect inventory data in your web store (as a result of data synchronization challenges) will never result in lost business. For our clients' customers, this means an informative, data- and feature-rich web store that makes online browsing and purchasing simple and hassle-free.
ERP-powered interfacing solution with k-eCommerce
k-eCommerce's approach to e-commerce, which can more accurately be referred to as a mainstream solution, syncs information to the front-end web store from the ERP system using the platform's native connector.
Working within this pieced-together ecosystem of technologies means that data may be captured in one system but synchronized and processed in another. Data is also replicated, meaning that, for example, the data that is housed in a customer's ERP system is also replicated and accounted for in the k-eCommerce database. This may lead to more back-end maintenance for a business than is necessary, or hurdles in the e-commerce customer experience for the end-user.
3. Minimizing the total cost of ownership (TCO) with Sana Commerce (and SaaS)
Even after you've implemented an e-commerce solution, your work is not yet done. You then have to think about how your solution will hold up as your business grows, or as you need to upgrade your ERP system over time. Ultimately, the TCO of your e-commerce solution isn't just about the initial price; it's also about the cost of maintenance, hosting, and of any changes or customizations you may look to make after implementation. It makes sense, then, to consider these challenges before you invest in one e-commerce solution provider or another — especially since it sometimes means unexpected added cost.
Let's look at one example: what happens if you need to upgrade your ERP, or pull different types of data from your ERP (that may not be included in your solution provider's standard package)?
With k-eCommerce, the upward compatibility of their platform and middleware to their clients' latest ERP systems is guaranteed and free of charge. This is a major benefit of the k-eCommerce solution, but does not go quite as far as Sana Commerce does when it comes to a future-ready e-commerce approach.
With Sana Commerce, our architecture already makes it simpler to manage compatibility for ERP upgrades, but in addition, we also offer a SaaS solution: Sana Commerce Cloud (SCC). Sana Commerce Cloud offers automatic upgrades to the latest version of Sana and an app store for easy installation of new features: all for a monthly subscription price. This approach leaves our SaaS customers positioned to adapt to changes or upgrades without a workload headache or massive price tag.
With k-eCommerce, if you wanted to — for example — pull additional information from within your ERP table that is not part of their standard solution (such as sales agreements), each one of those changes would require a customization to your solution and come with an additional cost.
All in all, any business choosing between e-commerce software platforms should consider the impact of both short-term and long-term costs before weighing them against each other on the basis of price.
Comparing e-commerce software platforms: Learn more
Looking for further insights into Sana Commerce's position against k-eCommerce, or perhaps looking to explore additional options as well? Check out our e-commerce software comparison chart for a full breakdown.
Want to dive, instead, directly into the business benefits of a Sana Commerce solution (including customer-reported data on Sana's impact on revenue, repeat business, conversion rate, and process efficiency)? Download our Benefits of Integrated E-Commerce.
E-commerce project: From planning to going live
Get our ultimate guide to e-commerce now