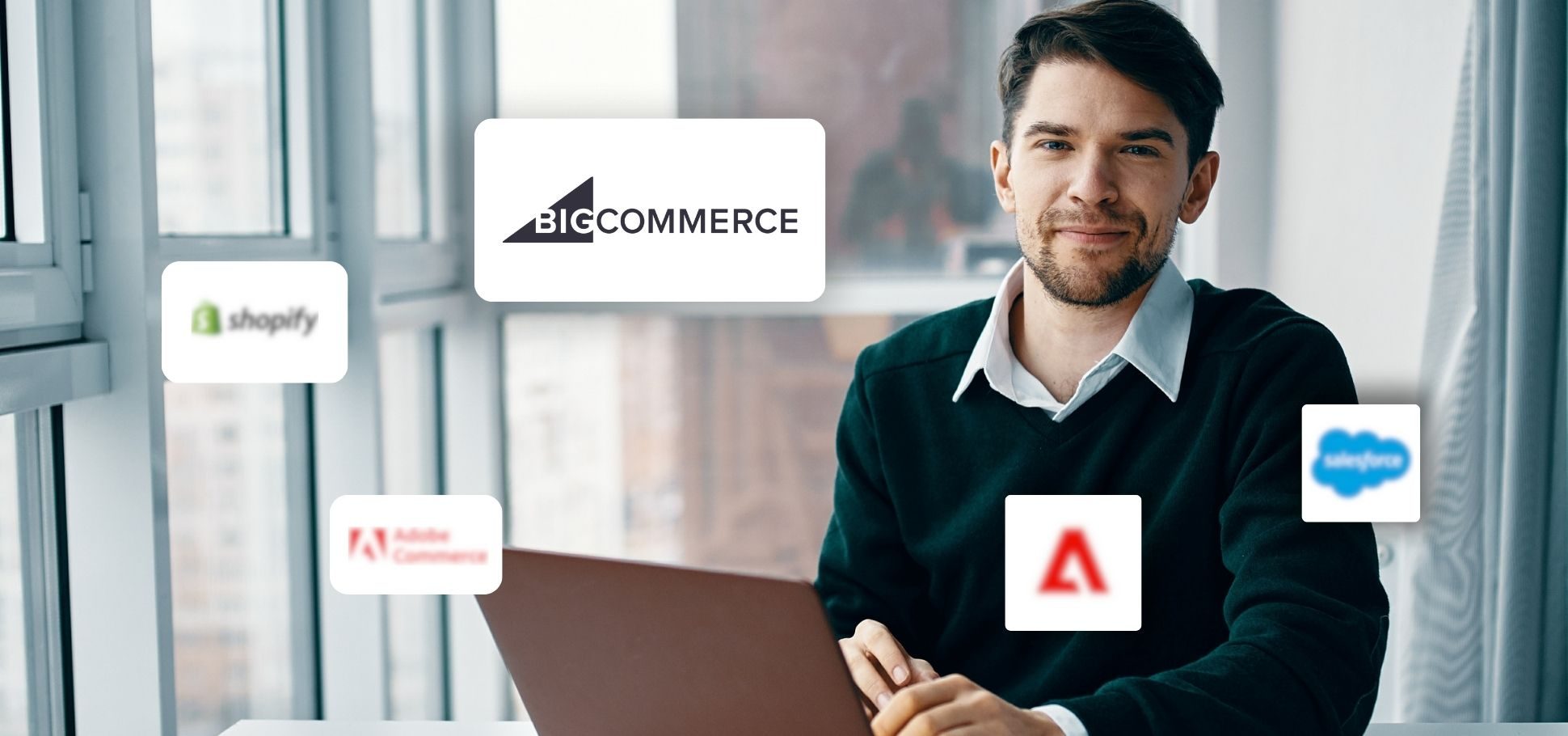 Choosing the right platform for your online B2B business is essential in this day and age. This is mainly because B2B business requirements vastly differ from one organization to another. One organization may value a platform that seamlessly integrates with your ERP while another values a platform that is user-friendly for internal teams.
While BigCommerce is a well-known name in the B2B e-commerce industry, it may not be the best fit for your business. Let's explore some alternatives together to make sure you're making the right decision.
What are the alternatives to BigCommerce?
Looking at customer reviews from various sources like Gartner and G2, we can get an overview of how customers are comparing platforms to BigCommerce. Let's take a deeper dive into how customers are rating each alternative.
1. Shopify
Shopify is a well-known B2C e-commerce platform that has attracted a B2B audience with its extensive features and user-friendly interface. In comparison to BigCommerce, some customers critique Shopify as being more expensive and having a steeper learning curve for internal teams' adoption than BigCommerce.
While the positives are widely agreed upon amongst customers. People love how Shopify provides a user-friendly experience. While the most notable advantage of Shopify is the high quality of technical support and end-user training. Although, keep in mind that Shopify was primarily designed for small to medium-sized businesses.
The pricing of the most suitable package for a B2B organization would be a Shopify Plus account. From $2000 per month, Shopify assures customers they will be able to start selling in just 90 days. Included in this amount is the ability to manage all stores, staff accounts, and automated workflows from one place in the Shopify admin.
2. Adobe Commerce
Formerly known as Magento, Adobe Commerce has always been among the top names in e-commerce platforms. Customers have reviewed Adobe Commerce as a platform that is easy to deploy and integrate and offers better customer support than Big Commerce.
Others have mentioned that Adobe Commerce is better at meeting their B2B requirements. Out of reviews from 258 customers, Adobe Commerce's individual feature ratings remain below 4.4. The only rating performing better than BigCommerce is Adobe Commerce's digital store hierarchy.
Overall, Adobe Commerce has a great ability to meet B2B buyers' needs but is more expensive than BigCommerce in the long run. While Adobe Commerce doesn't offer transparent pricing, you can get a custom price based on your business's requirements.
3. Salesforce Commerce for B2B
Salesforce B2B Cloud prides itself on providing B2B customers with a B2C web store experience. Salesforce supports 16 languages and builds trust with stakeholders through the integrity of their technology.
In comparison to BigCommerce, customers mention that Salesforce is easier to do business with and offers better support. Overall, Salesforce B2B Cloud scores higher than BigCommerce on its ability to understand needs and its personalization options for corporate personas.
Although Salesforce B2B Cloud does not show pricing on its website, customers have established that Salesforce is more expensive than BigCommerce.
Experience the power of Sana Commerce Cloud
No form fills necessary.
4. Sana Commerce Cloud
Sana Commerce Cloud is the only ERP-integrated B2B e-commerce solution built to enable business evolution and foster lasting customer relationships. This means you only need to maintain one database and all your data updates in real-time.
When comparing BigCommerce to Sana Commerce Cloud, customers have found SCC easier to integrate and deploy and better evaluation and contracting. Sana Commerce Cloud performs better than BigCommerce when comparing the quality of end-user training. While customers list the ERP integration as the main advantage of SCC.
Sana Commerce Cloud also offers the first single-page application (SPA) for B2B web stores that are looking for improved front-end experiences with high-speed page performance.
Despite being made for B2B Buyers, what sets Sana Commerce Cloud aside is attention to detail, supporting customers to create seamless e-commerce experiences.
To dive deeper into the comparisons between BigCommerce and Sana Commerce Cloud, view the full G2 report here.
5. WooCommerce
WooCommerce is popularly used as a free WordPress e-commerce plugin. WooCommerce integrates into self-hosted WordPress websites. In comparison to BigCommerce, customers state that WooCommerce is easier to set up and do business with.
One reviewer praised WooCommerce for its seamless integration with WordPress, extensive library of plugins, and user-friendly interface. This means for small businesses with low capacity, WooCommerce is easy to use and has a wide variety of features.
Although users of WooCommerce love their functionality, you must use it in combination with WordPress which can be limiting if you prefer an all-in-one solution.
6. Shopware
Shopware is an e-commerce platform that promises the perfect combination of beauty and brains. This online platform provides comprehensive e-commerce software to meet all your B2B and B2C needs.
Customers recommend Shopware for small to medium businesses that want to take a step towards digital transformation. While BigCommerce is more suitable for companies with much larger budgets for e-commerce investment.
Shopware offers a strong user community and is scalable for businesses that are looking to grow. In comparison to BigCommerce, users say that Shopware offers quicker service and support. Shopware's most basic costs are $600 per month but B2B organizations will have to request custom pricing to receive a quote that matches your business needs.
7. SAP Commerce Cloud
SAP Commerce Cloud is an e-commerce solution primarily focused on innovation and scale. The most appropriate business size for this product would be large enterprise businesses looking to enrich customer experience.
Customer reviews report that SAP Commerce Cloud is more expensive and reaches ROI slower than BigCommerce. To dive deeper into pricing, potential customers need to request a quote on the website.
Although SAP Commerce Cloud has been praised for its excellent products and services, a peer review strongly suggests that they improve their web store deployment time to stay competitive. So, if your business is on the lookout for a quick time to market, SAP Commerce Cloud is not the right choice.
8. Oracle Commerce
Oracle Commerce promises to deliver a unified e-commerce platform that meets both B2B and B2C business needs. They also focus on delivering B2B customers a great user experience and a scalable platform. Your business can publish your site quickly with low implementation costs with Oracle's included features.
Peer insights from Gartner indicate that Oracle Commerce is easier to integrate and deploy than BigCommerce. They are also believed to be better at evaluating business needs and contracting. Although prices for Oracle are available for B2B upon request, pricing is influenced by the technical complexity of your project.
When are alternatives better?
BigCommerce is a great consideration for B2B businesses but in some cases, it is not the best solution to meet your needs. Alternatives are better if you are looking for a platform that is:
The best at service and support
When comparing BigCommerce to its competitors, the consensus is that other platforms seem to provide better service and support than BigCommerce. Not to say that the support provided by BigCommerce is bad, but the reviews confirm looking elsewhere is suggested if support is your priority.
The real setback for BigCommerce lies in the timeliness of their response and the quality of technical support.
The best at meeting contracting and evaluation requirements
When it comes to pricing and contracting, customers suggest that BigCommerce is pretty rigid. With less flexibility in their pricing models, customers are looking for a more customized approach. If you are looking for an e-commerce solution that can be tailor-priced for your business's needs, perhaps BigCommerce isn't for you.
The easiest to do business with
Multichannel support and ease of deployment are important factors to consider when launching a web store. BigCommerce ranks lower than competitors based on both of these factors.
Cost-effective in the long run
A common comment from BigCommerce customers is that all adjustments come at a heavy price. At face value, this platform seems cost-effective. In the long run, customers have to pay for all add-ons. Consider your budget when looking into BigCommerce and be sure to inquire about all add-ons before implementation.
How to find the platform perfect for your B2B e-commerce needs
Now that we have listed some options, let's take a deeper dive into how to establish which is appropriate for your organization. You may know all of the big names in the e-commerce industry, but their pricing and features may not match up to what you would like to achieve with your web store.
Where to start:
1 – Determine your e-commerce needs and goals
These can be anything ranging from increasing efficiency to maximizing revenue. We've created the Sana Success Track with these e-commerce goals in mind. Other goals could include acquiring new customers or building brand awareness.
Whatever the primary goal for your e-commerce platform is, make sure that the vendors being considered will help you to achieve it.
2 – Create a list of features that would help to achieve these needs and goals
Do some research about how your competitors are using their web store features. This can help determine what you like and what you don't.
Ask vendors about what key features set them apart from the competition in achieving e-commerce goals. For example, the vendor could have a platform that provides an excellent customer experience but a difficult interface for internal teams to use the back end. In this case, internal teams will not promote or use the web store as a single source of truth.
3 – Schedule discovery calls with as many vendors as possible
Don't write off competitors at face value. See what all vendors have to offer to make a fair and calculated decision based on what's best for your business. Often, salespeople can give real-life examples of how customers are being creative with features.
Compare each platform according to the same assessment rubric to avoid any biases.
4 – Consider what your target audience wants
In 2022 Google reported that over 50% of all searches for e-commerce by B2B buyers originated from mobile device users. Therefore, mobile friendliness should be a factor you consider when looking into B2B platform solutions. This is just one example of how B2B buyers would like to do business in 2023. Test each platform's UX by exploring its demo or trial version.
Conduct your research and determine what customer experience your buyers would like to have. This could come in the form of email surveys or focus groups.
5 – Discuss integration requirements and customization costs upfront
This may be the most important step when avoiding additional costs and unexpected hurdles. Assess the platform's ability to integrate with your existing systems, such as ERP, CRM, and inventory management.
Integration is often critical for seamless B2B operations. It's important to evaluate how easily you can customize the platform to meet your unique business processes and branding requirements.
Read more about the importance of ERP integration.
6 – Read the customer support reviews of the platform
Launching or replatforming can be a scary undertaking. To make sure you're supported every step of the way, check what users are saying about the support and training materials provided by the e-commerce vendor.
Be sure to inquire about the platform's customer support options and average response times. Excellent customer support and training resources are vital, as you may encounter issues or require assistance during implementation and daily operations.
Final thoughts
When it comes to choosing the right e-commerce platform for your B2B business, it's crucial to weigh your options carefully. While BigCommerce is a reputable name in the industry, it may not always align perfectly with your specific needs and goals. In this exploration of BigCommerce alternatives, we've uncovered several platforms that might better suit your requirements.
Shopify, Adobe Commerce, Salesforce Commerce for B2B, Sana Commerce Cloud, WooCommerce, Shopware, SAP Commerce Cloud, and Oracle Commerce are all great contenders. Each has its strengths and weaknesses, from user-friendliness to pricing models and support.
However, if you're seeking a platform that seamlessly integrates with your ERP, supports your business evolution, and fosters lasting customer relationships, Sana Commerce Cloud stands out as a compelling choice. With the advantage of ERP integration and a focus on creating seamless e-commerce experiences, it offers a unique approach to B2B e-commerce.
Discover how Sana Commerce Cloud can partner with you.
Achieve your e-commerce goals.