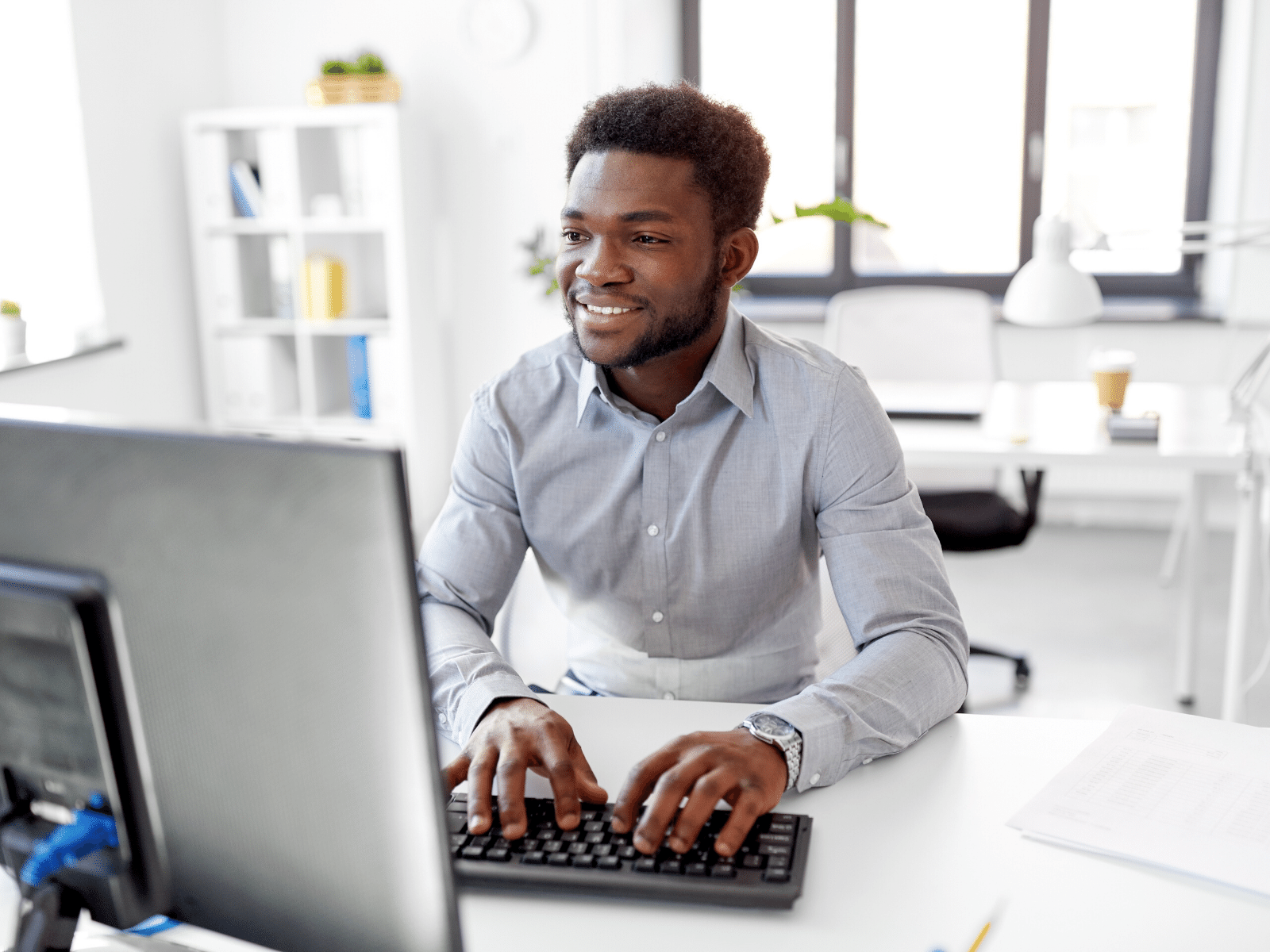 Enterprise Resource Planning (ERP) is a software that can combine the facets and processes of a business into one integrated system. For most B2B companies, a functional ERP ensures different business management applications work together. Many back-office functions, such as Information Technology (IT) services, inventory software, warehouse management, and HR functions can be completed harmoniously with the use of ERP software. With ERP e-commerce integration, you benefit from a single, unified data hub that eliminates silos.
How does an ERP integrated portal work?
With the implementation of ERP software, your e-commerce website is more manageable and easily organized with a streamlined order process. Here's an example: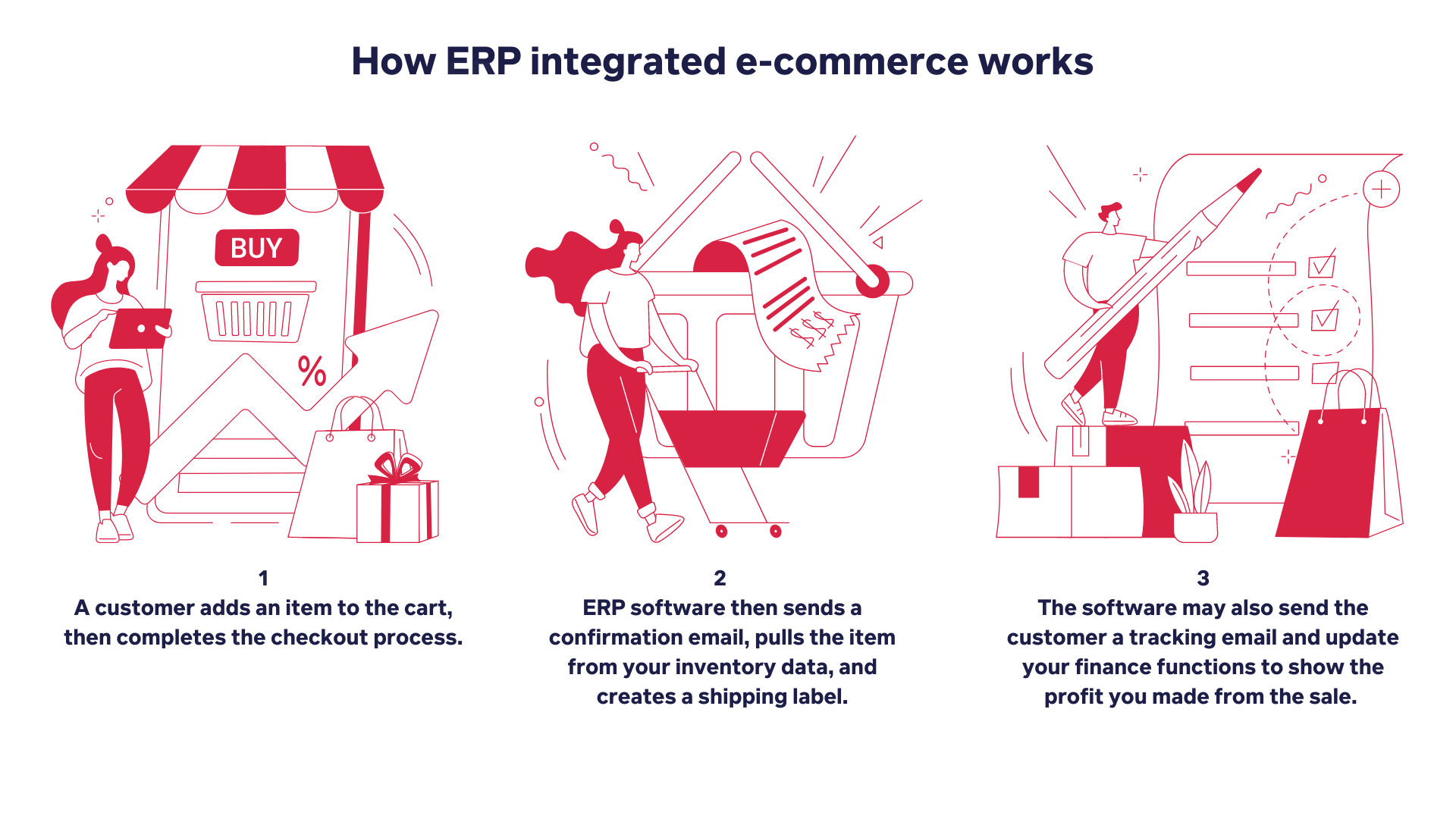 In a new era of buying, more value is placed on transparency than ever before. With ERP e-commerce integration, your customer is kept in the loop on the sales process. Your business benefits from the software because your inventory data remains accurate and organized throughout the sale, and each step of the process is automated.
ERP e-commerce integration: Which systems integrate?
With an ERP solution, your e-commerce business can integrate a variety of software programs and applications that run together seamlessly. There are many types of ERP solutions available, but the most common and useful that many B2B businesses benefit from include:
Many businesses are hesitant to integrate such software into their daily processes and procedures due to the potential for business interruption. However, most ERP software systems integrate with a business's current software, making the transition simple to complete with minimal downtime.
White paper: Maximize your ERP investment with integrated e-commerce
See how you can take your ERP and e-commerce to the next level. 
How ERP integrated e-commerce results in better CX
A global pandemic and wider global e-commerce adoption have both resulted in higher customer expectation when it comes to e-commerce. Customer experience (CX) is now a significant component of building your web store, even for B2B organizations.
With ERP integrated e-commerce, many businesses find they can save time and improve CX. The specific functions ERP software can assist with depends on the type of business you own, and the software you integrate with. However, most ERP software can optimize:
Order placement: ERP software can assist in the order placement process by automatically setting into motion the next steps, such as calculating the shipping costs or creating a shipping label.
Customer updates: With ERP software integrated into your e-commerce platform, automatic communications are sent to your customer. That includes when an order is received, an item has been shipped, or an item has been delayed in the shipping.
Simplify changes: An online sale can be labor-intensive for many businesses, but ERP software can assist in changing prices within product categories.
Inventory details: When an item is purchased or altered, an ERP system can automatically change the inventory count or product information. This keeps customers in the loop, and prevents orders placed on items that are out of stock.
By automating these systems through ERP integration, your online business runs more smoothly. This prevents customer disappointment and ensures your inventory and accounting reports are accurate and up to date.
Why B2B companies prefer ERP-integrated e-commerce
ERP solutions can be costly. Often, they also require detailed communication across channels and entities, from accounts, data management, product development and customer service departments. It is no wonder that in the past, enterprise operations more commonly chose such solutions – automated processes between these functions are vital with high sales velocity.
The last two years have seen a shift in where companies are choosing to invest their resources. B2B organizations that contend with large swathes of inventory and rely on their customer loyalty require a new approach to sustain growth. Investing in ERP integrated e-commerce often means ensuring your customers can place orders at their convenience and apply innovative methods of retaining and improving your sales.
For B2B companies that are struggling to deal with unique pricing arrangements, thousands of product SKUs, and workforce management, ERP integrated e-commerce can be the ideal solution.
Benefits of making ERP and e-commerce work one
There are many benefits of integrated e-commerce. When it comes to B2B companies, some of the most frequently cited positive changes include:
Save company time: The automation ERP provides eliminates time-wastage in certain key activities: customer service requests, hand-keying stock and looking up unique price arrangements, to name a few. With ERP integrated e-commerce, customers can access all this information in one place, leaving your staff able to focus on higher-level problem solving.
Simplifying order tracking: At a time when many buyers and supplies are still weary of the supply chain crisis, customers want to know where their orders are, and when they can be expected. An ERP solution updates order tracking and automatically alerts customers on the whereabouts of their orders as needed.
Automating accounting tasks: Automated accounting work leaves less space for human error and more room for data consolation. An ERP solution that assists with accounting can ensure your business turns-in accurate numbers to the Internal Revenue Service (IRS) each year, reducing the likelihood of tax errors.
Handling increases in demand: If your business has a sufficient ERP solution, you won't have to worry about increased sales or e-commerce traffic. ERP software an continue to automate services for you, without the need for additional staff. Being visible online also enables you to capture more prospects, creating a more substantial pipeline for your sales staff to work on.
ERP integrated e-commerce: Future-proof growth
If you think you're ready to implement an ERP solution for your e-commerce practices – or if you're considering replatforming – your online business can flourish. With automated inventory updates, order tracking, and accounting, an integrated ERP solution can help you take online sales to the next level without increasing your employee workload.
For future-proof growth, you need future-proof solutions – that's where ERP integrated e-commerce comes in. Ensuring your online experience is as seamless as possible means your existing customers and potential prospects know they can trust the purchase process, encouraging them to build or strengthen their relationship with your business.
Frequently asked questions
What is ERP in e-commerce?
Many B2B companies opt for ERP integrated e-commerce when setting up their webstore. This simply means the front-end of your website is informed by the way data is organized in your ERP, eliminating data silos and ensuring advanced automation and customer experience in the process.
What are some examples of ERP systems?
ERP systems such as Microsoft Dynamics and SAP combine your most vital business functions for better data organization, smoother process automation, and are some of the most popular choices amongst B2B businesses today.
Can ERP-integrated ecommerce be headless?
Absolutely! Cloud based e-commerce solutions allow you to work seamlessly off one platform, ensuring you only need to maintain a single database for your data to sync in real-time. This is ideal for B2B companies looking for futureproof solutions, since it ensures scalability and customization as and when required.
Maximize your ERP investment with integrated e-commerce
See how you can take your ERP and e-commerce to the next level.