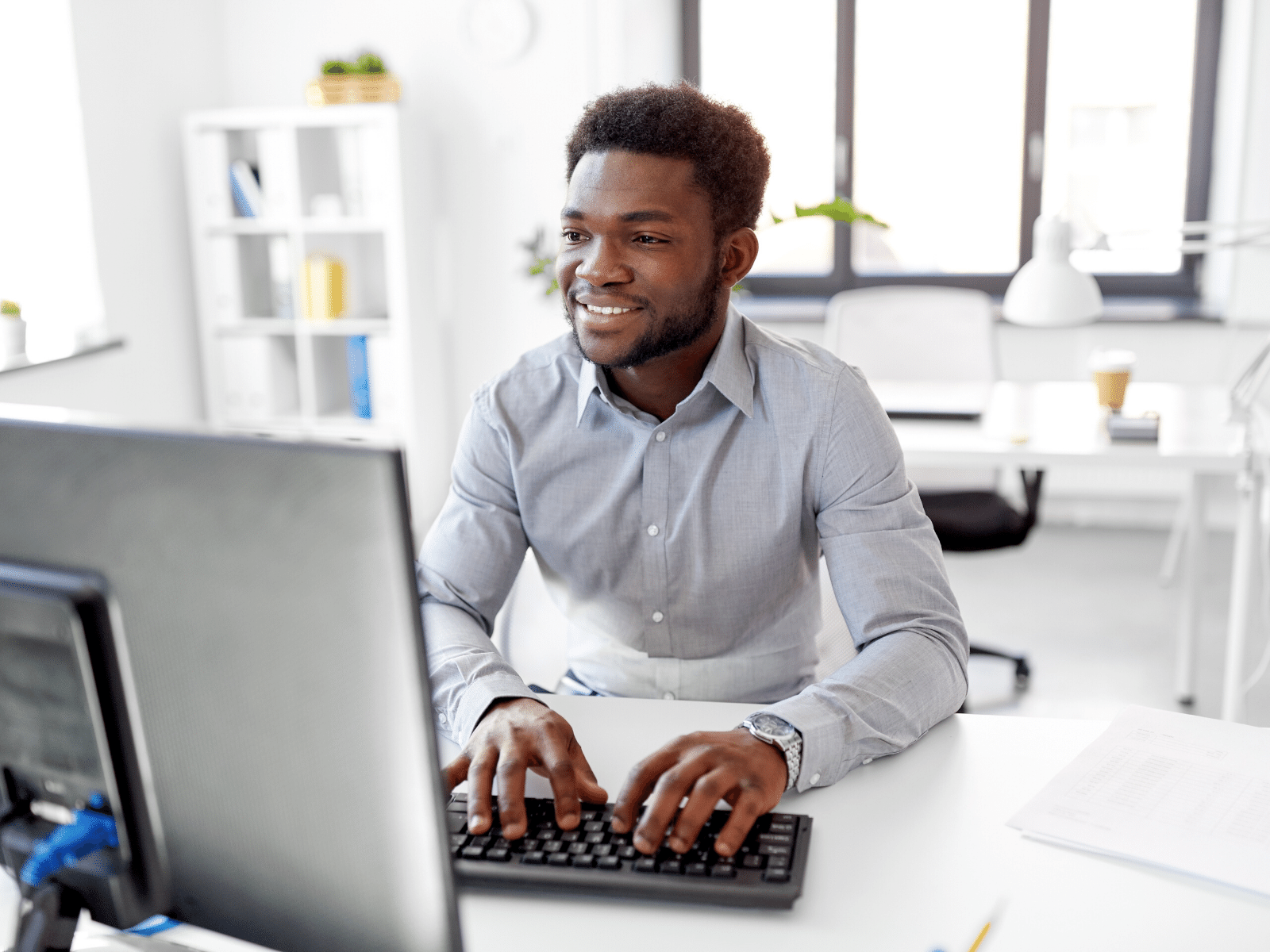 ERP-integrated e-commerce has become an increasingly popular e-commerce solution for B2B organizations looking to sell more efficiently online.
For most B2B companies, a functional ERP ensures different business management applications work together. It allows back-office functions, such as product or catalog management, Information Technology (IT) services, inventory software, warehouse/stock management to be completed harmoniously.
This blog covers everything you need to know about leveraging your ERP for a stronger performing web store, through solutions that utilize ERP e-commerce integration.
What is ERP e-commerce integration?
ERP e-commerce integration refers to the process of connecting an e-commerce platform with an ERP (enterprise resource planning) system. This allows for a better flow of data and synchronization between the two systems, improving accuracy and minimizing siloes in the process.
How does ERP-integrated e-commerce work?
ERP-integrated e-commerce works by seamlessly connecting an ERP system with your e-commerce platform, enabling real-time data syncs, as well as a centralized management of orders, inventory, and customer data.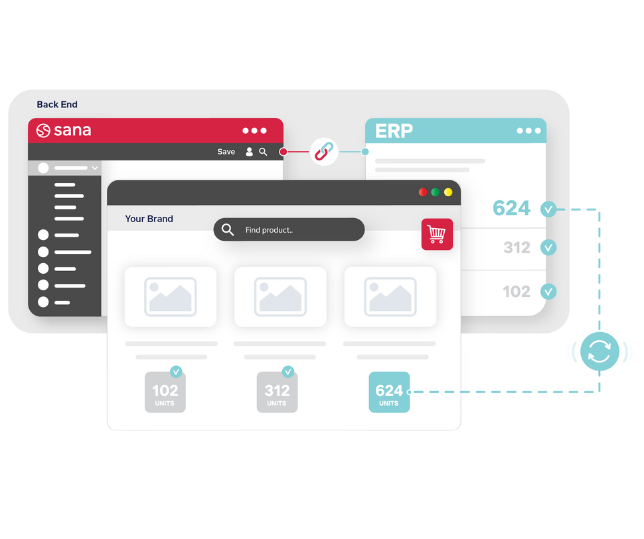 Pictured above: How ecommerce integration with your ERP works with a native integration solution like Sana Commerce Cloud.
The way your ERP-ecommerce platform works can vary depending on three main components.
#1: Data sources
Cloud-Based
Most ERP-integrated e-commerce platforms today are based in the cloud and leverage the software as a service (SaaS) model. These typically have universal connectors that make implementation seamless.
On-premise
This involves hosting and managing systems on the company's own infrastructure, requiring higher upfront costs and maintenance requirements.
Hybrid
This is a mix of both systems and are usually used by organizations that have specific security needs.
#2: Method
Point to point
Involves establishing direct connection between the ERP and e-commerce platform. Each integration is built separately, which can make scaling through this method a challenge.
Enterprise service bus (ESB)
ESBs involve a middleware solution that acts a central hub for connecting various systems.
IBM App Connect is a popular example of this kind of a ESB.
Integration Platform as a Service (IPaaS)
IPaaS refers to a cloud-based integration solution that provides pre-built connectors to streamline the integration process.
Third-party integrator
External service providers or consultants who specialize in system integration.
eBridge Connections is a cloud-based integration platform that facilitates the connection between popular ERPs and e-commerce platforms.
#3: Frequency
Real-time
Immediate data syncs and processing between the ERP and e-commerce platform.
Batch
Periodic data syncs and processing that occurs at specific intervals/predefined schedules.
What are the benefits of ERP e-commerce integration?
With ERP e-commerce integration, you benefit from a single, unified hub that eliminates system silos and provides your online buyers with accurate and reliable data, 24/7.
The impact ERP e-commerce integration can have on an organization is profound. According to our research, organizations that implement ERP-integrated e-commerce experience, on average:
21% increase in conversion rates
11% increase in returning customers
16% drop in order errors
67% increase in revenue
Statistics aside, here is how ERP-integrated e-commerce can benefit your online business:
The automation ERP provides eliminates time-wastage in certain key activities: customer service requests, hand-keying stock and looking up unique price arrangements, to name a few. With ERP integrated e-commerce, customers can access all this information in one place, leaving your staff able to focus on higher-level problem solving.
At a time when many buyers and supplies are still weary of the supply chain crisis, customers want to know where their orders are, and when they can be expected. An ERP solution updates order tracking and automatically alerts customers on the whereabouts of their orders as needed.
Automate accounting tasks
Automated accounting work leaves less space for human error and more room for data consolation. An ERP solution that assists with accounting can ensure your business turns-in accurate numbers to the Internal Revenue Service (IRS) each year, reducing the likelihood of tax errors.
Handle increases in demand
If your business has a sufficient ERP solution, you won't have to worry about increased sales or e-commerce traffic. ERP software an continue to automate services for you, without the need for additional staff. Being visible online also enables you to capture more prospects, creating a more substantial pipeline for your sales staff to work on.
White paper: Maximize your ERP investment with integrated e-commerce
See how you can take your ERP and e-commerce to the next level. 
Types of ERP systems
ERP systems can fall under three broad categories, usually differentiated by use and integration type.
Generalist ERPs are a standardly used system that usually help automate financial management or procurement processes in any organization.
Modular ERPs implement different components on an as-needed basis, with each module capable of being implemented and operated independently depending on the business function.
An ERP suite combines multiple modules into a single, integrated package, covering all elements of the business.
Types of e-commerce solutions that can work with your ERP
Similar to the different types of ERPs, you have options when choosing between e-commerce solutions for them. Here are some of the most popular kinds:
Connectors: Pre-built integration modules/plugins that are designed to connect your e-commerce platform with a specific ERP.
Add-Ons: Also known as extensions or modules, these are additional functionalities that organizations can opt to integrate with an existing e-commerce solution, expanding it's capabilities.
Middleware: Middleware platforms leverage an intermediary between the e-commerce platform and ERP system.
Custom-built integrations: For businesses with unique requirements or complex business rules, a custom built integration is developed to meet specific requirements.
Native integration: This type of e-commerce solution is built directly into your ERP and uses the logic from your ERP to populate your web store and update it in real-time based on your ERP data.
These solutions are different in the level of their out-of-the-box functionality, as well as their compatibility with specific ERP systems and e-commerce platforms.
Many mainstream e-commerce solutions, like Adobe Commerce (formerly Magento) or Shopify, use connectors, add-ons, or middleware to sync the ERP to the web store.
While these are typically quick to set-up, for advanced functionality and sustained growth, it's important to consider solutions that are built to scale.
Integrated E-Commerce vs. Mainstream E-Commerce: What is the Difference?
Most common ERPs used with e-commerce
With an ERP solution, your e-commerce business can integrate a variety of software programs and applications that run together seamlessly. There are many types of ERP solutions available, but the most common that B2B organizations use are:
How to choose an ERP-integrated e-commerce platform
If you're using an ERP that can indeed integrate with an e-commerce solution, choosing that solution is the logical next step. With so many options out there, the task can get tricky quick.
Here are key factors to take into consideration as you're doing your research:
Cut out the middleware if you want real-time, accurate data sent to your web store: Your system should allow you to update products directly to the ERP and push them out to your web store automatically and instantly. Eliminating the middleware ensures maintenance takes place in a single system and uses fewer IT resources and budget. All this can reduce your total cost of ownership (TCO) dramatically.
The ability to scale with ease and expand revenue opportunities: Your ERP e-commerce solution should be ready to meet any challenge or opportunity quickly. Whether it's adding new brands to your product portfolio or scaling into a new market – business agility is necessary for future-proof strategy, so ensure your tooling can help facilitate that.
Omnichannel functionality that delivers meaningful customer experiences: When customers know they can make purchases 24/7, easily access important account data, and ensure everything is accurate and up to date, they are far more likely to adopt your online sales channel and stay. Mainstream e-commerce that complicates the customer journey defeats the purpose.
Features of ERP-integrated e-commerce
With ecommerce ERP integration, many businesses find they can save time and improve not only the customer journey, but the relationships they have with their customers as well. The specific functions ERP software can assist with depends on the type of business you own, and the software you integrate with.
However, most ERP software can optimize:
Order placement: ERP software can assist in the order placement process by automatically setting into motion the next steps, such as calculating the shipping costs or creating a shipping label.
Customer updates: With ERP software integrated into your e-commerce platform, automatic communications are sent to your customer. That includes when an order is received, an item has been shipped, or an item has been delayed in the shipping.
Simplify changes: An online sale can be labor-intensive for many businesses, but ERP software can assist in changing prices within product categories.
Inventory details: When an item is purchased or altered, an ERP system can automatically change the inventory count or product information. This keeps customers in the loop, and prevents orders placed on items that are out of stock.
By automating these systems through ERP integration, your online business runs more smoothly. This prevents the chance that a customer will order the wrong product and decreases the amount of time your team(s) need to spend fixing these errors or answering simple questions — ultimately freeing up time to drive growth in your organization.
Allocating resources for ERP-integrated e-commerce
Companies that recognize the value inherent to investing in an ERP-integrated e-commerce platform can better prepare themselves by allocating the right resources ahead of time. This includes:
Understanding the requirements: establishing some goals can help in clarifying requirements and scoping out the processes that need to be required to this end.
Strategic planning: determine the teams involved, the budget required, and the target ROI of your project.
Staffing and training: Accounting for staff training or strategy sessions with your e-commerce provider can help budget your resource investment into the project better.
Implementation time (including downtime): The implementation process includes data migration, system integration, and system testing. This is where a significant amount of time and human resources will be required. It is critical to have a well-developed implementation plan and to stick to it.
Maintenance: If done right, ERP-integrated e-commerce should help significantly cut down the amount of time required to maintain both your ERP and web store. That being said, it's good to account for maintenance time in your planning, for both maintenance as well as upgrades.
Case study: How B2B distributor Harrison & Clough reduced calls to customer service by 80%
Harrison & Clough are a Yorkshire-based distributor of quality fasteners and fixings. Their goal is to make the lives of their customers as easy as possible, by ensuring stock availability and market-leading customer service.
With Sana Commerce Cloud (SCC), the organization found a solution that was able to connect seamlessly to their existing ERP. With the native e-commerce integration built into SCC, the project became a streamlined, one-step process.
Harrison & Clough's objectives for their migration to SCC included:
Streamline internal processes: The new platform would need to account for this and ensure tasks could be automated with ease.
Minimize inaccurate data: Siloes in data meant that the IT team were continually verifying stock levels and correcting data.
Create a secure environment: Customer-centricity is built into Harrison and Clough's mission statement, which means the organization holds their web store to the highest standards of security.
The benefit of using an ERP-integrated e-commerce platform like Sana Commerce's meant Harrison & Clough could achieve a high level of accuracy, even amidst a complex pricing structure and product assortment.
Their Microsoft Dynamics NAV ERP was integrated directly with their web store, and the result was 20% order lines generated through the web store, 1 hour a day saved for internal teams, and 80% less calls for customer service.
Why B2B companies prefer ERP-integrated e-commerce
ERP solutions can be costly. They require detailed communication across channels — accounts, data management, product development and customer service departments all need to be involved.
In the past, enterprise operations commonly chose ERP solutions due to the importance of automated processes between these functions for high sales velocity.
Companies are now shifting their investment resources: B2B organizations with large inventory and customer loyalty need a new approach for sustained growth.
Investing in ERP-integrated e-commerce allows customers to place orders conveniently. It also enables innovative methods of retaining and improving sales.
ERP-integrated e-commerce is ideal for B2B companies with unique pricing and discount arrangements, high-volume product SKUs, and workforce management.
ERP integrated e-commerce: Future-proof growth
If you think you're ready to implement an ERP solution for your e-commerce practices – or if you're considering replatforming – your online business can flourish. With automated inventory updates, order tracking, and accounting, an integrated ERP solution can help you take online sales to the next level without increasing your employee workload.
For future-proof growth, you need future-proof solutions – that's where ERP-integrated e-commerce comes in. Ensuring your online experience is as seamless as possible means your existing customers and potential prospects know they can trust the purchase process, encouraging them to build or strengthen their relationship with your business.
Frequently asked questions
What is ERP in e-commerce?
Many B2B companies opt for ERP integrated e-commerce when setting up their webstore. This simply means the front-end of your website is informed by the way data is organized in your ERP, eliminating data silos and ensuring advanced automation and customer experience in the process.
What are some examples of ERP systems?
ERP systems such as Microsoft Dynamics and SAP combine your most vital business functions for better data organization, smoother process automation, and are some of the most popular choices amongst B2B businesses today.
What are the benefits of an ERP-integrated e-commerce solution as opposed to using a mainstream solution?
With an ERP-integrated solution, all changes to your ERP data appear immediately in your web store and vice versa. Our solution is built into your ERP and does not rely on third-party connectors or middleware.
Sana Commerce Cloud processes all your information in one place, eliminating redundancies, inconsistencies and the need to manually maintain more than one set of business data.
Can ERP-integrated ecommerce be headless?
Absolutely! Cloud based e-commerce solutions allow you to work seamlessly off one platform, ensuring you only need to maintain a single database for your data to sync in real-time. This is ideal for B2B companies looking for futureproof solutions, since it ensures scalability and customization as and when required.
Maximize your ERP investment with integrated e-commerce
See how you can take your ERP and e-commerce to the next level.