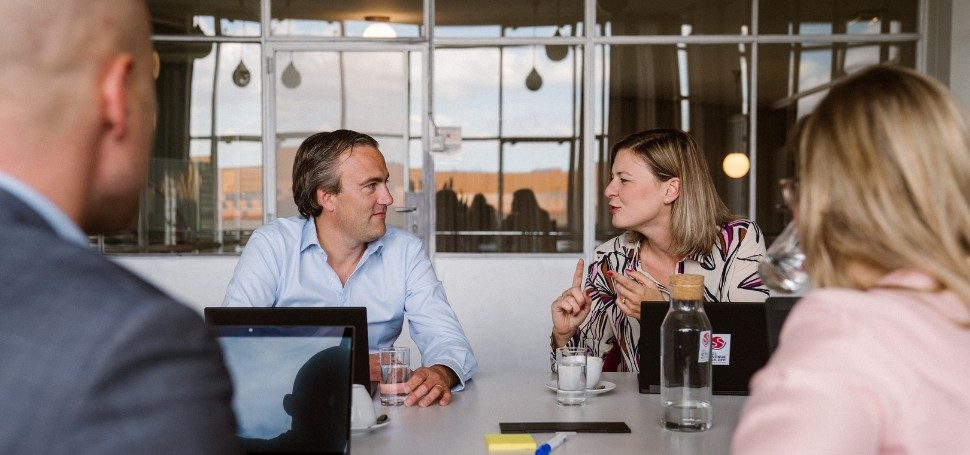 When it comes to how and where to allot their budget, many B2B organizations struggle to strike the right balance of spend to maximize their ROI. With the acceleration of digital transformation and the increasing need for supply chain management in e-commerce, many B2B companies are looking toward 2023 and wondering:
Do we spend more on resources?
On technology and infrastructure?
On marketing?
On sales enablement?
Or do we spend less in the event of a recession?
It may be true that "because everyone else is doing it" isn't a compelling reason to do most things. But it is important to take a look at what B2B leaders are spending their budget on (and what market analysts project that spend will look like in the coming years). Particularly for e-commerce companies hoping to become more agile, streamlined and resilient in the coming years.
We gathered insights and research from notable analysts across the web (like Forrester) and found that B2B e-commerce with ERP integration is the best-kept secret and the key to running a scalable and future-ready e-business. Here's why:
1. Unified, integrated approaches to e-commerce have been profitable and key to business enablement for years
As early as 2016, Forrester has been vocal about the benefits of ERP-integrated e-commerce — or, as they once called it, single-stack e-commerce. Back then, one-fifth of B2B vendors were using integrated solutions. Among the others (those running standalone e-commerce software at the time), 40% were manually and painstakingly retrofitting back-end integration into the solution. It should be noted that many today still are.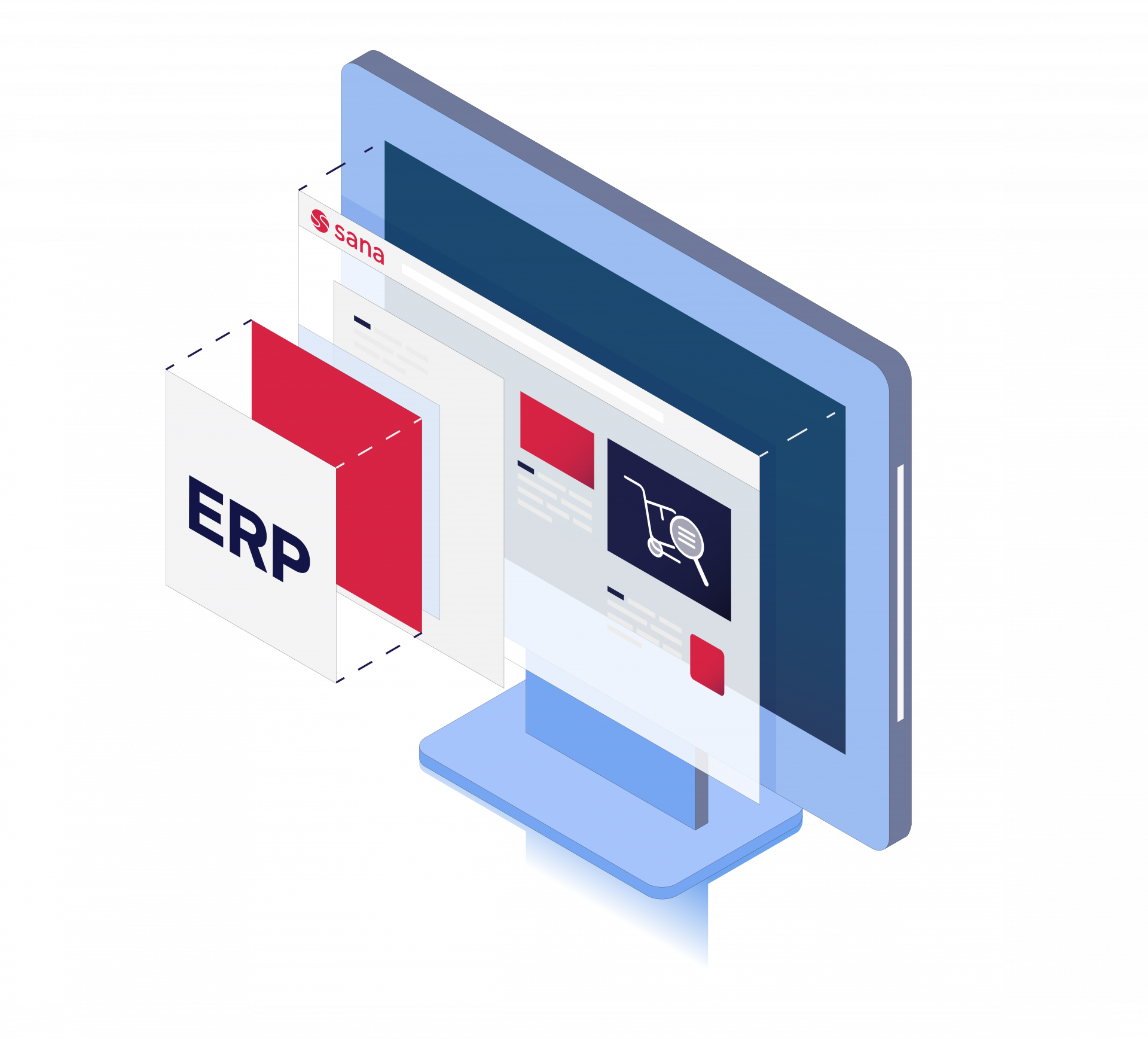 Aside from not having to deal with manual integration processes, what were the perks of being among the businesses with unified or "single-stack" e-commerce approach a few years ago? Firstly and importantly, these organizations had positioned themselves at the forefront of an innovative, new-and-improved way of doing e-commerce.
But in addition, businesses investing in integrated e-commerce solutions (compared to those with standalone e-commerce software):
63% felt that unified or single-stack e-commerce made it easier to maintain their systems
60% felt that it gave them greater agility
57% said it streamlined their business operations
51% enjoyed the centralized source of real time data
43% appreciated that the system was integrated and operational out of the box
25% appreciated the fact that they didn't have to hire specialized IT staff and could — instead — focus on key business priorities
Fortunately, the benefits of an ERP-integrated B2B e-commerce solution have not just stood the test of time; the list has even grown.
Organizations running integrated e-commerce solutions are also 19% more likely to attribute both improved cross-sell/upsell opportunities and improved profitability per customer to e-commerce compared to those running standalone e-commerce software (Forrester).
So, what does the landscape for B2B e-commerce with ERP integration look like now?
2. Business agility and future-readiness depend on systems integration
E-commerce is a vital tool for any business marrying online and offline channels to reach new frontiers of success. Today, e-commerce is the top B2B channel helping companies achieve their overall priorities.
For 40% of B2B businesses, e-commerce is also key to improving customer retention, competitive positioning, sales productivity and revenue growth. But what happens when you pair e-commerce and ERP together?
Your business isn't just more efficient; it's centralized around a modern, streamlined e-commerce solution that can propel your business into the future, and towards successful digital transformation.
In 2020, Forrester reiterated the importance of e-commerce with ERP integration, noting that "as monolithic technology becomes outdated and less effective, the providers that lead the pack demonstrate deep, prebuilt integrations and strong business user tooling."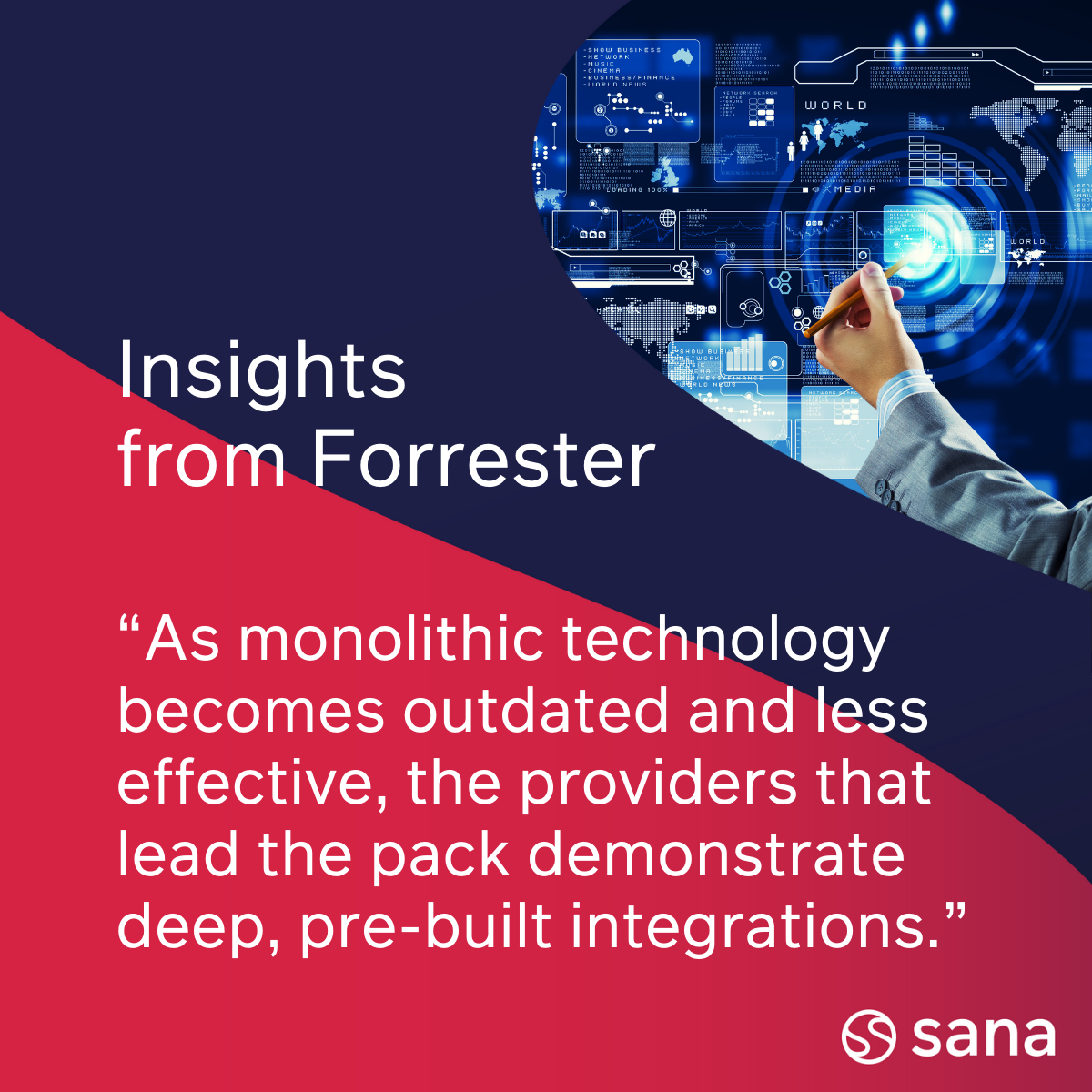 E-commerce platforms that take this approach will become significantly more important moving forward, as 52% of B2B companies feel that a lack of integration with existing and legacy technologies is the biggest challenge deterring them from being B2B digital leaders.
3. ERP e-commerce integration will be a key growth driver by 2024
Statista research predicts that by the end of 2023, 17% of B2B sales will be generated digitally — that's up 5% from the previous year. Not only that, but it's predicted that the B2B e-commerce industry in the U.S. will reach $1.8 trillion in 2023.
Systems integration with e-commerce, over time, will become more critical as online sales drive larger shares of organizations' overall revenue.
Recent data from Gartner tells us that this certainly is the case:
Over 40% of B2B businesses consider systems integration to be a top strategic investment for their organization.
Analysts predict that number will jump to 65% in 2024 — with integration between tools like ERP and e-commerce being the main driver of growth.
If you're now considering your own next strategic investment, but are concerned about potential challenges, below are some factors to keep in mind.
B2B's digital transformation: Factors to watch
One factor to keep top-of-mind is the ongoing impact of the COVID-19 pandemic and bubbling economic uncertainties, and how these could be hindering (or in some cases driving) businesses' digitization plans.
Despite the pandemic and economic uncertainty, 75% of B2B organizations are continuing their digital transformation journey anyway, and as many as 65% are even accelerating their investments in digital initiatives. The message here is clear: even a time of uncertainty is no time to slow down.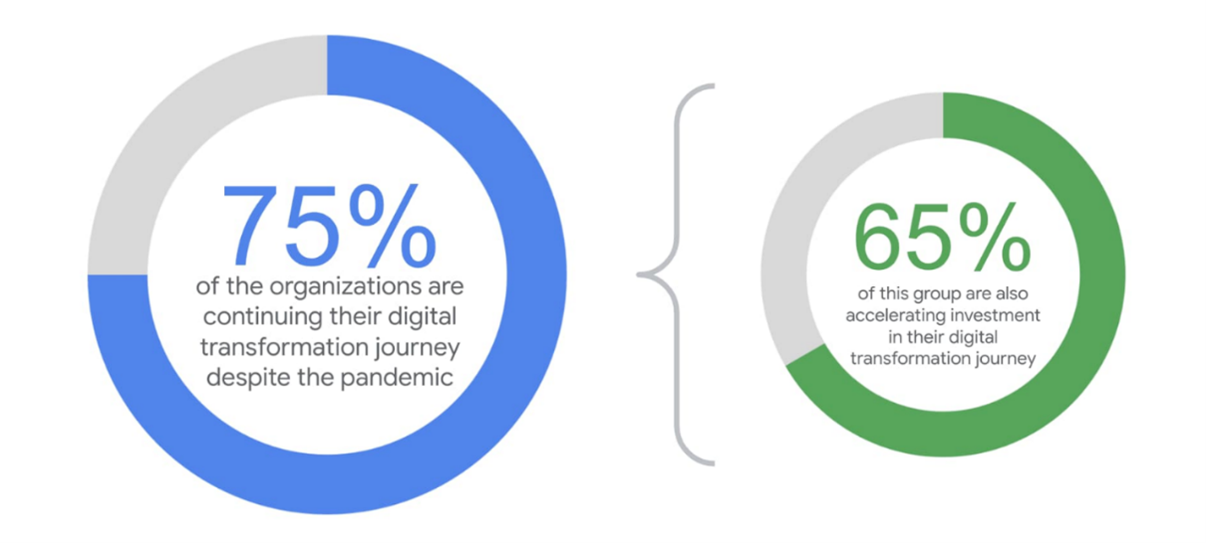 Source: Google Cloud
The reality is that the COVID-19 pandemic underscored the urgency of digital transformation; as many as 56% of B2B organizations feel the major weakness the pandemic exposed was in their technology infrastructure. But B2B e-commerce with ERP integration may be the solution organizations need to accelerate growth, embrace digital transformation, and streamline and simplify operations in the process — both after and well beyond 2023.
How ERP integration lets B2B businesses make the most of e-commerce
The rise of e-commerce has changed the way we interact and the way we do business. On the customer side, they expect more features, better performance, and a streamlined path to purchase. Businesses, on the other hand, want to maximize profits and keep customers coming back. This means meeting (and often exceeding) these expectations.
Integrated e-commerce, fortunately, is a clear answer to this challenge. By leveraging your Microsoft or SAP ERP's business logic, and client and product data, the sophisticated capabilities you've only just wished you could offer in your web store can become a reality. You can power a feature-rich, data-driven web store by integrating the real-time ERP data you already have. It's that simple.
The benefits of ERP integrated e-commerce for B2B:
Integrates front- and back-office systems for a scalable, customizable, and extensible business environment
Provides time-saving automation functionality and boosts efficiency, thanks to real-time ERP data synchronization
Allows your business to manage orders (from multiple channels) and inventory from one system, improving the customer experience
Expedites order fulfillment (meaning happier, more loyal customers)
What makes integrated B2B e-commerce software solutions a better fit than other software?
E-commerce solutions are numerous, and vary widely when it comes to ease of use, maintenance workload and more.
Compared to shopping cart software, like Magento (now Adobe Commerce Cloud) or Shopify, Sana Commerce's ERP- integrated approach, Sana Commerce Cloud, minimizes web store maintenance, eliminates data silos and streamlines your buyers' purchase journey.
In comparison to interfacing solutions, Sana Commerce Cloud has the added benefit of working within an integrated system, rather than requiring middleware and bolt-ons to run a complex e-commerce ecosystem. In short: an integrated B2B e-commerce solution saves your internal teams from doing work they don't really need to.
Why make Sana Commerce your integrated B2B e-commerce solution provider?
A key factor in ensuring the success of your e-commerce strategy is choosing an e-commerce solution vendor that meets your technical and functional needs and understands your organization's key e-commerce goals. If you choose Sana Commerce, we can set you up for success in a way that's scalable and poised to succeed — even if the market (or your business) evolves.
Sana Commerce's B2B e-commerce solution is certified for both Microsoft Dynamics and SAP ERP integration. Our software uses your ERP data to build out a web store that not only delights your customers, but that also drives more sales, and allows your organization to unify business intelligence for smarter decision-making.
Learn how integrated e-commerce drives results.
Explore how our solution has impacted real customers' revenue, efficiency, profitability and more.