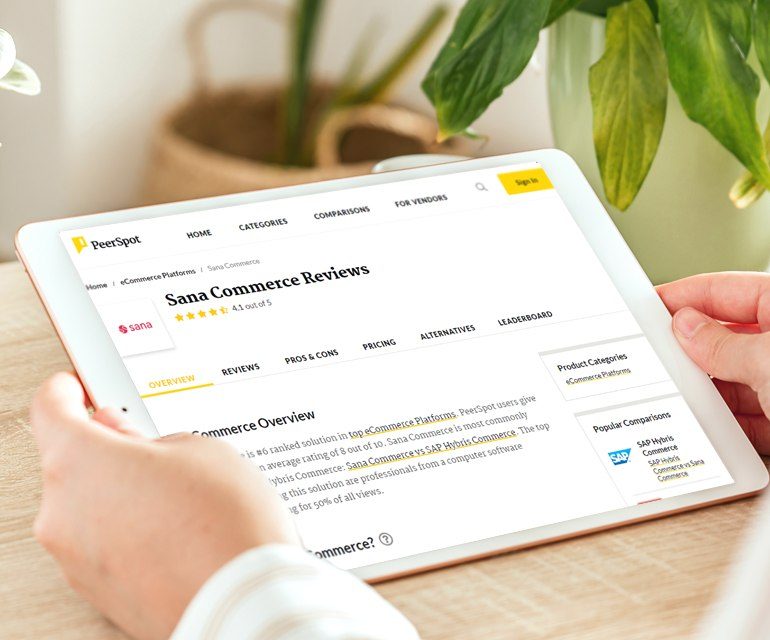 When it comes to an online store, manufacturers, distributors, and wholesalers just want a convenient and reliable platform that provides accurate data and helps foster lasting relationships with customers.
Unfortunately, most mainstream e-commerce products cause system silos, unnecessary complexities, and compromises. Merchants need an alternative that enables e-commerce to work as one with their SAP or Microsoft Dynamics ERP solutions. It is in this context that PeerSpot members who use Sana Commerce are discussing the solution's benefits and how it contributes to customer success.
Use cases
Sana Commerce suits a wide variety of industries and business sizes. An ERP enterprise architect reported that his pharma/biotech company was dedicating its sales force to big distributors and not taking care of its small customers. "So, we decided to implement Sana Commerce as a way to reach out to all those small and medium customers and make sure they are always taken care of 24/7," he said.
For a project leader at a large wholesaler/distributor, Sana Commerce's general business-to-business (B2B) functionality creates a link between their product database and other systems containing images. The benefit, as he saw it, was that "we do not have to manually load pictures into the shop. It is done automatically."
The head of global IT at a manufacturing company is using the solution for both B2B and B2C (business-to-consumer). They explained, "We're using it for e-commerce for a B2B portal so that our customers can buy parts and consumables. We're also using it for online commerce of a new product we just introduced."
A recreational facilities company utilizes Sana Commerce as a retailer portal — a self-service tool for B2B customers. Their product owner of sales platforms stated:
"We have a lot of marketing material on the platform. The most important point, and also why we decided to use Sana, is that we can display real-time product availability and pricing. This is possible because of the ERP integration."
On direct ERP integration – and why it's so important
Sana Commerce allows users to simplify their tech stacks with an ERP-integrated enterprise e-commerce solution that's both scalable and agile. For example, the product owner of sales platforms got straight to the point when evaluating the solution, saying, "The most valuable feature is the direct ERP integration, as it allows us to provide product availability and specific pricing in real time. Customers can also order in real time."
Pratik P., the director of operations/project manager at an investment management company, uses Sana Commerce with Microsoft Dynamics on the back end. He feels the native ERP integration works well, remarking,
"The fact that no third-party integrations are needed between our Sana Commerce web store and Microsoft Dynamics is important. It's one less thing to worry about when it comes to troubleshooting."
It seems to be paying off. Since going with Sana, Pratik P. has seen a slight increase in customer engagement online and is pleased to report new customers are up about 10 to 15 percent.
The ERP enterprise architect also appreciates how no third-party integrations are needed with Sana Commerce to connect their Microsoft Dynamics ERP to their web store. "This feature was critical for us," he said. In addition, he concurred that Sana's native ERP integration is very good and probably the main reason why they went with the platform.
Save time and resources
The Sana solution significantly reduces the resources needed for order management, which enables continuous growth. Pratik P. is a fan because his new e-commerce solution saves his organization time: Time they used to spend on emails and phone calls with customers. He said, "It has helped reduce manual work because we're not entering in phone orders or email orders. Once the orders are in, everything else flows the way it normally did."
The product owner of sales platforms enjoys how Sana Commerce has allowed his company to reduce internal efforts. He explained, "Usually, we have to enter orders manually. With the B2B shop, the customers can do it themselves. Same for the marketing material, product information, catalogs, product availability, and prices. All these things were asked by the customers, which caused internal effort."
A decrease in manual work has saved time for the project leader. As they put it, "The more order data that is entered by the customer, the less we have to do on our end."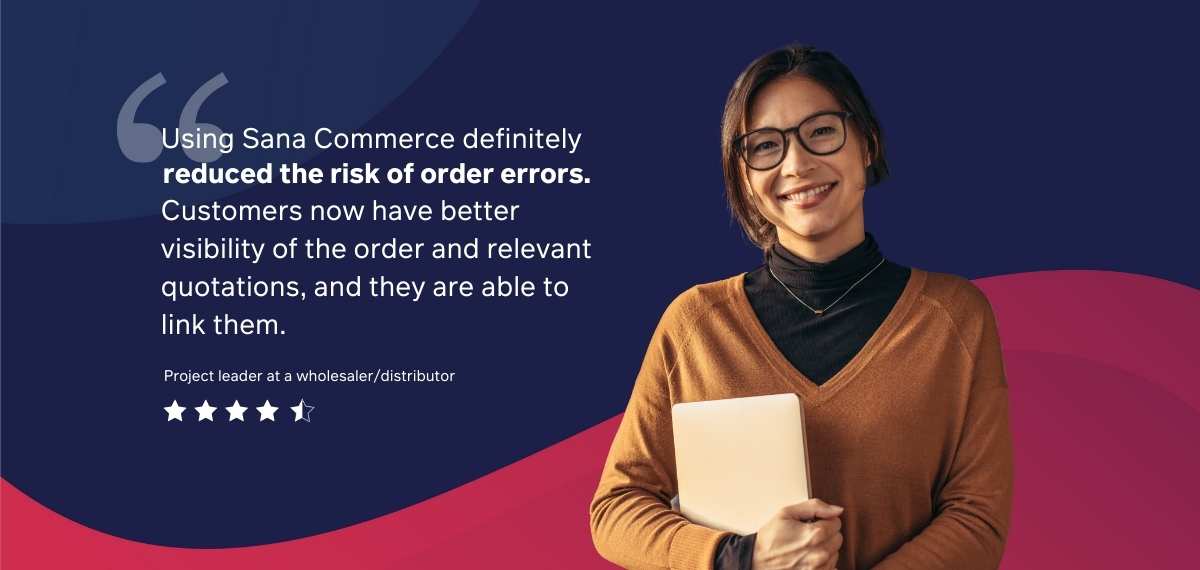 Further benefits
The project leader also reported that Sana Commerce has been very good when it comes to harmonizing their processes and reducing the risk of order errors. Regarding the former, he said, "The sales process is much more fluent and consistent among the different organizations now. This has been a big benefit."
The head of global IT's company has been able to streamline its order processing flow because they used to have to do financial checks of customers when taking credit cards. He also likes how Sana Commerce has created another revenue stream for their customers. He explained, "Since they can now order products online, we've driven about half a million dollars off the site so far. It's not all incremental revenue, but it's revenue we've derived since we went live."
The implementation of Sana Commerce's B2B platform led to two major benefits for the ERP enterprise architect:
Standardized processes across the global organization
New business inquiries
Standardized processes across the global organization
First, he said, "The implementation has 100% forced us to standardize our processes, pricing and stock management procedures. It is now making us function more as a global organization."
New business inquiries
Secondly, they are thrilled to be receiving new business inquiries just because they published the B2B platform. He revealed, "People and distributors have reached out to us to become our customers just because they've seen that we have a B2B platform. They wanted to get access to it just to see what we have to offer, which is a clear benefit. So, we got new customers without doing any effort of publicizing our company."
To learn more about what PeerSpot members think about Sana Commerce, visit https://www.peerspot.com/products/sana-commerce-reviews.
Discover an e-commerce solution that is built to grow with you