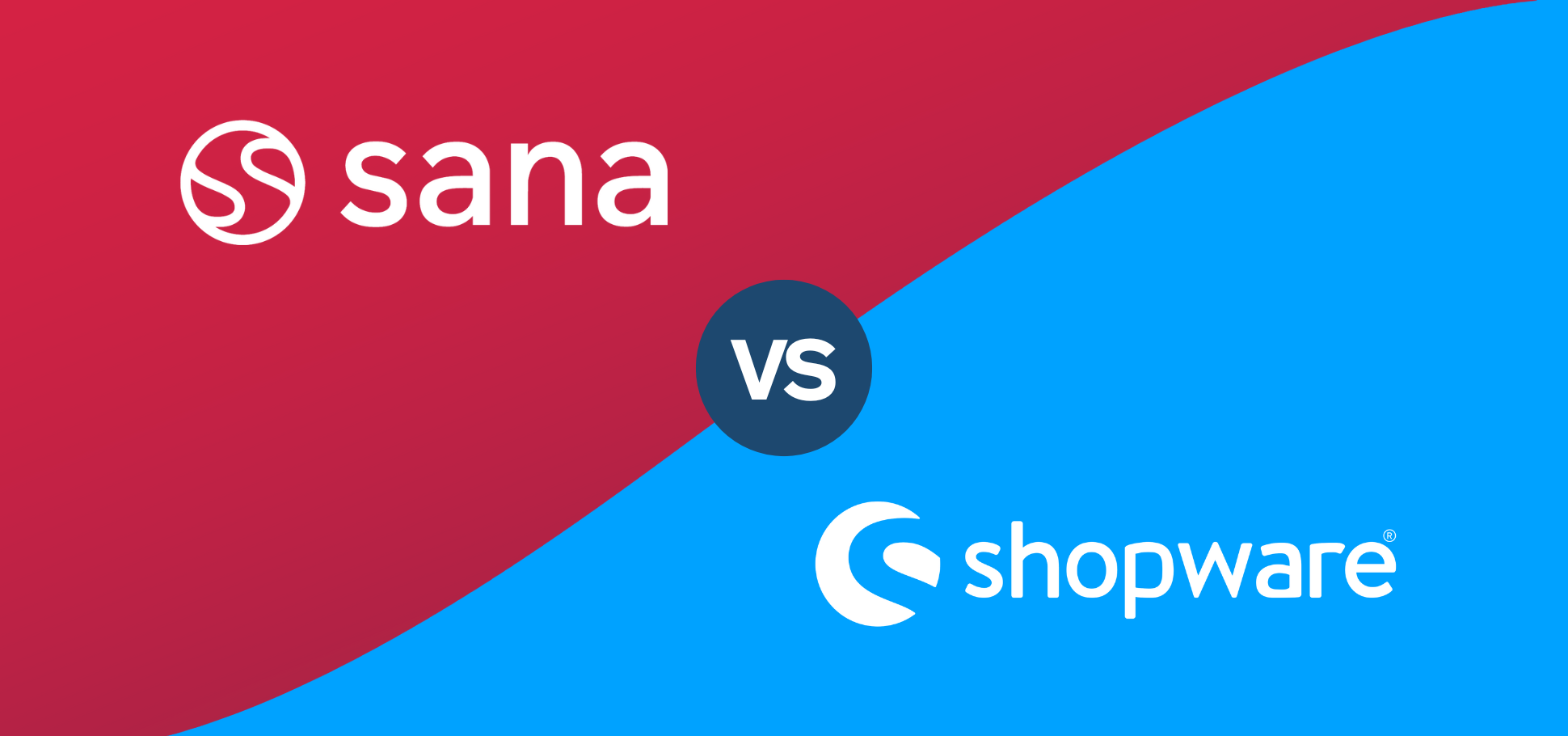 And just like that, the time for using Shopware 5 as an e-commerce platform has come to an end.
In this article, we're going to compare our e-commerce solution, Sana Commerce Cloud, to Shopware's and break down the pros and cons of each solution. Since Shopware 5 will only be supported until July 2024, you don't have long to re-evaluate your options.
When your smartphone begins to act up and starts glitching, or when you find out your phone will no longer support the latest IOS or AOS with the latest update – you know you need an upgrade. Your phone is most probably your lifeline, and whether you realize it or not, it can make or break your daily functions. Just like having an e-commerce platform that no longer supports the activities required by your business, it's time to make the switch.
So, what are your options?
Continue with Shopware 5 for the next one or two years. Unless you're not trying to scale and future-proof your business, sticking to Shopware 5 as a solution for a while could be a possibility. Be mindful that Shopware 5 will only be supported until 2024, so it's important to act fast.
Migrate to Shopware 6. Believe it or not, migrating to the new solution is an undertaking similar to replatforming to a whole new solution. Additionally, upgrading to Shopware 6 may not necessarily address all the challenges you face, such as scalability and flexibility.
OR
Recognize it's time to replatform your B2B e-commerce site, evaluate your current tech stack and platform and consider where you want to go next with your digital commerce strategy. You could simply skip the growing pains and migrate to a future-facing, scalable, lightning-fast e-commerce solution like Sana Commerce Cloud to enjoy real-time data and integration, a solution built just for B2B companies.
Make a decision that is in the best interest of your company, whether you're a loyal user of Shopware 5 or not. Think about stepping over to a new platform that meets the needs of your business and will continue to do so for years to come. Consider the following and read on to learn more about the differences between Shopware vs. Sana Commerce:
Is Shopware more flexible and scalable than Sana Commerce Cloud?
The short answer is no. Shopware 5 is based on monolithic architecture which is relatively inflexible. That was and may still be manageable, but it cannot keep up with current technology's ever-changing demands. Having a monolithic architecture means that the storefront and backend are delivered as one unit: you can only use the storefront that comes with your product. This, therefore, makes it difficult to scale and customize – which is exactly what a business with slightly more complex needs would require.
Sana Commerce Cloud, on the other hand, is component-based and built using APIs, making it more flexible and scalable. This means that businesses can easily customize their online stores to meet their specific needs, add new features, and scale up or down as your business grows.
Headless Commerce: Shopware vs. Sana Commerce
If you're already in the realm of digital B2B e-commerce, you've probably heard this term before: Headless commerce. It's an approach to e-commerce that allows organizations to become more agile and flexible to experiment by separating the front end and the back ends of e-commerce experiences. Sana Commerce Cloud (SCC) has also made a huge step forward towards headless e-commerce and allows for endless design capabilities and continuous rolling updates. Since the API carries most of the workload, it becomes easy for organizations to manage changes and make improvements to their webstore user interface.
With traditional software architecture, on the other hand, updates can only be made to a certain point, which is why Shopware 5 is being made obsolete. So consider an e-commerce solution that gives you the agility to continuously keep up with customer's changing needs and offers a consistent experience across all channels.
ERP integration: Shopware vs. Sana Commerce
Just like deciding on an e-commerce platform, you're going to have to think ahead. You don't want to be stuck in the same situation in a years' time when your phone manufacturer decided your device is too outdated to update. If you're serious about your business, get serious about using an integrated e-commerce solution for your Microsoft or SAP ERP. Chances are you are already maintaining important customer, product and pricing data in your ERP. Why not take this moment of replatforming to ensure your future e-commerce platform can also leverage all this data?
Statisticians, analysts, and data from Gartner align on this one fact: ERP e-commerce integration will be a key growth driver by 2024. Take the time to learn more about why B2B e-commerce with ERP-integration is a strategic investment. It's the ideal solution for manufacturers, distributors, and wholesalers. An integrated B2B e-commerce solution saves your internal teams from doing work they don't really need to. Who doesn't want to save their teams from this hassle?
The native ERP integration that Sana Commerce Cloud has to offer processes all your information in one place. It allows you to actually:
Make your e-commerce and ERP work together seamlessly
Manage products easily and efficiently
Show all your data, completely accurate, 24/7
Consider an e-commerce solution that minimizes web store maintenance, eliminates data silos, and focus on every touch point in your buyers' purchase journey, thanks to real-time ERP data integration.
Learn more about the only ERP e-commerce solution that doesn't require middleware
Consider the total cost of ownership (TCO) of Shopware vs. Sana Commerce
Migrating from Shopware 5 to a modern e-commerce solution can easily result in a high total cost of ownership. Self-hosted e-commerce projects and e-commerce websites that are not ERP-integrated run the risk of incurring some sizable added costs to connect systems. For instance, you might need to pay a large implementation fee (and potentially recurring fee) for any middleware or connectors that are needed to unify your e-commerce solution ecosystem (in addition to those of the software itself). Calculate the total cost of your e-commerce project using a TCO calculator.
Migrating from Shopware 5 to a solution like Sana Commerce Cloud (SCC) also means switching from self-hosted to a Software as a Service (SaaS) based platform. The difference with Shopware vs. Sana Commerce is that SCC a fully cloud-based solution that is hosted on the Microsoft Azure cloud platform, which means you don't have to worry about finding a hosting provider and creating an SSL certificate, it's included right in the cloud. The result is that you will no longer have to maintain and update your own servers and IT infrastructure, reducing your overall IT costs. This allows businesses to focus on their core activities while Sana takes care of the backend infrastructure.
More questions to reflect on – Shopware vs. Sana Commerce Cloud
The final questions to reflect on when analyzing the benefits of moving to a platform like Shopware 5 to Sana Commerce Cloud are:
Does the e-commerce platform require manual updates?
Is the platform secure and compliant?
Seamless upgrades and updates
Upgrading and updating your e-commerce platform can be a complex and time-consuming process, but with Sana Commerce Cloud (SCC), upgrades and updates are seamless and automatic. A new version is guaranteed to be released every two weeks, including new features, improvements, bug fixes and security enhancements. This means that businesses can take advantage of the latest features and functionalities without any disruption to their online store.
With Shopware 5, on the other hand, upgrades are a thing of the past. As the platform will no longer be supported as of July 2024, this also means that it will no longer be a secure system to operate on. For the sake of your business, consider an e-commerce solution that gives you the agility to continuously keep up with the latest security protocols to offer a safe and reliable platform for your customers.
Security and compliance of Sana Commerce
As a business, it is important that you have peace of mind knowing that your online store is hosted on a secure and reliable platform, with industry-standard security protocols and measures in place to protect against cyber threats. Without these measures, your business might otherwise be at risk from cyber attacks like the most common – ransomware – that many organizations face today.
Jort Kollerie of Orange Cyberdefense talks about this as well as the importance of protection against cybercrime and adding another layer of security like two- or multi-factor authentication in this podcast episode Staying One Step Ahead of Cyber Threats in B2B.
Bringing attention to having the right security measures in place, Sana Commerce Cloud does just that. It is hosted on Microsoft Azure, which provides reliable and secure hosting while all data is encrypted using secure SSL to ensure the highest standards of data security are met. Sana Commerce has put measures in place to protect information and data from unauthorized access, theft, or damage. By achieving the ISO 27001 certification, Sana Commerce demonstrates to customers, partners, and stakeholders alike, that they take information security seriously and take all steps to protect sensitive data.
What about migrating to Shopware 6?
In terms of costing more money and time in the long run, upgrading to Shopware 6 simply may not necessarily address all the challenges faced by businesses using Shopware 5. As Shopware 6 is still relatively new to the market, first identify and address business needs and challenges faced before making a purchasing decision. For example, Sana Commerce Cloud's component-based and API-driven architecture offers more flexibility and scalability, making it a better choice for businesses looking for a more customizable and future-proof solution. Additionally, Sana Commerce Cloud offers a wide range of pre-built, out-of-the-box integrations with leading ERP from Microsoft and SAP, making it easier for businesses to streamline their operations and improve their overall efficiency.
Conclusion
While Shopware 5 is to be supported until July 2024, businesses should start planning their migration process sooner rather than later to ensure a smooth transition. Staying with Shopware 5 will eventually result in a decision needing to be made and your business running the risk of lack of security and compliance, scalability, and cost-savings in the long run. Migrating to Shopware 6 might seem as simple as an upgrade, however, it is as much of an obligation as finding a platform that actually fits your business' needs. Shopware vs. Sana Commerce Cloud means switching from self-hosted to SaaS, which offers a range of benefits, including reduced IT infrastructure costs, increased scalability and flexibility, enhanced security and compliance, seamless upgrades and updates, and a dedicated support team.
Contact us today to learn more about how we can help you make the transition from Shopware 5 to Sana Commerce Cloud.
Thinking of replatforming?
Get our free replatforming guide or speak with one of our e-commerce experts.