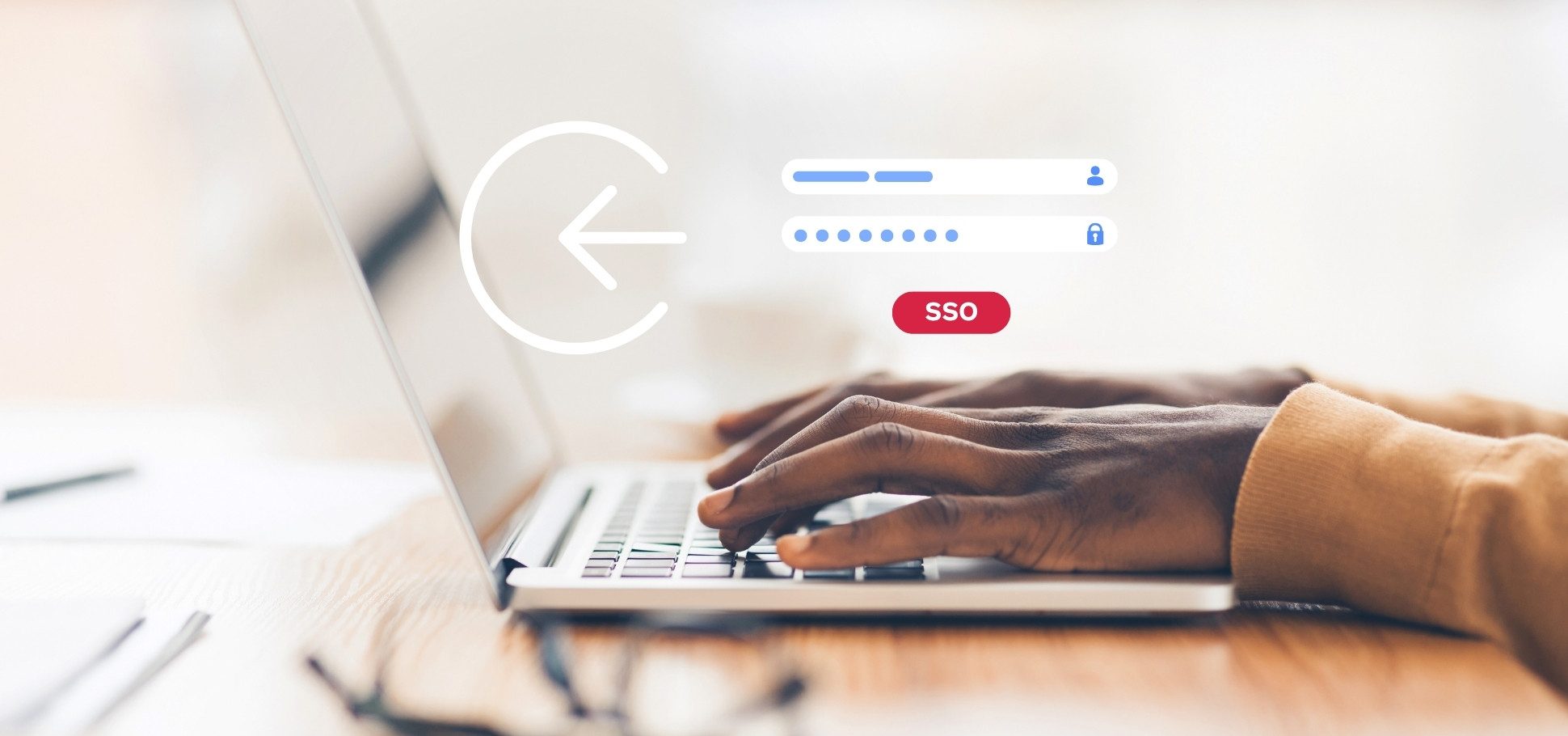 Introduction
When we talk about giving our customers the best possible experience in B2B commerce, we talk about simplifying processes that previously brought about frustration. The customer may not always understand which components of the buyer journey are causing dissonance. Most times, it's up to the web store owner to figure out why customers are switching to the competition.
What is Single Sign-On?
Single sign-on (SSO) is a way that one administrator can log in to separate software systems using one set of password credentials. Therefore, allowing successful logins for all platforms compatible with this service or app.
The key result is that the user only needs to enter a single email address and one password to be granted access to multiple platforms. SSO aims to improve the login experience by creating a seamless effortless process in the grander scheme of things.
Why is SSO important for B2B commerce managers?
In essence, SSO is your ally in simplifying life as an e-commerce manager. It's a tool that not only be used to improve user experience. It also bolsters your security measures, allowing you to focus on what truly matters: achieving your e-commerce goals.
That's where Single Sign-On comes in.
Take this example for reference. Sarah is an e-commerce manager for a thriving B2B organization. She's responsible for ensuring that the company's web store runs smoothly and efficiently, providing their customers with a seamless buying experience.
She had the same passwords for the ERP, PIM system and web shop. Sarah was prompted to change the password for the ERP, while for the PIM and Sana web shop her password stayed the same. Different systems demand different credentials, and her productivity suffers as a result.
The Consequences:
Security risk due to unchanged passwords
Loss of productivity
Frustration and stress
The Solution:
With SSO, Sarah can use one set of credentials for all systems, simplifying login and enhancing security. No more Excel files or password chaos. SSO streamlines the process, boosts security, and improves productivity.
Insights from the modern B2B buyer.
Read our B2B Buyer Report 2024 for cutting edge insights that can transform your business.
What are the benefits of Single Sign-On in B2B commerce?
SSO is one of the leading ways businesses can manage identity and access management. It enables users to improve productivity and gives them peace of mind.
Enhanced security
SSO reduces the risk of password-related security breaches as data gets stored within one centralized database. Authentication is cloud-based and takes place using the identity provider, which means applying its security policies.
For B2B buying, where security is key, this could be your competitive advantage. Customers' accounts are kept safe. Feeling secure in multiple applications during the checkout process is an essential contributor to customer experience.
For Administrators of the B2B web store, you can rest assured that your backend is protected and secured using one set of login credentials.
Simplified login
Both e-commerce managers and B2B buyers only need to remember one set of credentials. This is a small way you can create a seamless login experience. Administrators don't need to log in to every application they use with different credentials, but instead, use the same account to access different independent apps through the SSO system.
Increased productivity
Gaining access to multiple systems at once saves time. Time is money for customers and e-commerce managers alike. When they can both use the e-commerce platform with minimal frustration, consider this a win for your organization.
Where there is a gap to increase efficiency for both your internal teams and external customers, you gain a competitive advantage in increments. All these little improvements contribute towards the bigger picture of improving business productivity.
User convenience
Fundamentally, single sign-on offers a simplified and seamless user-friendly login experience. With more centralized access control, administrators can manage access from one place. SSO improves conversion rate and reduces churn on online platforms. This is an indication that users prefer the online experience with single sign-on software.
Although improving user experience would be one of the largest considerations to utilizing SSO, there are so many underutilized ways to create a seamless experience for your web store. Check out other ways to keep customers back.
Reduced password fatigue
Instead of using many password managers for different servers, users now only need to remember one. This allows them to focus on making purchasing decisions.
For B2B buyers in e-commerce, this could be the difference between making a conversion online or not. When customers already have a smooth login into the web store, the first step in the process is already seamless. This creates an internal perception that buying online is simply more efficient.
Lower support costs
This may sound like a farfetched point, but password-related support tickets are frequent. Having a single sign-on solution in place significantly reduces password-related support requests. This frees up time for internal support agents to handle more intricate tickets that require higher involvement.
Compliance and reporting
Compliance in B2B is integral to improved security. Single sign-on also makes tracking of user activity easier. This can be done to ensure compliance.
Streamlined user management
When introducing new team members to your business processes, getting them started with a single sign-on simplifies onboarding processes. In the same way, when a team member leaves, they no longer need to create an extensive handover document with all their passwords. One system makes it easy to access information that otherwise would be lost.
When is the best time to implement SSO?
The simple answer: the best time to implement SSO in e-commerce is the moment of launching your e-commerce store. If you have already gone live, there is no better time than the present. The question could be matched with: "When should I improve my B2B customer's buying experience?". The answer will always be: "As soon as possible!"
Which SSO solution should you choose?
SSO implementation could look different for your business based on your platform's needs. When considering the integration of SSO into your online store, you have several options to choose from:
SSO as a dedicated solution: If your platform requires a completely tailored SSO solution built from the ground up, this option is a good choice. It ensures full ownership and alignment with your unique needs.
SSO as a plug-in: This choice is suitable if the online store has been built on a pre-existing cloud service. The cost of implementation is relatively low in comparison to the others, but it means no ownership of the code or the system.
SSO as an Open-Source solution: With an open-source solution, you have the flexibility to adapt the SSO solution to your specific platform's requirements. This option provides good value for money and full ownership of both the code and the system.
SSO based on a global standard: such as OAuth2 enables seamless integration with popular login methods like "Login with Google" or "Login with email," enhancing the accessibility for users who don't want to create an additional password.
By leveraging services like Amazon Web Services or Auth0, you can significantly reduce the implementation costs. This cost-efficiency makes SSO accessible even to smaller e-commerce businesses. It's important to note that for SSO to be fully effective, you should have a high availability system in place.
How Sana Commerce Cloud implements SSO
Sana Commerce Cloud uses the OpenID Connect authentication protocol based on OAuth 2.0. The single sign-on is not tied to a specific identity provider for Sana web stores. Therefore, it can be configured for any identity provider that implements the OpenID Connect protocol.
Sana Admin users can log in once with their identity provider account with their username and password. They can use this account to access the Sana web store and other systems. These apps also use the same identity provider.
Users can access multiple apps without logging in separately by using a single account for all applications. Authentication takes place using the identity provider, which means applying its security policies.
Conclusion
In conclusion, SSO emerges as a powerful tool when utilized fully. It not only simplifies operations but also adds an extra layer of trust for both customers and administrators. This is crucial when looking at areas to improve your B2B web store.
So, if you haven't explored SSO for your e-commerce organization yet, there was never a better time to do so. It's a step toward a more streamlined, secure, and successful e-commerce journey for both you and your customers.
Sana Commerce loves watching B2B businesses thrive through e-commerce. If you want to improve your online store, we have features to help increase sales and understand your customers better.
Learn more about our suite of products.
For B2B organizations interested in revenue and results.