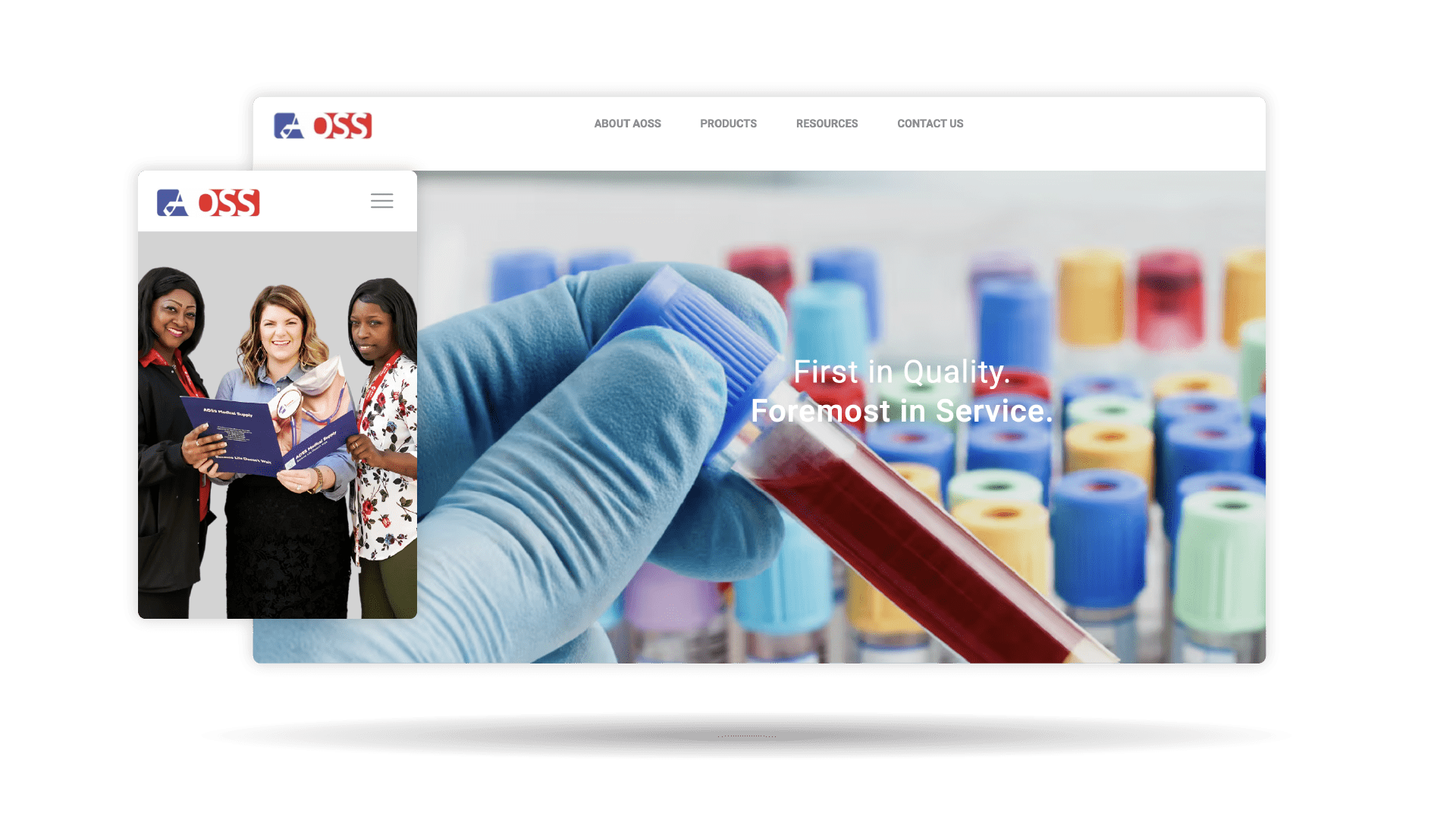 AOSS Medical Supply
In the dynamic realm of medical supplies, AOSS Medical Supply emerges as a trailblazer, specializing in the plasma and dialysis industry. With a vast catalogue exceeding 20,000 products, encompassing FDA-regulated and perishable goods, AOSS stands at the forefront of innovation and reliability.
Operating predominantly in the B2B sector, AOSS serves as a pivotal partner for large entities with multifaceted needs, requiring not just products but sophisticated data analytics and insights for strategic forecasting and impeccable stock management.
Headquarters in Monroe, LA
Distribution Facilities: Monroe, LA, and Salt Lake City, UT, with a future location in Dallas, TX
A product range of over 20,000 medical supplies and equipment, 4,000+ vendors
100%
Increase in uptime

100%
Adoption rate

50-100h
Time saved for sales team
The challenge
Navigating Complexity in Medical Supply Distribution
AOSS's story delves beyond the intricacies of medical supply; it's a narrative of navigating complexity, adapting to evolving landscapes, and redefining the e-commerce experience.
Prior to adopting Sana Commerce Cloud, AOSS faced challenges with their existing ERP-connected commerce platform. It struggled to handle complex tasks such as unit of measure and trade agreements, leading to decay in performance and customization limitations.
The uptime struggled to reach 80%, impacting customer satisfaction and relationships, especially in an industry where quick order fulfilment is crucial.
We did not have a B2B E- commerce platform, we went with a recommendation from another company. It worked well for the beginning but as the company grew and customers were onboarded it showed signs of growth decay and lacked the ability to handle complex tasks

Alexander Lewis, IT Director, AOSS Medical Supply
The solution
Accelerated value with a ready-to-use SaaS web store
AOSS turned to Sana Commerce Cloud for a comprehensive commerce solution tailored to the intricacies of medical supply distribution. This digital transformation aimed to simplify order management, enhance personalization, and optimize content and data management.
Primary goals for AOSS's new e-commerce site:
Swift Implementation & Maintenance: AOSS prioritized a rapid implementation within 90-140 days, aiming for a quick time-to-value. This strategic move aimed to secure against potential customer loss and reduce the time spent on ticket resolutions, ultimately safeguarding AOSS's reputation in the competitive landscape.
Personalization for Precision: Focusing on personalization, AOSS dedicated efforts to tailor solutions for trade agreements and unit of measurement intricacies. The goal was not merely to meet industry standards but to exceed customer expectations, laying the foundation for a unique and tailored customer experience.
Empowering Sales & Channel Support: With the prospect of a new commerce solution, AOSS strategically planned to streamline processes to handle a surge in requests, aiming to provide robust support for the sales team in managing high-value opportunities.
Streamlining Content & Data Management: Recognizing the complexity in products and the necessity for real-time data, AOSS sought a digital commerce solution that could seamlessly handle this complexity and grow with their evolving needs.
Important features that we were looking for, that we expected should have been standard, most other companies had this as customizations. Sana Commerce offered it at a click of a button. Simply plug and play, that was a huge win!

Alexander Lewis, IT Director, AOSS Medical Supply
The results
Unleashing Operational Excellence
In the wake of AOSS Medical Supply's strategic adoption of Sana Commerce Cloud, a profound transformation has swept through various facets of their operations. The results underscore not only operational excellence but also a customer-centric approach and strategic resource allocation, all made possible by the implementation of a robust e-commerce solution.
In a remarkable feat, AOSS Medical Supply together with Sana Commerce managed a swift implementation of the platform in just 140 days. This rapid overhaul expedited the time-to-value, unlocking immediate benefits for AOSS, such as:
Low Maintenance: After implementing SCC, AOSS seamlessly shifted to a maintenance-free experience. Overwhelmingly positive customer feedback emphasized the platform's reliability, with no recorded downtime. The integration successfully eradicated manual order processing challenges, contributing to a seamlessly maintained and efficient e-commerce experience for both the team and customers.
Unburdened Sales Team: Strategic interventions significantly reduced support requirements for the sales team. This shift allowed AOSS to redirect valuable resources towards strategic initiatives, positioning the sales team as a crucial driver of success in a fiercely competitive market.
Timesaving: AOSS's focus on efficient order management resulted in significant time savings for the sales team. The streamlined approach not only accelerated responses but also enhanced overall productivity, contributing to increased operational efficiency.
Positive Customer Feedback & Revenue Growth: The positive reception from customers, underlined by a 100% adoption rate, emphasizes the reliability and time-saving features of the new commerce solution. This shift in focus towards understanding and anticipating customer needs has opened avenues for revenue growth. The sales team now directs its efforts towards onboarding new facilities, translating into increased revenue opportunities.
Documentation & Support: The robust documentation of Sana Commerce Cloud emerged as a significant advantage. Team members can independently navigate and troubleshoot issues, reducing dependency on support teams and fostering a self-sufficient commerce approach.
Documentation for SCC is really good, I don't have to contact the support team; I usually can find it in videos or articles, then I can sort it out myself. It's a big selling point!

Alexander Lewis, IT Director, AOSS Medical Supply
AOSS Medical Supply's strategic adoption of Sana Commerce Cloud has not only streamlined their operations but has also ushered in an era of customer-centricity, operational efficiency, and growth. The results underscore the profound impact of a well-integrated e-commerce solution in the competitive landscape of medical supply distribution. AOSS's growth plans include expanding their roadmap to integrate Material Requirements Planning (MRP) and analytics into Sana Commerce Cloud, providing customers with a comprehensive platform for all their needs.
Learn how ERP integrated e-commerce can transform your results.