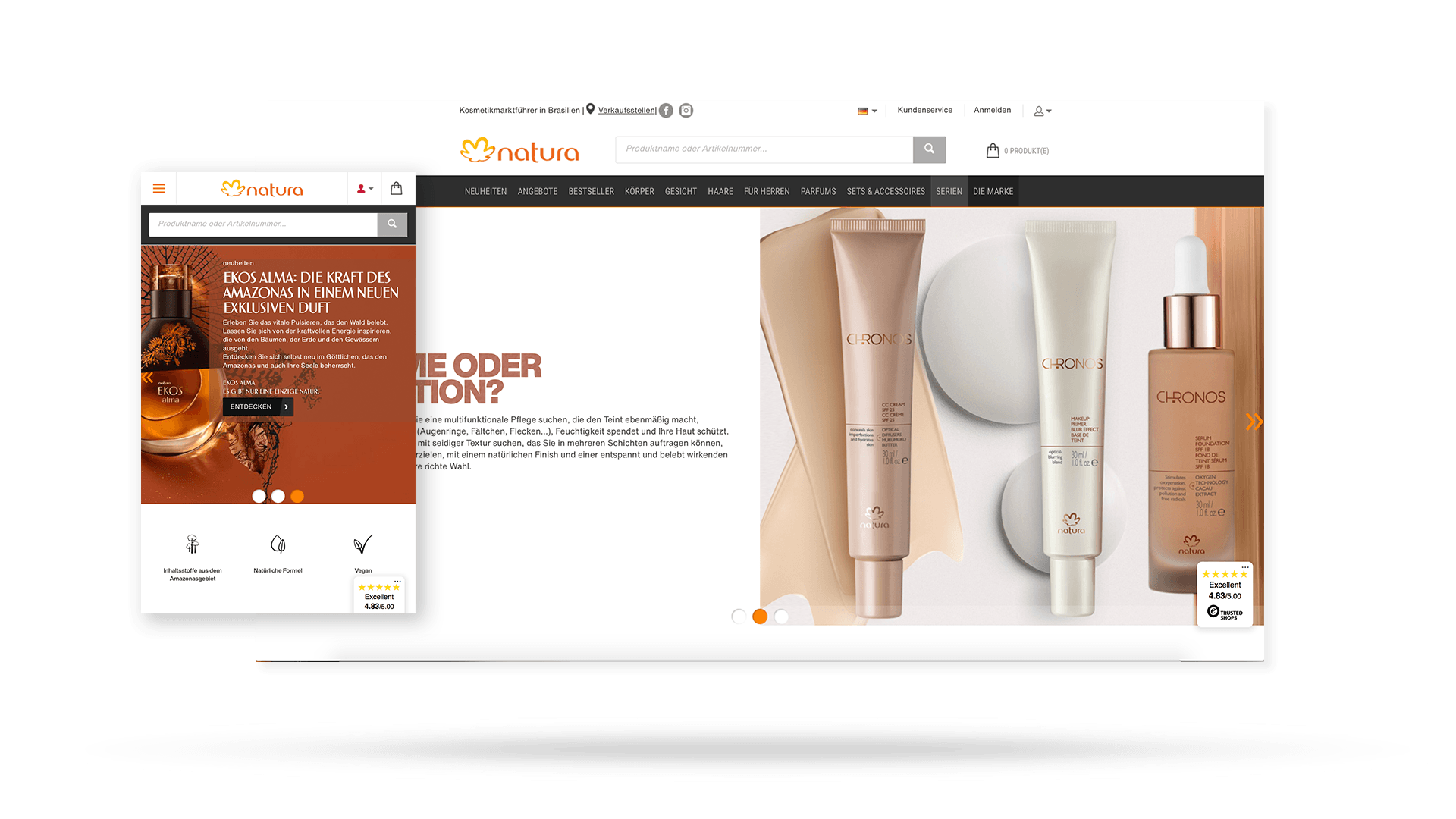 Natura
Discover how Natura Europa saw a 4x lower total cost of ownership with its new Sana web store.
Multinational B2C Brazilian cosmetics company
Its portfolio includes brands like Aesop, The Body Shop and Avon
Sustainability has been at the company's core since its foundation, focusing on forest conservation, waste reduction and climate protection
50%
increase in organic traffic
4x
lower total cost of ownership (TCO)
65%
increase in mobile revenue
The challenge
Outdated web store and entering a new market
Natura first became successful by using a direct sales approach that involved 1.8 million consultants. But this approach didn't have the same success in Europe as it did in Latin America. They initially set up the business in France by opening 3 brick-and-mortar stores in Paris, but soon decided that e-commerce was the easiest way to become well-known without spending fortunes on advertising.
However, the web store they implemented before Sana Commerce was slow and ill-fitting for Natura Europa's Microsoft Dynamics NAV ERP system.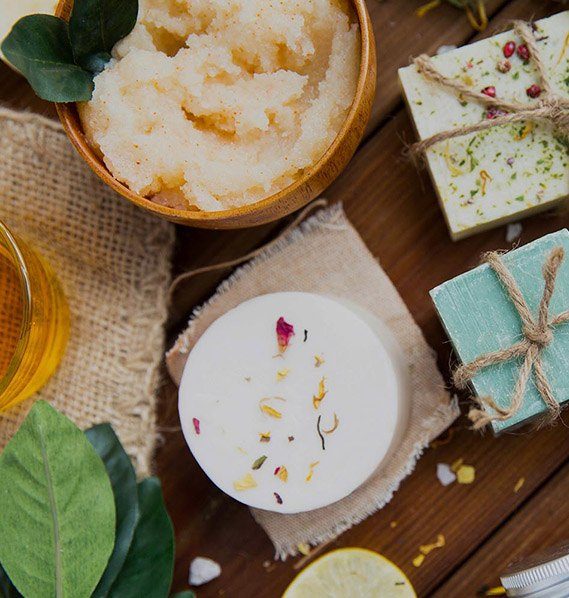 Based on our timeline, budget and Microsoft Dynamics NAV integration requirements, Sana Commerce was the only platform that made sense.

Florent Guilbert | E-Commerce Manager at Natura Europa
The solution
ERP integration, responsive web store and fast implementation
Before discovering Sana Commerce through their ERP partner, Natura Europa looked into Shopify and another French e-commerce provider. But both platforms were too complex, came with high costs and integration with their ERP wasn't an option.
When they discovered Sana, it seemed like the perfect fit for their requirements.
Natura Europa also wanted a sleek and responsive web store, and even with Sana's out-of-the-box solution, they got exactly what they were looking for.
Natura Europa's goal was to migrate more than 200 pages of content and launch their Sana web store in just 3 months. They worked closely with Sana and their information management system partner to achieve this goal. They were able to meet this goal and launch their web store in less than 3 months.
"Migrating our content to Sana Commerce was one of the easiest migrations I've ever done," said Florent Guilbert, E-Commerce Manager at Natura Europa
E-commerce is commerce. When someone is searching for your company online, they want the website to be fast and attractive. And when they want to purchase your products, they want that process to be quick and clear. I think Sana Commerce is the perfect solution for that. It's not complicated and it's easy for companies who don't know how to work with HTML. I think Sana is the perfect fit for the modern e-business.

Florent Guilbert | E-Commerce Manager at Natura Europa
The results
Increased mobile revenue and powerful marketing capabilities
Thanks to their Sana Commerce web store, Natura Europa benefited from the following results:
65% increase in mobile revenue: In just one year, Natura Europa saw a 65% increase in mobile revenue and 50% increase in mobile conversion rate with its Sana e-commerce solution.
4x reduction in total cost of ownership (TCO): Natura Europa now spends less than a quarter on their Sana e-commerce platform, compared to what they were paying for their previous platform.
Simplified marketing activities and 50% increase in organic traffic: Sana's platform gave Natura Europa an online marketing toolkit, that made online marketing activities simple. With Sana, they are fully in control when it comes to optimizing the URLs, H1 headers, titles and meta tags on their web store. By the end of 2018, Natura Europa decided to create 50 new web pages targeting "hair care" to gain more SEO traffic to their website:
By changing our business model from direct sales to e-commerce, we expected to lose customers and sales revenue. But with our Sana web store, we saw a 50% increase in our mobile conversion rate. This means that we didn't end up losing any revenue, since if we had kept all our customers from our direct sales model, we would have achieved the same result!

Florent Guilbert | E-Commerce Manager at Natura Europa
Do you want to increase traffic and boost sales?