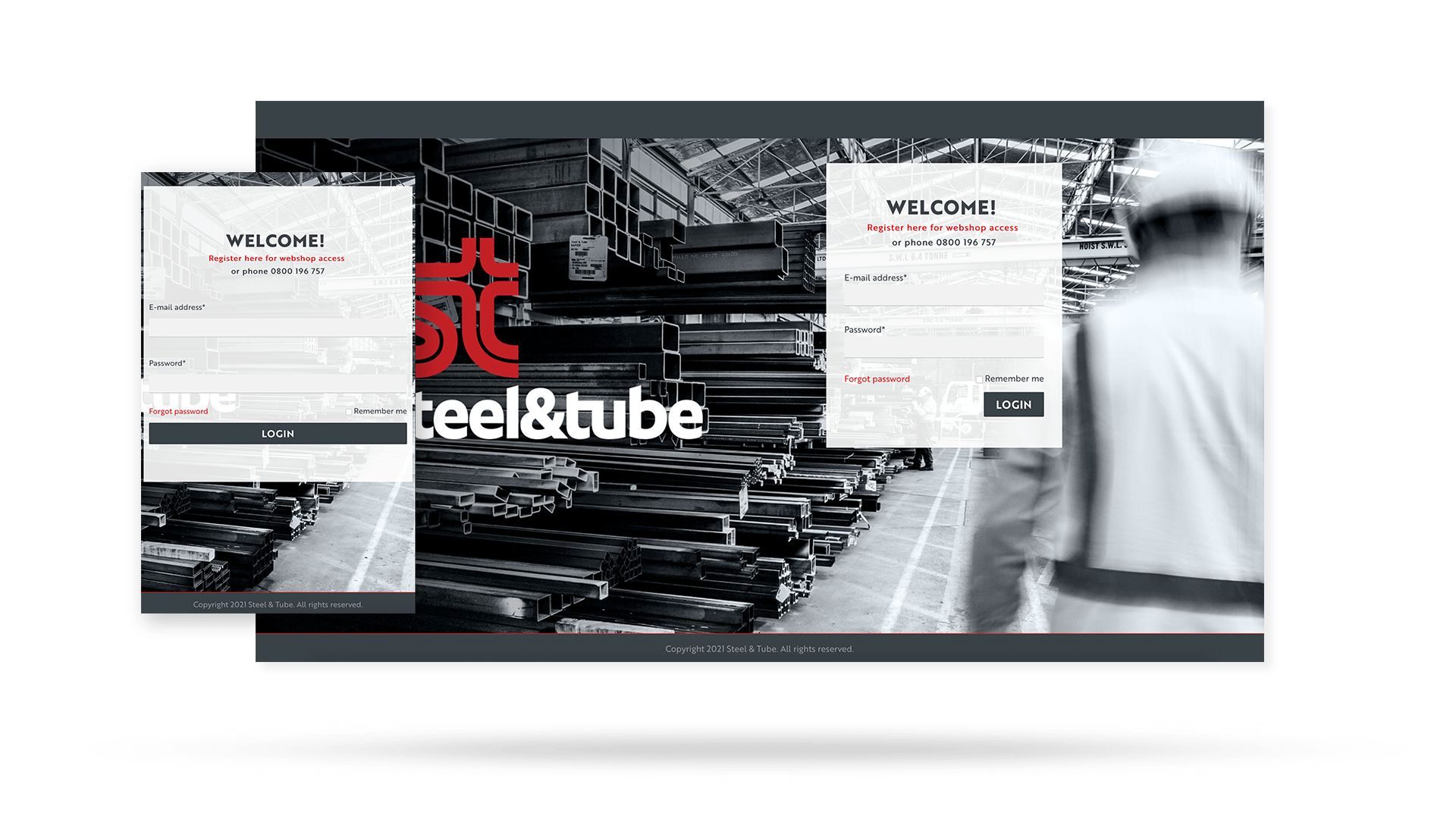 Steel & Tube
Steel & Tube is paving the way for digital transformation in New Zealand's steel industry by launching two new web stores within 90 days.
New Zealand's oldest and largest steel distributor with over 60 years' experience
Services the trade, manufacturing and construction industries
Locally owned and dedicated to creating better construction projects throughout New Zealand
2 web stores
implemented in 90 days
Over 7,000 products
are now available online
Saved time
within internal teams
The goal
Empowering customers through ERP-integrated e-commerce
Steel & Tube has serviced the trade, manufacturing and construction industries since 1953. This experience speaks volumes to its knowledge within these industries and sets it apart from competitors. Steel & Tube is now harnessing this experience and applying it to its new e-commerce strategy. The ultimate goal? To satisfy every customers' needs and improve customer convenience by making the web store a one-stop shop.
Before undergoing digital transformation with Sana Commerce, Steel & Tube knew the importance of improving its online presence and digital strategy and had the ambition to make it happen. Initially, Steel & Tube had created its own web store and was manually connecting data from the store to its ERP (Microsoft Dynamics AX 2012). After hiring a dedicated digital officer, it soon realized that this was an arduous way of working and began strategizing ways to improve its e-commerce strategy.
The e-commerce project revolved around how Steel & Tube could:
Meet and exceed customer expectations
Make customers more self-sufficient
Provide customers with all the information they need to make their purchase
Improve customers' overall experience and convenience
These points led to Sana Commerce's ERP-integrated solution. Mark Malpass, CEO of Steel & Tube, explains why e-commerce is so important within the manufacturing and construction industries:
Our vision is to be the leading steel products supplier to New Zealand's trade, fabrication, construction and manufacturing businesses by offering an easy and convenient way of doing business with us. We are leading the digital charge in the industry to make life even easier for our customers.

Mark Malpass | CEO of Steel & Tube
The solution
A customer web portal for total customer convenience
With COVID-19 causing unprecedented disruption, Steel & Tube knew that it needed a solution that could be implemented quickly. Sana Commerce was able to deliver two new web stores for Steel & Tube, with customizations, within 90 days.
Both web stores run on Sana Commerce version 9.3.5 and are connected in real-time with Microsoft Dynamics AX. These integrated e-commerce stores enable total customer convenience by giving customers one place for product information, custom pricing, invoices, payments and previous purchases — all available 24/7.
Our integrated solution provides a portal for our customers to gain access to our ERP system. They can gather data for themselves that they wouldn't normally be able to do through a standard web store. Because customers no longer need to call or email to get updates, our new portal saves them, and us, time.

Anthony Excell | E-Commerce Manager at Steel & Tube
The results
A future-proof and scalable solution that can withstand disruption
The uncertainty caused by COVID-19 forced all companies to think outside the box. This is exactly what Steel & Tube was able to do, thanks to its e-commerce strategy. After implementing Sana Commerce's solution, Steel & Tube knew that future lockdowns could be an issue. So, it planned a click and collect method, which would enable the company to maintain order fulfillment despite lockdown measures. Steel & Tube's new e-commerce strategy not only allowed the company to maintain communications and orders with customers during COVID-19 but also enabled it to plan for further disruption.
Steel & Tube is continually improving its online performance. Looking to the future, it is hoping to implement a PIM (Product Information Management) system and upgrade its ERP to Microsoft Dynamics 365, both of which Sana Commerce will be able to accommodate.
Withstand disruption with ERP e-commerce.