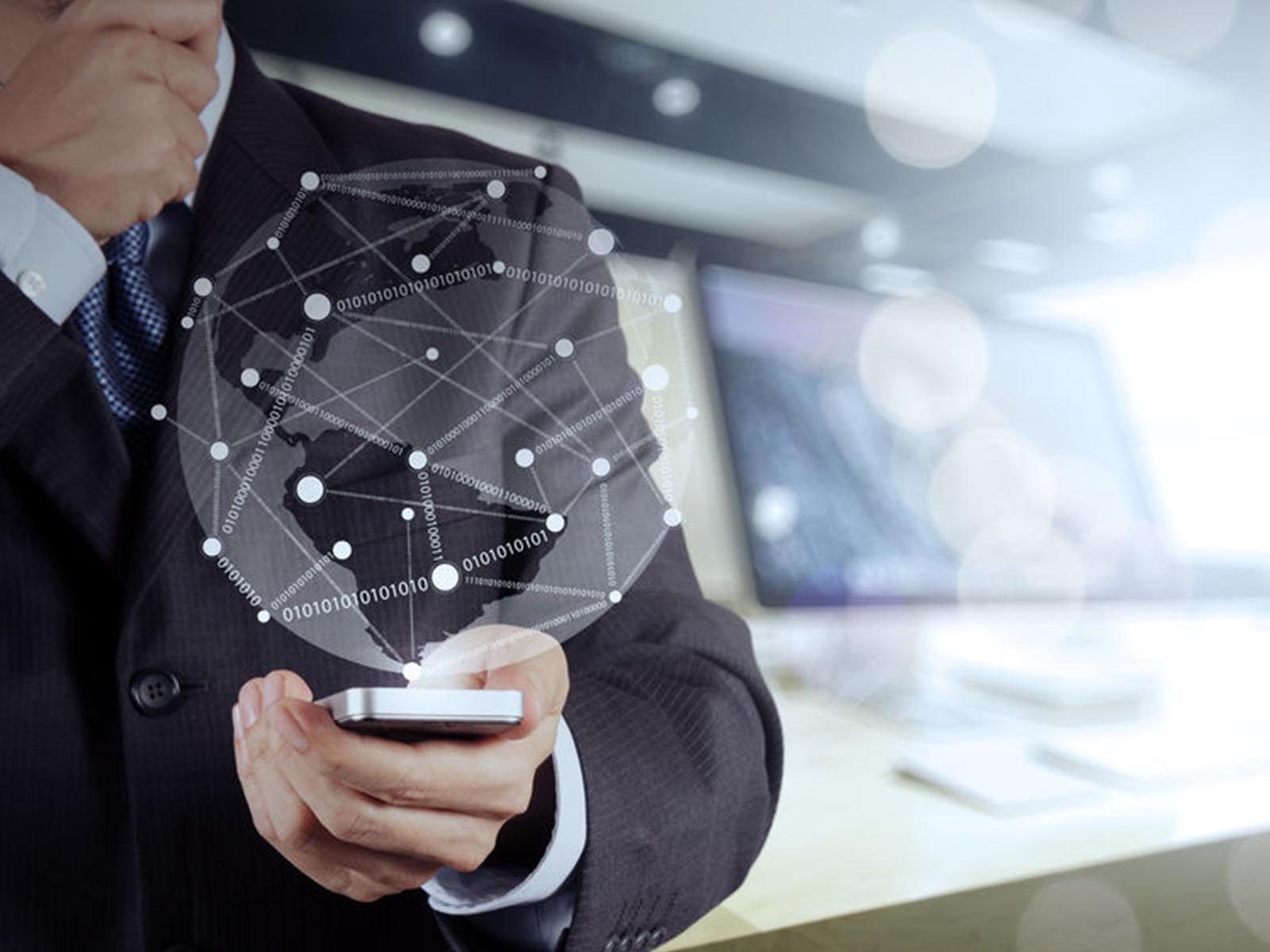 Product information management (PIM) is top of mind for e-commerce companies whether they sell B2B, B2C or both.
Regardless of who you sell to, your shoppers are looking for a seamless online shopping experience — one that doesn't involve having to talk with a sales representative for small things like product details or fixing incorrect orders.
This means it's essential to have consistent and complete product information on your web store and on other sales channels.
But how can e-commerce businesses accomplish this? Especially ones with complex product management and order processes, like B2B companies?
Product information management gives your company a scalable and streamlined solution to storing and organizing your product or catalog data.
What does PIM mean for e-commerce?
A PIM system stores and shares product information with your online stores, corporate site, (printed) catalogs, social media, marketplaces, and ERP.
It is a single source of truth for all product information, documentation, specs and more.
It can be a key business driver for organizations looking to scale quickly and reach new markets.
It is a tool for businesses to enrich ERP data and improve their online sales portal.
When used together with your ERP and online store, you can create entire product landing pages that have all-encompassing product information on them, including detailed drawings, varying sizes, attachments, and more.
Benefits of PIM for your e-commerce business
Reduce order errors
Did you know that order errors on average cost businesses nearly $2 million each year? Order errors are one of the number-one complaints coming from customers. With product information management software, the chances of order errors are greatly reduced since all data management happens in one central database.
Work efficiently
Reduce the amount of manual data entry, as well as the amount of time it takes your sales, e-commerce and IT teams to fix order errors.
Plus, you'll save time exporting product info to different channels (such as catalogs, price lists, newsletters and marketplaces) since this always takes place from the PIM system itself.
Reduce time to introduce a new product to market
PIM systems make it quick and easy to bring your product information together and display it in a uniform way in your web store and across digital channels.
Improve searchability
The more accurate your product data is, the easier shoppers will be able to find what they're looking for.
Display accurate product information 24/7
A PIM system ensures up-to-date product information is always available and accurate online and gives buyers immediate access to all product information.
Streamline your omnichannel strategy
In order to give customers a good omnichannel experience, your product information needs to be accurate and consistent across multiple channels and marketplaces.
Here's where having a PIM system comes in handy. A PIM connection ensures that:
All product content on the internet is standardized
You don't have to maintain multiple systems to keep product information consistent
This makes it easy for you and your customers to compare products, search for products based on a certain attribute, and even make the link between matching components.
Create a central place for all product information
A PIM system takes all product information and offers it in a single source. This information is categorized by language and product group. You will no longer have to request product information from individual departments or data sources.
Give other teams access to product data
In larger companies, departments like marketing and sales don't have access to the business's ERP system and cannot change product descriptions and specifications.
A PIM system can grant other departments access to this information, ensuring they can easily make changes to product data whenever they need to. (Don't worry, in most PIM systems you can set user permissions to safeguard any information that you don't want accidentally changed.)
Increase your revenue
Drive conversions, improve searchability, provide always-accurate product data across all your sales channels, encourage repeat orders, streamline internal workflows… these are all benefits guaranteed to increase your overall revenue generated via digital channels.
The bottom line
The benefits are endless but when it's all said and done the bottom line is: With PIM software integration with your e-commerce comes a lot of room to grow and scale. Not only does it reduce the amount of manual work you and your team need to do, but it creates a lot more consistency across your entire company, which in turn also reduces the amount of time your sales and customer service teams need to spend on answering customer questions and complaints.
Real-life example: How does a PIM system work?
For this example, we're going to look at wholesaler, Locinox, who has integrated their PIM and e-commerce systems.
Example: How Locinox uses their PIM and e-commerce
Wholesalers like Locinox receive product data from a wide range of suppliers, each of which offers data in a different format.
When this data enters the wholesaler's product information system, it's gathered and translated into one unified content design.
This ensures that product attributes are mapped to the correct fields and field formats.
Here's what that looks like using a real-life situation
When product data about bolts come in from supplier A — who uses inches — and product data about screws come in from supplier B — using centimeters — your PIM system will unify the information so you see the same unit of measurement in your systems.
As you can imagine, this saves tons of time on manual data entry and drastically increases information accuracy in your systems.
Locinox is a prime example of how this type of PIM feature can impact a business' bottom line:
"Thanks to the PIM system and e-commerce platform we can manage all our product information in a structured manner, without having to deploy more personnel." – Mik Emmerechts | General Manager at Locinox
PIM systems can handle all kinds of information — so you can definitely make it more complex if your product catalog or industry required. Besides units of measurements and general product specs, PIM systems can also help standardize images, movies, PDF files, technical drawings and more.
E-commerce use case for a PIM system
Despite the opportunity created by the booming product information management industry, not every business needs to worry about integrating theirs online in addition to your existing e-commerce experience.
In general, merchants with a lot of SKUs (or products) with regularly changing product specifications, will need a single source of truth from which to manage their products. Whereas smaller catalogs which are less subject of change, are just fine to manage in your ERP or web store.
PIM system management sometimes consists of a team of people dedicated to keeping product data up to date. This requires the resources to spend on this, so make sure to factor that into your business case.
Should I use a PIM?
From a practical point of view, whether to use a PIM system or not depends on two factors:
First, it's essential for your company to be detailed in providing information to your customers. A PIM system doesn't just display product features — it also helps you standardize and display quality standards, maintenance recommendations and repair options.
Second, does the size of your product catalog require PIM for better management?
We recommend implementing a PIM system if you:
Offer more than 15,000 products to your customers
Offer supporting content (to further explain your product), such as images, certificates and PDFs
Display product information in many different languages
Sell complex products that require a lot of explanation
Use product data in different places, such as in your web store, in brochures or on marketplaces
Have products with many different and specific product characteristics (e.g. food companies, technical wholesalers or chemical wholesalers)
Where to start with connecting your PIM to your web store?
7 tips help you succeed
Tip 1
Determine whether a PIM system will be cost-effective and useful for your organization by creating a business case.
Things to consider when making your business case:
You'll be using multiple channels, not just an online store. After all, the ERP isn't your only source of information.
Your company does a lot of product development. A "yet-to-be-created product" often starts in a PIM. It will only go into the ERP when you start selling it.
Your ERP is too old to store product images, product videos and other content.
You have an entire content team to manage all product information. In this case, you'll be using a lot of different content (such as spare parts, related products and specifications).
Tip 2
Internal processes will change. Create an overview of the basic processes and determine how the different departments interact. Make sure to also determine who should have access to the tool.
Tip 3
Try to create a realistic schedule. Your ERP data must be in order and that takes time! Consider the many languages and complex products that need to be up to date. Don't forget to assign someone who will manage your customers' data and to inform your distributors well in advance.
Tip 4
When creating your product descriptions, take Search Engine Optimization (SEO) into account. After all, you want to make it easy for your (potential) customers to find your web store online (by for example Googling your brand name).
Tip 5
Determine which information you wish to describe on your web store. Try to do this from your customer's perspective. What does your customer want to know about your product (materials, certifications, colors, sizes and warranty, for instance)?
It helps if you create a matrix to organize and categorize information per language. This way you can see which information is missing. Now you can divide your products into logical groups. (For example, place all "tires" in one group instead of having various categories for different types of tires.)
Tip 6
Make sure the descriptions on your online store are uniform. For example, "20 mm," "20" or "20mm."
Tip 7
Keep your ERP up to date. This will save you time and effort.
Best PIM software
What is Perfion?
Perfion is an out-of-the-box, yet highly configurable, product information management system that assists retailers, e-commerce businesses, distributors, product managers, marketing and IT professionals.
What does Perfion do?
It organizes product data in a single tool and distributing them across multiple systems, applications, websites, and channels. This industry-standard PIM solution enables users to have full control over their product data, helping them focus more on launching effective multichannel marketing campaigns rather than wasting valuable time checking for errors, inaccuracies, and inconsistencies in product information.
Here is the list of product data which can be created in Perfion:
Product Titles
Product Description
Related Products
Product Attachments
Product Images
Product Categories
Product Variant Titles
Product Variant Images
Translations
What is inriver?
Inriver software is designed to increase the efficiency, control and quality of product information handling for both B2B and B2C companies.
What does inriver do?
Inriver facilitates the creation, maintenance and distribution of product information for multiple channels in multiple languages for e-commerce businesses. It enables the creation of perfect product stories and great customer experiences across all contact points.
Data management with inriver
Product data that doesn't change very often, like product titles, descriptions, attachments etc., is retrieved from inriver and is used in your web store. Other data, especially data that changes often and requires more complex logic, is not retrieved from inriver.
For example, more complicated processes are involved to calculate and manage product prices. For this type of product information, you should use your ERP.
List of product data available from inriver:
Product Titles
Product Description
Related Products
Product Attachments
Product Images
Product Visibility
Product Categories
Product Variant Titles
Product Variant Images
Product Variant Attachments
Translations
Integrate your Sana Commerce web store with your PIM system
Are you running a Sana Commerce web store and looking to implement a PIM system? Or do you want to integrate your existing PIM with your Sana Commerce store? Here's how.
We use our standard ERP connector to integrate with your PIM system. This means that our customers can integrate their ERP, PIM and web store all at the same time, even if they're on our SaaS product, Sana Commerce Cloud.
Here's a look into what the process looks like: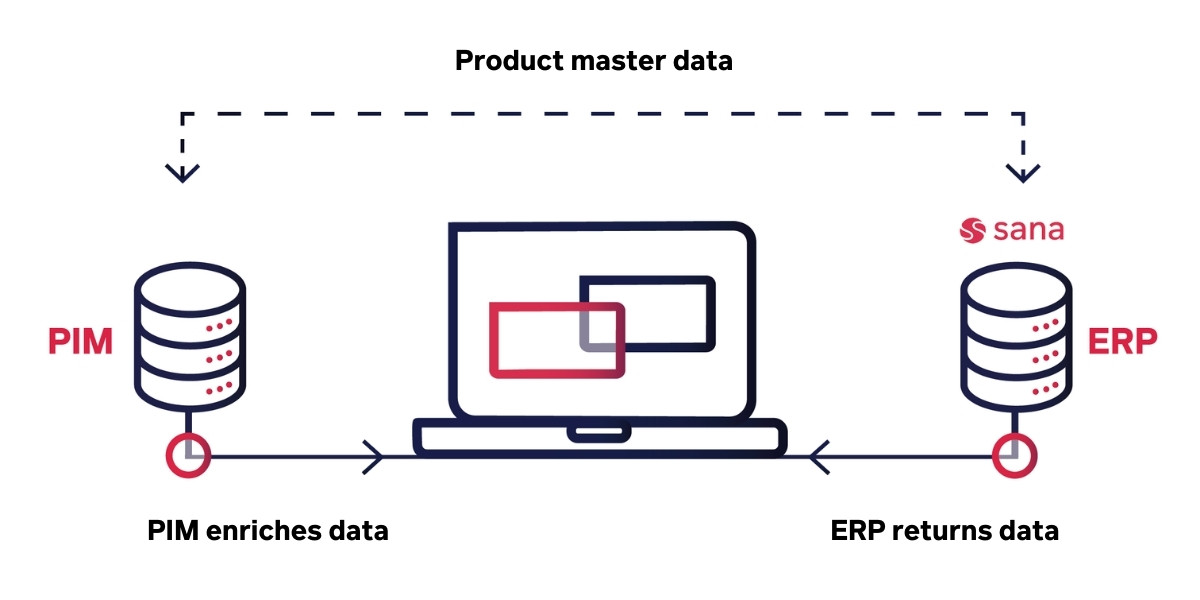 The result? A web store that displays complete product information.
Keep in mind that to integrate Sana Commerce Cloud with your PIM system, you will need to involve your PIM implementation partner to help you set up your PIM system.
Benefits of integrating your PIM and Sana Commerce store
Not having to enter information twice on both your web store and ERP
Integration is fast and out of the box
Data is always correct. Is a product not in stock? Then that will be displayed on your web store in real-time
Give customers complete transparency over your product offering
Content is supplemented with master data and transactional data from the ERP
PIM in e-commerce FAQ
What's the difference between an ERP and a PIM system?
A PIM system contains all product information. An ERP contains all transactional data (e.g. customer-specific prices and real-time stocks).
How big does your product catalog need to be to justify implementing a PIM?
We recommend implementing a PIM system if you have a product catalog of 15,000 or more products.
With some solutions, you can easily load content from your ERP system into your web store without requiring a PIM system. For example, with Sana Commerce you can upload additional product information, a short movie or several pictures directly from your ERP to your web store.
You can do this for every product in your database — but if you have an incredibly extensive (15,000+) catalog, you might want some help from a PIM system.
Can I integrate my ERP, PIM and online store?
The short answer is yes. And we 100% recommend doing so.
Your ERP system contains and shares master data;
Your PIM system creates categorized content that can be used for multiple distribution channels;
Your integrated web store brings it all online so your customers can find and order what they need.
Together, you could say it's the ultimate online sales triumvirate.
Want to learn more about implementing your PIM and e-commerce?