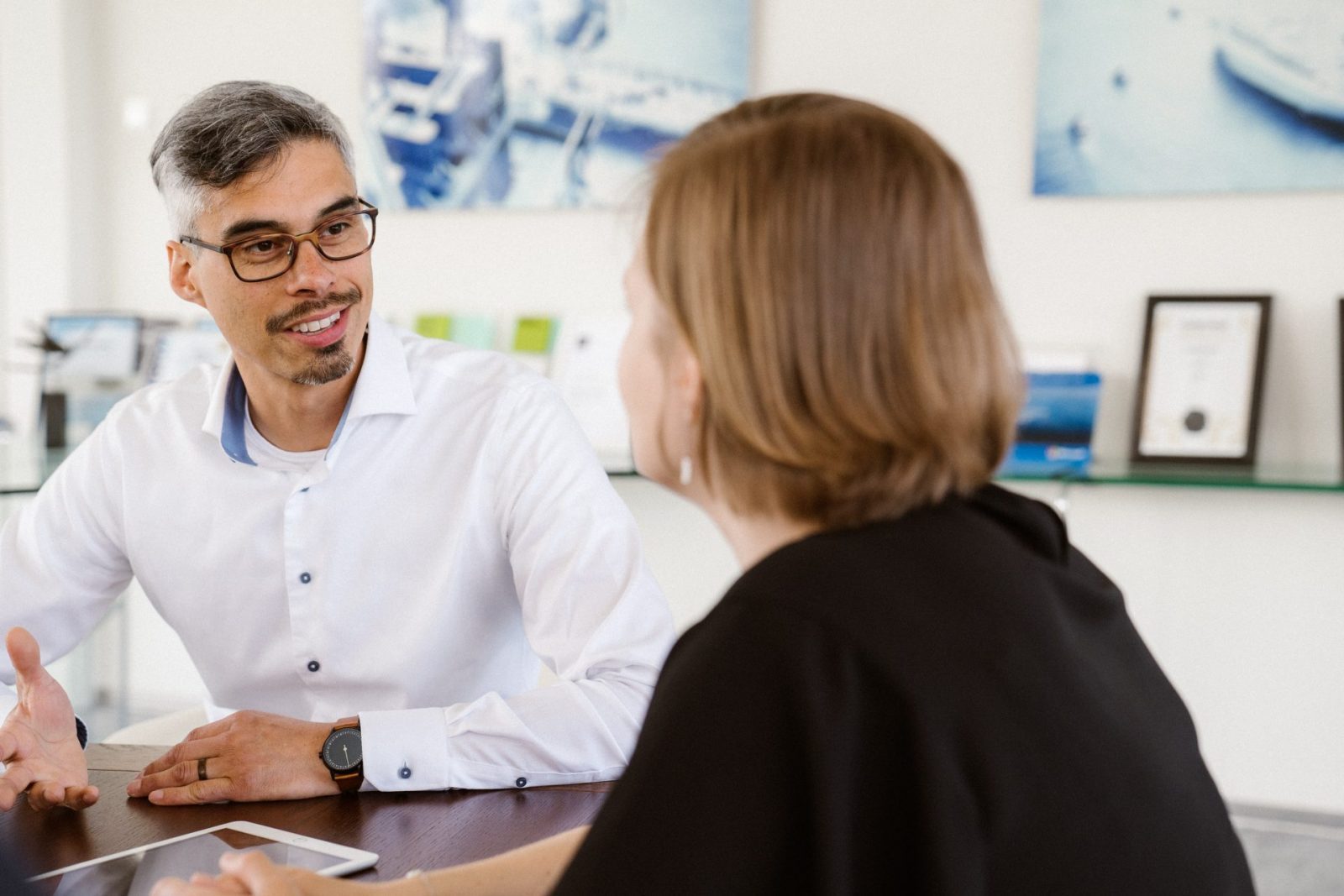 There's quite a lot at stake when deciding on a solution that will help your B2B business move into the future with a web store. Web stores can do more than just serve as a catalog and IT leaders know that. More and more, IT leaders are searching for solutions that support digital process automation. B2B e-commerce is no exception to that rule.
This finding was made clear in the first edition of the IT Leaders Outlook on B2B E-Commerce, a three-part report series based on the findings of over 1,000 IT leaders around the world. Based on this research, we uncovered extensive insights into the risks and costs of misaligned B2B e-commerce. This topic forms the basis for the first of the three reports. The first edition, The ripple effect of misaligned B2B e-commerce, launched on July 7th and is available for free now.
The findings from this research led to clear conclusions about what IT leaders are prioritizing when it comes to their their B2B e-commerce software.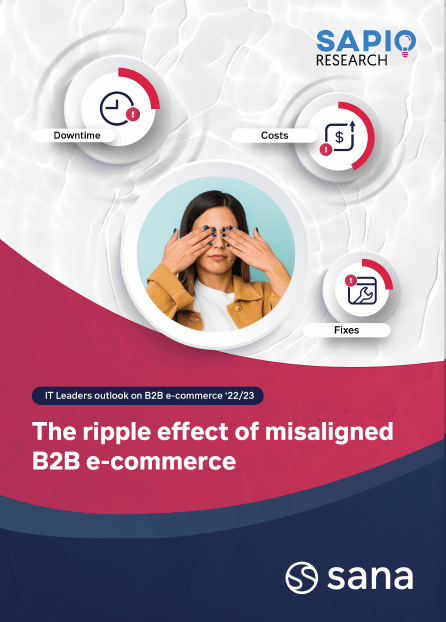 1. High costs cut due to digital process automation
In the report, we found that 55% of IT leaders list high IT costs and lower budgets as their top challenge now. If over half of IT professionals are worried about cost, then you can extrapolate that when they look at a B2B e-commerce solution, they are doing so with budget top of mind. However, it is also important to do a correct analysis of total cost over time. As the days go by, a solution that may appear to be of great value up front can turn into a money drainer down the line as unforeseen maintenance can eat away at your budget.
It was also clear when IT leaders were asked about the topic of cost cutting that they prioritize much of their IT budgets to making sure new software fits into their existing tech environment. 37% of IT budget is spent on ensuring proper solution integration. This is over a third of the total budget, meaning easy integration would be at the top of their wish list. Think of where that budget could be used elsewhere as an IT leader. Instead of being on the defensive when it comes to resolving order errors and tickets, IT leaders can take a more aggressive approach to using IT budgets for visionary projects.
2. IT departments are profit drivers
Alternatively, Sana Commerce CPO Arno Ham recently interviewed IT Manager Willem Pretorius of Montego Pet Nutrition for the B2B E-commerce Integrated podcast. Pretorius highlighted how SaaS solutions especially are able to lower his organization's TCO by automating B2B e-commerce processes that once consumed much time and labor. He was proud to say that the money saved by his IT department was able to be used for smartly targeted marketing campaigns, which helped expand Montego's customer base. Pretorius' commercial team colleagues are thrilled with the growing ROI they see from their web store.
Access untapped IT insights
Download the latest report on the risks and costs associated with bad B2B e-commerce.
3. Eliminate web store downtime for better results
Every time your B2B e-commerce solution malfunctions, it affects the bottom line of your organization. Orders at risk are just the tip of the iceberg when it comes to issues caused by web store downtime. In fact, our study found that 188 orders per month are at risk due to web store downtime. 188 orders in limbo makes up a significant margin that can be the difference between a successful month or a month of potential revenue loss. Importantly, our research found that the value of these orders at risk averages out to be over $265,000. For any organization that is budget conscious, this is a staggering figure.
4. SaaS solutions keep your web store running 24/7
This makes it clear that avoiding web store downtime should be a top priority for IT leaders. Many of those we surveyed felt that the only way to truly guarantee uptime is to invest in digital process automation. By putting maintenance responsibility into the hands of the solution itself, you eliminate the need for labor resources to be diverted to fix the solution. This is another area where SaaS can be the hero. By running your web store safely through the cloud, you have the opportunity for fixes and patches to be run automatically before you even notice that something is wrong. Opting in for automatic updates gives IT leaders an edge by taking manual updates off their to-do list.
5. Frustration leaves IT leaders looking at their options
If your B2B e-commerce solution pain points are making you want to tear your hair out, take comfort in the knowledge that you are not the only one. 92% of IT leaders report at least one frustration with their B2B e-commerce solution. This jaw-dropping figure paints a picture of IT leaders whose expectations and needs aren't being met by their software vendor. It is important that these IT professionals use their knowledge and expertise to align their software purchase with clearly outlined IT needs.
A misaligned B2B e-commerce solution can eat away at budgets, dominate labor time and cause friction between your IT department and your organization. Not to mention the harm it can cause to the business relationships with customers your business has spent years cultivating. An aligned B2B e-commerce solution should prevent downtime and support the goals IT leaders want to achieve with digital process automation.
6. Achieve automation through prioritizing integration
When you choose B2B e-commerce that fits easily into your tech landscape, you are able to speed up processes through syncs and automations. Processes like pricing changes and product launches can automatically be added to your web store via the power of your ERP. Earlier we talked about how this integration is crucial to lowering your total cost of ownership, freeing up budget for other priorities. But through automation, integrated B2B e-commerce can also free up your team's labor responsibilities and imagination. You could devote more resources to visionary IT roadmap projects that can make you the most future-proof organization in your industry.
Ronnie Hollemans from construction part wholesaler Polvo discussed what visionary IT leadership can look like in another episode of the IT Stand Up. Even in a more traditional working organization, Ronnie has inspired his own IT department and commercial teams to start thinking about IT as more than just ticket solvers. Automation helps Hollemans handle complex pricing updates with ease, freeing up his time to pitch new tech to make Polvo more future facing.
7. Guarantee B2B e-commerce impact is positive
Whether for better or worse, the impacts of B2B e-commerce cannot be denied. When the solution is misaligned, it can cause headaches and issues for years. However, when IT leaders make their voices heard and outline their preference for integration, they often find that the result is a domino effect of eased labor burdens and near-complete digital process automation. If you would like to know more about the impact of B2B e-commerce on IT as it relates to risks and costs, check out "The ripple effect of misaligned B2B e-commerce" available here. And keep an eye out over the next few months for the second and third editions of our reports on how IT leaders see B2B e-commerce.
A mile in their shoes: What IT pros really think about bad B2B e-commerce
Learn what IT leaders think about the challenges, opportunities, business impact and more when it comes to B2B e-commerce.