Black Friday Promo | Up to 64% off all SCC implementation packages | Valid till the 22nd of December | Available now
ERP integration guide: Everything you need to know
Where does all your business data live? And is it all accurate across systems and departments? If your answers are "all over the place" and "definitely not," you're not alone. Learn everything you need to know about using your ERP to create a single source of truth to share data across systems and improve business efficiency.
What is enterprise resource planning (ERP)?
Enterprise resource planning (ERP) software is used by businesses of all sizes to streamline and automate business functions. This could include components such as e-commerce, customer relationship management and human resources. The main allure of using an enterprise resource planning system is that is acts as a centralized place (i.e. single source of truth) for a lot of different processes your entire company uses. On top of that, it automates processes that would typically need to be done manually. For example, an ERP could take information from a sales order and automatically send its relevant financial data to your company's accounting program. Not yet using an ERP? We've outlined the top five benefits of an ERP for you in this blog.
Report: 84% of IT leaders say their e-commerce solution has negative impact on the business
Learn what IT leaders have to say about e-commerce and the impacts it has across the business.
What is ERP integration?
The definition of ERP integration is exactly as it sounds: ERP integration is the process through which an organization connects their ERP with another system or application. It can refer to the connection of your ERP to one application or many. Most businesses use more than one system throughout the entire organization to manage various business processes. These business processes can include an online portal, CRM, EDI, PIM, or even analytics tools.
In short, connecting all the points a business leverages to input, manage, track and output data that are meaningful and important. For instance, an e-commerce storefront is where a visitor submits a lead, requests a demo, and/or purchases a product. A CRM is software you might use to manage lead data such as requirements, point of entry, lead quality, position in the sales pipeline, customer details and transactions. So, in general, it is also necessary that your ERP software communicates with all other platforms and synchronizes data from omnichannels. That's what ERP integration provides you with.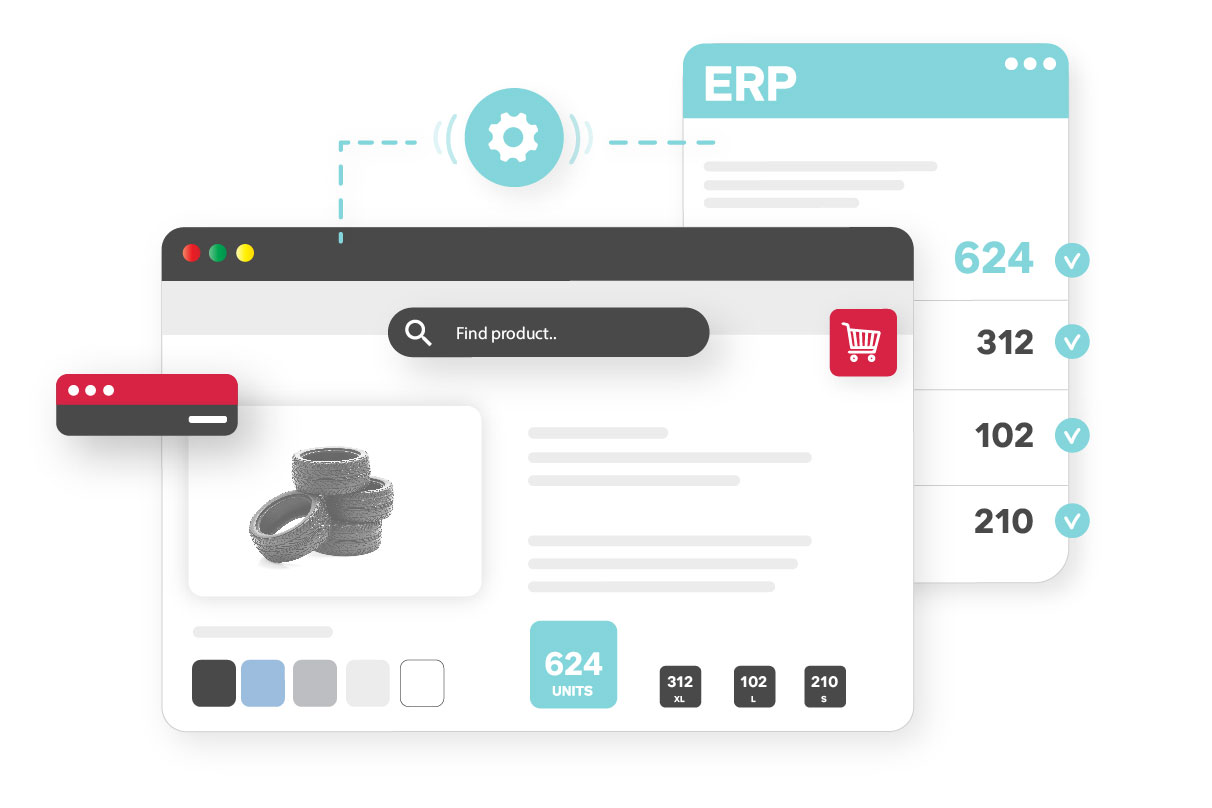 What are the benefits of integrating your ERP?
What are the benefits of integrating your ERP with other systems in your tech stack?
Single source of truth
Integrating your ERP system(s) with other systems in your tech stack ensures that data from different applications, such as your e-commerce and CRM, remain updated in your ERP software. People from various teams and departments have access to omnichannel business data. For Instance, the inventory management team would have access to the real-time inventory of products available in your online portal and can immediately act if there is a shortage of products. Additionally, by using all the data from your ERP to inform other systems, ensures that you maintain one single source of truth for all business information — giving employees a consistent place to go to for data in case there are any discrepancies.
Automated business processes
Your ERP is home to all the information that keeps your business running smoothly: product specifications, pricing details, customer information… Everything your business needs to maintain daily operations. A lot of key business data comes from other applications in your tech stack, such as your product information management (PIM), customer relationship management (CRM), e-commerce platform, and so on. It is critical that these systems remain "in contact" with one another and constantly update and inform each other with the same information. This can happen only by integrating your ERP with these applications. The alternative? Manual data entry. ERP integration helps you streamline business processes and workflow across various office departments.
Reliable, real-time data
We now know that ERP integration automates business processes and reduces the amount of manual work needed for data entry. Because of this we also know that it reduces the risk of mistakes and reduces the odds of data being wrong due to human error. The accuracy of data in ERP software increases as a result of teams working with the right data. For instance, without ERP integration, the operations team would have to manually make entry of customer orders from e-commerce, which is error-prone, ultimately leading to the wrong products being delivered and/or sales personnel approaching leads with incorrect requirements.
Not only that, but you also benefit from real-time data when your ERP is integrated with other applications, since data is synced from one application to the other in real-time, all the time.
Improve internal efficiencies
By eliminating one of the most time-consuming parts of the work (manually entering data into the ERP) you are gaining time that can be better spent on other areas of the business. Since ERP integration makes accurate real-time data available in the system, you can easily make use of the data to derive high-level actionable insights and make decisions that help take your business to the next level.
Streamline your workflow
Integrating your ERP with your primary business tools, such as project management, enables the centralization of work-related data. This means everyone in the company will be able to see what others are working on, and you can set priority levels to employee tasks and schedule processes. Also, knowing what teams are working on will not only help you understand whether the on-going activities are aligned with business objectives, but also make modifications in tasks wherever and whenever necessary. For instance, if you had asked for a project report from your employee but see that they are working on a priority development task in a project, you can then reschedule the task you assigned accordingly.
Accelerate business growth
Accelerated conversions in sales mean more website visitors are getting converted into leads and more leads are getting converted into customers in shorter time spans, compared to what it was before integrating your ERP application. Lead information from CRM and e-commerce immediately flows into e-commerce, which enables all departments to collaboratively work towards specific customer demands and needs. More and more leads are processed effectively in less time, which provides a dual advantage of increased customer satisfaction as well as business revenue.
Looking for more IT-specific content?
Tune into the B2B E-commerce Integrated podcast, where we interview IT professionals on their experience with digital trends and transformation.
Who benefits the most from ERP integration?
The beauty of ERP integration is that everyone benefits. People within your company, customers, prospects, you — everyone. Here's how:
Marketing & sales
In marketing, employees are sometimes fearful that responsibilities in the department will change completely as a result of ERP integration. A marketing manager may be concerned that revenue data could be impacted as a result of the integration. However, by integrating your ERP with other business applications, the marketing team will benefit from more accurate data and more insights from other departments.
Finance
Your financial officers will naturally have concerns about the TCO of integrating your ERP. However, ERP integration is more cost-effective in the long term. ERP integration reduces TCO because the primary expenditures occur in the OPEX, making this a worthwhile, long term investment.
Let's look at an example of ERP integration with an e-commerce site: One of our customers, Moto Direct, implemented a Sana Commerce web store. (For reference, we sell a B2B e-commerce platform that integrates directly with Microsoft Dynamics and SAP ERPs.) By integrating their ERP with their B2B portal, Moto Direct reduced their TCO by 27%. For more information on e-commerce and TCO, our own Robert Pennings says it best in this video. Businesses can start making near-immediate returns on their investment in a new digital strategy, meaning the bottom line never has to take a hit.
Your customers
Customer experience is everything these days. Especially if you operate an e-commerce platform or B2B portal, the type of experience you provide customers online is the defining factor in whether a customer will purchase from you or not. In the B2B world, we see more and more buyers expecting the same experiences they have in their private lives. Yet, according to the latest research on over 1,200 B2B buyers, respondents reported struggling to:
Find the right product (32%)
Find consistent information across different channels (29%)
Get accurate pricing and stock data (29%)
With an online store that is natively integrated with your ERP (like Sana Commerce's), customers can see accurate product and stock information 24/7 since changes made in your ERP are reflected in real time in your web store.
IT
A key advantage of ERP integration is that only one database needs to be maintained. With an integrated database, the IT department can:
Ensure better security and accuracy across all applications
Spend less time maintaining multiple databases
Help the organization scale faster and more efficiently
Prioritize more important goals and value-added initiatives since they can now spend less time on fixing multiple systems
Additionally, since 2020 the labor market has become more and more competitive. Skilled workers are harder to come by, which puts more pressure on existing employees within the IT department. By integrating your ERP, you're already one step closer to reducing the amount of IT labor needed to keep your tech stack running smoothly.
Types of ERP integration
Product information management (PIM)
Managing product information across the supply chain is no easy task. But it can be made more efficient and streamlined with a product information management system. A product information management (PIM) system stores and shares product information with other applications in an organization's tech stack. PIM systems can be integrated with your ERP, as well as your e-commerce store. Having a PIM system can reduce costs and greatly improve logistics throughout your supply chain. Plus, when you integrate your PIM system with your ERP, you benefit from having all your product information available in one system.
Customer relationship management (CRM)
CRM ERP integration is useful in order to collect and store customer data in one place. Integrating your CRM and ERP is essential in order to avoid siloed data and inaccurate information across the two systems. CRM and ERP systems can contain similar, if not the same, information, for example, a customer's name and email address. When you integrate the two systems, you no longer need to enter this information separately into two different systems.
E-commerce
ERP e-commerce, or integrated e-commerce, refers to — you guessed it — integrating your ERP to your web portal or web store. Much like integrating your CRM to your ERP, integrated e-commerce ensures that all data is stored and maintained in a single database (your ERP). The connection between your ERP and web store works both ways: any changes made in your ERP will be reflected in your web store and any changes made in your web store will be reflected in your ERP. So, no matter where changes are made your information will always be the same across both systems.
There are varying levels of integration when it comes to ERP e-commerce — the type of integration you choose is highly dependent on your business needs. Learn more about the different types of ERP integration in the next section.
Online marketplace
An online marketplace is a type of web portal that connects sellers with buyers. Also known as an electronic marketplace or e-market, it is used primarily by companies to reach customers in other places than just their own e-commerce store. Examples of online marketplaces include Amazon, eBay, Craigslist, Etsy, etc.
ERP marketplace integration connects your ERP with the already-existing customer bases of electronic marketplaces — improving the order management process and overall flow of information from your chosen marketplace to your ERP, and vice versa. To learn more about ERP marketplace integration, check out the comprehensive guide here.
Trying to convince your internal stakeholders about e-commerce?
Here's a free PPT template to help you build your business case. Includes step-by-step instructions, useful stats and more.
ERP and e-commerce: How can I connect them?
There are four different types of e-commerce you can use to connect with your ERP.
Native ERP integration
Shopping cart
Third-party connectors
Interfaced
Native ERP integration
With native ERP integration, the solution builds your e-commerce platform into your ERP, making your ERP and e-commerce work as one. This solution integrates front- and back-office systems to provide unified data across both your ERP and e-commerce. The main benefit of ERP-integrated e-commerce is that any change made in your ERP will be reflected in real-time in your web store. This guarantees 24/7 accuracy on all web store data. It also means less work on your internal teams because they only need to maintain one database and make changes to one system. Our own e-commerce platform, Sana Commerce Cloud, is an example of a native ERP-integrated web portal.
Shopping cart software
Shopping cart software is a "mainstream" e-commerce solution, built for less complex, B2C use cases. Examples of shopping cart solutions include BigCommerce, Shopify, WooCommerce and Adobe Commerce (formerly known as Magento).
Third-party connectors
Connectors refer to a third-party application that is used to connect an e-commerce platform to an ERP system. This type of connection is not integrated and therefore data is not synced in real time between your web store and ERP.
Interfaced
An interfaced e-commerce solution superficially connects your e-commerce site with your ERP. An interfaced solution is not built into your ERP, but rather on top of your ERP and still requires a connector in order to sync data between your ERP and online portal. Just like with shopping cart software and third-party connectors, some data that already resides in your ERP has to be recreated in the application due to the limitations of the software.
To learn more about ERP e-commerce, how it works, benefits, and other practical insights, check out our blog: Enterprise resource planning: How ERP and e-commerce can benefits your business
Key takeaways
Integrating your ERP streamlines the flow of data across multiple systems or applications.
By integrating your ERP, you can create a single source of truth for all your business and customer data.
ERP integration is beneficial to not only your internal teams but your customers as well. It's a scalable way to build off your existing ERP investment and enables you to capitalize on the time and money that has gone into your ERP already.
To learn more about the benefits of integrating your ERP with your e-commerce store, check out our full white paper: The Benefits of Integration.
Want to learn more about ERP integration for e-commerce?
Get our guide on the benefits of integration.