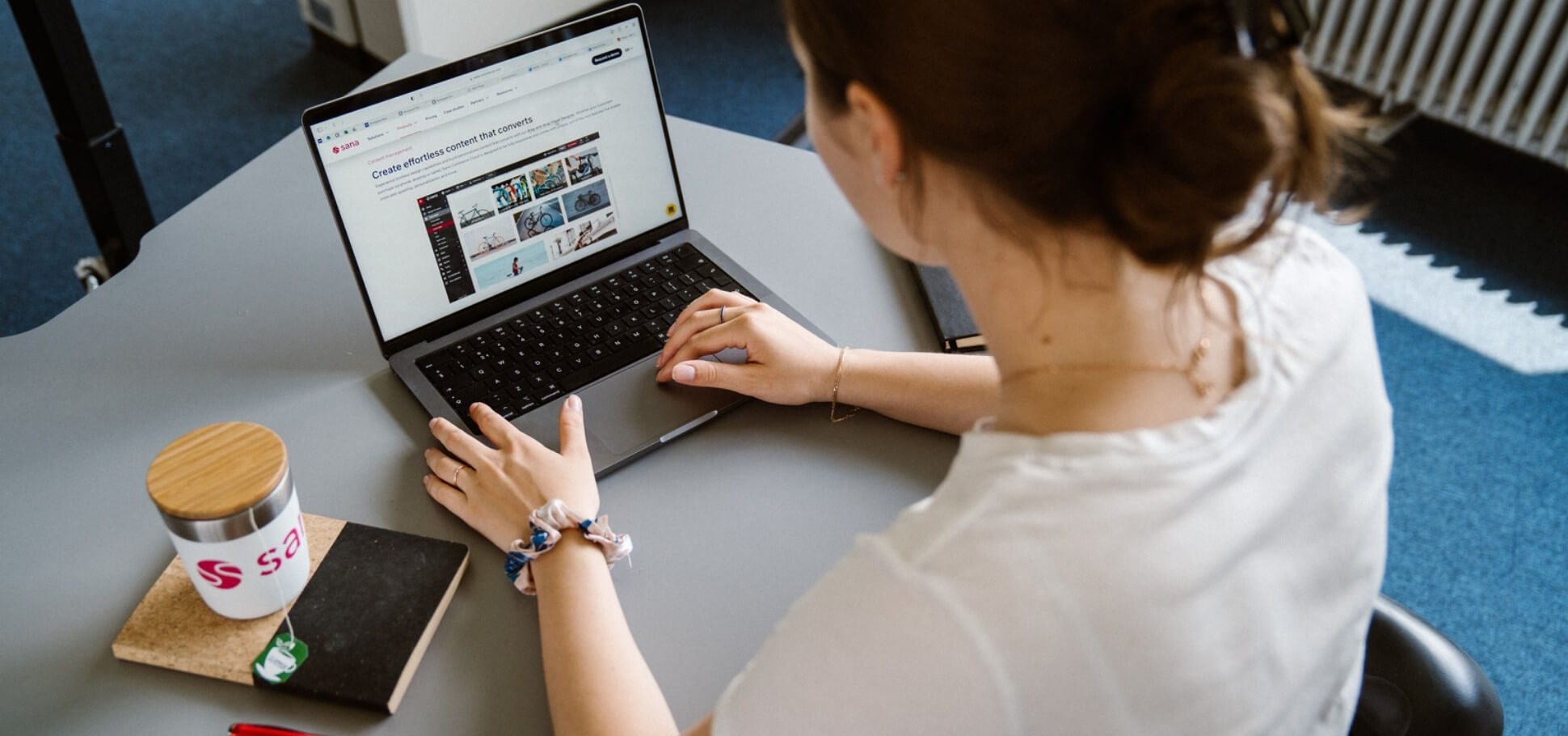 Sana Commerce Cloud (SCC) is the only ERP-integrated e-commerce solution built to enable business evolution, as well as foster lasting customer relationships. With recent success stories such as Symbex and Contiweb, more B2B organisations are leaning on our SaaS solution to implement e-commerce that is agile and scalable.
We spoke to Sietze Meijer, Sana Commerce's Head of Product, for some of the most common questions we get asked about what implementing Sana Commerce Cloud might mean for an organization. Plus, he shares some exciting recent updates, and what they meaning for organisations opting for SCC today.
What is the main advantage of using SCC over a customized Sana Commerce solution? Are there any pros for the latter?
When Sana Commerce made the decision to create a SaaS product, it was really a result of multiple conversations we'd been having with customers who were struggling with version-to-version upgrades.
Version updates can be a cumbersome and expensive way of going about your e-commerce solution.
A SaaS approach to e-commerce allows you to adapt features that make sense for you, as well as receive a continuous value stream in the form of new features and fixes.
To keep it simple – it's a better investment for your organization.
The only situation in which we might genuinely recommend a custom solution is if your strategy for the considerable future is set in stone, and you don't anticipate your needs for e-commerce evolving as your business does. A rare scenario indeed!
How do you decide what updates to implement for SCC?
Our product roadmap is the blueprint we try to follow when it comes to implementing updates on SCC. This is something we develop and share with our customers, partners, and even prospects, to give an indication of what we're planning, as well as what's upcoming.
Feedback from our customers is an integral part of the process. Beyond this, we're always studying the e-commerce landscape and market, as well as the latest developments in software and technology.
If you have an idea you'd like to submit, or you wish to review some of the submissions other customers have made, you're welcome to do so on this page on our support site.
When it comes to product features, which have shown most impact on customer web stores?
Some of the most impactful product features we've observed across customer web stores include:
This product feature empowers organisations to create modern looking webstores that are built for growth, all without a design team.
Personalizing the look and feel of your web store is possible with our editable pages function.
An impactful functionality for customers with large inventories, product grouping allows you to streamline the buyer process and create seamless shopping experiences.
Since the relaunch of our flagship payment system, purchasing becomes a pain-free and manageable process.
Discover Sana Commerce Cloud
Watch a demo video or speak directly with an e-commerce expert.
Is SEO a priority for the product team? What recent updates might make a positive impact for Sana web stores?
SEO support and ensuring our customers are able to leverage their SEO channel is definitely a priority for the product team at Sana Commerce. Preparations for next year's roadmap are well underway, and we've put a lot of focus into building out marketing & sales enablement topics, which include SEO & personalization.
We're also quite proud of the recent updates that have been made on SCC with regard to building out and customizing your own blog. These will help customers tremendously when it comes to their SEO efforts, and we're committed to continuing to try and improve them.
Recent updates to SCC have made Sana Commerce web stores far more customizable in terms of design and UX. Can you talk through these?
As mentioned before: almost any page in Sana Commerce is now editable, using the Visual Designer. This means that customers have far more control, in greater detail, of what is shown on a page, as well as how it is shown. This flexibility empowers customers to create a distinctive brand image and voice, something we see as increasingly essential in the competitive B2B e-commerce space.
Very recently we have introduced functionality that lets our customers show data in the webstore that is not currently preconfigured through content elements or add-ons. This functionality is an answer to the request of many customers that wanted to show specific ERP-data on pages. However, the same feature will allow you to collect data from different sources and show this in the webstore. The result is a web store that is able to provide customers a holistic overview of their products, pricing structures, and agreements in a visually pleasing way, with a seamless back-end system to maintain that information.
What product features would you suggest utilizing to the CRO Manager of a web store? If this varies greatly between store to store, are there any success stories that come to mind?
Some recently released features we recommend CRO Managers look closely into include:
Blog: Ssable on any page, enabling you to post relevant content to specific products and create relevant pipeline for customers in the consideration stage of your funnel.
OpenAI Product Descriptions: We just released this feature and I think it's vital for any online marketers in e-commerce. This AI feature creates rich product descriptions based on the product data in your ERP or PIM system. It then displays this within the content element on your product page. Pretty cool, huh?
Product Recommender: Using AI and data from the customers' web store and ERP, this functionality creates an opportunity for upsell and cross-sell, even if there hasn't been any past indication of purchase.
Sana Pay+ : Offers a smooth checkout-process and ease of payment for customers, removing friction and allowing you to capture greater demand.
A great success story when it comes to Sana Commerce Cloud includes Symbex, who saw a 10-15% increase in new customers after implementing Sana Commerce Cloud. Being able to update products, scale product lines, and maintain the web store quickly and easily with a small team was a crucial component of their success and SCC was able to provide just that.
Symbex is really one in a growing pool of customer stories we're hearing about how beneficial SCC has been as a scalable, reliable, and efficient e-commerce tool. It's encouraging to see how successful it's grown to be, and we take feedback very seriously to ensure we're providing the best product we can be, regardless of your specific requirements.
Discover Sana Commerce Cloud
Learn more by watching a demo video or speaking directly with an e-commerce consultant.