Blog
3 minutes
SAP Commerce Cloud (Hybris) vs. Sana Commerce: Comparing enterprise e-commerce solutions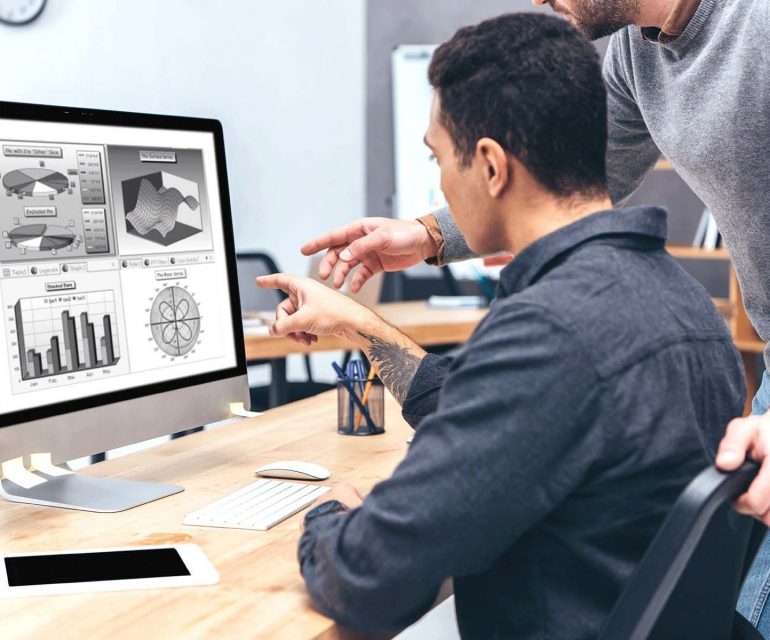 When choosing between enterprise e-commerce solutions, you're often faced with a unique dilemma: there is never one, clear, "best" enterprise e-commerce platform. But fortunately, you can decide what factors matter most to you and select the best enterprise commerce platform for your business — whether that's Sana Commerce, SAP Commerce Cloud (formerly SAP Hybris), or something else.
Commerce platforms designed to cater to the complex needs and ambitious goals of enterprise businesses are often all top-notch when it comes to native functionality, support for multiple or hybrid business models, and back-office efficiency. It's only logical that a solution built to enable success for massive organizations must be equipped to handle the intricacy that comes with it, but that doesn't mean all enterprise commerce solutions are created equal.
For some businesses, the final tie-breaker between options on their shortlist boils down to cost or the ability to leverage one solution over another to meet specific business needs. Some make this decision based on the brand reputation of the commerce partner and default to the most recognizable name on the list. The right answer, for each organization, will vary.

Choosing between enterprise e-commerce solutions: A guide
If you're on the hunt for an enterprise e-commerce solution and aren't sure where to start (or want to narrow down your shortlist), we can help. Here are some key factors to look out for in your selection process — and a handy 3-point assessment of how Sana Commerce compares to a SAP Commerce Cloud solution.
1. Laser focus on best of breed e-commerce, not on a product suite
While Sana Commerce and SAP Commerce Cloud can both support and accelerate growth for large businesses with complex processes, there are critical distinctions among the platforms that may not become apparent until you've dived into each solution in detail.
Sana Commerce uniquely focuses its business offering on accelerating growth and strengthening business-consumer relationships with a reliable, scalable online commerce solution. Our direct integration with SAP ERP systems allows us to easily, accurately and efficiently handle challenges like highly complex pricing and coveted web store functionality like populating real-time inventory data.
Unlike SAP Commerce Cloud, there isn't any additional fluff and fuss; we're not concerned with a full product suite (like SAP C/4HANA: one platform including not just SAP Commerce Cloud for e-commerce, but also marketing automation, CRM, etc.) that we piece together into one offering.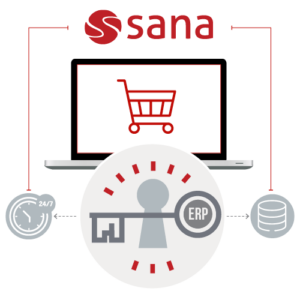 Although you can run SAP ECC or SAP S/4HANA and just purchase SAP Commerce Cloud, the fact that the product is one part of a larger suite speaks to the intent of the suite itself: to create a lock-in effect where customers are encouraged to bundle all modules included in the offering, and not to select a less interconnected combination of e-commerce add-ons across vendors or suppliers (even if that is a stronger fit for your business).
At Sana, we offer a highly configurable, complete commerce solution that's centered solely around enabling limitless business success with e-commerce. We will refer to this distinction as best of the breed (Sana) versus best of suite (SAP Commerce Cloud) commerce.
Our certified, seamless SAP ERP integration (for SAP ECC, SAP S/4HANA), our productized and custom add-ons, a native CMS, and everything that comes with a Sana Commerce solution is designed to strengthen your business by centralizing it around a robust online sales channel and a single data hub or source of truth.
As a best of suite solution, SAP Commerce Cloud offers (of course) a consistent user experience, but it is a one-size-fits-all fix, which often leads to disadvantages like watered down features, a less-tailored solution, and reduced flexibility. The risk involved on the business side is also higher, because when something goes wrong in one SAP C/4HANA module, it's tougher to identify the source of the issue across the full suite. With Sana, we can clearly identify and isolate the source of any issues by running integrity checks on both the ERP system and the Sana web store side. Coupled with our ability to easily run quality checks into API calls and responses via a debugging tool or performance profiler, these standard processes give us key insight into potential challenges before they arise.
With best of breed platforms like Sana's, you have robust, tailored-to-your-need features and the independence to choose the combination of add-ons you would like to enrich your e-commerce experience (for example, you can choose Perfion or InRiver as your PIM solution, as opposed to being locked into the default or preferred option included in a suite-centric solution).
2. Fast time-to-market and speed of implementation
Probably one of the most notable distinctions between Sana Commerce and SAP Commerce Cloud is the speed of implementation. As an enterprise organization, it makes sense that with a sizable commerce platform investment, you'd also like to benefit from a fast time-to-market. With Sana, that's a guarantee.
No matter the complexity of your e-commerce project or the degree of customization required to bring your dream web store to life, we at Sana pride ourselves on delivering the best quality experience within the shortest possible timeframe. We get it; and we want you to start driving revenue and seeing a return on your investment quickly, too. If you're succeeding, so are we.
On average, we hear from prospects that other enterprise commerce platforms, like SAP Commerce Cloud, estimate long project lead times with an implementation timeframe as long as 18 months (or more). This also includes the necessary data replication and synchronization that required with commerce platforms that are not integrated in real-time with the ERP. Plus, it's largely understood that the platform is primarily suitable for organizations with advanced technical resources or a strong systems integrator (SI) partnership — so the workload and FTE required to get your enterprise e-commerce solution up-and-running are also relevant contributors.
Sana is an agile, turnkey solution that's ready to get up-and-running as soon as you are; our out-of-the-box solution can be implemented in as little as 90 days. Plus, keeping your TCO low can enable you to more seamlessly and easily scale, evolve, and spend budget elsewhere at a later time.
3. Total cost of ownership (TCO) or true lifetime cost
Total lifetime cost, or total cost of ownership (TCO) with a software solution involves multiple factors: licensing, hosting, implementation, customization, service costs and maintenance costs (in time and workload).

First things first: one of the factors that will influence cost, and is also a massive differentiator between solutions, is that SAP Commerce Cloud does not offer an out-of-the-box (OOTB) integration with your SAP ERP. Most times, the solution requires middleware or works with business logic on the front end (like with interfaced, or not truly integrated solutions). This results in a more complex technical ecosystem, with more moving parts, a lack of real-time data integration, and higher risk. If you can't focus on a single, centralized tech stack, there's more opportunity for different parts of your pieced-together solution to pose a challenge.
With Sana, our integration allows you to leverage what's already configured in your SAP ERP without an unnecessary hassle.
Click to see how we use your SAP ERP data to power your web store features and functionality.
With SAP Commerce Cloud, implementation is not included in the pricing structure and is — rather — typically provided by agency partners. The solution is sold through a subscription-based model, which includes a software license, service costs, and hosting costs. Following the rebrand from SAP Hybris to SAP Commerce Cloud, pricing for the solution is no longer publicly available, but feedback on crowdsourced review sites like G2 Crowd (as well as insight from the SAP partner network) still details high cost as a notable detractor.
A dive into enterprise e-commerce solutions: Key takeaways
Looking for a solution to help you centralize product content to use across channels? To help you launch multiple sites quickly and reach new markets? To centralize order management and inventory distribution from one place? To consolidate once-siloed business data? To serve an omnichannel, B2B, or B2C use case?
If you answered "Yes" to all these questions, both SAP Commerce Cloud and Sana Commerce may be the right commerce platform for your organization. But if you're also worried about minimizing total lifetime cost, maximizing ROI, and executing quickly, Sana Commerce becomes a clear winner.
Browse our E-Commerce Software Decision-Making Guide for more insights, or see customer-reported data on how a Sana solution has impacted clients' successes.
Use our free Total Cost of Ownership (TCO) calculator to estimate the long-term total investment of your e-commerce project.