Blog
2 minutes
SAP e-commerce solutions: Which ones are truly integrated?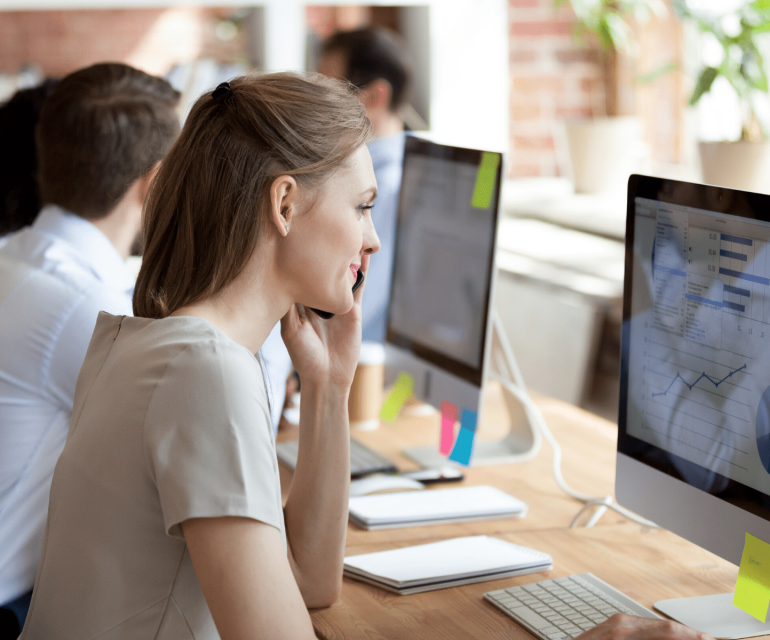 If you're looking for an e-commerce solution that integrates directly with your SAP ERP, you'll find many vendors who claim to offer integration. But is the integration they are all promoting truly happening in real time? Is it that simple? What might you be missing, and what are the differences between providers?
We're shedding light on why Sana Commerce Cloud's true real-time integration is unique, and what the risks are of choosing a provider that doesn't offer the same kind of alignment between e-commerce and SAP ERP systems.
What direct SAP ERP integration really looks like
An integrated SAP e-commerce solution accesses the business logic directly inside your SAP ERP system. It uses the data stored in the ERP to map out all data and calculations necessary for your web store. In short, your ERP is the engine that powers your web store.
Example scenario of seamless integration: A company decides to change the price of a product: screw #V271. The information is changed directly in the ERP business logic. And this information change is reflected in real time in the web store.
To enable seamless integration with SAP, a direct installation of web store items in your ERP is required. These objects must speak the same language as the SAP ERP. Only under these specific conditions can a seamless, real-time data exchange take place between your ERP and web store. The result of a seamless data exchange is a completely automated ordering process.
Here at Sana Commerce, we call this powerful integration a seamless integration into the ERP system. With other providers, their claim of integration often does not mean a real-time data exchange, and frequently requires you to install middleware to facilitate communication between your SAP ERP and your web store.
Read the white paper "Interfacing vs. Integrating: What's the Difference?" to learn more about the distinction between true integrated e-commerce and interfaced, or "almost" integrated solutions.
A look at solutions not directly integrated, or interfaced solutions
There are many e-commerce solution providers on the market, who claim that they offer an integration into the ERP system (for example, SAP Commerce Cloud, also known as SAP Hybris). Read our blog here to see how Sana Commerce Cloud compares, and why their integration claim falls short.
For instance, according to a recent report published by software review platform G2 Crowd, Sana Commerce Cloud ranks higher than SAP Commerce Cloud in over 20 categories of measurement for B2B e-commerce, including ease of setup, quality support, B2B features and more.
As we've covered briefly, the big difference with these interfacing solutions or indirect integrations is that multiple systems are required to enable integration, instead of just one. These solutions only provide the web store itself (the front end), and a connector is needed for the web store solution to connect to the ERP.
Example scenario of indirect integration: A company decides to change the price of a screw V271. This information change is requested by the company employees to the database connector. The connector, in turn, requests the information from the ERP at certain times and synchronizes the data in its database. The price of the V271 screw in the ERP is for a time different than the one on the web store.
Two databases – the connector's database and the web store – have to be constantly synchronized and maintained. The data is transferred from the ERP to the web store with an intermediate step. This cannot be described as true integration.
Let's visualize this.
The connectors: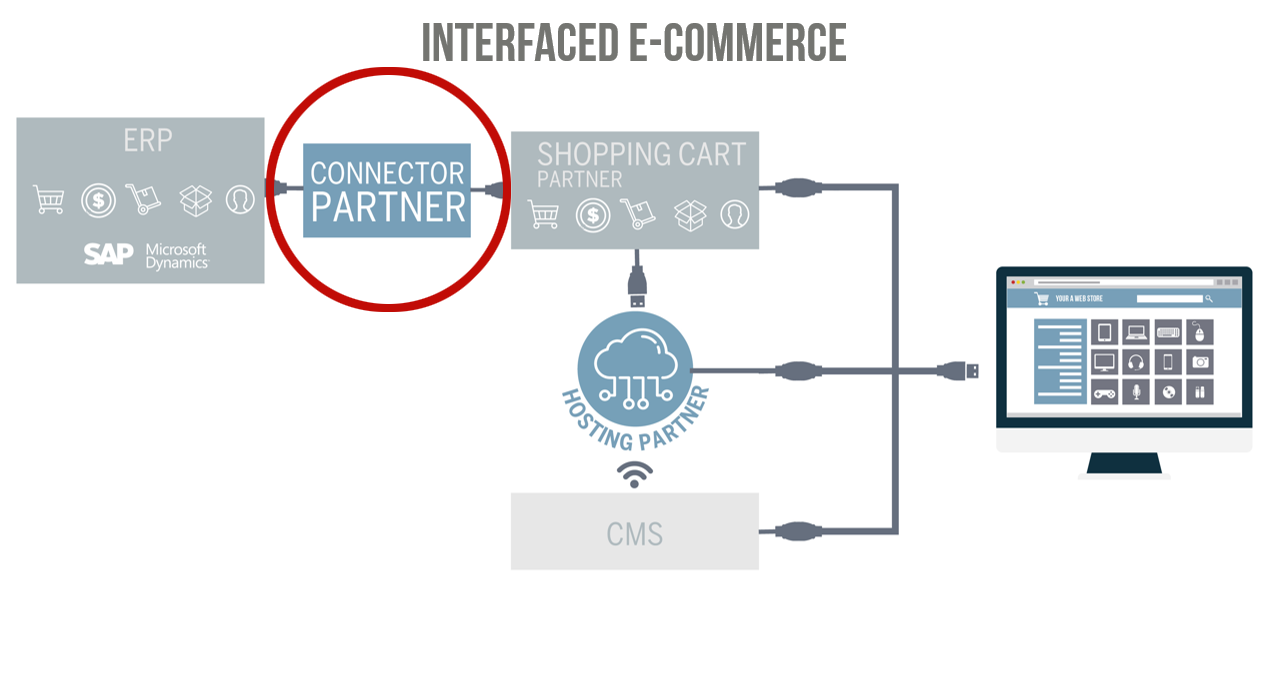 Instead of your web store extracting data directly from the ERP system, a middleware (connector) is used, which pulls the data from the ERP and forwards it to the web store. The ERP system is connected to the web store or the shopping cart via this middleware.
E-commerce solution providers who integrate their solutions via a connector include k-eCommerce, Magento and Oxid. An example of a connector is i95Dev's SAP-B1 Connect, which connects SAP Business One to the shopping cart software Magento. Oxid for example, uses the integration software from HONICO eBusiness to connect its web store e-commerce solution Oxid eSales to SAP ERP. For these e-commerce solutions, integration with the ERP system without a third-party connector isn't possible.
The shopping cart solution:
A shopping cart software is just the front end of a web store. The shopping cart software has its own database structure, and orders received online must be manually transferred to the back office. Even with shopping cart software, there is no integration to the ERP system without a third-party connector.
The interfaced solution: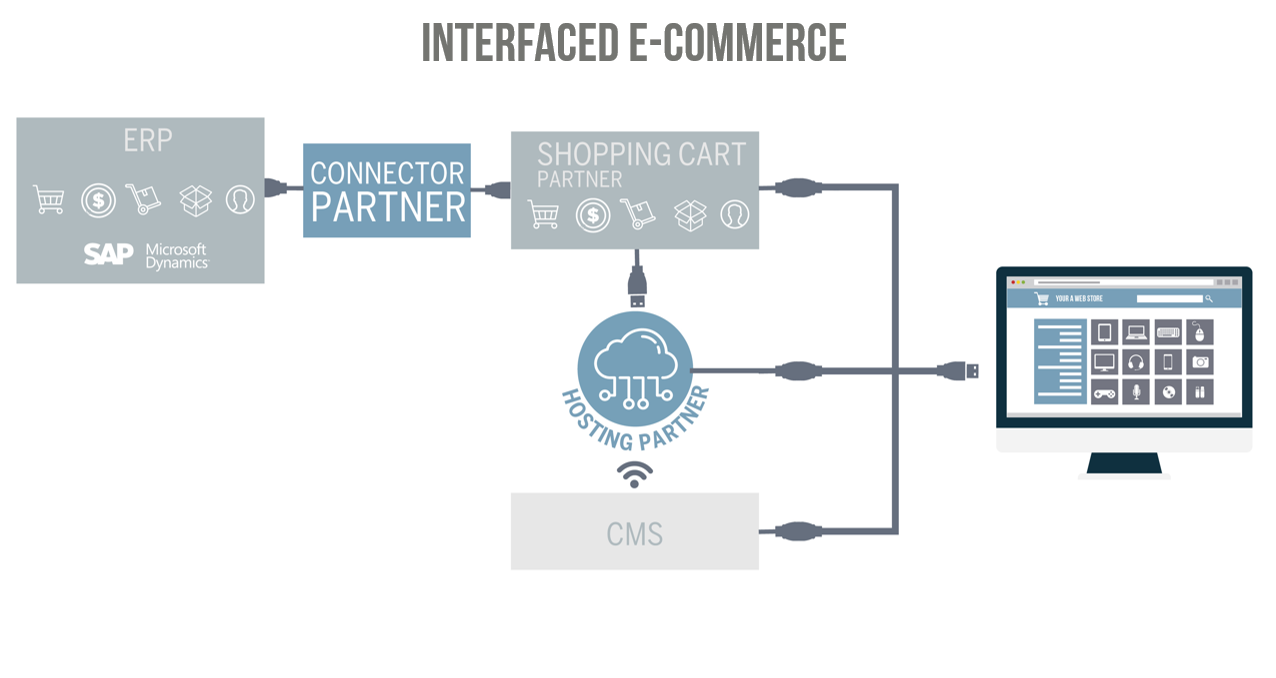 In contrast to integrated solutions, interface solutions connect the web store to the ERP via many interfaces. The web store has its own table structure that needs to be synchronized with the ERP. The data from the ERP is therefore delayed and not displayed in real-time in the web store. There is a constant need to maintain two systems.
The interface solution offers all functions, including integration to the ERP. The big difference with this solution is that it's connected by integrations. Therefore, this solution brings with it the same challenges as connectors and shopping cart software.
Looking for a B2B e-commerce portal for your SAP ERP?
Download the factsheet to learn how we can build a web store from your ERP.
Sana Commerce Cloud vs. SAP Commerce Cloud (aka SAP Hybris)
SAP Commerce Cloud (aka SAP Hybris) falls under this type of integration. SAP Commerce (Hybris), for the enterprise market, is associated with extremely high costs and, according to Forrester, it's only suitable for companies with a high level of technical knowledge.
The implementation process of e-commerce SAP Commerce Cloud in combination with SAP ECC is usually lengthy and complex. After the implementation, you have to count on higher maintenance costs, as both systems have to be maintained. Another thing to take into consideration is that the implementation must be carried out by well-known third parties, like for example system integrators and partners. At Sana Commerce Cloud, this task is carried out internally by our product and development team, who know SAP ECC inside out. That's why Sana Commerce Cloud ranks higher (76%) than SAP Commerce Cloud (72%) in ease of setup as voted on by real users.
Why choose true integration with your SAP ERP over an interfaced solution?
At Sana Commerce, we believe in an all-in-one solution that doesn't require third-party applications. All other types of solutions come with extra costs. On top of this, you'll be spending more time keeping both systems up-to-date and there's a high chance of your web store content becoming out of date. A directly integrated ERP solution not only saves money because you don't need a third-party application and implementation time, but it also saves time on future orders and web store maintenance. 
A seamless integration of your web store into your SAP ERP eliminates errors and is proven to increase customer satisfaction. And it's a game-changer in the market that's put Sana Commerce Cloud on the map:
"Sana Commerce is best for midmarket manufacturing or wholesale companies that run SAP ERPs."
Comparing B2B e-commerce solutions?
Get a side-by-side comparison of key e-commerce features from 3 top-ranking providers: Magento, SAP and Sana Commerce.