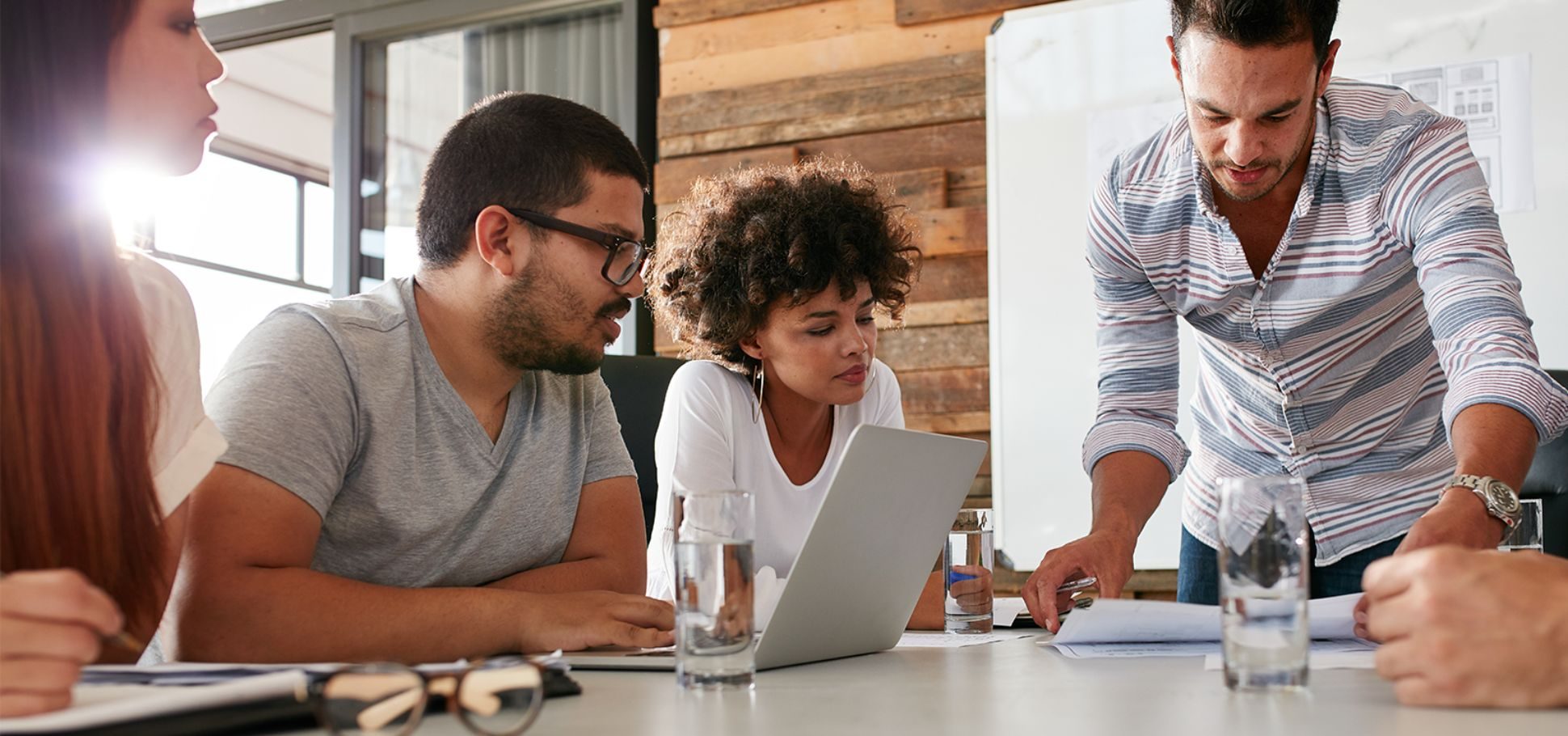 There are plenty of SAP e-commerce solutions available on the market today, making the need for diligent research especially necessary when selecting something for your organization.
SAP produces some of the most valuable Enterprise Resource Planning tools (ERPs) on the market. With your SAP ERP, you can unify all your back-end data, ensuring that everything from pricing, inventory, customer, and product data is synchronized across your internal systems.
But when it comes to getting that accurate data from your ERP to your e-commerce, things can get a lot more complicated.
That's why we've put together this guide which will show you which e-commerce solutions work best with your SAP ERP.
SAP B2B e-commerce: What you should know
For SAP users, the ERP is the source of all business processes and critical information. When considering an SAP e-commerce solution, keep in mind:
The size and capability of your IT teams.
The complexity present within your SAP ERP itself.
Platform scalability: Can your platform handle an increase in traffic and transactions as your business grows?
Security: Is your e-commerce platform robust enough to protect customer data and comply with regulations?
Business goals: Does the platform's user experience, customization options, and cost implications align with the specific needs of the business?
What are integrated SAP e-commerce solutions?
An ERP-integrated e-commerce solution guarantees your web store is able to present accurate, real-time data directly from your SAP ERP.
Integrated SAP e-commerce solutions are a great choice for B2B sellers. That's because they have a higher level of functionality, optimized user experiences, and stronger integration capabilities.
There's just one issue: lots of e-commerce solutions tell you that they integrate with your SAP ERP.
But sometimes that integration isn't seamless. Sometimes, that integration is only skin-deep.
Before you choose your e-commerce solution, you need to know how robust that integration is.
Looking for a B2B e-commerce portal for your SAP ERP?
Read more about how our e-commerce platform integrates with your SAP ERP.
Types of SAP e-commerce solutions
Many e-commerce solutions are compatible with SAP, but they aren't equal when it comes to the seamlessness of their integration.
ERP-integrated e-commerce
ERP-integrated e-commerce solutions communicate directly with the SAP ERP to allow for real-time data syncs and seamless information flow. These types of solutions leverage existing infrastructure and processes to provide a unified experience.
Also known as "front-end e-commerce", this solution provides a separate web store from the ERP system. These work by enabling customers to browse products, add them to a virtual shopping cart, and check-out online. When an order gets placed, the information is sent to the SAP ERP for further processing.
Shopping cart solutions on the other hand are completely standalone unless the customer chooses to implement a 3rd party connector to sync data between ERP and e-commerce.
These solutions require a third-party e-commerce system or platform (known as integration interfaces or middleware) to enable the exchange of data. These types of platforms are most used by businesses that already have an established e-commerce platform they want to connect with their ERP. In most cases, the connector is included with the solution.
Add-ons are additional software modules or extensions that can be integrated into the SAP ERP system, to enhance its e-commerce capabilities. These are designed to extend the functionality of the ERP without requiring the full investment of an e-commerce platform.
Report: 84% of IT leaders say their e-commerce solution has negative impact on the business
Learn what IT leaders have to say about e-commerce and the impacts it has across the business.
Popular SAP e-commerce solutions on the market
Popular SAP e-commerce solutions on the market
The most popular web portals that work with SAP ERPs include Sana Commerce, SAP Commerce Cloud, Adobe Commerce Cloud, Shopify and k-ecommerce.
Sana Commerce
Sana Commerce Cloud is the only e-commerce solution that natively integrates with SAP ERPs. Sana Commerce Cloud is built within your SAP ERP and pulls data straight from your ERP logic to populate your web store.
Sana Commerce's tight integration with SAP means that all your online store data is always accurate.
What if something changes in your ERP? This will be reflected in your web store in real-time.
No additional connectors are required, resulting in fewer business expenses and less maintenance either internally or via a third party. Ultimately, this nimble and seamless integration improves order efficiency and accuracy, boosting customer satisfaction and retention.
What makes Sana Commerce Cloud stand out against other SAP e-commerce platforms? There's absolutely no middleware needed. With an SAP e-commerce solution like Sana Commerce, you can expect real-time updates on complex data with ease.
SAP Commerce Cloud
SAP Commerce Cloud is a popular choice for organizations well-accustomed to the SAP ecosystem. As enterprise-grade software (with enterprise-grade pricing to match), it might not be the most realistic option for SMBs.
An extensive software with a lot of B2B and B2C functionality, SAP has a significant global footprint of customers. However, SAP Commerce Cloud can involve complex implementations that can easily take 18 months. Due to this complexity, partners are usually involved in the process, driving up costs, contracts, and complexity.
SAP Commerce Cloud is also a suite-centric solution, which means there is less extensibility and flexibility when it comes to APIs and other pre-built integrations. It also means that once you're in the SAP ecosystem, it can be difficult to leave when you need to shift your business.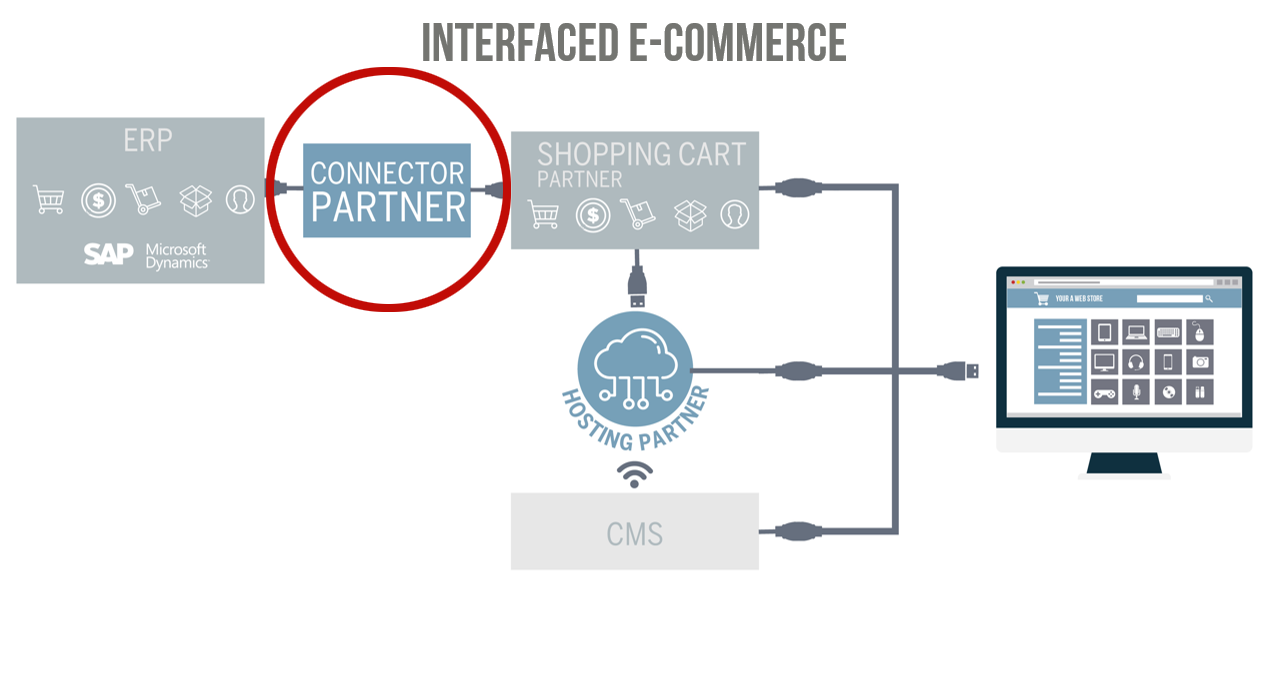 k-eCommerce
Interfaced solutions such as k-eCommerce are powered by a web store that has its own database separate from your ERP. This web store business logic handles orders, taxes, and customer information.
Then, this information needs to be ferried to your ERP through an in-house connector.
This solution still allows data to be transferred from your internal business logic to your customer-facing web store, but it isn't as efficient as an integrated solution.
Instead, you have two databases that periodically must sync with each other. Not only is this process more complicated, but it's also more error-prone.
With interfaced solutions, it's possible that a customer orders a product that appears to be in stock on the e-commerce platform, but is in fact out of stock because inventory is only updated on the front-end periodically.
This could lead to customers calling service reps, disappointed customers, damaged relationships and even a loss of business to competitors.
Shopify/Adobe Commerce Cloud
Shopping cart e-commerce solutions, such as Adobe Commerce (formerly Magento) and Shopify are standalone solutions.
This means that your web store is not connected to your ERP. All product information (pricing, inventory) must be created inside these solutions; it will not be pulled from your ERP.
To get that information from your ERP to your e-commerce solution, you'll need to use a third-party connector.
As we've mentioned, third-party connectors mean:
Additional training for employees
Extra costs
Increased risk of data inaccuracies
Reduced speed; synchronization will not be instantaneous.
In addition, let's say there is a sync issue between your shopping cart solution and your ERP. For example, stock updates are not being pushed to your e-commerce platform. It becomes much more difficult to diagnose what piece of software is causing the issue as there are multiple stakeholders involved.
To find the root cause, the web store admins would need to call three separate support teams: the shopping cart solution provider, the third-party who maintains the connector, and the ERP partner.
If you've already invested in a robust ERP from SAP, you'll want an e-commerce solution that takes advantage of those benefits. Shopping cart solutions leave a lot to be desired.
Discover all 46 benefits of integration with Sana Commerce
Learn how integration paves the way to happier clients, more sales and better partnerships.
Types of SAP ERPs and e-commerce platform considerations
There are distinct considerations you might wish to factor into your decision-making, depending on your SAP ERP system.
SAP ECC e-commerce
SAP ECC users will find their e-commerce solution needs to be able to account for the architecture of their business rules. Most B2B SAP ECC users have complex pricing rules and custom inventories that require an SAP e-commerce solution that can provide the kind of deep integration required to account for this.
Sana Commerce's out-of-the-box solution is able to provide a direct integration with SAP ECC, which means it can be up and ready to work even without the time or budget to implement heavier customizations.
S/4HANA e-commerce
Similar to the SAP ECC users above, S/4HANA users can find their e-commerce solution highly contingent on their own system complexity. On top of being able to provide a custom solution with extensibility options for your tech stack, your e-commerce platform should also work with SAP Fiori in order to improve ease of use for you and your team.
Moreover, Sana Commerce is built to ensure potential migrations to SAP S/4HANA are done seamlessly, with minimal fuss.
SAP B1 e-commerce
For SAP Business One users, deep integration can help account for some of the more complex and custom needs required out of their system. The right SAP e-commerce solution can make all the difference between driving internal efficiency and doubling up work for your teams.
An SAP-integrated solution like Sana Commerce can help incorporate greater insight into your business processes and operations and create opportunities for decisions that are based on real-time data.
Migrating from SAP ECC to S/4 HANA? What you need to know
When choosing an SAP e-commerce platform, businesses with plans to migrate to S/4HANA should be aware of several key factors to ensure seamless integration and maximize their digital commerce efforts.
With SAP ECC discontinuing in 2027, it's important to plan your transition as early as possible to minimize the impact on your online business. Here's what to factor into your e-commerce roadmap:
1- Make sure your e-commerce can integrate with S/4 HANA
A system with as much complexity as S/4HANA needs an e-commerce platform that can provide a smooth, two-way flow of data.
This level of integration functionality is especially important for businesses planning to transition, since they need to retain the same level of inventory management, order processing, and financials as they had on ECC.
Evaluating the compatibility and integration capabilities of your chosen e-commerce platform can therefore pay dividends in the ROI of your digital transformation project.
2- Make sure your e-commerce platform is secure
B2B organizations will naturally prioritize safeguarding sensitive information, including personal and financial data, from cyber threats and breaches.
When choosing an SAP e-commerce platform, it's important to be conscientious about security provisions. This is especially true when undergoing an ERP migration.
3- Lean on your ERP partner to help during the transition
During the transition from SAP ECC to S/4 HANA, leaning on your ERP partner is crucial for a successful migration. Your ERP partner brings expertise and experience to guide you through the complexities of the transition.
From assessing your current ECC environment to mapping business processes to the new S/4 HANA system, your ERP partner acts as a trusted advisor.
Must-have features for B2B SAP e-commerce platforms
For B2B organizations looking to prioritize the right functionalities for their e-commerce platforms, it can be useful to have a look at the following:
SSO (Single sign-on)
Single Sign-On (SSO) is a crucial feature for SAP e-commerce solutions. It allows users to access multiple systems and applications with a single set of login credentials. SSO allows both customers and employees to navigate seamlessly between various platforms, eliminating the need to manage multiple usernames and passwords.
Having SSO functionality enhances the user experience, improves security by reducing the risk of password-vulnerability, and streamlines access to essential resources within the SAP e-commerce environment.
Dynamic reporting
An integrated e-commerce platform should have added functionality that can help provide comprehensive, real-time insights into customer behavior, preferences, and purchase patterns. This creates a more efficient web store and sales strategy.
A great example of this is Sana Commerce Insights. The e-commerce analytics tool combines all offline data (for example, from your SAP ERP) and online data (clickstream and e-commerce data) into one system (Sana Commerce Insights).
This allows users to
Analyze crucial data points on customer behavior
Empower their business to optimize sales and marketing efforts
Enhance customer engagement
Deliver personalized experiences
Drive customer loyalty and satisfaction
Contract pricing & catalog management
Personalized pricing is a powerful feature that allows businesses to tailor pricing structures based on customer segments, individual agreements, or other preferences. When it comes to personalized pricing on an e-commerce platform built for B2B, your web store should also provide sales orders/agreements and offer custom discounts, apply volume-based prices, or specific promotions that are based on a customer's entire (offline and online) order history.
If you can show information from your SAP ERP in real time, when an existing offline customer logs into your web store for the first time, they'll be met with their specific pricing, discounts and sales agreements.
Similarly, web store administrators should be able to offer a customized assortment of products to customers. This feature not only enables web store administrators to optimize their store catalog with products that appeal to all customers, but also enables web store administrators to target products to specific customers.
These features naturally encourage customer engagement, repeat orders, and helps to strengthen crucial customer relationships.
Quote management
Manual quote workflows can create a lot of friction in the buying processes. Effective B2B e-commerce platforms should help merchants streamline and automate the process for their customers.
For example, customers should have the ability to order directly or request quotes or place orders by themselves, and this must integrate with a broader sales order management process. This enables self-service and saves time for internal teams.
Display inventory availability in real-time
To succeed in B2B e-commerce, effective inventory management is. It involves the processes and systems used to monitor, track, and manage a company's inventory levels.
Effective inventory management helps businesses to ensure that they always have the right products in stock, at the right time, and in the right quantity. B2B e-commerce customers have high expectations for product availability and fast delivery. Effective inventory management helps businesses to meet these expectations
Sana Commerce leverages your ERP's master database in your web store and ensures all newly created online records (such as orders) are instantly available in your ERP.
Conclusion
SAP e-commerce solutions offer a range of options for businesses looking to integrate their ERP with an e-commerce platform. However, careful research is necessary to select the right solution for your organization. SAP ERP provides valuable tools for managing back-end data, but transferring that data to an e-commerce platform can be complex.
Integrated SAP e-commerce solutions ensure real-time data synchronization between the ERP and the web store, offering enhanced functionality and seamless integration. Shopping cart solutions provide a separate web store, while interfaced solutions require a third-party platform for data exchange. Add-ons can enhance the e-commerce capabilities of SAP ERP without the need for a full e-commerce platform.
When selecting an SAP e-commerce platform, consider factors such as the size and capability of your IT teams, platform scalability, security, and alignment with your business goals. It's important to choose a solution that can handle the complexity of your SAP ERP and meet the specific needs of your organization.
Ultimately, the right SAP e-commerce solution can improve order efficiency, accuracy, and customer satisfaction, maximizing the benefits of your SAP ERP investment.
Looking for a B2B e-commerce portal for your SAP ERP?
Read more about how our e-commerce platform integrates with your SAP ERP.