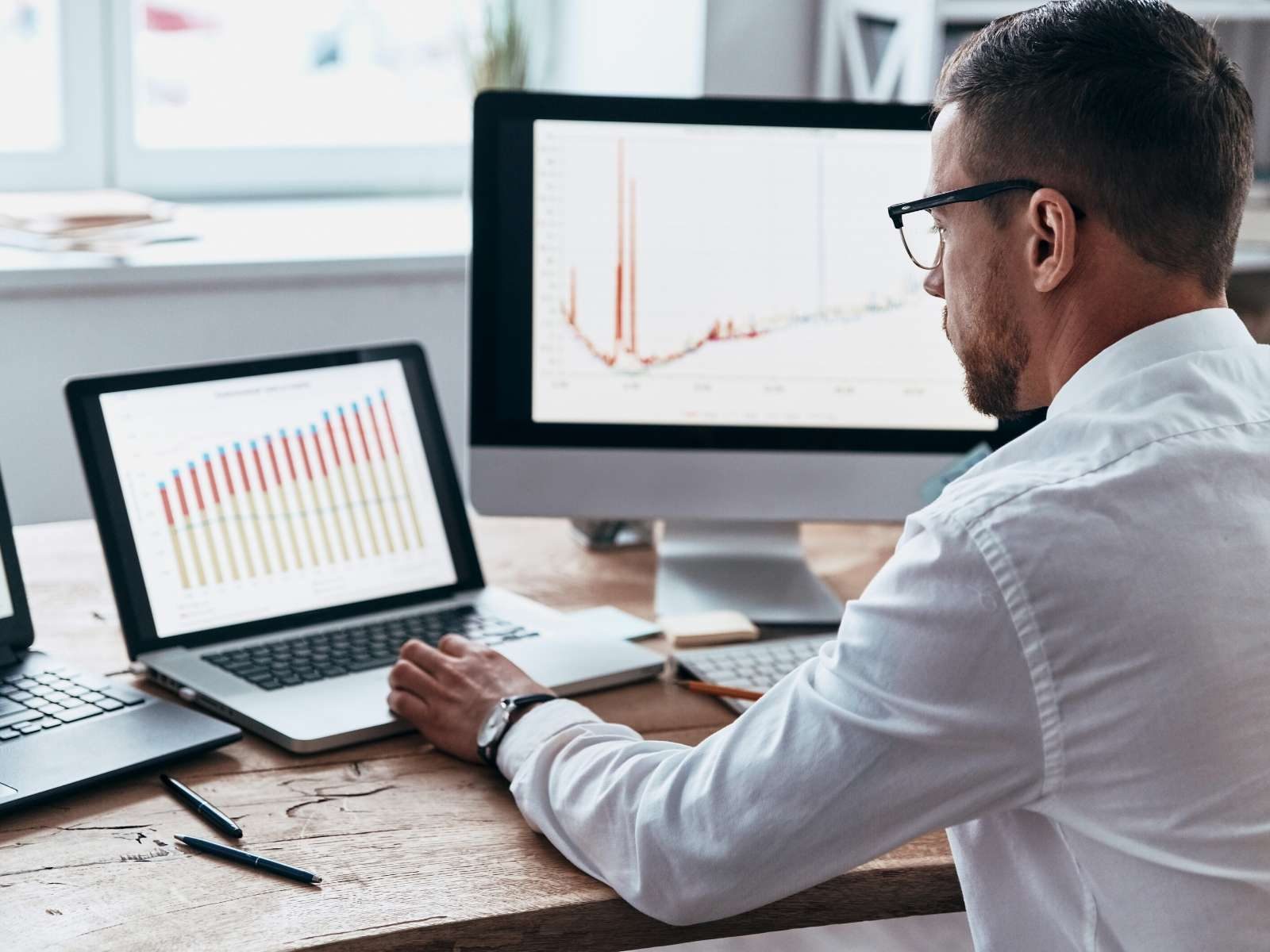 The imperative to digitize remains top of mind for both B2B and B2C organizations, and many are looking to sell online for the first time. Others are planning to reinvest in e-commerce to remain competitive, keep pace with consumer demand, and drive more business. But what do all these organizations have in common? They are at a critical crossroads: choosing between an in-house e-commerce build or outsourcing to an e-commerce solution provider.
The wrong approach to e-commerce can hugely impact the complexity, maintenance difficulty, and profitability of their e-commerce. And it seems that across industries and business sizes, organizations are taking a variety of approaches based on what fits their needs.
If your organization is facing a similar choice, below are some considerations that may help guide you.
1. In-house e-commerce development is most common among enterprise companies, but on the decline
The harsh reality of e-commerce development is that the resources, personnel, and budget required to both build and maintain an in-house e-commerce solution can be extensive.
It would also behoove organizations to ensure they have the right infrastructure in place to build in-house — gracefully and without operational disruption. Nonetheless, many are deterred in their digitization by legacy systems. Others that are already running e-commerce and looking to reinvest also have to worry about how to eliminate the risk of downtime on their existing web store.
It makes sense, then, that enterprise companies and larger businesses might be better suited and better equipped to build e-commerce in house than small or mid-sized businesses. And recent data from Sapio Research shows that, in fact, more large manufacturers do offer a self-built and self-maintained web store to sell online (57%) than do their smaller business counterparts (45%).
But this doesn't mean that they're currently choosing to build in-house simply because they're able. Some have built and operated the same homegrown web store for decades. At Sana Commerce, it's most common that the mid-sized and large companies we speak with are already running an out-of-date, in-house built, custom e-commerce solution — but looking to replace it.
Comparing your sales portal options?
Use our free e-commerce software guide to help you select the right portal for your business.
Today, those still successfully running in-house built solutions are in the minority, as the popularity of third-party e-commerce solutions among B2B organizations grows. Among manufacturers (of all sizes) currently selling online, 63% are doing so via a solution provided by an e-commerce partner (i.e. SaaS, licensed, or on-premise application).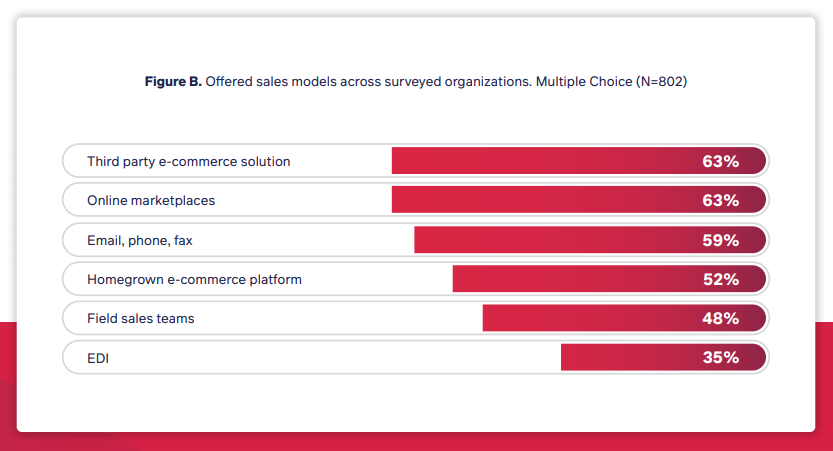 Download the full 2021 Manufacturing and E-Commerce Benchmark Report.
But larger manufacturers are tending to lean on third-party solutions even more. Among the largest manufacturers surveyed (with between 1,000 and 5,000 employees), as many as 75% are running a third-party e-commerce solution: suggesting that their may be significant advantages to offloading enterprise-level business complexity to true e-commerce experts.
Thus, despite enterprises being in a stronger position to build in-house successfully, third-party e-commerce solutions are still more popular among them than in-house (or homegrown) ones.
But how does this data, if it's specific to manufacturers, help other businesses?
Because typically manufacturers are seen as less digitally advanced than other business types, this kind of data can be particularly helpful in guiding organizations who may feel less prepared to tackle their digitization.
2. C-level executives find third-party e-commerce solutions to be more profitable
Looking, again, at survey data from Sapio Research, we can assess not just the adoption, but also the profitability, of these two approaches to building e-commerce solutions. On average, manufacturers seem to agree that third-party e-commerce solutions will drive the most revenue for their business in the coming 1-2 years.
54% feel it will be their biggest revenue generator, while 46% attribute the most expected revenue generation to a homegrown solution.
Looking at the coming five years, the number of manufacturers who feel a homegrown solution will be their biggest revenue driver drops from 46% to 42%.
When looking more specifically at feedback from c-suite executives, an even more optimistic view on third-party solutions comes to light.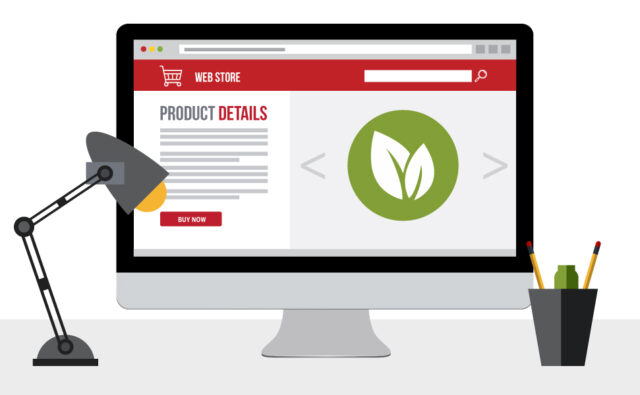 Within the next two years, according to the c-suite manufacturing executives surveyed by Sapio, as many as 75% feel third-party e-commerce will be their biggest revenue driver: more than a 20% jump from the average.
In comparison, 47% of executives feel it will be homegrown solutions that drive the most revenue. Looking at the next five years, third-party e-commerce solutions' reign, according to manufacturing executives, is poised to continue.
3. In-house e-commerce isn't just about the build; it's also about maintenance over time
At Sana Commerce, we come across lots of companies, with a variety of pains and business goals, all looking for guidance on how to get e-commerce right. Some of the stories we hear speak to the unexpected pains that some with a self-built and self-maintained web store face. And because there is lots to learn from the mistakes of others, here's a cautionary tale:
Imagine you're a business that has launched e-commerce in house. The implementation was successful, and your site is live. Now, you need to maintain that store, ensure your data is aligned and accurate across systems and departments, and manage your online sales, order fulfillment, and order-to-cash processes. If you haven't executed a unified commerce experience that's integrated with the rest of your systems (such as your ERP system), you may now have a functioning web store as well as:
Multiple sales reps spending 85-90% of their time entering data manually
Order errors and inaccurate data in your web store or across your systems
A new need for automation or for even more personnel to handle maintenance
The risk is that once your homegrown web store is live, to keep pace with the changes you'll need, you'll likely want to also invest in:
Resources to keep the website experience functioning on a day-to-day basis
Back-end developers to create the tools that let your team enter products, price products, and connect back to a payment gateway
Or more personnel to manage data or order entry, customer service, etc.
To build or not to build?
Looking for market insight on some of the third-party e-commerce solutions available to your business? (Here are 7 tips to help you select the right partner).
If you're a B2B business hesitant about building your e-commerce in house or if you're looking to replace an existing custom-built solution, and want to evaluate alternatives, read the latest reviews on G2 to see how Sana Commerce stacks up against mainstream third-party e-commerce solutions.
Replatforming?
Get our free e-commerce software guide to choose the right sales portal for your company.