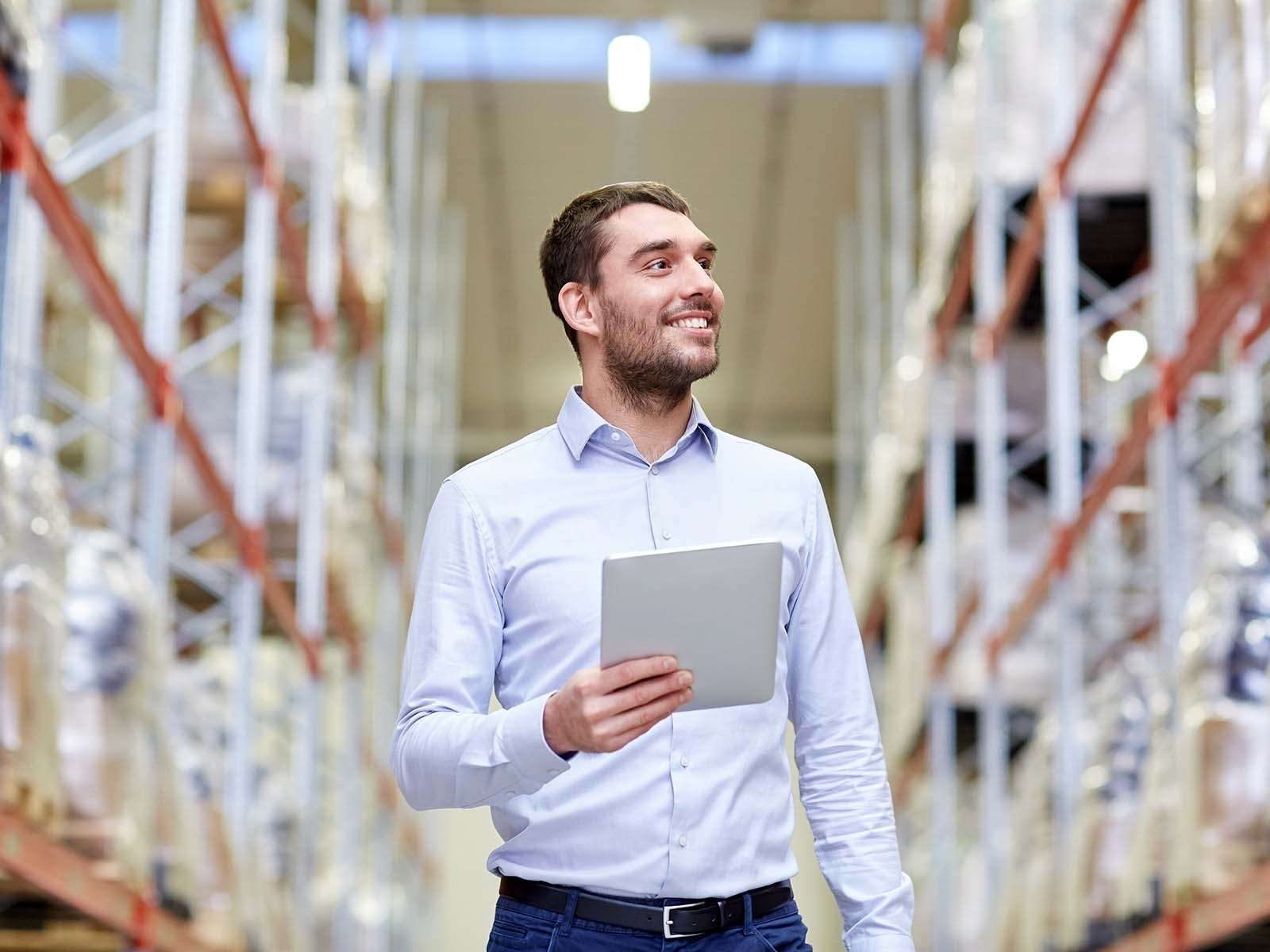 To put a complex process into simple terms: Supply chain management serves as the foundation on which to lay both your offline and online operations.
Supply chain challenges, especially ongoing ones, make it tough for businesses to split their focus between addressing those issues and optimizing their e-commerce experiences. As a result, those who already serve buyers online are worried about keeping their customers happy, aware that buyers' opinion of their suppliers is impacted by the quality and reliability of service and fulfillment.
Recent research conducted on the manufacturing industry shows that 98% of manufacturers are already implementing or planning to implement an e-commerce solution. Now is the time to focus on implementing productive solutions geared at tackling manufacturers' biggest B2B e-commerce supply chain management challenges.
Supply chain management's biggest challenges — and opportunities
As digitization continues to cause disruptions and changes to the manufacturing industry status quo, supply chain management continues to get more complicated, and the relationships involved more strained. On an optimistic note, these challenges also provide manufacturers with their biggest opportunities for improvement.
Beyond cutting costs and simplifying fulfillment logistics, proper supply chain management presents significant opportunities: the expansion of your sales channels, particularly online, and improved customer relationships.
This is in line with manufacturing trends we're noticing based on the latest data gathered by Sapio Research. Based on the data, around 50% of overall revenue for manufacturers is generated via online sales, while 42% of manufacturers have also noticed customer relationships improving as a result of investing in digital strategies. It is vital for manufacturers now more than ever to invest in digital solutions that optimize the supply chain in order to appeal to B2B buyers' B2C shopping biases.
B2B e-commerce supply chain management and your customer relationships
While the expansion of your sales channels and increased overall revenue are already major benefits of a B2B e-commerce supply chain management solution, an e-commerce solution also provides you with the opportunity to prioritize your customer relationships.
For B2B organizations who are optimizing their supply chain management, e-commerce is the key to increasing sales and profit margins, while also improving customer relationships and business agility. Here's what our research tells us: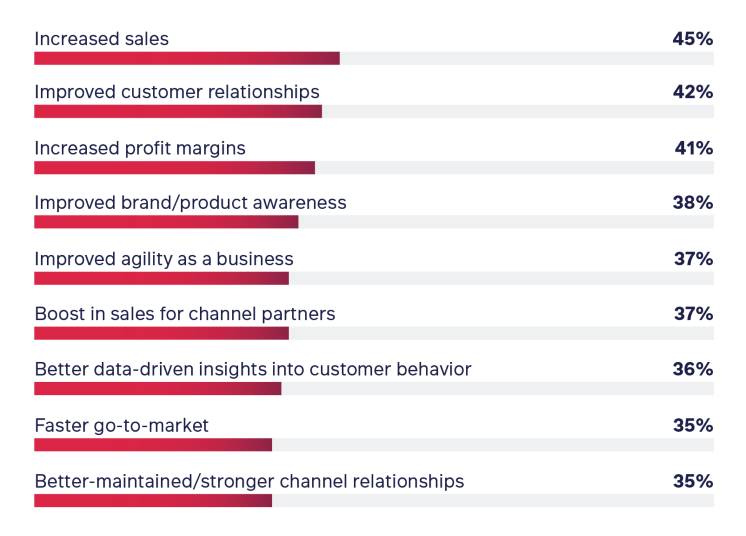 Source: The Manufacturing & E-Commerce Benchmark Report 2021, Figure E
These initiatives all go hand-in-hand. B2B e-commerce supply chain management should always start with an overview: Map out your supply chain network and gather as much data as possible about what your business is currently doing, what's working, where you don't have enough data or visibility and where your areas of opportunity are.
What are supply chain management's top areas of opportunity for optimization?
Recent data from The Manufacturing & E-Commerce Benchmark Report shows that you should focus on crucial areas of improvement, based on what your buyers are looking for, such as:
Easier and faster checkout (27%)
Easy repeat ordering (27%)
Quicker delivery and improved tracking (26%)
For example, a study by Peerbits shows that by optimizing only last-mile delivery, you can retain, on average, 60% more customers and transform 40% more of them into advocates for your business. If you tackle just a few more problem areas of your supply chain management, the advantages can be even more impactful and long-lasting.
You should also be looking at insights that will help you map e-commerce logistics and optimize your online sales channel, such as costs of distribution and order fulfilment, inventory matching based on SKU location, shipping timelines, etc.
Ultimately, having flexible, lean supply chain operations that leverage digital tools and embrace automation puts your business in a position to better adapt to disruptors and changes in the market or in buyer demand. But, when done right, it also means an online sales channel and strategy that stands out from the rest.
Why (and how) does supply chain optimization mean better e-commerce?
Effective supply chain management in e-commerce means optimization. That can mean various things, such as:
Maintaining better contact with your manufacturers
Planning for surges or dips in demand ahead of time
Automating business processes
Using "smart" inventory management
Successful optimization means you can mitigate known issues your buyers face, especially online. For example, if you succeed in improving visibility across your supply chain and in ensuring accurate data across your organization, your e-commerce strategy becomes a breeze.
With a well-managed supply chain and the right data, you can offer your customers an online sales and revenue channel that maximizes transparency and communication (and thus, profitability and success). It will also serve to cut costs for your business and to capture more new revenue.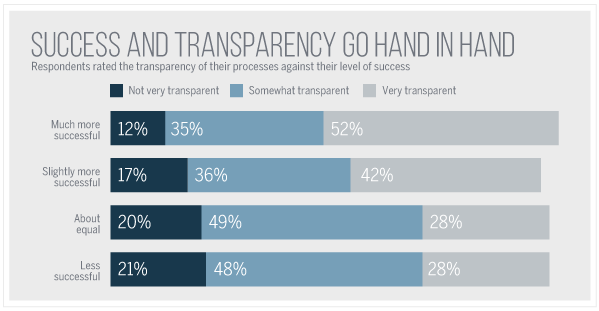 Source: Supply Chain Dive
Supply chain management and e-commerce: The Sana Commerce difference
When integrated with your ERP system, your e-commerce experience or web store can populate real-time data, including up-to-date inventory availability information, product details, pricing and delivery tracking (which is particularly crucial in communicating potential delays). This is all possible with a solution centered around organizations' central data hub, their ERP system — and it doesn't mean a further-complicated tech stack or more data silos. In fact, with an ERP-integrated solution, like Sana Commerce's, it's quite the opposite.
Orders placed via the web store are also integrated back into the ERP in real-time — mitigating and even addressing a common issue in supply chain management for e-commerce: errors in manual data entry. For supply chain vendors, as much as 50% of procurement functions run on static spreadsheets, leaving processes prone to manual human error (LevaData). On the other hand, when manufacturers move online, only 24% report too many order errors as being an issue. Using digital tools can cut the chance of order errors being an issue in half. Thus, not only is ERP e-commerce an additional revenue opportunity, but it can also help tackle existing supply chain management issues.
Reduce your teams' workloads with an optimized supply chain
With a Sana Commerce B2B web store, not only can you further leverage improved supply chain management to master e-commerce, but you can do so in a way that doesn't require a large workload from your internal teams. You can also supplement your supply chain optimization and e-commerce approach with additional customer-centric strategies, such as dropshipping or embracing direct-to-consumer (D2C) sales, something which we're already seeing 67% of manufacturers doing.
For more insight into how supply chain management and e-commerce go hand-in-hand to create new business and build better customer relationships for manufacturers in 2021, download The Manufacturing & E-Commerce Benchmark Report.
E-commerce challenges have a big impact on your customer relationships.
Find out how to improve your customer relationships with The Manufacturing & E-Commerce Benchmark Report.