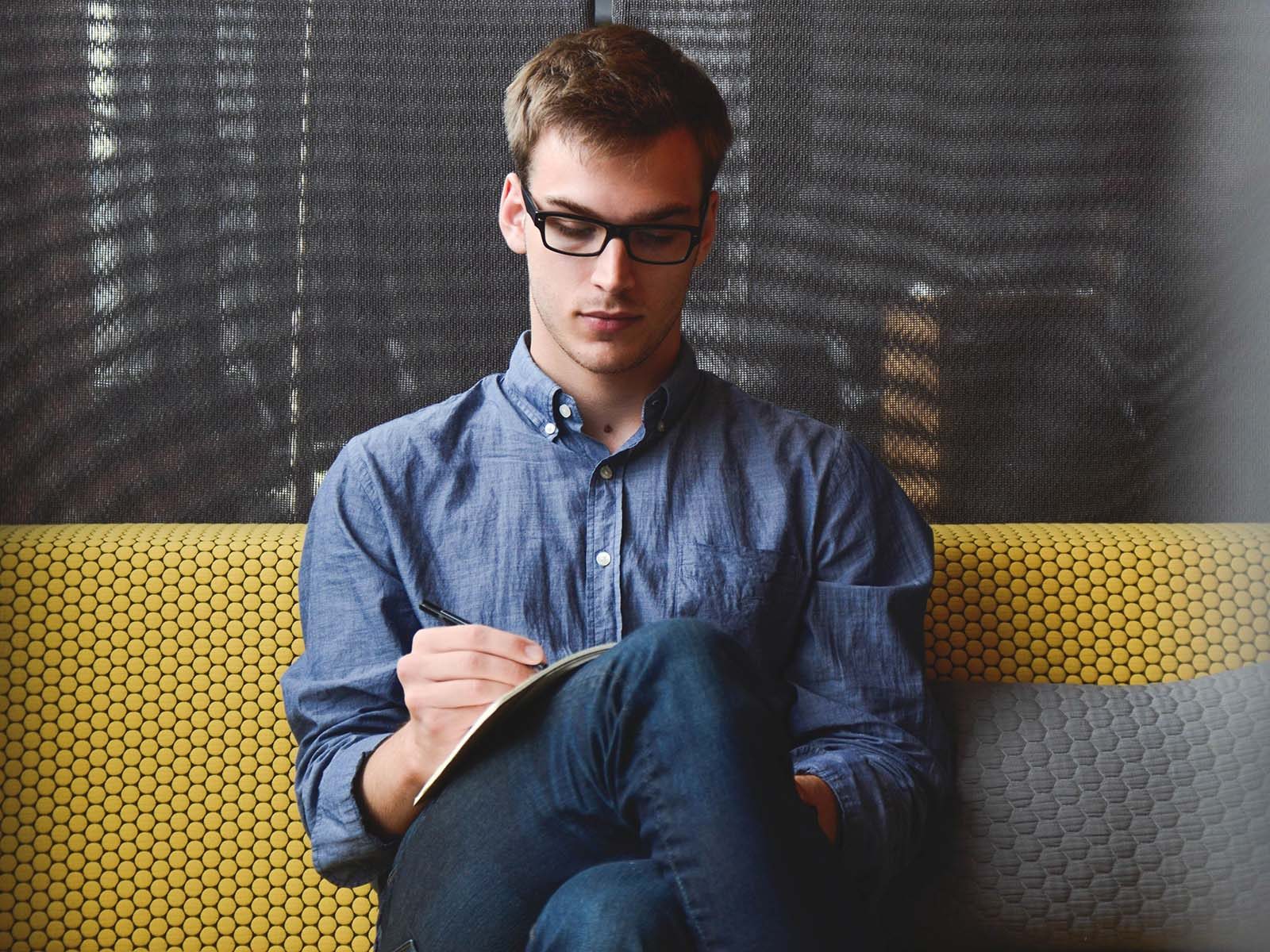 B2B buying and selling has changed. In the face of B2B sales' digital transformation, should your sales strategy follow suit?
Lessons learned from the digital transformation of B2B sales
In recent years, many B2B organizations have chosen to embrace digital to get ahead of change ─ whether market-, business-, or customer-related. Others have been faced with disruption and forced to digitize to survive. But regardless of where organizations stood before it, the COVID-19 pandemic has changed business as usual for good ̶ especially for B2B sales teams.
Where there once was a battle between the salesman and the e-commerce site, both fighting to be the essential tool enabling a seamless purchase, we're now seeing a united front. From this, businesses are seeing major successes, profitability, and growth. Today:
96% of B2B sales teams have fully or partially shifted to remote, digitally-enabled selling.
65% of B2B decision-makers say this model is equally or even more effective than what they were doing before the pandemic (McKinsey).
But what else can we learn about the convergence of the B2B website and the B2B salesman? And how can it benefit B2B sales teams, their buyers, and their organizations?
1. E-commerce growth has (finally) caught up with offline sales volume
One of the longest-running myths in B2B is that e-commerce sales trail far behind the volume of sales happening offline — and always have. It's a common misconception. But in reality, most organizations are simply looking at e-commerce with too narrow a lens.
Here's the full picture:
While it is true that traditional e-commerce sales make up only a fraction of those made offline, this is only true if you exclude sales that required any assistance or support from a sales rep during the purchase process.
However, when sales rep-assisted orders are taken into account (for example, ones where the sales rep enters the order into the e-commerce site on behalf of a customer), e-commerce sales today are equal to the sales numbers of traditional offline channels. According to Tech Target, each account for 42% of U.S. annual B2B sales: currently adding up to more than $10 trillion.
It's an exciting milestone, and shows how far e-commerce growth has come. But what may be even more exciting is just how much this shift will delight increasingly picky B2B buyers.
Here's what B2B sales leaders need to know:
44% of B2B buyers think they have found their ideal product or solution before contacting the seller, and simply need assurance.
60% of B2B buyers are interested in connecting with a sales rep during the consideration stage of their purchase journey (once they've researched options and formed a shortlist).
Among B2B purchasers, 33% want a seller-free experience and online self-service capabilities to be made available to them, but 83% still need assistance from sales reps throughout the process (Forbes). These buyers won't stand for poor customer service in that crucial moment; this is one moment where sales reps are especially key.
The growth of digitally-enabled sales will only continue to accelerate over time. According to Gartner, by 2025, as many as 80% of B2B sales interactions between suppliers and buyers will occur on digital channels.
2. Sales reps can help close the B2B customer experience gap, but not without reliable data
It's no longer good enough for your business to just meet customer expectations. With so much competition across industries, a leading business must exceed them. In B2B, with complex purchase cycles, pricing, and extensive product configurations being common, this presents a challenge.
Data from Forrester shows that two-thirds of businesses today meet customer expectations, but only 3% exceed them.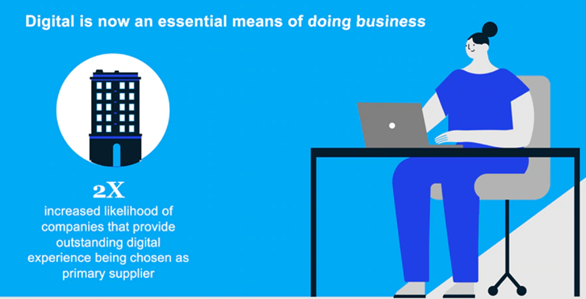 Source: McKinsey
Diving specifically into the digital customer experience, currently, companies are twice as likely to be chosen as a buyer's preferred supplier if the digital experience offered is outstanding. So going above and beyond, in the realm of customer experience, pays off.
But when B2B buyers complain about a poor customer experience, what do they mean exactly?
42% would not return to a supplier if it didn't provide adequate insight into inventory levels or up-to-date product data (Tech Target).
These buyers are 4x more likely to buy from a competitor if they face a service-related customer experience issue.
55% would pay more for easier, faster, and more reliable experiences online.
68% also say COVID-19 has elevated their expectations of companies' digital capabilities (Salesforce).
Unfortunately for B2B businesses hoping to check these boxes, it's not as simple as launching an online storefront. Without integrated systems, always-accurate data can't be guaranteed, and neither can error-free ordering. A lack of integration, such as between e-commerce and ERP, PIM, and CMS, also makes it tough to provide the quality of service B2B buyers want. Today, as many as 42% of employees are unable to efficiently resolve customer issues due directly to broken processes or disconnected systems.
3. Systems integration makes e-commerce even more beneficial for sales teams
E-commerce is already a critical tool for sales teams. And it's a great way to evolve the relationships they've built and fostered over time, especially as their buyers become increasingly digitally-saavy. The reality is that digital tools, like e-commerce, are propelling sales reps into the future and allowing them to leverage technology to anticipate buyer needs, rather than to simply meet them. And the growth we're seeing in 2021 is even more explosive than many industry leaders thought possible.
Despite the COVID-19 pandemic causing massive slowdowns and disruptions, e-commerce and EDI channels grew 10x faster in 2020 than total manufacturing and distributor sales did. This is a massive opportunity for sales teams. But why?
According to Ernst and Young:
"By integrating back-end systems, such as enterprise resource planning (ERP) and product inventory management (PIM), your e-commerce platform can automate programs and systems, triggered by a specific rule or action. If a problem arises with an order, during transit or after delivery, the sales team can [easily and quickly] step in to support and assist the customer, using the communication channels of the customer's choosing."
There is synergy to be unlocked in blending the human elements of sales assistance with the automation and efficiency of e-commerce technology. And businesses in B2B are taking notice. As many as 60% of B2B sales organizations, according to Gartner, will transition to data-driven, digitally-enabled selling.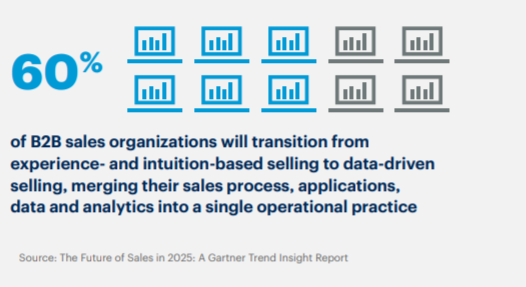 Much like this combination of online channels and personalized offline sales assistance, businesses will also look to merge their sales process, data, and analytics into a single operational practice: ushering a new era of hybrid omnichannel customer experience and sales excellence.
Learn how ERP-integrated e-commerce drives results.
Explore how our B2B solution has impacted real customers' sales, revenue, efficiency, profitability, and more.