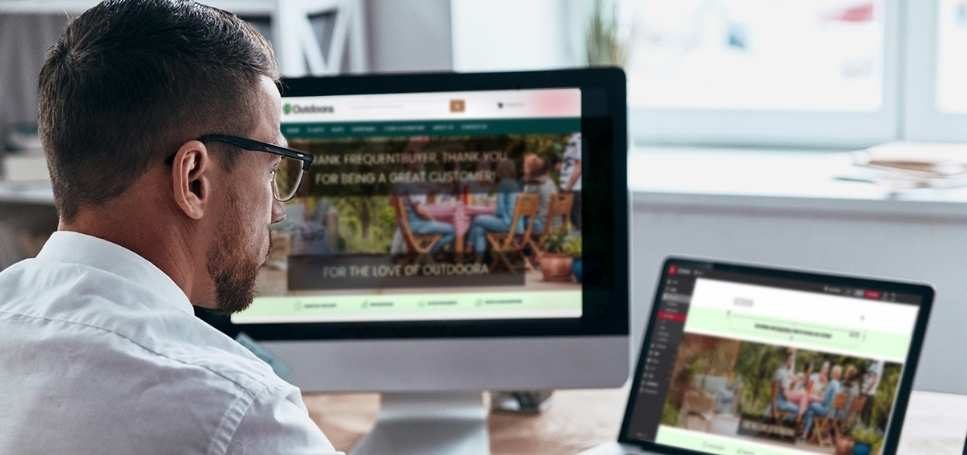 Self-service portals can be incredibly helpful for your B2B business and customers. B2B self-service portals not only streamline business processes for your company but also empower your customers by giving them the access they need to help themselves.
The right e-commerce solution lets you create a comprehensive B2B self-service portal that enables your customers during every step of the purchasing process. In this blog, we'll show you how you can transform your customer care by using your B2B web store as a portal for customer self-service — without compromising on quality.
1. Provide reliable product data
This may sound straightforward, but it can be a huge challenge for companies with large product catalogs or even smaller selections of very complex products. When it comes to machine parts, for instance, even a slight size difference can mean that a product won't meet the buyer's needs.
The most reliable way to ensure product data accuracy in your web store is to use product data from a single source of truth, such as your ERP or product information management (PIM) system. This makes it easier to manage and update all data at once, preventing you from displaying contradicting data in different locations. An e-commerce solution that provides seamless integration with ERP and PIM systems ensures that the customer portal always displays correct and up-to-date product specifications.
User-friendly navigation depends on good user experience (UX) design, but also on smart use of product data. This could entail letting clients search based on item number as well as product name, or even providing faceted search: the ability to filter search results based on product attributes or specifications. This lets web store visitors narrow down the options and hone in on the right product.
2. Make ordering online easier
Once clients have found the item or service they are looking for, they need to be able to place the order correctly in one go. As you know, this is often easier said than done in B2B sales.
A key part of facilitating independent order placement is granting insight into real-time inventory availability. True ERP integration lets a web store display accurate and up-to-date inventory-level data, so clients can always see whether there's enough of their product in stock.
A B2B self-service portal for professional buyers also has to make it easy for buyers to only place orders that are in accordance with existing agreements, such as staying within agreed minimum or maximum orders. Order value validation in your self-service portal ensures that this cannot happen.
Supplemental self-service features for easy ordering
Your web store can also offer hands-off, self-service functionality. Our Sana Commerce web store has an excellent example of this with its "Represent a Customer" feature. This feature allows your designated account manager or sales representative to assist your customer in self-service activities. This includes tasks such as creating or reviewing a price quote, confirming which product(s) best meet your customer's needs, checking on shipping statuses or paying invoices.
A self-service feature like this is an excellent supplement to basic self-service features because it takes your customers' independent activities into account. For example, it can accommodate your customers should they need to place orders at a conference, trade show, field sales event or anywhere where they may not have easy access to their ERP.
3. Enable online invoice payments
You can make your B2B web store a one-stop self-service portal by also offering clients the ability to view and reconcile all their invoices online — even for orders that were placed via other channels, such as phone or fax. You can provide additional convenience by granting your clients insight into their balance and allowing them to pay invoices online if needed.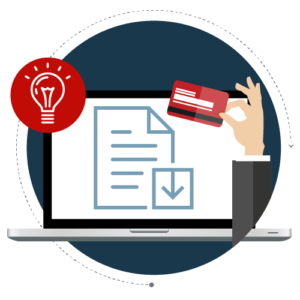 This is another feature that is made possible by seamless integration between the e-commerce platform and the ERP system (and, in this case, a payment service provider, or PSP, such as PayPal or Adyen). You can achieve this by having the e-commerce software interact directly with the ERP, for instance, or by importing bank statements into the ERP and automatically matching these with open invoices.
4. Answer commonly asked questions
How much time do your colleagues spend answering client questions on a weekly basis? Less than they could if you were to use your web store as a self-service portal.
What if your client has questions about which product to order? Instead of calling your sales department with questions about technical specifications or even product availability, clients can simply visit your customer portal and look this information up themselves.
A web store can also help with more typical customer service queries. You can grant insight into the status of an order, for instance. You can also share information about past orders, both online and offline. This means clients will only have to get in touch about complex questions, saving time for both you and them.
Are you meeting your buyers' needs?
Over 50% of e-commerce stores are not meeting B2B buyers' expectations. Find out why in the latest B2B Buyer Report.
5. Easily manage returns
Even with all these advancements in client enablement, no system is fool-proof. It may happen that a client wishes to return an item — and if they do, your web store should let them manage this part of the fulfillment process as well.
One way you could facilitate this through an online self-service portal is by letting your clients submit a return request document. This would make it easy for them to share photos of damaged products, for instance.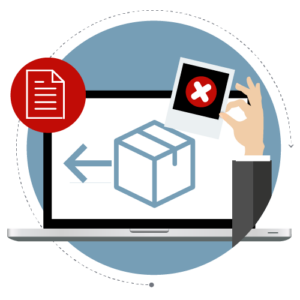 By using the same channel for returns as the original order, you're making things as simple as possible for your clients — and hopefully making a somewhat negative experience with your products and services as stress-free as possible.
6. Improve overall customer experience
Seamless integration between your web store and your existing ERP lets you provide a comprehensive and user-friendly B2B self-service portal that goes beyond simply fulfillment. An order might begin with a quote and end with invoice payment, but an enduring business partnership goes further. 71% of professional buyers say that self-service availability impacts their loyalty.
By providing your clients with around-the-clock access to the information that matters to them, you not only make them less reliant on your opening hours — you empower them to do business on their terms, with you as their trusted partner.
This is part of our series of blogs on customer experience. Click here for the previous installment!
The benefits of e-commerce that works as one with your ERP.