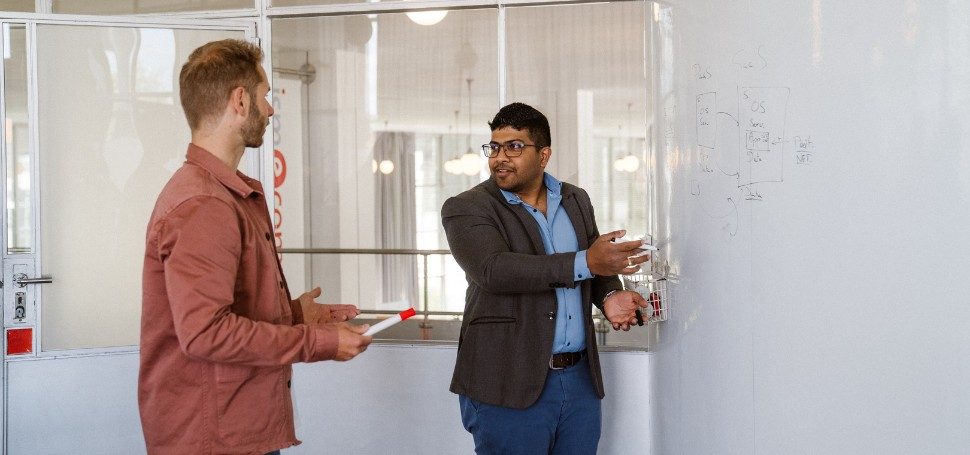 Let me tell you a story. Back in the day (more than 10 years ago) I worked in a company that used to keep their servers hosted in-house (AKA on-premises). These servers were kept running under the desks of the software engineers.
I remember how exciting, but also how labor intensive and error-prone this time in my career was.
I'll also never forget how one day, we came to the office to find several of our customer instances were gone, while others still worked as they should.
We couldn't figure out why this was or why we couldn't reach our servers…
After digging into the issue, which wasted a lot of time, we found out that cleaning services had accidentally unplugged some of the servers in order to plug their vacuum cleaner in.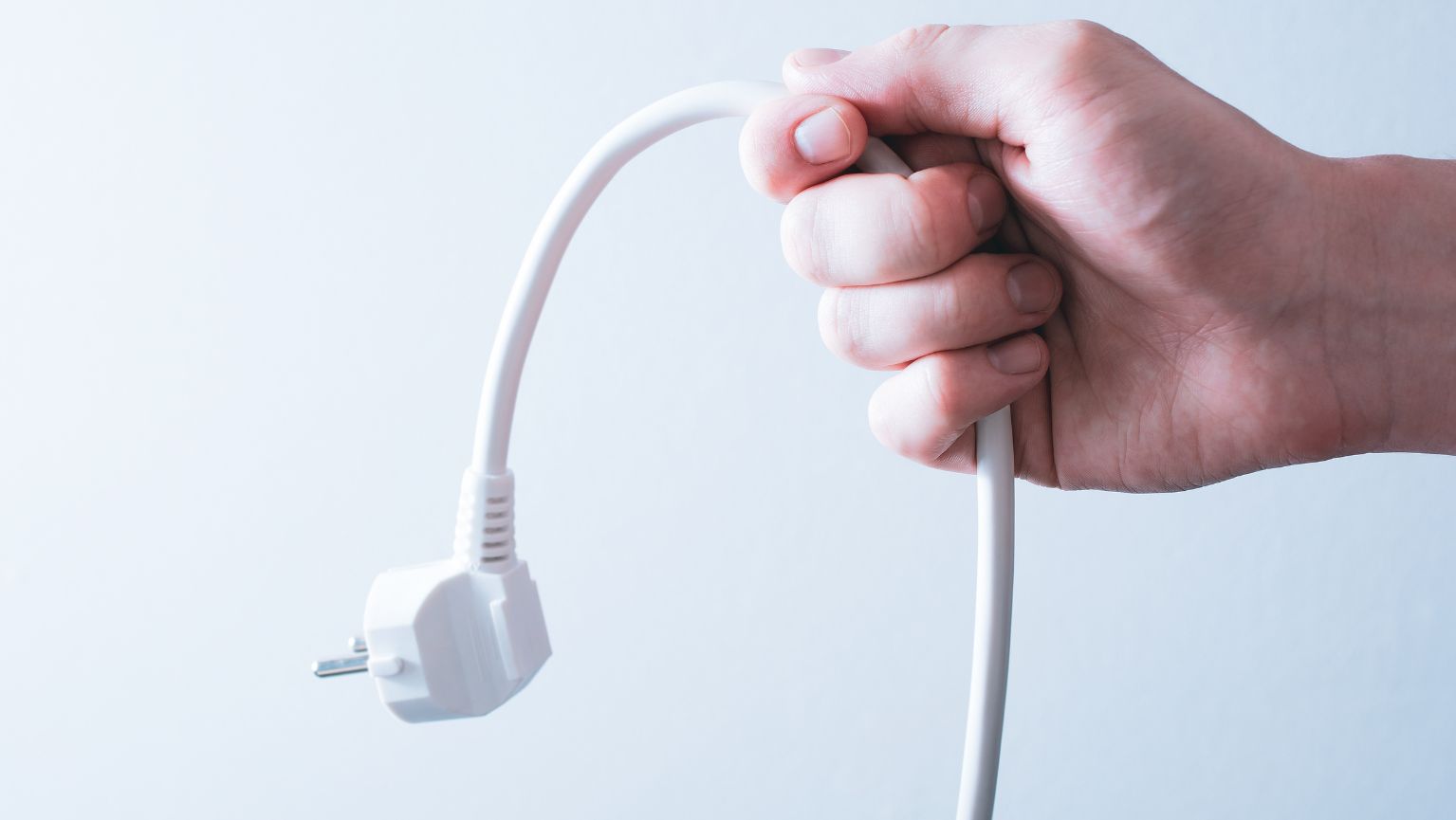 Quickly after this, we realized the importance of moving to the cloud and creating and implementing a SaaS-based solution.
Biggest problems when moving your web store to SaaS
#1: Your software landscape is huge and heavily customized
Imagine you've been living in a house for 10+ years. Throughout the years you collect some extra things here and there, maybe you build a custom breakfast nook to accommodate having breakfast with your full family every morning. But then, you want to grow your family or the neighborhood changes, and you realize it's time to move.
During the move you discover a bunch of things you don't even use or won't need going forward (like that custom breakfast nook).
A heavily customized software landscape is a lot like that breakfast nook – useful at the time, but something that may not serve you as well or work as well in your new home.
#2: Your software is still running on-premises
I'm amazed at how many IT leaders still have servers running at their offices and have not moved them to the public cloud. They might be afraid of moving due to cyber threats — although cyber threats in SaaS and cloud-based e-commerce platforms are not as bad as you might think.
They also might think that their current B2B landscape or tech stack is too complicated and that migrating to a SaaS solution will cause more headache than it's worth.
Moving to SaaS can be complex, so where to start?
4 steps to take to migrate your e-commerce platform to SaaS
Step 1: Audit your existing tech stack and evaluate what you have and what you need
I often see that some companies or departments use a piece of tech for a purpose that it was not intended for. For example, CRM systems that end up being used as ticketing systems or CMS systems that end up being used as an e-commerce solution. These examples often go hand in hand with customizations, which I will cover further down.
On top of this, it's likely that someone somewhere in your organization started to use an application or tool that your IT department doesn't even know about.
Because of these reasons, it's important that you get a good overview of all the programs, applications, tools, and tech that are being used in your company. Equally important, you want to find out how they are used and what they are used for.
How can you get a good overview of your current IT landscape? Use a software map.
First, collect all the systems that you have
Then plot them on a stack graph
Then group them in areas for their purpose
Here's a great example of a software map for Philips' digital marketing and e-commerce ecosystem: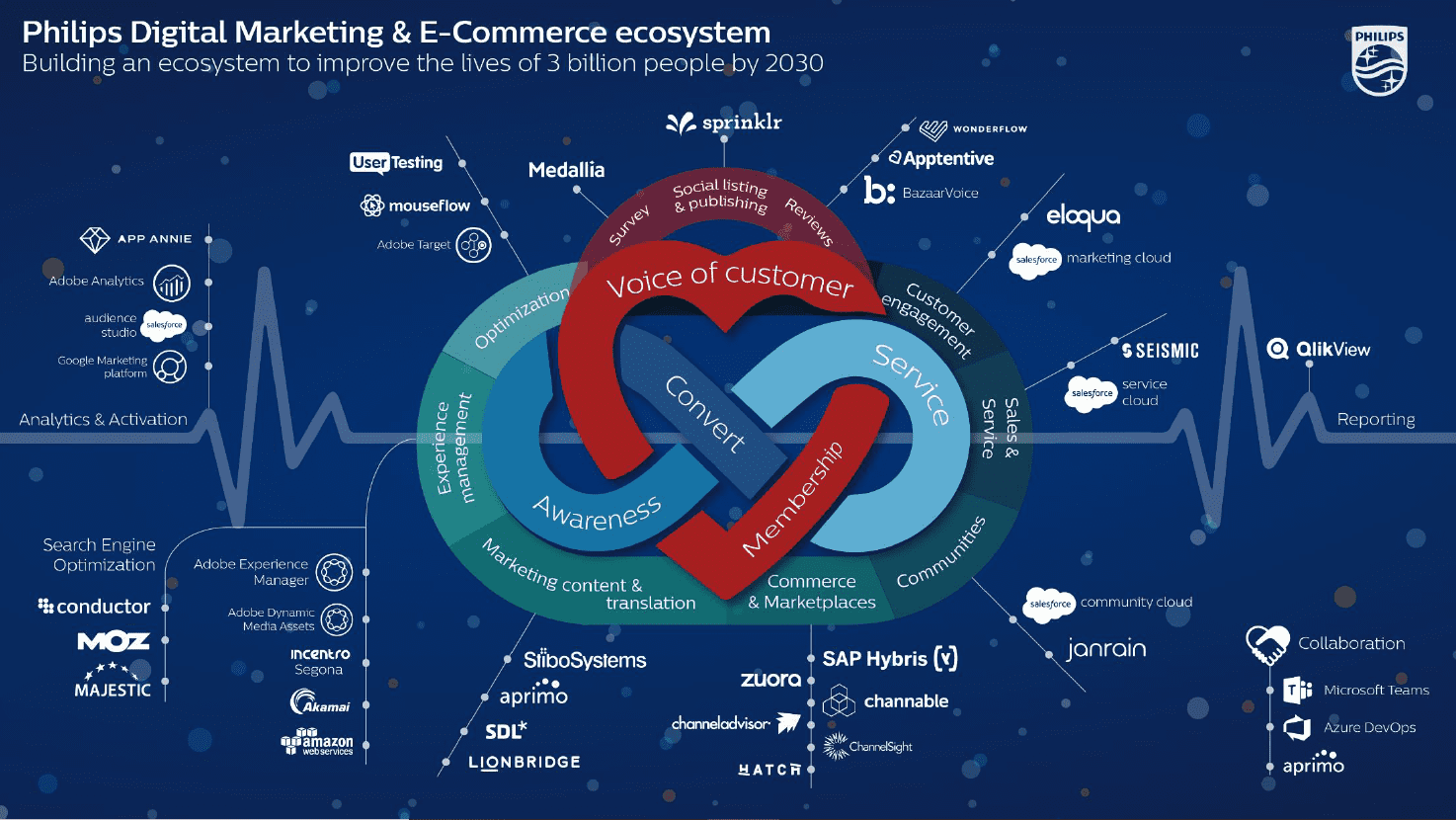 Notice how each and every application is grouped according to purpose, whether that's for content and translation or experience management or sales and services.
Another way you could organize your software map is on your buyer journey or internal processes that are already used in the company.
If this software map is too big for your existing processes, then a simple whiteboard session to map everything out will do. Get together with your IT team or manager and determine what systems are there, how they are being used, and for what purpose.
Step 2: Get rid of unneeded customizations
If you've done step 1, you'll probably realize by now that not all software in your tech stack is standard. So for step 2, the goal is to discover which software applications are customized and if the customizations are really needed.
"When talking to customers, we see that so many customizations were created because they believed at the time that they were needed. But in practice, these customizations were hardly ever used or quickly lost their relevance."
The software market has evolved and there will likely be an application that does what you need, out of the box. Focus on the value your software landscape brings you and measure its success. Ask yourself how you can add that value with existing software and the functionality that is available.
All SaaS software vendors spend time on training, documentation and in–product help.
Often companies are not aware of the functionalities that are available within their tech stack and immediately turn to customizations.
It's important to understand what your software is capable of — and to choose a solution that offers services to help you do this.
"The goal is to look for solutions within the box, or software, that you purchase. By doing so, you will prevent large migration projects and expenses."
Of course, there is not one holy grail application that will have every single feature or capability you want. But don't turn to customizations right away! Explore what is available around the application – chances are you can leverage existing features to fulfill your purposes without spending a lot of money.
Here's a practical example we've seen quite often: A B2B company (now a customer of ours) needed to add different brand logo images across different product pages.
Normally, this would have to be done one page at a time, editing each product page separately. They had over 20,000 product pages to edit… which was a lot of work for their internal teams to pick up. In order to fix the problem, the company chose to get a custom solution created. This required hours and hours of development work and therefore also cost them quite a bit of money and time.
When the company decided to move to SaaS, they chose Sana Commerce Cloud, which just so happened to have a fix for their issue — ready to use out of the box!
Now if the customer wants to display different brand logos across different product pages, they can do so from one central location, without heavy customizations, lengthy development work and a hefty price tag.
Looking to migrate to a SaaS e-commerce solution?
Check out our e-commerce software comparison guide!
Step 3: Make sure your new software integrates perfectly
All your applications work in tandem together. But you and I both know, when they work together functionally, it makes all the difference.
So, when a software company advertises "integration capabilities" it is important to not only check that there are APIs or file import/exports available. You want to make sure that the solution not only "technically" integrates, but if it functionally integrates as well.
Step 4: Implement your SaaS software stack step-by-step by replacing legacy software
Try to replace software applications one by one and build your ideal technical landscape. Instead of going for a best of suite solution and going all out, opt for a best of breed solution. A best of breed solution is one that focuses on a primary task and does this excellently.
How do you define these steps?
One way to do this is to define what goals you want to achieve and define milestones for your project.
When talking about B2B e-commerce you could first focus on adoption of the application, scoping the amount of functionality you want to start with.
When deciding where to start the migration, I recommend using the following framework: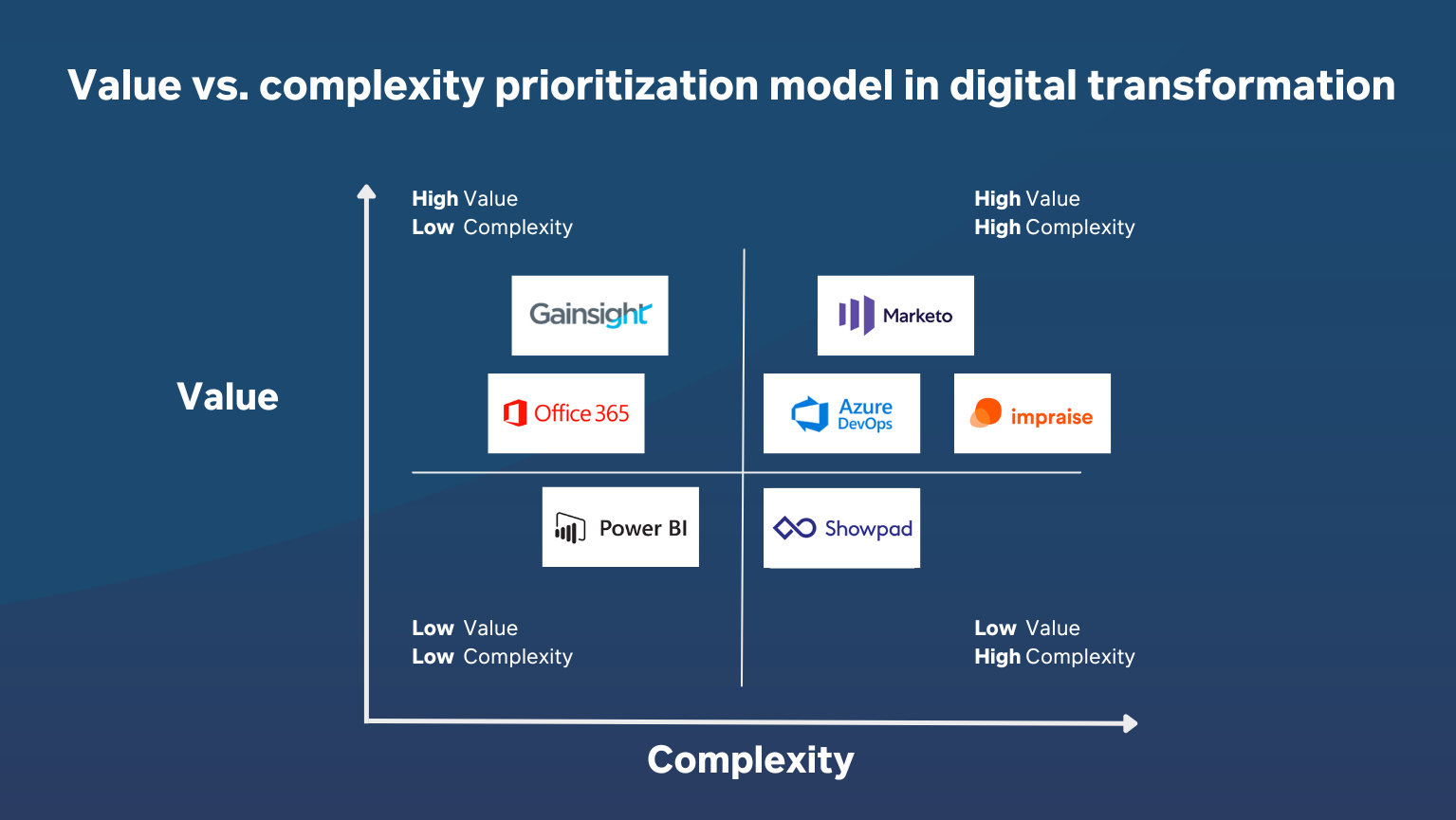 For example, you could start with an online product catalog and then in a later stage focus on usage of specific or new features. This is a great approach to take if your business goals are unclear right now or you are struggling with internal resistance to your e-commerce project.
Alternatively, you can move processes one by one from the old application to the new. The framework above will help you categorize your application landscape and show you which applications are "low hanging fruit" to tackle and which will take more time, allowing you to scope and scale the project better.
For companies with an ERP, it is likely that this piece of tech will fall under "high value, high complexity." In this case, I recommend implementing your e-commerce solution first, and then replacing your legacy ERP at a later stage.
In short, there are four steps to take to prevent the migraine of moving to SaaS:
Choose your software carefully
Get rid of unneeded customizations
Make sure your new software integrates perfectly
Implement SaaS step by step by replacing legacy software
Do you want to learn about our SaaS e-commerce platform?