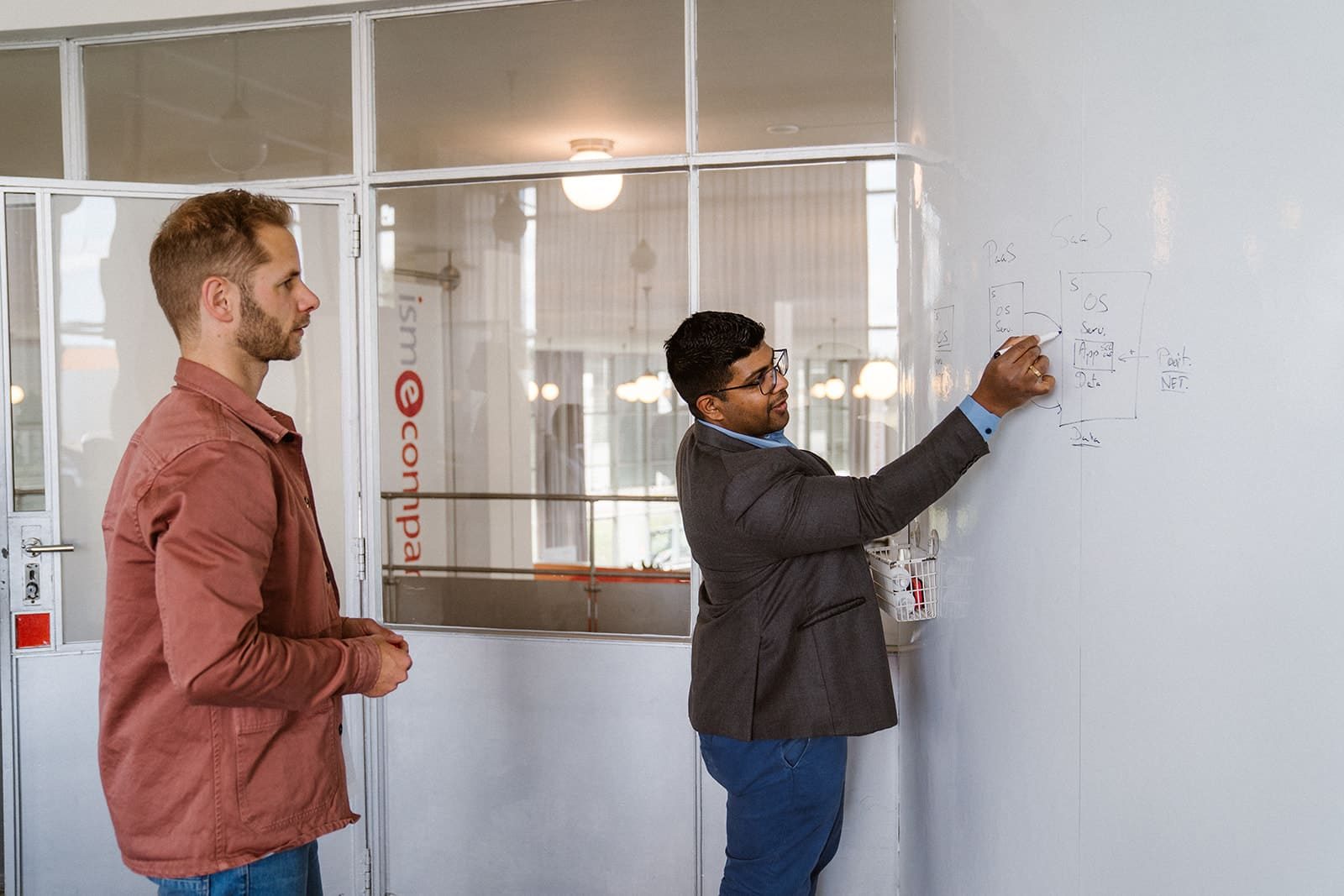 For B2B manufacturers, wholesalers, and distributors, IT departments represent a significant opportunity which, if leveraged correctly, can act as impactful revenue drivers for your organization. Sana Commerce's Chief Product Officer, Arno Ham, and Director of Customer Success, Emilie Dubau talk about exactly this in the new episode from our live event series, the B2B E-Commerce Tech Talk — a tech consultancy hour built around your business needs.
They cover how IT can have direct impact on conversions based on how they utilize their B2B e-commerce web store. Learn how IT leaders can perform commercial functions simply by choosing the right B2B e-commerce software.
Defining goals for digital transformation
An outcome framework can help you figure out your main priorities or goals for a digital transformation project.
Build your e-commerce outcome framework
Here are the most common business goals for B2B companies undergoing an e-commerce project. You can use these 5 goals as the basis for your own outcome framework.
Increase revenue: Encourage customers to buy online, but more, as well as improve upsell and cross-selling opportunities
Drive customer loyalty: Improve customer experience (and retention) by enhancing the user experience of your web store(s) and turning your customers into ambassadors
Work efficiently and cut costs: Decrease hiring needs, reallocate resources to more strategic uses, and minimize order errors and returns
Acquire new customers: Discover new markets with a scalable sales model
Develop brand image: Modernize your business and establish yourself as a differentiated solution in a saturated market through distinctive branding online
This piece will focus more on the first goal: How can you leverage existing internal teams and resources in order to increase revenue?
Can IT managers really contribute to revenue targets?
Regardless of industry, revenue is often attributed to the sales department. So where do IT departments really figure in here? In fact, can they? At Sana Commerce, we know firsthand that this is the case.
Here's how that works:
IT leaders are fundamental in driving business
Due to their extensive knowledge of backend systems and your organization's tech stack, your IT department is perfectly situated to offer business-driving insights.
IT and sales functions can seem extremely different– from possibly occupying completely separate rooms in the office, to having workflows that have little to do with each other. Yet, bringing these two worlds together can create room for innovative solutions and streamlined processes.
Why? IT managers often have an intimate understanding of the system back-end, which can be a useful base of knowledge to leverage, especially when employing an integrated e-commerce solution like Sana Commerce Cloud.
IT professionals can enable the organization to become better at testing for conversion rate optimization
Changing data and fields on a certain product to test what works best
Analyze ERP data and marketing data to get business-critical insights to determine why one product might be purchased more than another one or why a product performs better in one market over another
Your IT department has better insights into your company's ERP and backend data. This puts them in the unique — and perfect — position to recommend tests or changes to help drive conversions. Especially when combined with marketing analytics from tools such as Google Analytics or Piwik Pro, the latter of which is the driver behind our integrated analytics platform, Sana Commerce Insights.
IT departments can help manage promotions and identify opportunities for novel campaigns
ERPs today offer a huge range of feature sets, that can be leveraged to create complex promotions on your website. An IT manager who is intimately acquainted with your ERP will be able to identify additional features that could be used more efficiently with the right strategy in place.
How to use promotions to improve online adoption
Take the example of a long-time customer but is a first-time user of your web store.
Using the knowledge stored in your ERP, your IT manager can set up a promotion incentivizing online purchase through a discount on said user's frequently brought products.
Alternatively, they can also set up product recommendations, based on existing data on customer information, both online and offline. This can improve cross-sell or up-sell opportunities.
How can the right IT tools enable increase in revenue?
The recent relaunch of Sana Pay, Sana Commerce's in-house payment offering, is the perfect example of how tooling can help enable an increase in revenue.
The concept of Sana Pay arose initially due a need we detected for seamless B2B-specific payment. What kind of features does a B2B-specific payment provider require, you ask? Here's a quick overview:
Automatically select payment method based on locked-in user: Sana Pay ensures customers view payment options that are pertinent to their location, minimizing frustration and drop off from the checkout page.
Pay by link: In some organizations, orders may require execution by someone who does not handle payment. Pay by link allows a link to be sent to the stakeholder who deals with payment, without needing to organize a time to sit together and arrange orders.
Large volume orders: The average B2B order can cost ten times as much as the average B2C order. Sana Pay allows you to split payments up into multiple cards, so that payments of large volumes are executed seamlessly.
How one company saw a 38% reduction in cart abandonment
Customers who have implemented Sana Pay have already seen great results. One impressive result has been a 38% reduction in abandoned carts, a direct result of an improved checkout experience.
Online payments are just an example of how advanced IT tools can empower your business to drive revenue. An integrated e-commerce solution like Sana Commerce allows your IT and sales teams to work off a single source of truth, creates opportunity for cross-departmental collaboration and uses the knowledge and systems you already have in place to build innovative strategy.
Report: 84% of IT leaders say their e-commerce solution has negative impact on the business
Learn what IT leaders have to say about e-commerce and the impacts it has across the business.