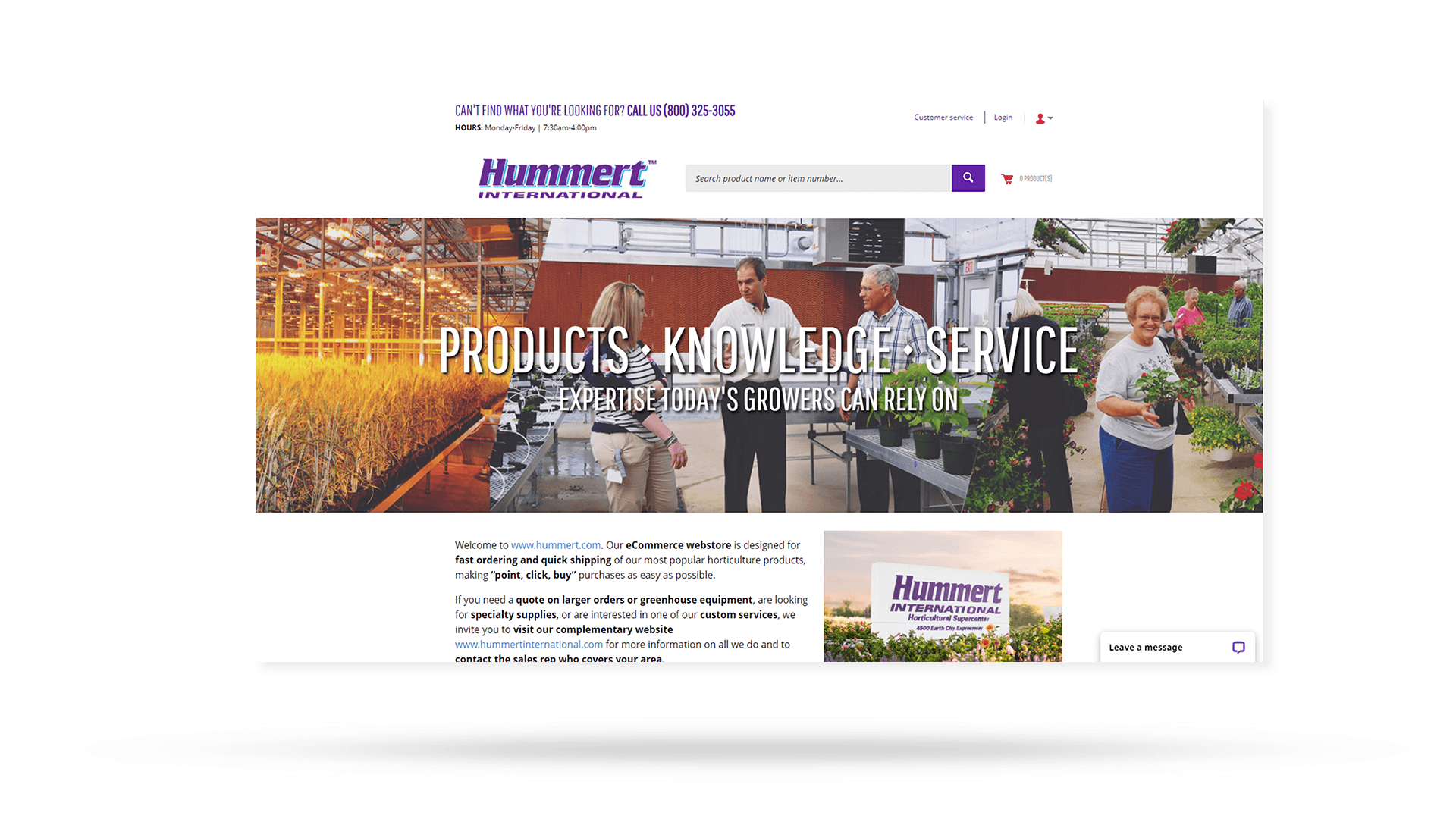 Hummert International
Powered by SAP Business One, Hummert International's Sana web store resulted in 25% more new business in just 1 month.
B2B distributor of wholesale horticulture supplies and equipment
Established in 1932
Customers across all 50 U.S. states and in more than 70 other countries
Passion for horticulture and commitment to excellent customer service
2x
boost in conversion rate
123%
growth in mobile traffic
The challenge
New customer expectations led to a new (digital) mindset
For 85 years, Hummert International operated using traditional sales methods — until fairly recently, when they launched a rudimentary, first-generation web store. Long considered to be part of an industry stuck in an "old-school" mindset, Hummert decided to embrace their customers' shift toward digital with their first e-commerce web store.
In 2017, Hummert took yet another step in order to meet online customer demands with an investment in a second-generation web store with Sana Commerce (alongside an ERP upgrade to SAP Business One).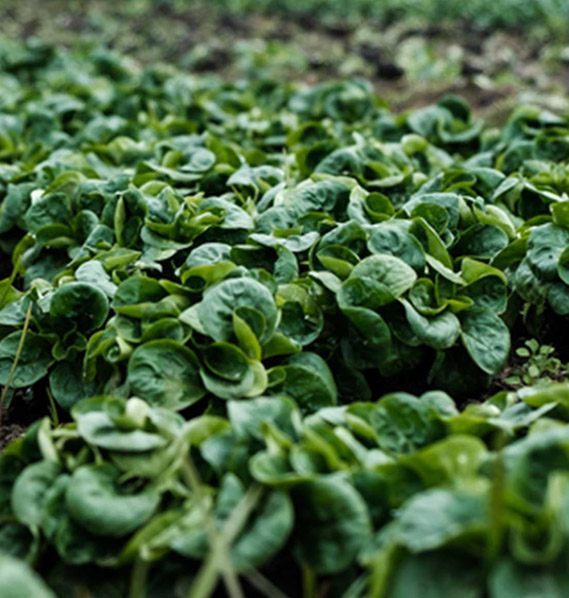 What motivated them?
They understood that their first website fared decently well with the basics:
Customers could easily find an item and make a purchase (if they knew what they were looking for). But it was a text-heavy site that was not interactive, and browsing products from among a 10,000+ item catalog on the Hummert web store posed a challenge. In turn, many customers resorted to calling or emailing Hummert in order to more efficiently make purchases. That was the first sign that Hummert's existing web store was not up to par.
Hummert was quickly growing, and customers were increasingly seeking a higher-quality web store and more efficient ways to buy. They wanted better access to products and information, particularly with regard to inventory, up-to-date pricing, and shipping estimates. This was a turning point for Hummert. Hummert International's Director of Marketing, Jason Hummert, explains:
"We knew that we were losing customers every day, or at least missing opportunities, because our information wasn't readily accessible or available online. Knowing this, we began the road to searching for a new solution to e-commerce."
But Hummert quickly realized they needed to take a forward-thinking approach to e-commerce that was scalable (to keep up with their customers' needs now and in the future). They found that an integrated e-commerce approach, implemented with Sana Commerce, was their answer.
The solution
Prioritizing customer-centricity
Hummert had one primary goal when executing their new e-commerce strategy: to improve the customer experience.
"Our existing customers put up with [the old web store] because it was all they knew," says Hummert. "But… we weren't gaining many new customers, bounce rates were extremely high, and our conversions to checkout were extremely low."
Hummert understood that with a better online experience and more satisfied customers, they would also naturally see better website performance, more sales, and more returning customers as a consequence. So, they focused closely on what their customers wanted from them, rather than what they wanted to do as a business.
Project requirements included:
High-tech search capabilities for simpler navigation
Integrated systems for accurate, real-time product data
Live shipping calculations
Automated order processing for faster fulfilment
Better online customer service (via Live Chat feature)
Online access to customer information (past orders, invoices, etc.)
Why? Jason Hummert explains:
It seems that in today's era, a strong online presence is the fastest and most efficient way to gain new customers. That's why it is so important that we found a partner like Sana Commerce to grow our business and reach new people.

Jason Hummert | Director of Marketing at Hummert International
The results
Improved customer experience, increased efficiency and 25% new business in just 1 month
Working with Sana Commerce and leveraging the business and customer data from their newly implemented SAP Business One ERP, Hummert launched a web store that allowed customers to search by pre-determined item groups, color, size, item number, etc., They made it easier for customers to browse and search, added live chat and real-time shipping calculations: all driven directly by SAP Business One.
On the business end, they achieved greater efficiency by making SAP Business One the center of their e-commerce strategy: they cut down on data duplication on the back end, on miscommunication between departments, and on tedious, manual internal tasks such as data entry.
"[With Sana, web store] implementation was easy to understand and simple. The team was well-organized and goal-oriented. It was nice to have Sana understand what we were doing and how we needed that to get done."
Jason Hummert | Director of Marketing at Hummert International
An integrated e-commerce solution with Sana turned out to be mutually beneficial right off the bat for both Hummert and its customers. But the successes didn't stop there.
Hummert was able to identify success with their new web store nearly immediately post-launch. Within two weeks after their web store went live they saw:
Their conversion rate double
A 24% jump in total users
Mobile usage up 123%
The web store was particularly beneficial in helping Hummert reach new customers. In fact, in the first month following the web store launch:
64% more new customers opened accounts with Hummert
New business sales rose 25%
This data speaks for itself. However, when it comes to speaking to the power of integrated e-commerce (and of working with Sana), it's Jason Hummert that puts it best:
"With a Sana solution, our ERP was integrated directly into the platform, so it was [a straight shot]: let's implement and get on our way to improving the experience. Plus, it was comforting that Sana treated our project like it was the only thing that mattered."
While working with Sana on an integrated solution certainly did maximize efficiency and improve the web store experience, one thing in particular stands out to Hummert:
We prioritize customer relationships, and never want to be an anonymous e-commerce company. Features like live chat encourage people to talk to a sales representative (when it's needed) and allow us to find that crucial balance between digital efficiency and the personal touch of human interaction that enhances that.

Jason Hummert | Director of Marketing at Hummert International
Do you want to increase traffic and boost sales?