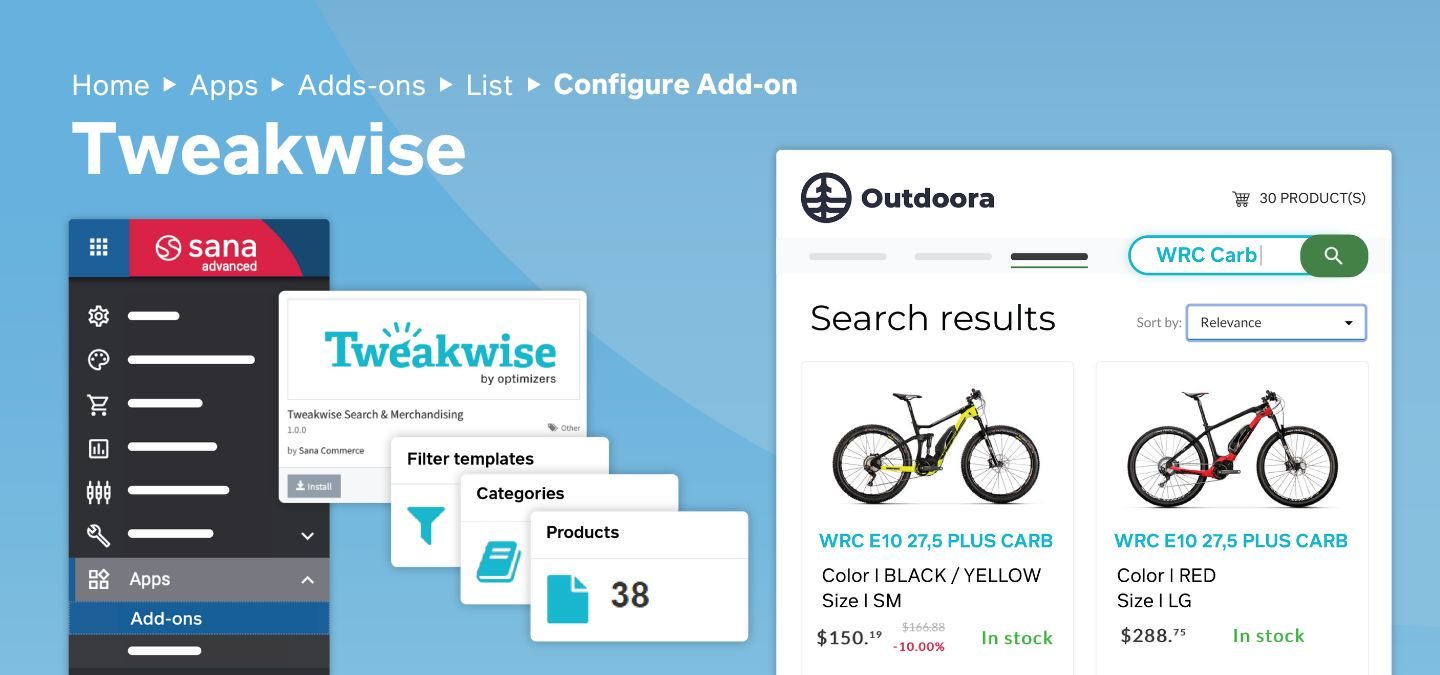 In the evolving landscape of B2B e-commerce, staying competitive requires more than just a functioning online platform. By now, manufacturers, distributors, and wholesalers are mindful of the game-changing advantages of efficient search and merchandising strategies to make their web store stand out among the competition.
Read on to discover more about how optimizing these aspects can revolutionize business dynamics, opening new possibilities for growth.
The art of effective search & navigation
Navigating a complex catalog is a challenge every B2B entity faces. Efficient search functionality is the cornerstone of a seamless customer experience. Imagine a distributor looking for a specific component in a huge inventory full of technical properties. A smart search system instantly connects them to the right product, saving time and frustration. Tailoring the search algorithm to understand industry-specific terms ensures precision and relevance.
Merchandising goes beyond product placement
Merchandising is more than arranging products aesthetically. It's about strategic positioning that stimulates visitors to convert. While this practice has been perfected in physical stores over many decades, online merchandising is a relatively new art. Despite not having reached its final form, online merchandising offers options that go way beyond what is possible offline:
Manufacturers can highlight their flagship offerings;
Distributors can showcase complementary items;
Wholesalers can bundle products for bulk purchases;
Dynamic merchandising adapts to global user behavior, promoting cross-selling and up-selling opportunities;
Personalized merchandising rules can even be tailored to every visitor's specific needs.
Personalization in B2B
Personalization isn't exclusive to B2C e-commerce. B2B organizations can use data-driven insights to offer highly customized experiences. Imagine a manufacturer's purchasing agent greeted with recommendations based on past orders and industry trends, or a product range that changes during a visit to suit the current customer journey. This level of customization builds loyalty and simplifies the sales process, benefiting both the visitor and the company.
The power of analytics and data
Data isn't just a buzzword; it's a goldmine. Manufacturers, distributors, and wholesalers can use data to understand customer preferences, optimize inventory, and fine-tune pricing strategies. Predictive analytics enables proactive inventory management, ensuring products are readily available when demand spikes.
Collaborative commerce
Collaboration between B2B partners can be highly effective in raising conversion and sales. Manufacturers can sync with distributors to ensure real-time inventory updates. Distributors can communicate supply chain challenges to manufacturers, ensuring a responsive ecosystem. Wholesalers can align pricing with demand fluctuations, maximizing profitability for all.
Tweakwise and Sana
At the heart of this success lies the collaboration between systems. Tweakwise and Sana seamlessly integrate search and merchandising technology into one of the most powerful B2B e-commerce platforms. This partnership empowers your B2B web store to provide a user experience that's better than the competition. Get in contact now to start using Tweakwise in your Sana web store and take your e-commerce game to the next level.
Learn how SCC can transform your B2B web store.
Watch our 15-minute demo now.