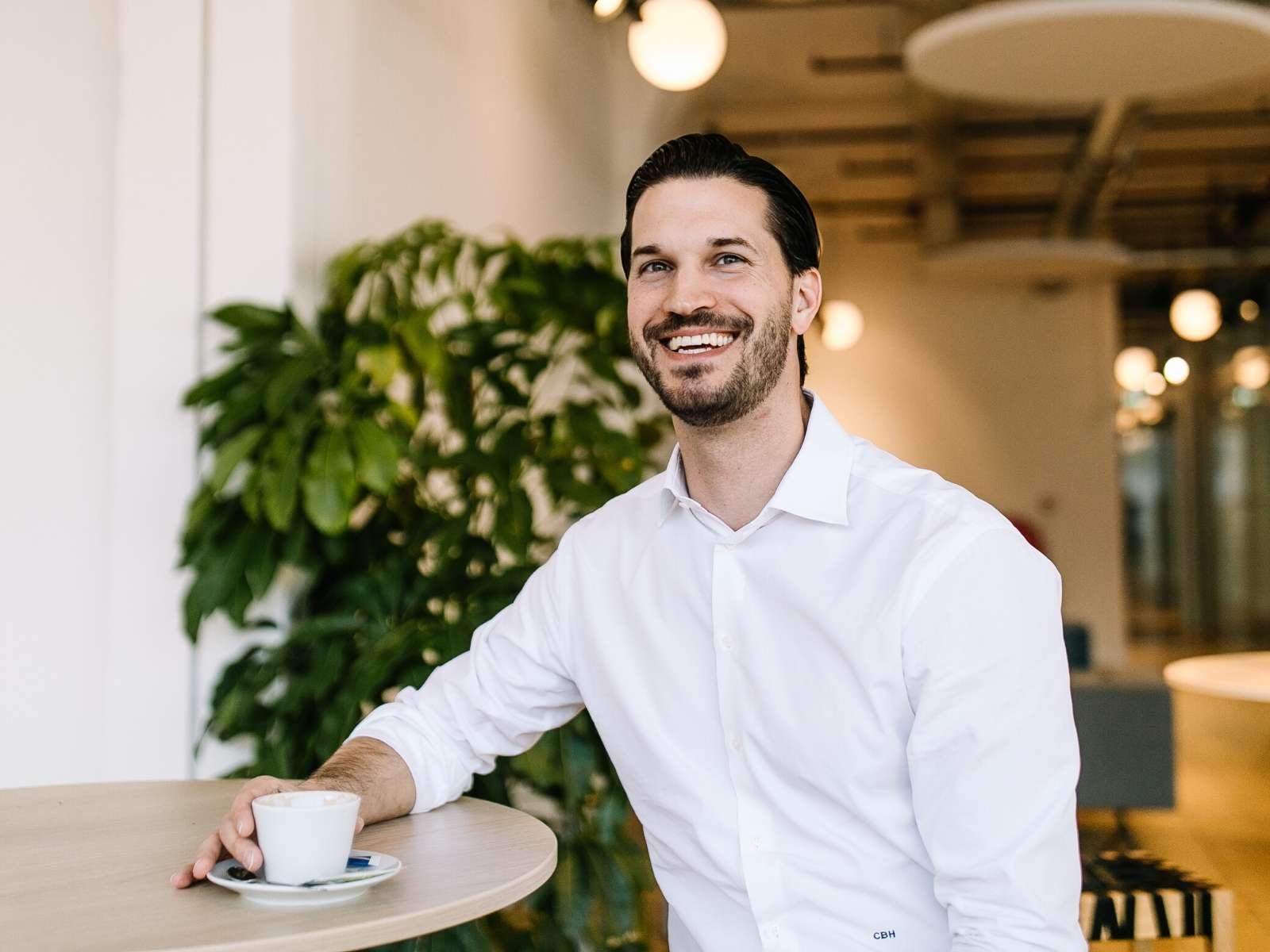 The benefits of B2B e-commerce range from strengthening your brand image to driving revenue for your organization. Whether you're a seasoned e-commerce expert or just beginning your journey towards digital transformation, it helps to know how adopting B2B e-commerce can help with your overall strategy.
An effective web store doesn't just work for your organization or bottom line, it also ensures a seamless experience for your customers. With a B2B e-commerce platform, you can start selling outside office hours and still offer customer-specific catalogs and prices. This blog outlines everything you need to know about the benefits of B2B e-commerce, from which organizations stand to benefit most from such a channel to the most impactful changes you can expect after implementation.
Who benefits from B2B e-commerce?
The benefits of B2B e-commerce don't just impact your business, but also your customers. Staying attuned to the ever-evolving needs of the modern B2B buyer is vital for future-proofing your business. Today, most of your customers are online. For more traditional industries, where buying might still occur in person, product research usually takes place online. Here are some examples of information your customer can access with a B2B web store:
Insights into inventory levels
Real-time delivery predictions
Detailed catalog information
Order history visibility
Easy upsell – related products at a glance
Open 24/7: customers can order outside office hours
An effective B2B website opens your organization up to new customers, helps keep your current customers satisfied, and opens up opportunities for insights and cross-sell that would not be possible before. Ensuring you're able to maintain steady rates of customer adoption is therefore crucial to a successful B2B web store.
Report: 84% of IT leaders say their e-commerce solution has negative impact on the business
Learn what IT leaders have to say about e-commerce and the impacts it has across the business.
6 benefits of B2B e-commerce websites
Benefit 1: Tap into more business opportunities
Today, B2B buyers purchase 67% of their products online. A web store can help strengthen your brand visibility, putting you in front of potential clients and resellers through search engines.
This is especially effective if you choose to make your catalog pages public. However, even if you decide to keep your catalog private, you can use targeted marketing content in your web store to grab the attention of new clients.
Benefit 2: Improve your B2B e-commerce sales
Attracting more clients can help boost your sales, but that's not the only way a B2B e-commerce platform can help improve your business performance.
Choosing the right B2B e-commerce solution lets you display relevant and specific product recommendations for your visitors. You can make sure your clients see related products, but also items with more features, unlocking powerful cross-selling and up-selling opportunities.
Sana Commerce customers report a 21% jump in e-commerce conversion rates and an 8% jump in revenue on average because of their ERP-integrated B2B web store.
Benefit 3: Lower your costs
Growing your revenue while minimizing your costs might sound impossible, but it's a very real benefit of B2B e-commerce.
Modern technology lets you take almost every aspect of your business online. This includes order entry, client information provision and customer service. By automating and streamlining these various processes, your company can cut down on unnecessary costs.
The end result? More efficient business processes. This especially true with ERP-integrated B2B e-commerce.
See below for a visualization of our customers' cost-savings today: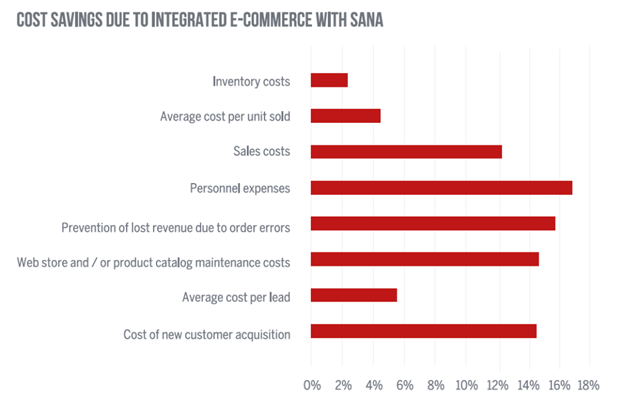 Want to discover the financial benefit of e-commerce for your B2B business? Calculate your projected e-commerce costs and savings with our ROI calculator.
Implementing e-commerce: the complete guide
From planning to going live, get actionable checklists, tips, and best practices to get started.
Benefit 4: Get customer feedback
A great online buying experience keeps your clients coming back for more, and can even help drive sales. After all, what would you trust more: obvious marketing from a manufacturer or wholesaler, or a glowing review from another buyer?
By offering an exceptional B2B web store, you can turn your clients into evangelists. Research indicates customers spend 31% more when a business has positive reviews. By simply leaving a review, clients sharing their enthusiasm can have an impactful effect on your business, with reviews typically producing a notable uplift in sales.

Benefit 5: Reach new markets
We already mentioned that a B2B web store can help you reach more clients. And those clients don't necessarily have to be in your existing markets.
Because your online sales portal won't rely on the availability of your sales team, your digital sales channel can be available 24/7, 365 days a year. Selling online eliminates the challenge that time differences often pose in order processing. This means B2B e-commerce makes it easier than ever to serve a wider international market.
This also enables more resources and focus to be redirected to other business functions, such as sales or customer service. This can in turn improve profitability and customer satisfaction.
Benefit 6: Achieve data-centricity with ERP-integrated B2B e-commerce
The most powerful benefit of B2B e-commerce software is that it lets you streamline and automate time-consuming processes. It also grants unique insights into the data that matters to your sales and marketing operations. This is especially true if you integrate your B2B e-commerce platform with your ERP system.
If you have an integrated e-commerce setup, your ERP can calculate detailed sales statistics for each of your clients. Order totals, revenue, profit percentages, or even discounts within a specific time period. Let your customers make informed decisions, and get precise data on what works for your business.
Dive deeper: benefits of integrated B2B e-commerce
Now that you've got the basics covered, dive deeper into the benefits of a B2B e-commerce experience that's also integrated with your ERP. This includes jumps in revenue and average order value, improvements in process efficiency, and more.
Convinced of the benefits of B2B e-commerce? Get started by reading our ultimate guide to e-commerce for practical checklists and best practices to help you launch your web store.
Are your customers using your web store?
Customer adoption is a crucial element of B2B e-commerce success. Learn why with our comprehensive guide.